Renee Chow, aka Gothamista, is a skincare enthusiast staple! If you've ever scrolled through YouTube for skincare tips, odds are you've run into Renee's videos! And for good reason, she has incredible insight and helpful tips on skincare products and routines. One of her most requested and viewed videos is a routine built for acne/oily skin! So let's dissect Renee Chow's routine for acne and oily skin types!
This routine isn't only for acne and oily skin types, Renee states it's also great for those with over productive sebatious glands and dehydrated skin. So let's see what her routine holds, from cleanser to sunscreen with much in-between!
Renee Chow's Routine for Acne and Oily Skin Types:
The Routine Steps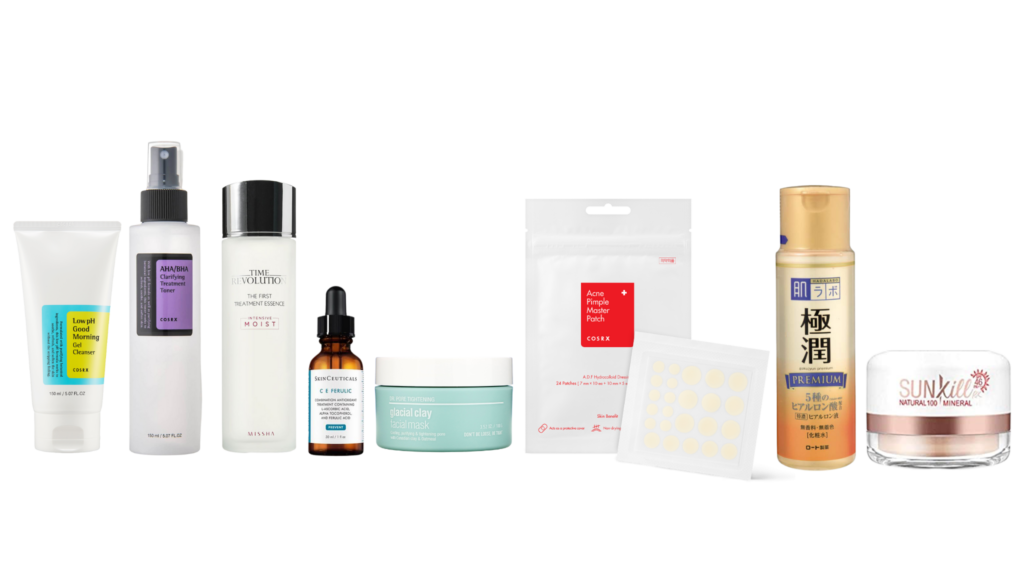 Step 1: Cleansing
A crucial step to start any skincare routine. A clean base makes a happy face! Renee opts for the Cosrx's Low pH Good Morning Gel Cleanser. Having a low pH cleanser helps to keep your skin barrier balanced and applies a gentle clean, so we like the way Renee thinks! And double cleansing is a major help for those with oily and acne prone skin, working to really clear out those pores! If you're curious to learn more about micellar water or double cleansing in general, click on the links for more info!
Step 2: Toning and Treatment
Next up is toner and treatment! On Renee's list is Cosrx's AHA/BHA Clarifying Treatment Toner. Equipped with both AHA and BHA, these ingredients are awesome for acne and oily types. You can learn more about why in our Salicylic Acid and BHA articles!
After patting in that treatment toner, you can reach for Renee's choice of serum, essence and mask. Of course you don't need to use all in one go, rotating through them on and off can be just as effective. For serum she selects Skinceutical's CE Ferulic Acid and Missha's Time Revolution The First Treatment Essence as her essence. Both add nourishing and replenishing ingredients to restore a healthy water-oil balance, among many other skin loving benefits. Masks we recommend to limit once to twice a week, and the mask Renee picked for her routine is Skin&Lab's Dr. Pore Tightening Glacial Clay Facial Mask! Clay is a crazy great ingredient for oily and acne skin! Helps suck out all those impurities trapped in your pores. For more good ingredients with oily and acne prone skin, you can click to see our article here.
Step 3: Spot Treatment
If you suffer with oily or acne skin, then you've probably struggled with pimples popping up unwelcome, and leaving a red mess behind. That's where the next step, spot treatment, comes in! Spot treatments can help to target that specific pimple and stop it from becoming worse. Renee's spot treatment is the Cosrx Acne Pimple Patch! These are helpful throughout the day, protecting pimples from outside bacteria and further harm. Pimple patches are equipped like first aid, helping to heal inflammation and keep damage to a minimum! For more about pimple patches, click the link!
Step 4: Moisturize
For those with oily or acne prone skin, we get the hesitation when using moisturizers. But trust us when we say, you need it! Hydration is essential for all skin types to keep the skin barrier healthy and functioning. However, no need to lather on thick creams or lotions. Rather a lightweight gel or gel-lotion will do just the trick. And in Renee Chow's routine she has Hada Labo's Gokujyun Lotion, jam packed with hydrating ingredients like butylene glycol and hyaluronic acid! Leaning on moisturizers with humectants instead of those heavy occlusives.
Step 5: Sunscreen
Last, but certainly not least, slather on that sunscreen! Absolutely crucial when it comes to your day time routine. If you're a bit lost or unsure of where to get started with sunscreen shopping, check out our sunscreen article that can help lead you on the right path of which SPF might be the best fit for your skin type. In general, for oily and acne prone skin types, it's best to search for ingredients like zinc oxide and titanium dioxide that also provide more of a matte finish! Renee's choice is Catrin Natural Mineral Sunkill Rx SPF 46 PA++++ Puff, a convenient way to travel and reapply sunscreen throughout the day.
Renee Chow's Routine for Acne and Oily Skin Types:
Analysis
What can we say? Other than this routine has all the necessities! From cleanser, to treatment, to sunscreen, it has all the basics and beyond! Her careful attention to ingredients, formulations and textures help make her routine a great one for those with oily and acne skin types. Of course, you don't need so many steps. This routine can be adjusted and simplified for sure! We hope this has helped you understand Renee's routine and what might work best for your skin type. To watch Renee's full video, click the link!
Be Picky
On Picky, we want nothing more than for users to discover just what they need! Skincare fit for their concern and skin type. Which is why we have so many filters and options to narrow the options down for you. Not to mention there's Picky Match to give a general green or red light to certain products depending their formulation. Head over to the Picky app now and get searching! Don't forget to follow us on Instagram and check out our YouTube channel for more fun skincare content!