With so many skincare ingredients out there, it's hard to keep up. But we're pretty sure you've come across squalane or squalene on one of your skincare labels. At first, it seems like a spelling mistake. Well, it's not! It's crazy how one letter can make a huge difference. Keep reading to learn more about these very different ingredients.
What is Squalene?
So squalene is actually a natural oil produced by our livers and secreted through the sebaceous glands in order to protect and moisturize the surface of our skin. It makes up 12-13% of our skin's sebum!
Squalene in our sebum plays an important role in keeping the skin hydrated. In addition to that, research also shows that it helps protect our skin from free radicals and environmental oxidative stress (such as UV exposure) that may lead to premature skin aging. Unfortunately, after the age of 30, the synthesis of squalene in our body decreases drastically. That's when we really need to step up our moisturizing game.
Originally, squalene was sourced from the liver of deep-sea sharks. A Japanese chemist named it squalene in reference to the shark family squalidae. Besides being animal-sourced, squalene can also be found (in modest amounts) in a variety of plants such as olives, rice bran, sugarcane, wheat germ and more. It can also be made through the fermentation of a yeast called Saccharomyces cerevisiae.
But on the downside, squalene is super unstable. Meaning when it's exposed to oxygen and UV rays, it can easily oxidize and turn into squalene peroxide. A recent study found that squalene peroxide is comedogenic and potentially stimulates the formation of acne. And this is where our second ingredient -squalane- comes in!
What is Squalane?
Squalane is actually a hydrogenated version of squalene. In other words, squalene loses the double bonds in its chemical structure and converted into a saturated fatty acid known as squalane. This byproduct is more stable and less likely to oxidize. Therefore a longer shelf life! Thanks to this, squalane is much more commonly used in cosmetics, moisturizers and other skincare products. But by going through this conversion in chemical structure, it unfortunately loses its antioxidant properties.
Squalene vs Squalane
Here's a side by side view of some bullet point difference between squalene and squalane.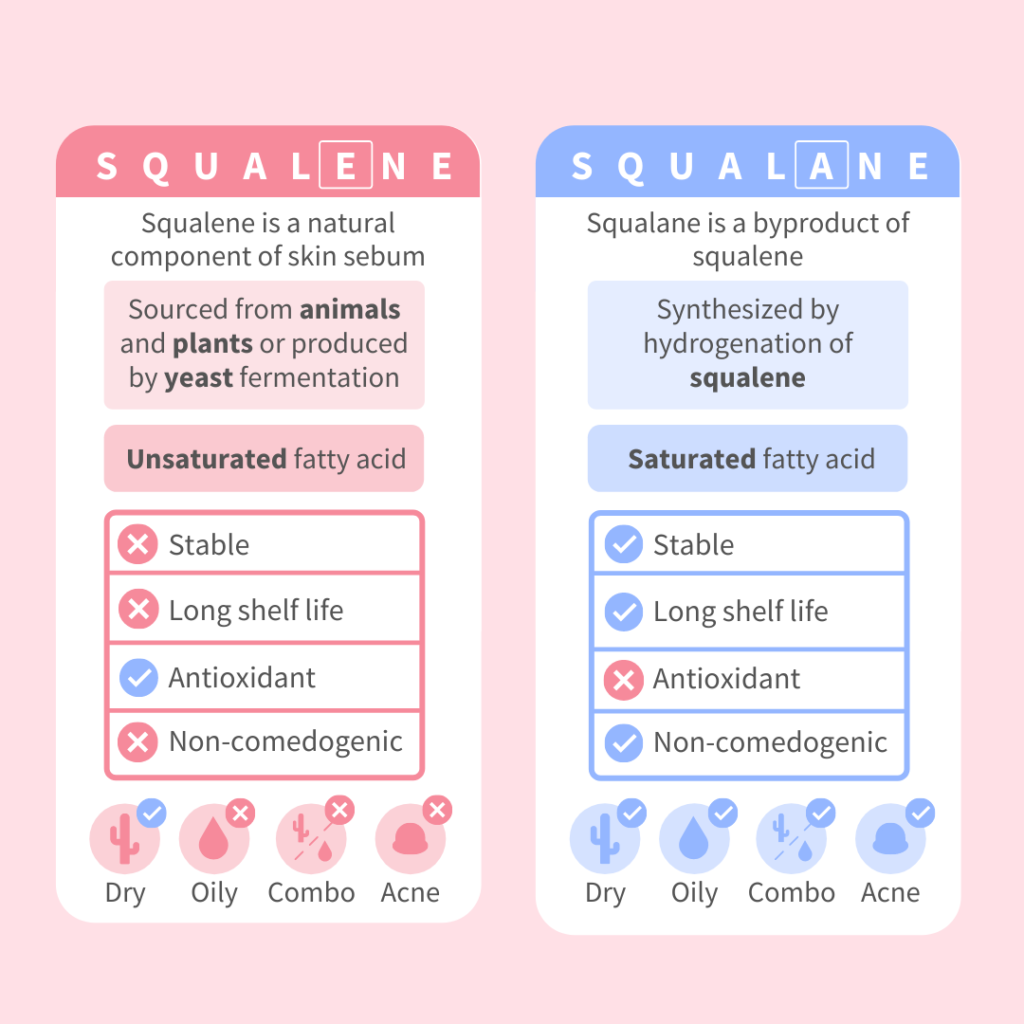 Benefits of Squalene and Squalane
Both squalene and squalane offer similar benefits for your skin. They serve as excellent emollients, sinking easily into the skin. Resulting in a softer and smoother skin texture! In addition, since squalene is a component of our skin's sebum, both ingredients are helpful in strengthening the skin barrier. Squalene and squalane create a protective seal between the outer surface of the skin and the environment. Helping to retain moisture and reduce the amount of transepidermal water loss (TEWL), which aids in restoring the skin's suppleness and elasticity.
However, there are some slight differences as shown in the table previously. Squalene is more suitable for dry skin while squalane is pretty much suitable for all skin types. Including dehydrated, oily, acne-prone and sensitive skin types!
Picky Expert Picks


Ingredients: squalane oil, evening primrose oil, rosehip seed oil, sea buckthorn oil, macadamia seed oil, sweet almond oil, vitamin E, geranium essential oil, frankincense essential oil, lemon essential oil
This has been a holy grail product among a lot of skin care enthusiasts. An ultra lightweight concoction of oil that is deeply hydrating and soothing. The oil has a yellow-orange tint to it, but worry not, it will not leave any stain once it sets on the skin. It absorbs very quickly and provides ample moisture to the skin without leaving greasiness behind.


Ingredients: Squalane
A hydrating oil that helps lock everything in! Reviews on Picky highlight this oil as a great boost to their moisturizer or routine for those colder, drier months. Skin types from dry and sensitive to combination speak high praise for this oil, saying it is lightweight (a little goes a long way) and quick to absorb. If you want to read more reviews about this product head here.


Ingredients: Artemisia vulgaris extract (mugwort), squalane, glycerin, olive oil derivative, niacinamide, allantoin, oryza sativa bran extract (Rice), sugarcane extract, hyaluronic acid.
A velvety, water-gel texture that's lightweight and seeps into the skin with ease. A gel cream that's perfect for the hotter months and more oily skin types! Reviews on Picky say this cream is lightweight yet hydrating and gives a matte finish, making it a great moisturizer for the AM.


Ingredients: Squalane
Lightweight oil that will leave skin feeling dewy! This product is a great last step in your PM skincare routine to help lock in hydration and boost the effect of your other products. If you're looking for glowy skin, then this may be the oil you've been waiting for. Reviews on Picky echo the same word and that is 'glow'!
Be Picky
Whether you want to find more products with squalane or squalene, check out squalane product reviews, or just learn more about skincare in general then open up your Picky app! You can use the Mega Ingredient Filter to plug in the ingredients you want in your search and see all the reviews for each product. We even have a Discuss page where likeminded skincare enthusiasts share their tips, questions or comments for the community! Follow us on Instagram and check out our YouTube channel for more fun skincare science content!
Created With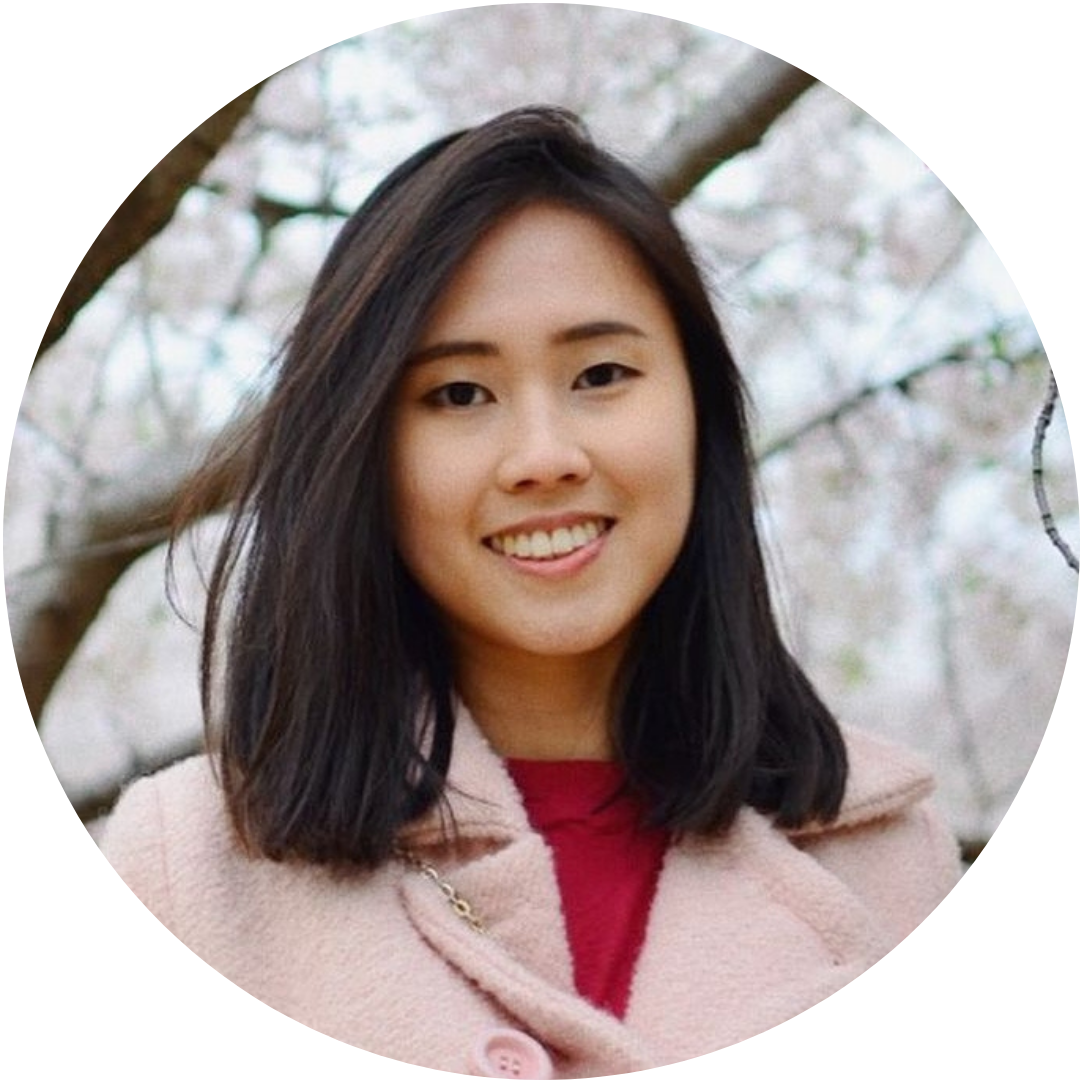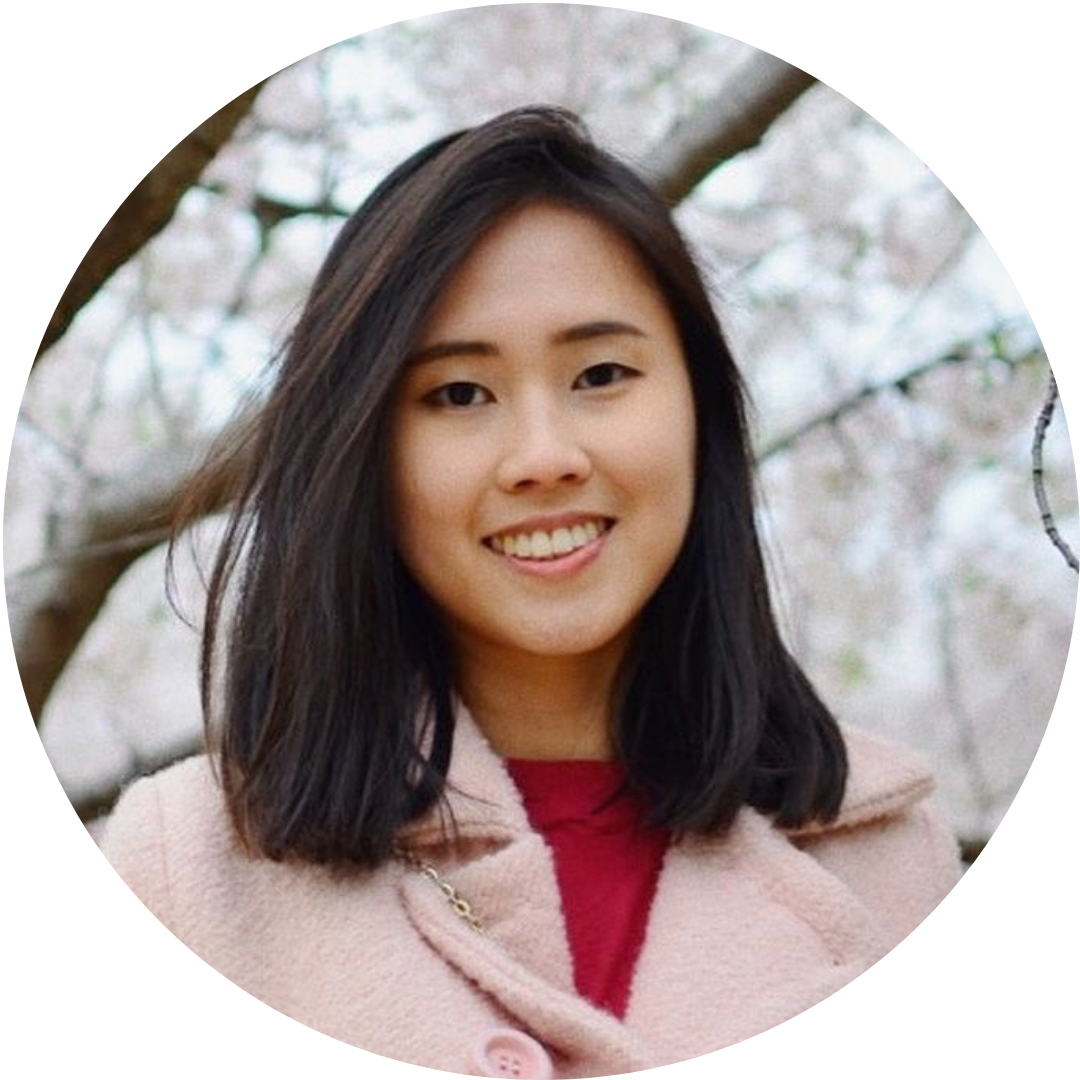 Dr. Stella
@stellamarselie
Dermatologist