If you're dealing with breakouts and piling on that acne treatment, make sure to restore your skin and keep it healthy with some hydrating and acne prone skin friendly moisturizers! Here's a few top picks from Picky Experts Dr. Meg, Dr. Jaja and NP Monica (we also threw in a few picks of our own). 
Dr. Meg's Picks
Illiyoon Ceramide Ato Soothing Gel
This moisturizer is a fantastic soothing lotion to follow intensive acne treatments. Containing fermented ceramide, the cream provides long-lasting hydration to the skin. Additionally, it contains sugar beet which contains amino acids that are great at soothing irritated skin. This lotion is vegan, cruelty-free and hypoallergenic so even the most acne-irritated and sensitive skin will feel gently nourished.
"Finally found a moisturizer that doesn't break me out! I guess it's because I have very oily skin so it needs the right product that is not too moisturizing but gives just enough hydration, and this moisturizer ticks all the boxes for me. Couldn't ask for a better moisturizer honestly!" – salsabilanaura
For oily skin types, this moisturizer is a must try! Specifically targeting oil control, this lotion even has a matte, powdery finish to leave skin looking less shiny. Niacinamide in the product regulates oil production and refines pores while Centella Asiatica tackles damage left by acne on the skin.
"Last December, I experienced a major breakout due to atopic dermatitis combined with a food allergy. Worst adult acne of my life! I've tried lots of different skincare products to help with the acne, the scars that followed, as well as my greasy t-zone but only this, together with the new Stay Fresh toner, did the job! In just 3 days, my acne and irritation has subsided and grease is so much less now!" – dengsoon6
Dr. Jaja's Picks
This lightweight, fast absorbing gel helps soothe and care for acne prone, irritated skin. Containing aloe vera, it will easily calm sensitive skin. It also contains Allantoin, which is a restorative ingredient that protects the skin from stressors and external irritants.
Kiehl's Ultra Facial Oil-Free Moisturizer
This oil-free moisturizer has a cooling effect to instantly soothe redness and irritation caused by acne. This fast-absorbing, alcohol-free, non-comedogenic moisturizer seeps into skin immediately to help visibly reduce shine and visibly minimize pores over time for skin that looks and feels hydrated, refreshed and balanced.
"This oil-free cream is so amazing for oily skin. The gel texture feels so amazing and soothing. It aborbs quickly into your skin. This gel cream so leaves my oily skin with a matte feel. This one definitely helps with keeping oily spots to a bare minimum." – Whoisnee
Face Republic Cica Gel Moisturizer
Specifically made for acne-prone skin, this moisturizer focuses on the healing effects of Cica aka Centella Asiatica. While soothing irritation caused by acne, Centella Asiatica can also repair damage caused to the skin, leaving less scarring as a result. This daily moisturizer is also fast absorbing and refreshing.
"My acne prone skin really love this because it reduces redness and help inflamed skin. It also contains of sodium hyaluronate to help moisturize and increase skin hydration. Another reason why I love it is the smell of fresh mint and lightweight gel texture." – GinGin21
NP Monica's Picks
Neutrogena Hydro Boost Water Gel
This hyper-hydrating moisturizer absorbs quickly like a gel but has the lasting, intense moisturizing power of a cream. It works well both as a stand-alone moisturizer, but also underneath make up. Oil-free and non-comedogenic, this light lotion won't clog pores and exacerbate acne issues.
"HANDS DOWN TO THIS MOISTURIZER. 👀🙌🏻 My skin feels hydrated, moisturized with a velvet-matte finish, yet "sealed" by the silicone on top of my skin even to the time when I have to stay up late (which at this time my skin tends to get greasier). I say this is a very ideal moisturizer for a resilient oily skin like me." – beautelogbook
DRMTLGY Water Crème Moisturizer
A weightless moisturizer that delivers an energizing burst of hydration to parched, oily skin. This lightweight, daily moisturizer works to restore skin's natural radiance and bounce, leaving skin supple and soothed. Fast-absorbing, yet deeply moisturizing, Water Crème Moisturizer helps visibly soften common signs of aging without any greasy residue.
Picky's Picks
Biossance Squalane + Omega Repair Cream
For dry skin types who are prone to acne, this cream is definitely worth a try! This deeply hydrating cream really melts into the skin without leaving an oily, shiny finish. The natural scent of the ingredients in this product – including cholesterol replenishing açai berries – may need a little bit of getting used to, but the hydrating results of the product are worth it!
"If you're looking for an intensive cream that does the job, this is it. The texture is balmy, but it's not heavy on the skin. It also did not feel oily. I also like that it glides smoothly on my skin and that my skin absorbs it quickly. I've been using this for weeks now and I've noticed my skin got smoother." – cssanti
A light-weight, quickly absorbed, non-sticky moisturizer that is perfect for skin that is oily or irritated. It is tested and proven to be hypo-allergenic and non-comedogenic. It contains Restomide and ADfence-P to help soothe and calm irritated skin and slow down sebum production.
"Used it for about 3 months and it's great! Doesn't break me out and noticed that it also helps keep me from breaking out. I use prescription strength retinoids so had to find a nice moisturizer that wasn't too heavy since I'm very oily and live in a tropical country with crazy humidity. Really great product, will probably keep using it." – flinlim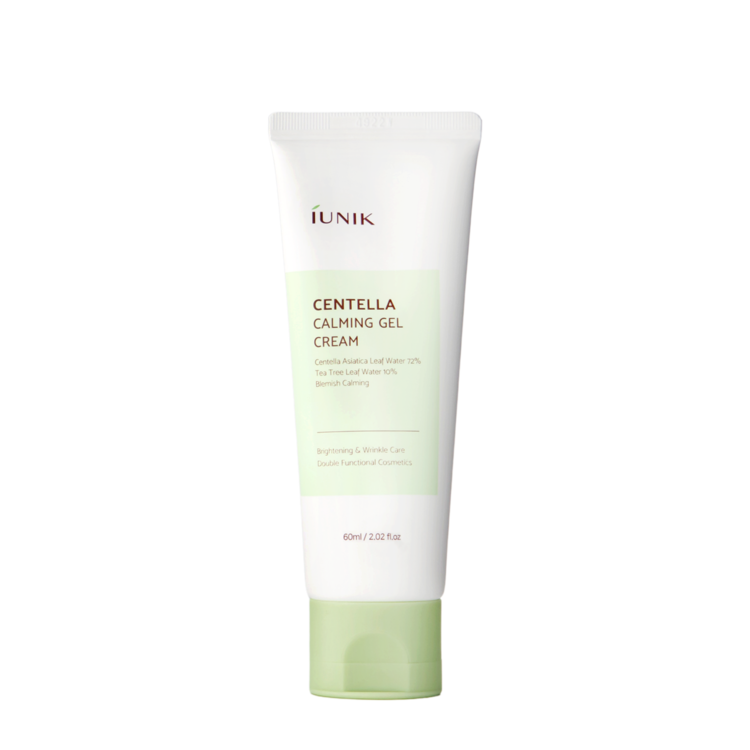 iUNIK Centella Calming Gel Cream
Voted the 3rd most beloved moisturizer of 2021 by Picky users, this cream promotes clear skin. It's calming properties make it suitable for sensitive skin as it soothes irritation and redness. It contains restorative Centella Asiatica and Tea Tree Leaf water to repair the skin barrier from acne damage.
"This is the only moisturiser that doesn't break me out, isn't too greasy, doesn't pill up and does it's job. I'm on my second bottle, its just perfect for oily/combo acne prone skin and I'm super glad it has no fragrance or any unnecessary stuff. Just a straight up simple effective product that does what it says." – GigiXPaws
Get Picky
Need a little more? Well the Picky app has TONS of acne focused products, from moisturizers and beyond! So make sure to open up that Picky app and scroll through all those amazing options. Filter by concern or explore the Discuss page to see what fellow Picky friends suggest. Don't forget to follow us on Instagram and check out our YouTube!