We are thrilled to announce an exciting new addition to the beloved Picky app that will transform the way you shop for your favorite beauty products. Say hello to the much-anticipated Picky Coupons feature, where users can now redeem exclusive coupons on renowned sites like YesStyle, Wishtrend, and SKIN1004 in exchange for Picky points! And if you're not already a Picky member, this is the perfect opportunity to download the app and dive into a world of discounts and rewards!
At Picky, we understand that discovering and keeping up with the latest trends in K-beauty is not only a passion but also an investment. So, with Picky Coupons, we want to your beauty journey just a little more budget-friendly. With the introduction of this feature, we've partnered with popular beauty shops to bring you irresistible deals and discounts on a wide range of products!
What are Picky Coupons?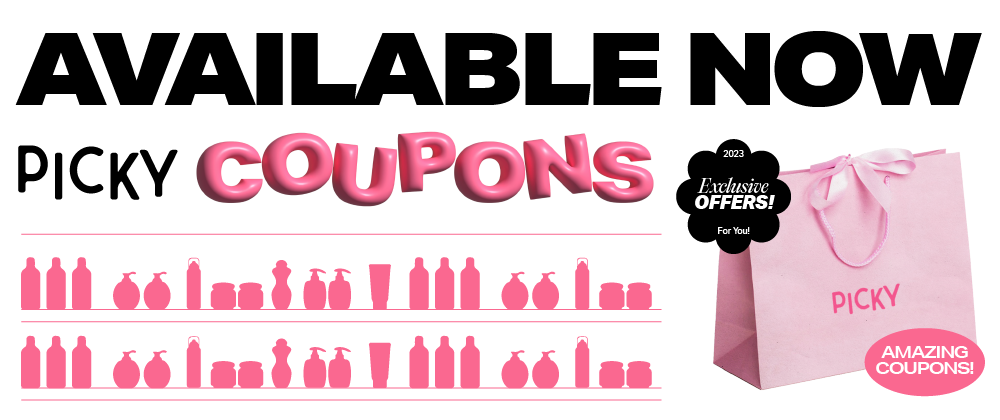 If you're wondering how it works, let us fill you in on the details. As a Picky user, you'll now have access to a dedicated section within the app, where a curated selection of coupons awaits. Whether you're eyeing that luxurious serum from YesStyle or searching for the latest skincare must-haves on Wishtrend.com, our Picky Coupon feature will grant you fantastic savings at your fingertips.
Redeeming these coupons is as easy as can be. Simply browse through the available options, select the coupon that catches your eye, and click to redeem it. Once redeemed, copy and paste the code on the respective website. Then, the coupon will automatically apply the discount to your purchase, ensuring a seamless and hassle-free shopping experience!
Picky Coupons Available Now!
The time has come to unveil the exciting coupons available now for our lovely Picky members. Drumroll, please!
YesStyle Mega Sale – Additional 10% Off!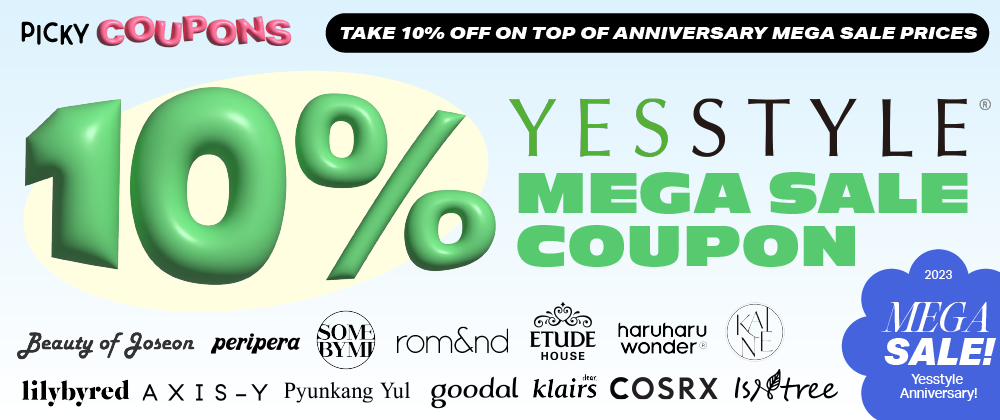 YesStyle, one of the leading online retailers for Asian beauty and fashion, is about to celebrate its 10th anniversary by kicking off its biggest sale of the year, running from July 4th at 9 AM KST to July 11th at 11 PM KST. This is the perfect time to grab those beauty products you've been eyeing, with up to 40% off on twenty-four top Korean beauty brands. Get ready to snag incredible deals on popular names like COSRX, BOJ, ETUDE, Peripera, Isntree, I'm From, MacQueen, Some By Mi, and more!
And guess what? We've got an exclusive offer just for you! As a Picky member, you now have the opportunity to redeem an Extra 10% off coupon stacked on top of any YesStyle affiliated codes. The coupon will be valid throughout the YesStyle Mega Sale, so you have plenty of time to shop until you drop!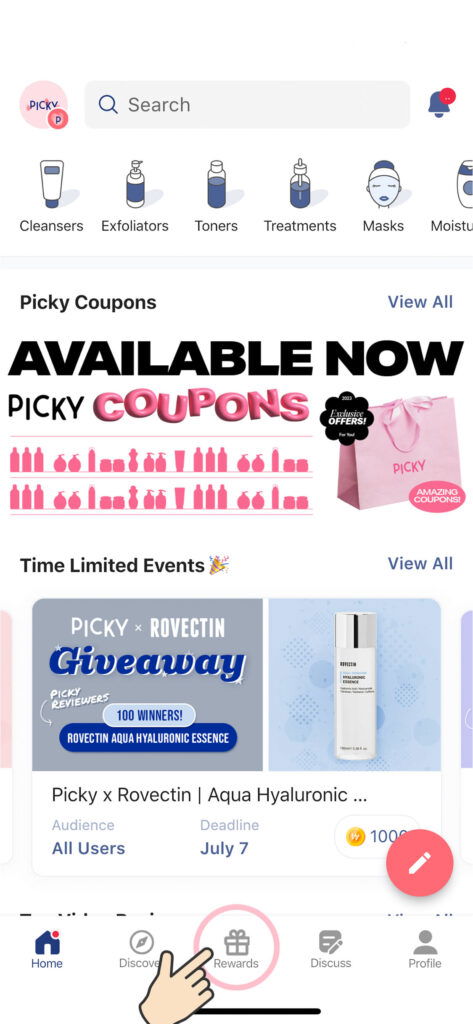 Here's the best part – redeeming this coupon is incredibly easy! For just 1,000 points from the Picky app, you can unlock this fantastic deal. Accumulating points is a breeze, as you can earn them by engaging with the app and its features. I know right? Enjoy exploring K-beauty products and gaining access to incredible savings at the same time!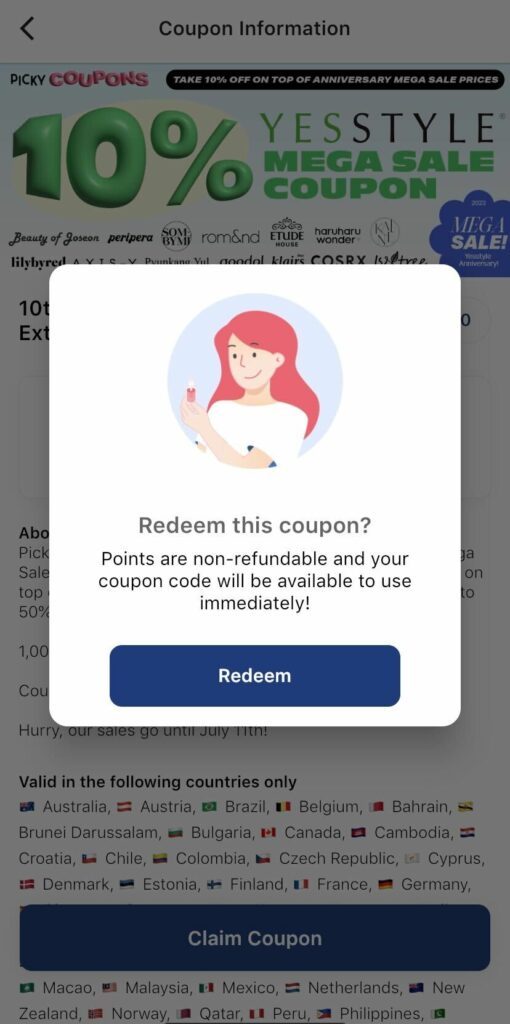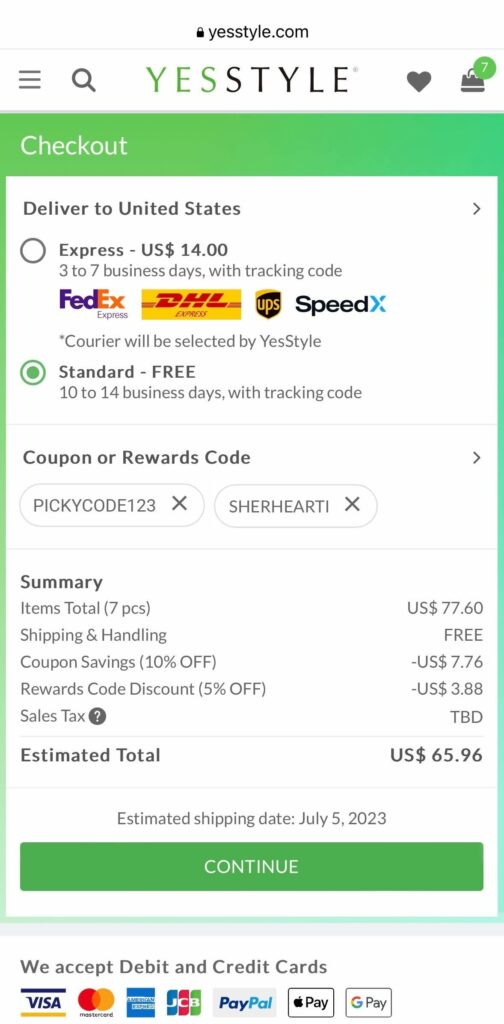 Imagine getting your favorite skincare products, trendy fashion items, and must-have beauty tools from YesStyle's Mega Sale, all at a reduced price with the exclusive 10% off coupon. The savings add up, allowing you to indulge in your passion without breaking the bank. So, if you've got your mind set on that COSRX Hydrium Triple Hyaluronic Moisturizing Cleanser, enjoy 50% OFF, 5% OFF rewards, plus 10% OFF with the Picky Coupon! That's 65% OFF! Get ready to have the time of your life because Picky and YesStyle are here to enhance your shopping experience!
Other Picky Coupons
But the savings don't stop there. As a Picky member, you can also enjoy an extra 20% off Wishtrend products, with no minimum purchase required! Wishtrend, known for its curated selection of high-quality Korean skincare and beauty essentials, awaits you. With this exclusive Picky Coupon offer, you can stock up on your beloved Wishtrend products while keeping your wallet happy. During checkout, simply apply the coupon, and witness the prices drop!
And there's even more reason to celebrate! Picky members who make a purchase of $50 or more on SKIN1004 receive a free SKIN1004 Centella Ampoule. This powerful ampoule, enriched with centella asiatica, becomes an essential addition to your skincare routine, promoting a healthy and radiant complexion. Explore SKIN1004's exceptional products while enjoying an incredible bonus gift. It's the perfect opportunity to indulge in SKIN1004's offerings!
Not a Picky Member Yet? Here's how to start!
Now, for those who have not yet joined the Picky community, let us extend a warm invitation to experience the world of savings and rewards. By downloading the Picky app and creating an account, you'll be on your way to receiving points right away. Also, the accumulation of points opens the door to many benefits, including the redemption of exclusive coupons like the ones we've just mentioned.
To get started, simply follow these simple steps: download the Picky app from your device's app store, create an account, and begin your K-beauty journey with Picky. The app's intuitive interface and user-friendly features will guide you through the process effortlessly, ensuring that you have a seamless experience from start to finish.
As a Picky member, you'll have access to a diverse range of skincare and beauty options, carefully selected to cater to your specific needs. With the Picky Coupons feature, you'll be able to save money while exploring new brands, indulging in your favorite products, and discovering hidden gems in the K- beauty world.
So, don't miss out on this golden opportunity to vivify your beauty routine while enjoying incredible savings! Download the Picky app today and join the ever-growing community of K-beauty enthusiasts who are reaping the benefits of Picky Coupons. Start your Picky adventure now!
So, what are you waiting for? Download the Picky app and bag your coupons today! Click here to view our blog on the latest, hottest K-beauty trends. Also, don't forget to follow us on our Instagram and TikTok!