What are some of the differences between AHA and BHA? Let's take a look and find out which one is best for your skin with a side by side comparison!
AHA vs. BHA
One thing both of these ingredients have in common is that they both work to exfoliate the skin, however they do it in different ways.
AHA stands for alpha-hydroxy acids. BHA is beta-hydroxy acids. AHAs are water-soluble and work on the surface level to remove layers of dead skin cells. This can increase the potential of skin photosensitivity but also helps with stimulating collagen production and their humectant properties are superb for drier skin types.
As for BHAs, they are oil-soluble. They work by penetrating deeper than the surface to "degunk" your pores. One thing is for sure, and that is BHA is acne-prone skin friendly!
How can we compare?
Check out this side by side table to sum up AHA and BHA's attributes! Keep scrolling to see different AHA and BHA products so you can compare and find the best exfoliator for your skin.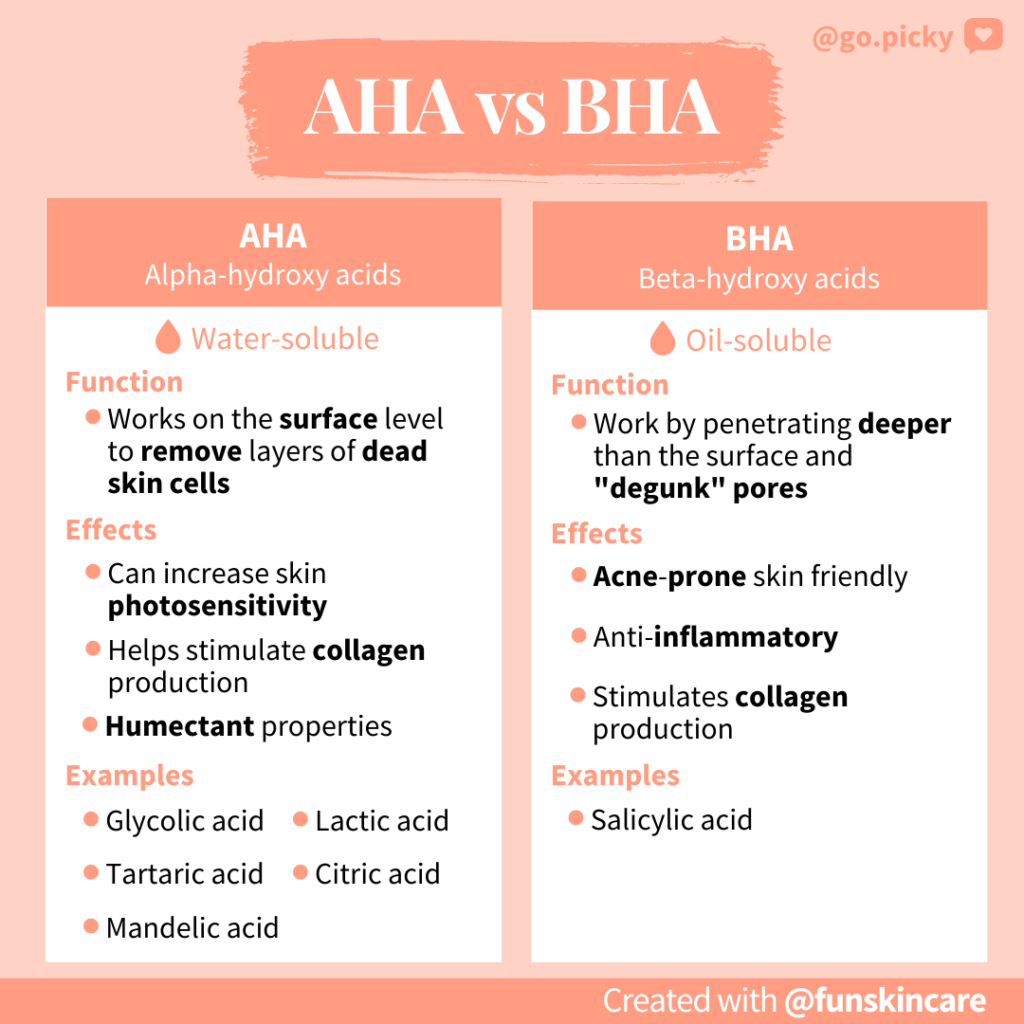 Picky's Picks
AHA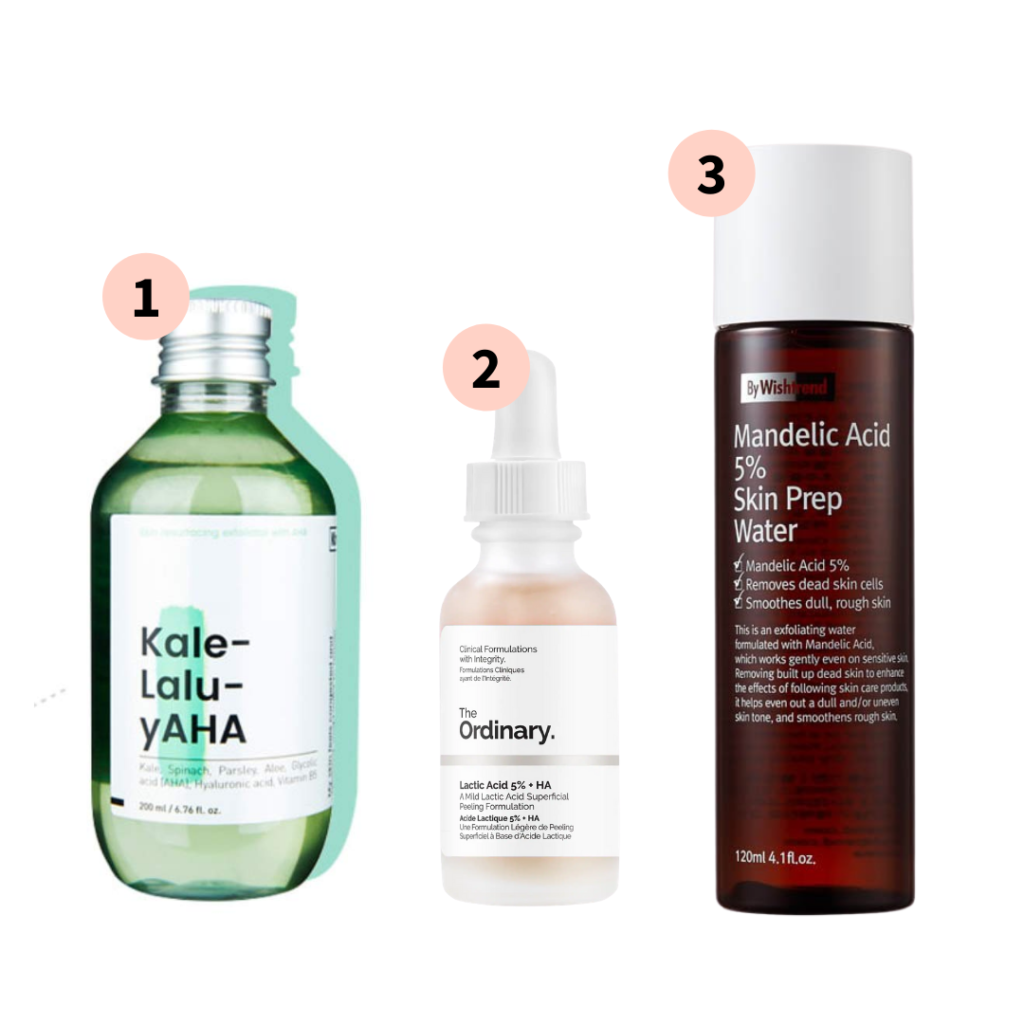 1. Krave Beauty – Kale-Lalu-Yaha
The Kale-Lalu-Yaha from Krave Beauty contains glycolic acid derived from sugar cane to shake away those dead skin cells! Leaving your skin gently exfoliated and your skin tone more even. You can use this after cleansing and drying your face. Soak a cotton pad, sweep it across your face, then follow up with a moisturizer. Start slow and work your way up to 2-3x a week for maximum results.
2. The Ordinary – Lactic Acid 5% + HA 2%
The Ordinary's Lactic Acid 5% + HA 2% provides mild exfoliation and helps reduce inflammation through a Tasmanian pepperberry derivative. However, as with most cases of AHA, your skin can become more sensitive to the sun. So cover up and apply that SPF! It's recommended to use at night, but if you apply during the day just make sure to use an SPF. Keep an eye out for any irritation!
3. By Wishtrend – Mandelic Acid 5% Skin Prep Water
The Mandelic Acid 5% Skin Prep Water from By Wishtrend contains mandelic acid, which claims to be less irritating than other AHA ingredients. Also includes licorice root extract, centella asiatica extract, and panethnol which helps with fading dark spots as well as irritation! Apply after cleaning and drying your face, use a cotton pad to gently wipe across your skin!
BHA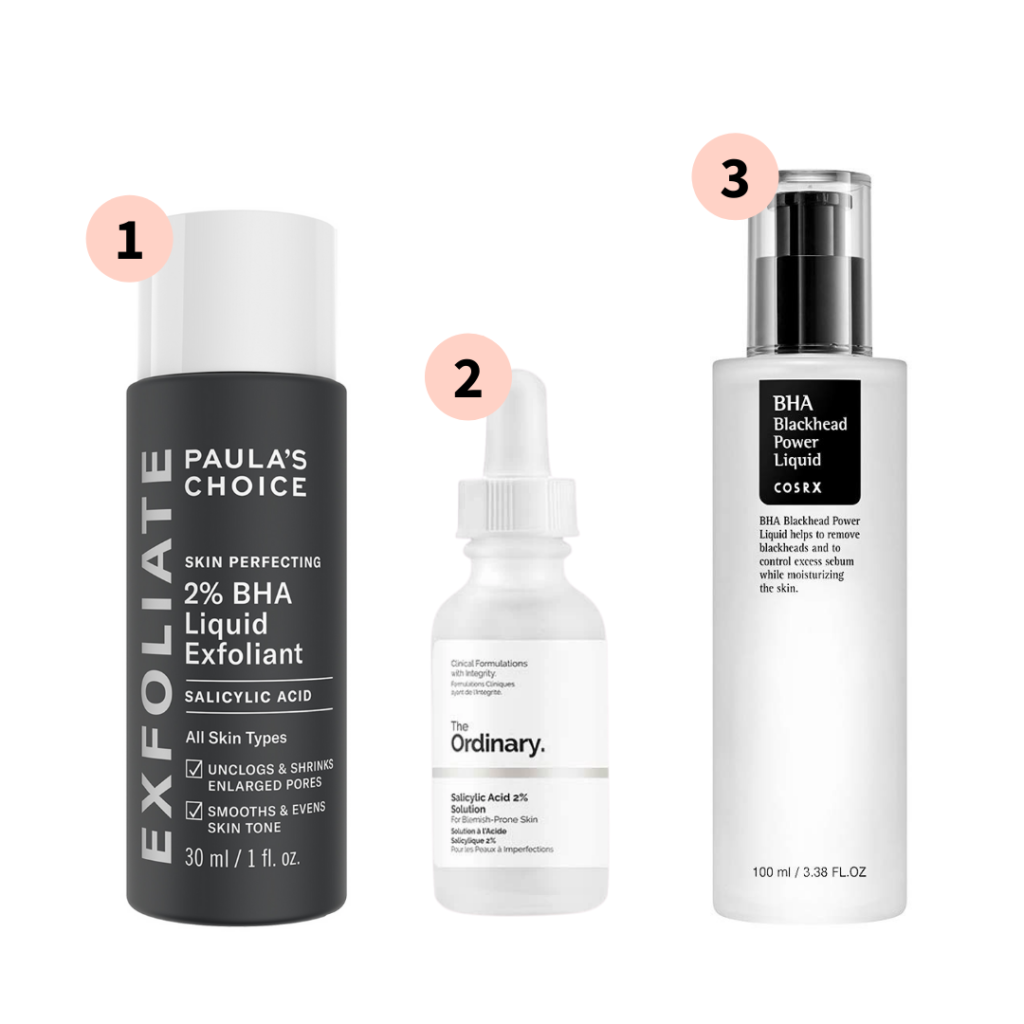 1. Paula's Choice – Skin Perfecting 2% BHA Liquid Exfoliant
The Skin Perfecting 2% BHA Liquid Exfoliant from Paula's Choice is a skincare fan favorite! This exfoliant helps de-clog and minimize pores in addition to brightening your overall skin tone! Best way to use is twice a day after cleansing and toning!
2. The Ordinary – Salicylic Acid 2% Solution
The Ordinary's Salicylic Acid 2% Solution helps dig deep into those pores and fight acne and oily skin! You can apply this to the entirety of your face, or as a spot treatment. Best to use both day and night for better results, right before your oils and moisturizer!
3. COSRX – BHA Blackhead Power Liquid
COSRX's BHA Blackhead Power Liquid clears out those blackheads thanks to the power of BHA! It claims to remove excess sebum, dead skin cells and clear up your skin! You can use after cleansing and toning, right before your essence. Make sure to apply with a cotton pad to the entirety of your face.
AHA + BHA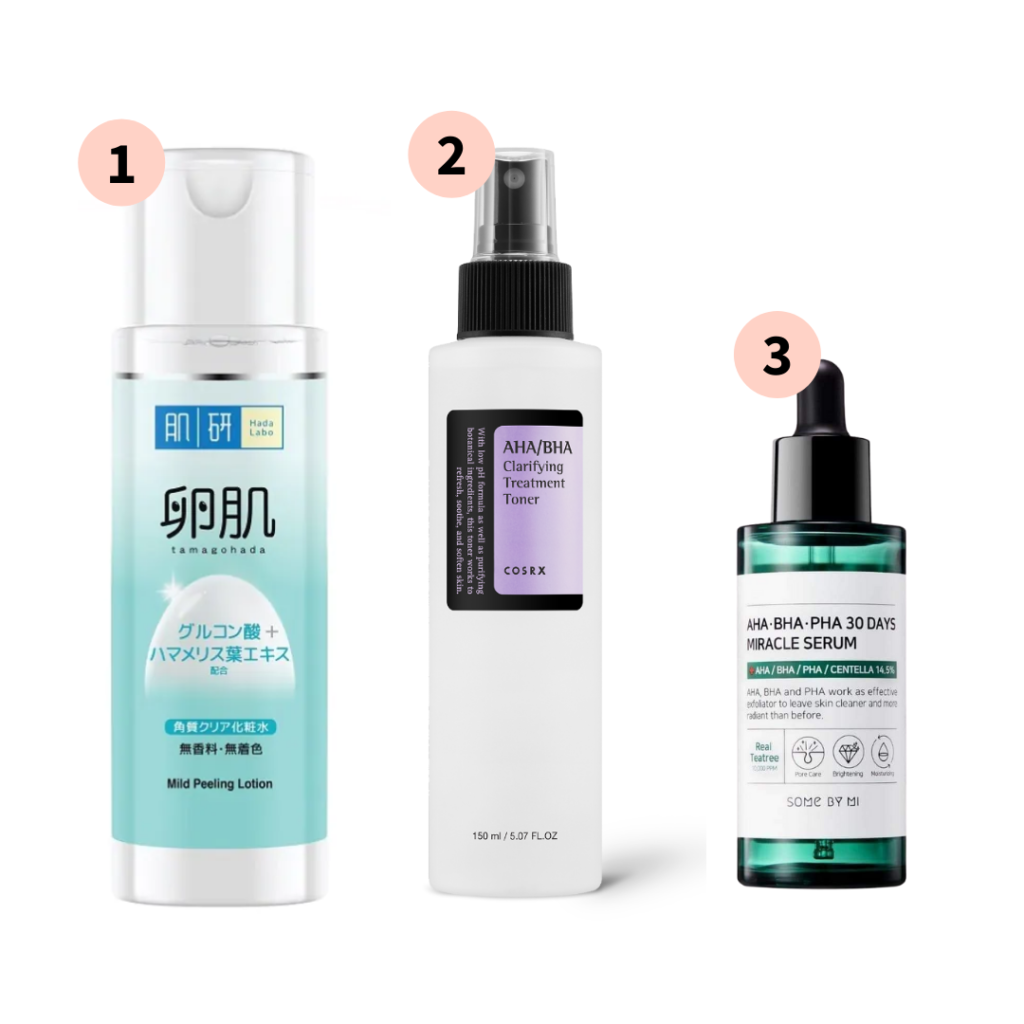 1. Hada Labo – AHA/BHA Mild Peeling Lotion
The AHA/BHA Mild Peeling Lotion from Hada Labo combines gluconic acid, tranexamic acid and gentle exfoliants to soften your skin and clean out pores. In addition, it can help with reducing the appearance of fine lines and wrinkles! Apply to a cotton pad after cleansing and wipe across your face and/or neck area.
2. COSRX – AHA/BHA Clarifying Treatment Lotion
COSRX's AHA/BHA Clarifying Treatment Lotion is a gentle exfoliator you can use daily. Containing both BHA (betaine salicylate) and AHA (glycolic acid) to help fight acne causing bacteria and "degunk" those pores. Also includes willow bark water which can help with redness or irritation. Apply with a cotton pad after cleansing!
3. Some By Mi – AHA BHA PHA 30 Days Miracle Serum
The AHA BHA PHA 30 Days Miracle Serum from Some By Mi is great for those suffering with acne but have sensitive skin. This serum is packed full of tea tree leaf water and centella asiatica to soothe any irritation or redness. That, of course, is in addition to AHAs, BHAs, and PHAs to gently exfoliate your skin. Make sure to shake well before applying!
Power of Picky
Don't forget to harness Picky's power to search and find the perfect product for your skin! With the Mega Ingredient Search you can include ingredients you want (like salicylic acid or glycolic acid) and exclude the ones you don't! Head to the Picky app now and try it out. check out our instagram or go back to our blog for more skincare science content.