Hey fashionistas, ready to slay in style? We've got the ultimate guide to help you rock those tops and dresses like a boss, all tailored to your unique personal color. Whether you're a Spring Warm, Summer Cool, Autumn Warm, or Winter Cool, we've curated a collection of fashion recommendations that will make you look and feel amazing. Say goodbye to fashion faux pas and hello to outfits that perfectly complement your natural glow. Let's dive in and discover the perfect ensembles that will have you standing out from the crowd!
Spring Warm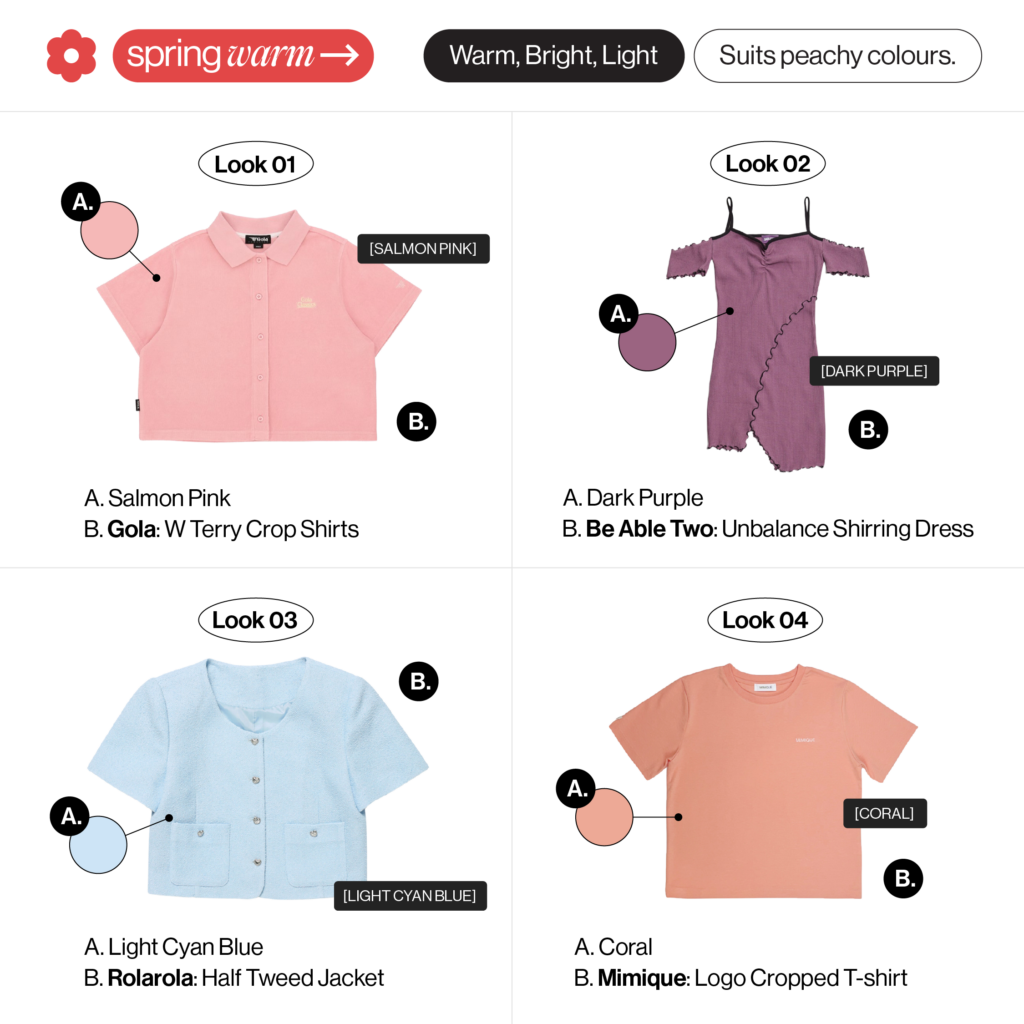 If you fall into the delightful Spring Warm palette, get ready to infuse your wardrobe with warmth, brightness, and lightness. This palette is all about capturing the essence of the blooming season and embracing its vibrant energy. So, when it comes to tops and dresses, think of warm and inviting hues that radiate positivity.
Peachy tones are your go-to shades for a soft and feminine look. Embrace the warmth of peach in your tops and dresses, and watch how it beautifully enhances your complexion. From soft pastel peach to a bolder coral, these colors will make you glow from within and complement your Spring Warm undertones.
But don't limit yourself to just peach! Experiment with other bright and lively colors that echo the freshness of spring. Delicate yellows, warm pinks, and light blues are also fantastic options to consider. These colors will add an extra dose of cheerfulness to your outfits and reflect your vibrant personality.
Summer Cool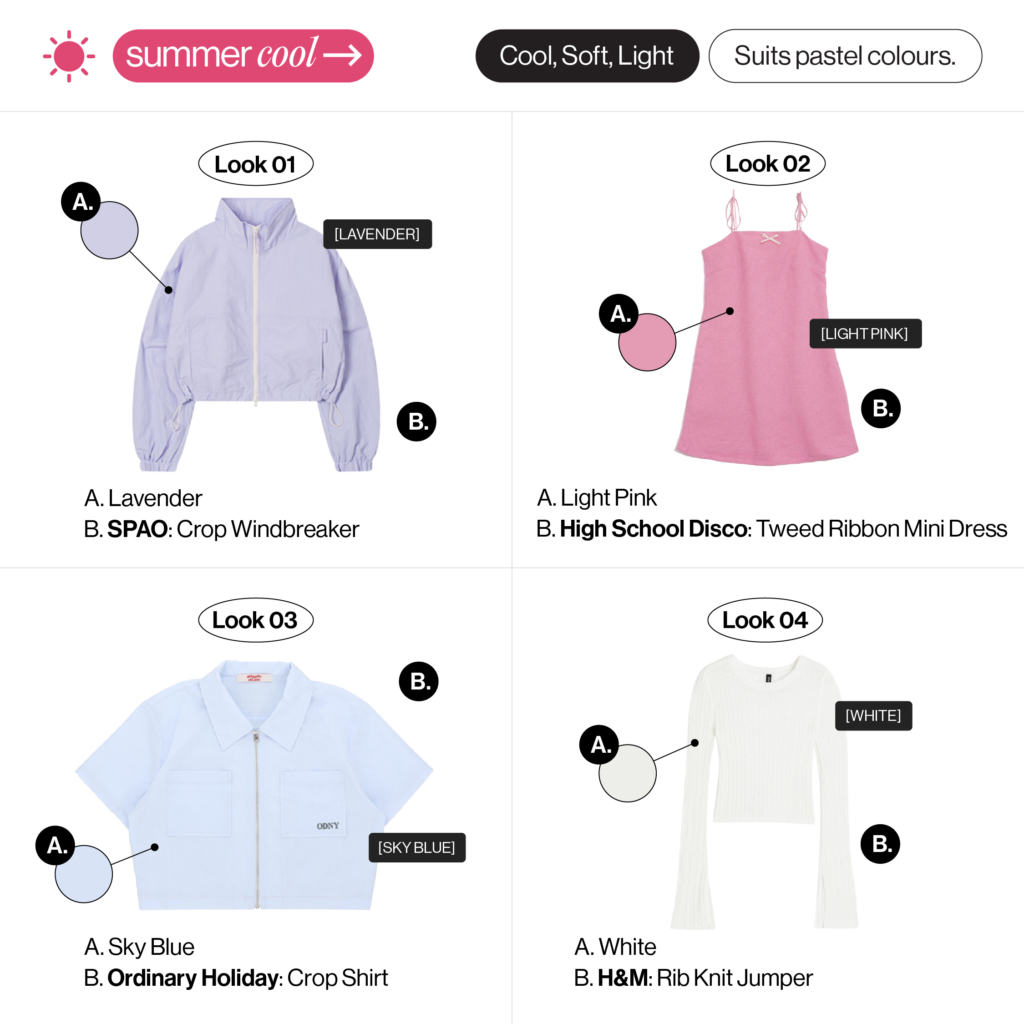 For those under the Summer Cool category, get ready to channel those cool, soft, and light vibes in your fashion choices. This palette is all about capturing the breeziness and tranquility of the summer season. So, when it comes to tops and dresses, think of colors that exude a sense of calm and serenity.
Pastels are your best friends when it comes to creating a cool and soft look. Opt for soft blues, gentle pinks, and muted lavenders that will beautifully complement your Summer Cool undertones. These delicate shades will bring out the subtlety of your complexion and create a soothing aesthetic.
Light colors are also a fantastic choice for your tops and dresses. Think of elegant whites, creamy ivories, and gentle grays that embody the essence of a sun-kissed summer day. These light hues will not only keep you feeling cool but also enhance your natural radiance.
Autumn Warm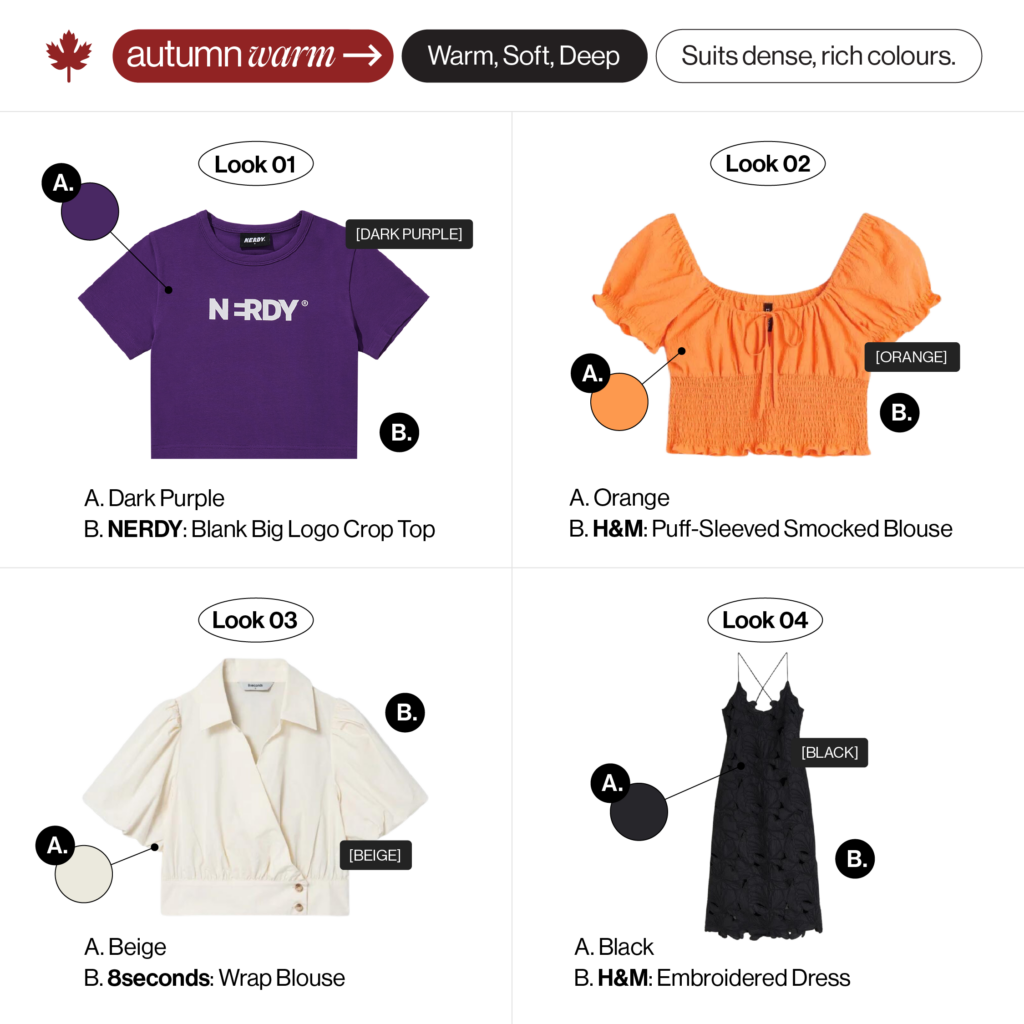 If your personal color falls into the captivating Autumn Warm palette, embrace the warm, soft, and deep vibes in your fashion style. This palette exudes an alluring charm that perfectly captures the essence of a fall evening. So, when it comes to tops and dresses, think of colors that evoke a sense of warmth and depth.
Rich and dense colors are your go-to choices to create a striking and sophisticated look. Embrace the depth of colors like deep blues, emerald greens, and jewel-toned purples. These shades will beautifully complement your Autumn Warm undertones and add a touch of elegance to your outfits.
Warmth is key when it comes to creating a soft and inviting aesthetic. Seek out warm undertones in your color palette, such as dusky pinks, peachy oranges, or burnt siennas. These warm hues will create a harmonious balance, enhancing your complexion and radiating a gentle glow.
Winter Cool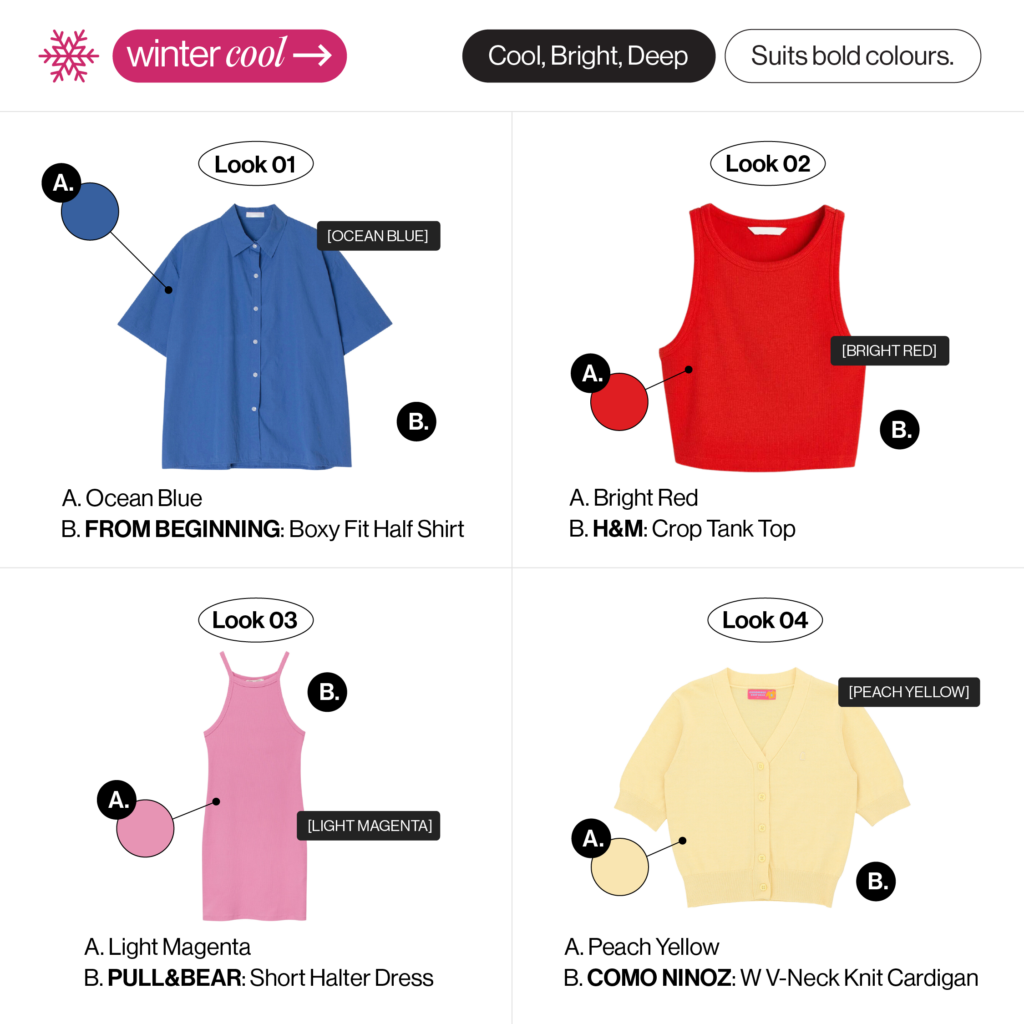 Lastly, if you find yourself in the mesmerizing Winter Cool palette, you are all about the cool, bright, and deep vibes. This palette is all about making a bold statement and embracing the striking allure of the winter season. So, when it comes to tops and dresses, think of colors that exude confidence and vibrancy.
Bold colors are your right hands when it comes to creating a standout look. Embrace the power of bright reds, electric blues, and deep purples that will beautifully complement your Winter Cool undertones. These eye-catching hues will make you stand out from the crowd and add a touch of excitement to your outfits.
Coolness is key in capturing the essence of the Winter Cool palette. Seek out colors with cool undertones, like icy blues, frosty grays, or elegant silvers. These cool hues will enhance your natural radiance and create a sophisticated and sleek aesthetic.
Where to Shop K-Fashion
So, we know what you're wondering! All this discussion about finding the right colors but where to go? No worries, we got you! Here's a list of all the shops with the most trendy, stylish K-fashion you should check out:
Happy shopping, Pickies!
Interesting in learning more about Personal Color? Click Here to access our blog on the Personal Color series and download the Picky app to stay in touch with the latest updates on K-beauty! Also, don't forget to follow us on our Instagram and TikTok for exciting upcoming content.