In the vast and ever-evolving world of cosmetics, finding the perfect makeup products can be a daunting task. As individuals, our skin tones and undertones play a significant role in determining which shades will best enhance our complexions. Among the diverse range of undertones, those blessed with neutral undertones have a particularly versatile canvas to work with.
Neutral undertones possess an exquisite balance between warm and cool tones, giving individuals the opportunity to experiment with an extensive array of colors and finishes. From lip tints that provide a subtle flush of color to blushes that add a radiant glow and eyeshadows that accentuate the eyes, the choices seem endless. But fear not, as we have curated a comprehensive list of makeup product recommendations to help individuals with neutral undertones discover their perfect cosmetic companions.
In this article, we will explore three essential makeup categories that are crucial for achieving a flawless and harmonious look: lip tints, blush, and eyeshadow. Whether you desire a natural everyday look or a captivating glam transformation, these handpicked recommendations will empower you to embrace and celebrate your neutral undertones. So, without further ado, let's dive right in!
Lip Tints
With the following lip tint recommendations in your arsenal, you can confidently enhance your neutral undertones and add a touch of color to your lips, no matter the occasion. So let's experiment with different shades and find the one that makes you feel your best!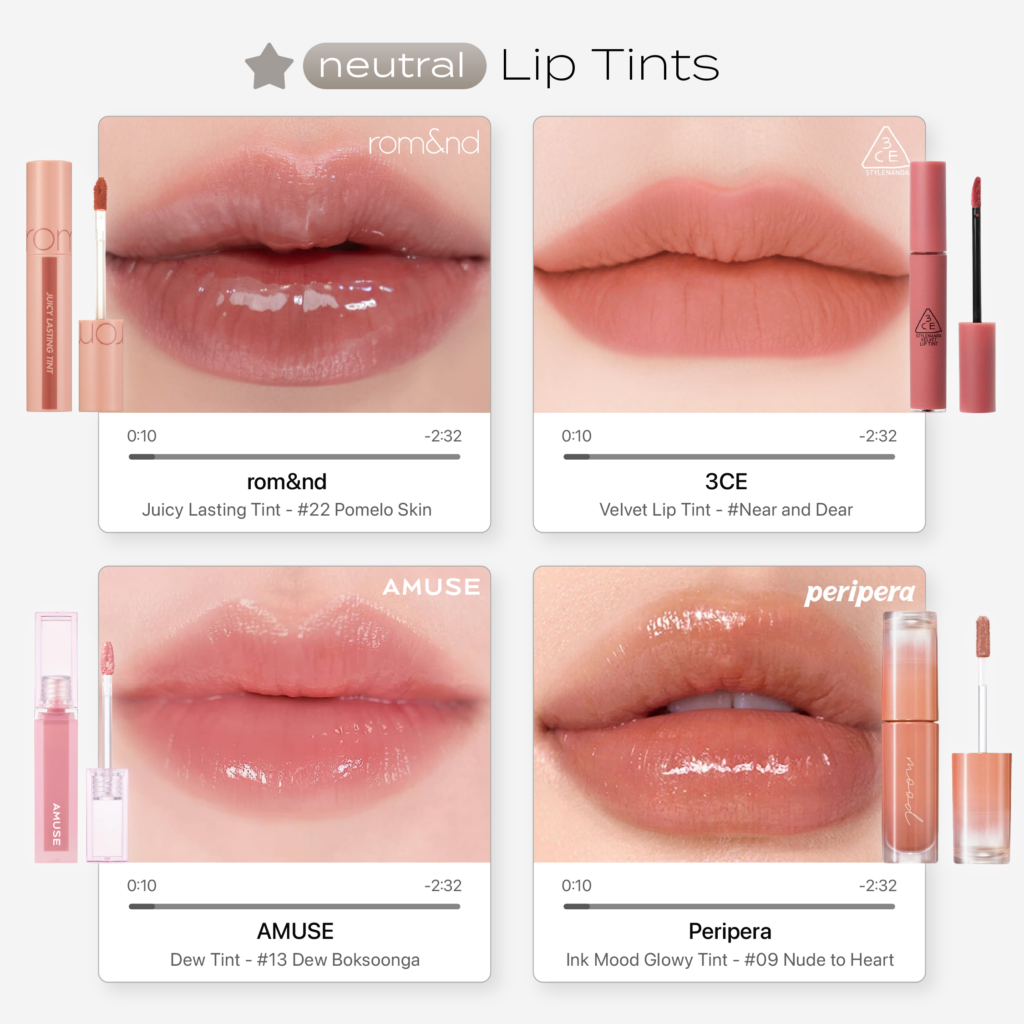 Rom&nd Juicy Lasting Tint in shade #22 Pomelo Skin
3CE Velvet Lip Tint in shade #Near and Dear
AMUSE Dew Tint in shade #13 Dew Boksoonga
Peripera Ink Mood Glowy Tint in shade #09 Nude to Heart
Blush
Adding a touch of blush to your cheeks can instantly brighten up your complexion and bring out the natural radiance of your neutral undertones. Therefore, here are some fabulous blush options that are perfect for individuals with neutral undertones: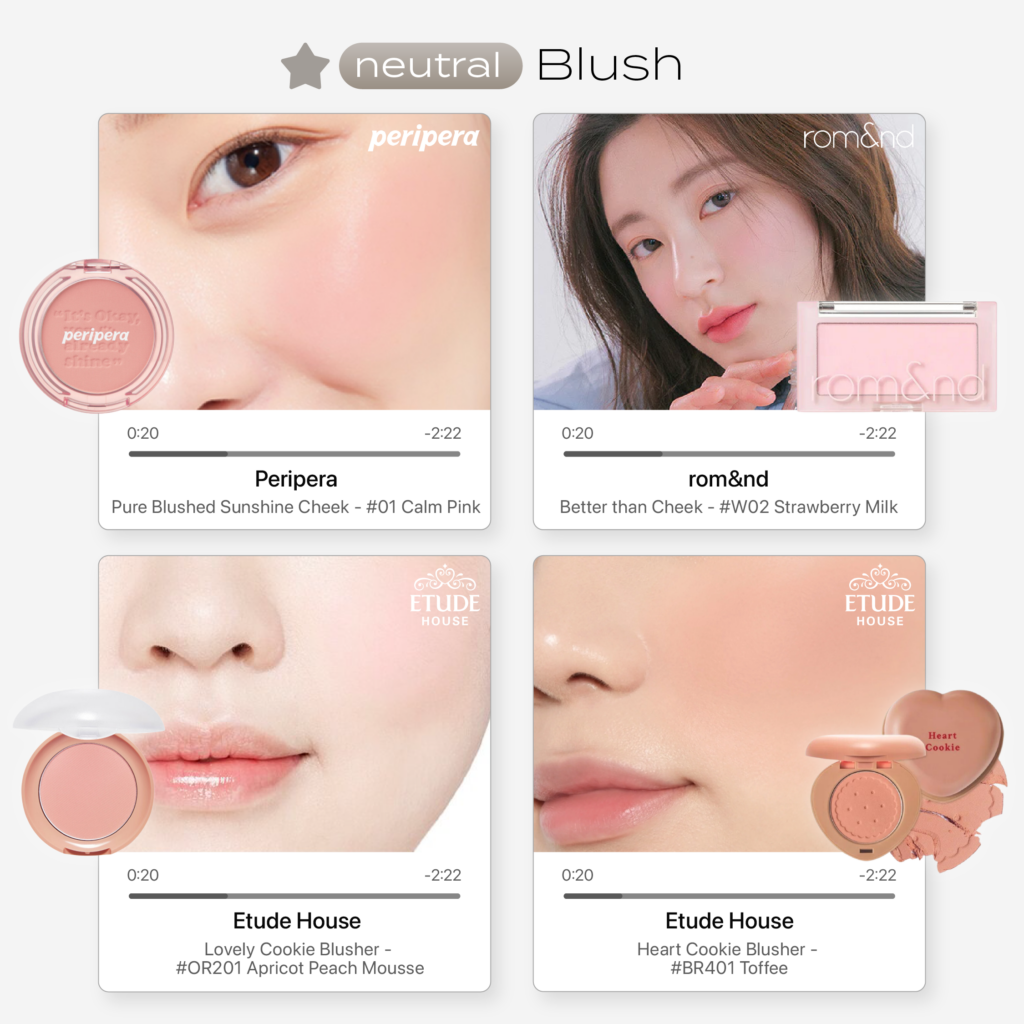 Peripera Pure Blushed Sunshine Cheek in shade #01 Calm Pink
Rom&nd Better than Cheek in shade #W02 Strawberry Milk
Etude House Lovely Cookie Blusher in shade #OR201 Apricot Peach Mousse
Etude House Heart Cookie Blusher in shade #BR401 Toffee
Eyeshadow
When it comes to eyeshadows, individuals with neutral undertones have the advantage of being able to rock a wide range of shades, from warm earth tones to cool neutrals. Here are some eyeshadow palettes that are perfect for enhancing your neutral undertones: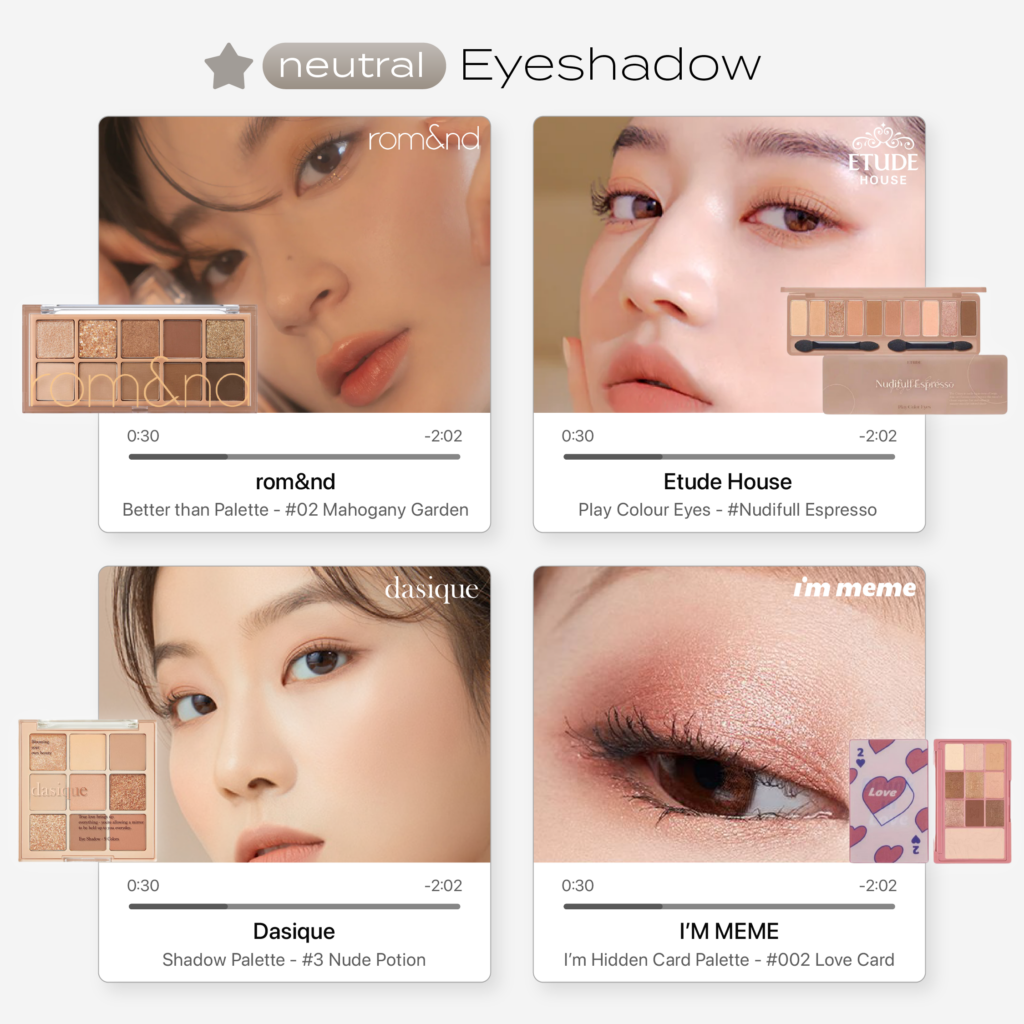 Rom&nd Better Than Palette in shade #02 Mahogany Garden
Etude House Play Color Eyes in shade #Nudifull Expresso
Dasique Shadow Palette in shade #3 Nude Potion
I'M MEME I'm Hidden Card Palette in shade #002 Love Card
Throughout this article, we've explored a range of recommendations specifically curated for individuals blessed with neutral undertones. From lip tints to blushes and eyeshadows, we've covered all the essentials to help you achieve flawless makeup looks that celebrate your complexion.
So, unleash your creativity, experiment with different shades and finishes, and most importantly, have fun with your makeup routine. With the right products in hand, you're ready to step out into the world, radiating your natural beauty and leaving a lasting impression wherever you go!
Want more information on the latest K-beauty trends? Download the Picky app and we've got you covered! Also, don't forget to follow us on Instagram and TikTok!