Finding that perfect sunscreen isn't easy, and it's different for everyone. Depending on your skin type or skin concerns, you may need to change the kind of sunscreen you use accordingly. A good sunscreen should complement your skin, rather than irritate it!
What's the perfect sunscreen for your skin type? Let's dive in and discover what kind is best for you!
Who, what, when, where, and how?
Who: Anyone older than 6 months should be using sunscreen!
What: The one that best fits your skin type. And, anything more than SPF 30 with Broad Spectrum protection.
When: Every morning, all year long. Doesn't matter if it's cloudy, the sun is still out!
Where: Everywhere. Especially skin that's exposed to direct UV rays.
How:

Put sunscreen on as your last skincare step.
When applying on your face, just use two fingers.
Reapply every 2-4 hours, especially if you're outdoors.
Types of sunscreen
There's a range of different ingredients and chemicals put in sunscreens, so we tried to break it down for you.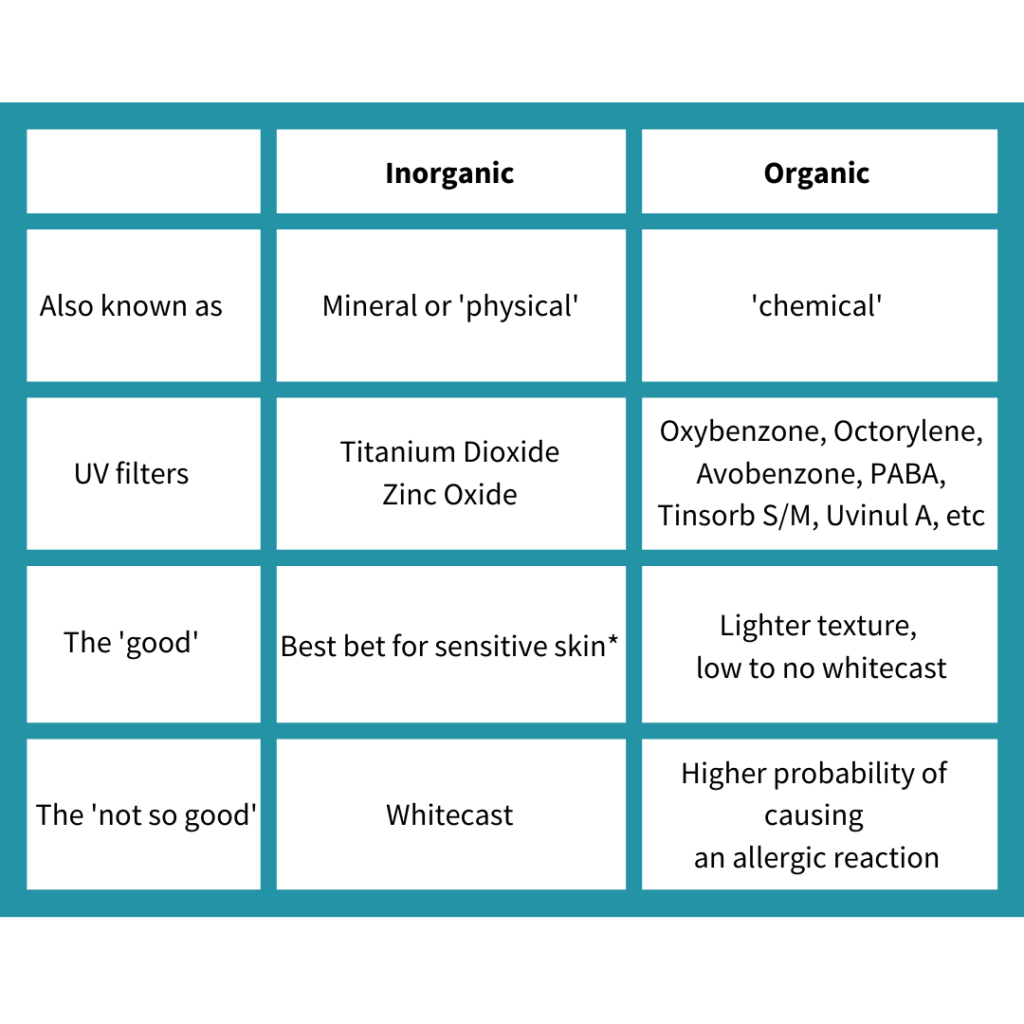 Terminology
Understanding the lingo can be confusing, so we'll brief you on what you should know to make your sunscreen shopping much easier.
SPF actually stands for sun protection factor, and this is the measurement of how many times longer your skin can handle the sun before it begins to burn, in comparison to bare skin. For example, if a sunscreen is SPF 50, that means your skin, when sunscreen is applied, can handle the sun 50 times longer than with just bare skin.
PA is the measurement of how long before your skin begins to tan (PPD) when compared to bare skin. This is shown through the '+' symbol. For example, '+' is 2-4 times more than bare skin and '++' is 4-8 times.
Broad Spectrum is broad protection of both UVA and UVB.
Best sunscreen for your skin type
Dry skin
For those with dry skin, a sunscreen with additional moisturizer would be key! A moisturizing sunscreen, usually cream type, will give your skin an extra pump of moisture. Keep an eye out for those that include ingredients like ceramides, glycerin, hyaluronic acid, or honey!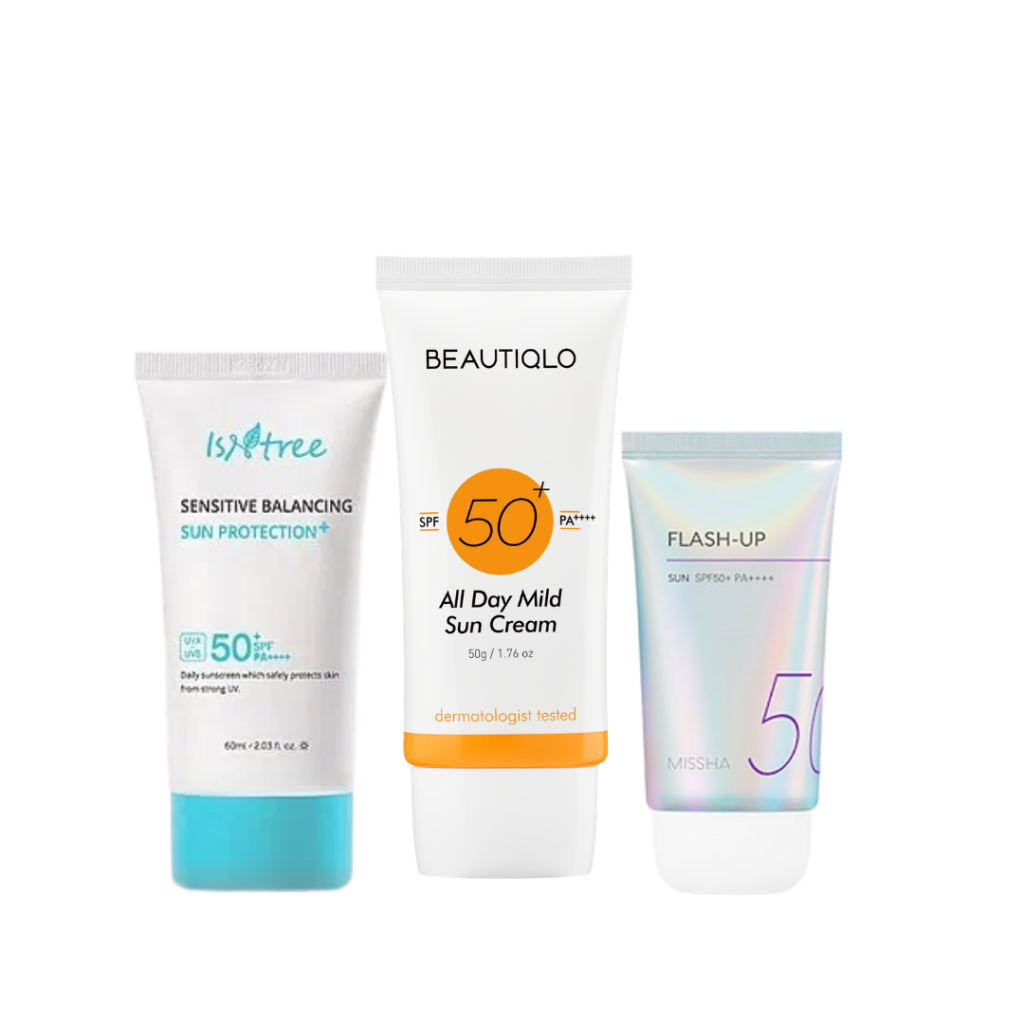 We recommend IsNtree's Sensitive Balancing Sun Protection Daily Suncream, Beautiqlo's All Day Mild Sun Cream, and Missha's Flash Up Sunscreen which are full of these moisturizing ingredients!
Oily skin
Those with oily skin should look for sunscreens with more water-based or gel formulas. This will help keep down the shine and give a more matte finish. Some ingredients you should search for are green tea, tea tree oil, and niacinamide.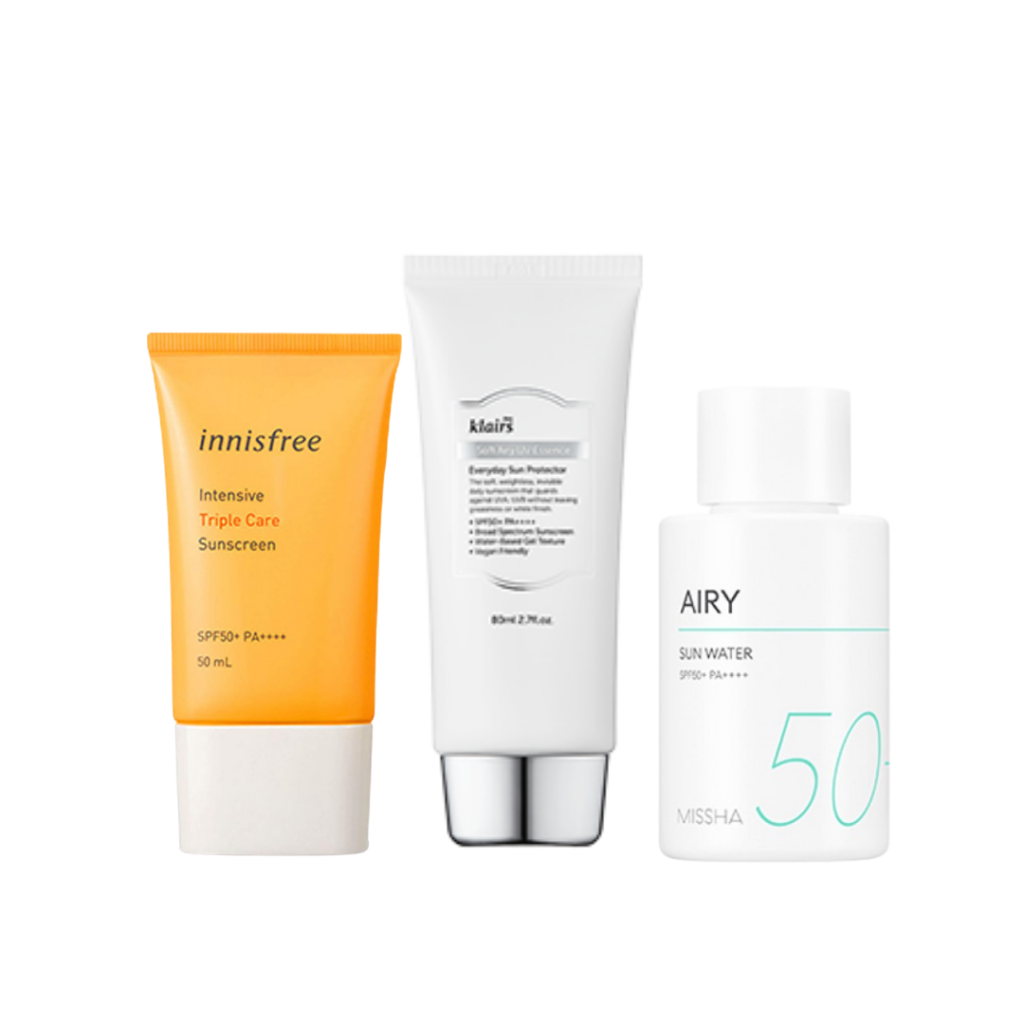 For oily skin we recommend trying Innisfree's Intensive Triple Care Sunscreen, Klairs Soft Airy UV Essence, and Missha's Safe Block Airy Sun Water!
Resilient skin
Resilient skin types don't have too much to worry about. You can try most, if not all, the sunscreens out there and find which one you like best!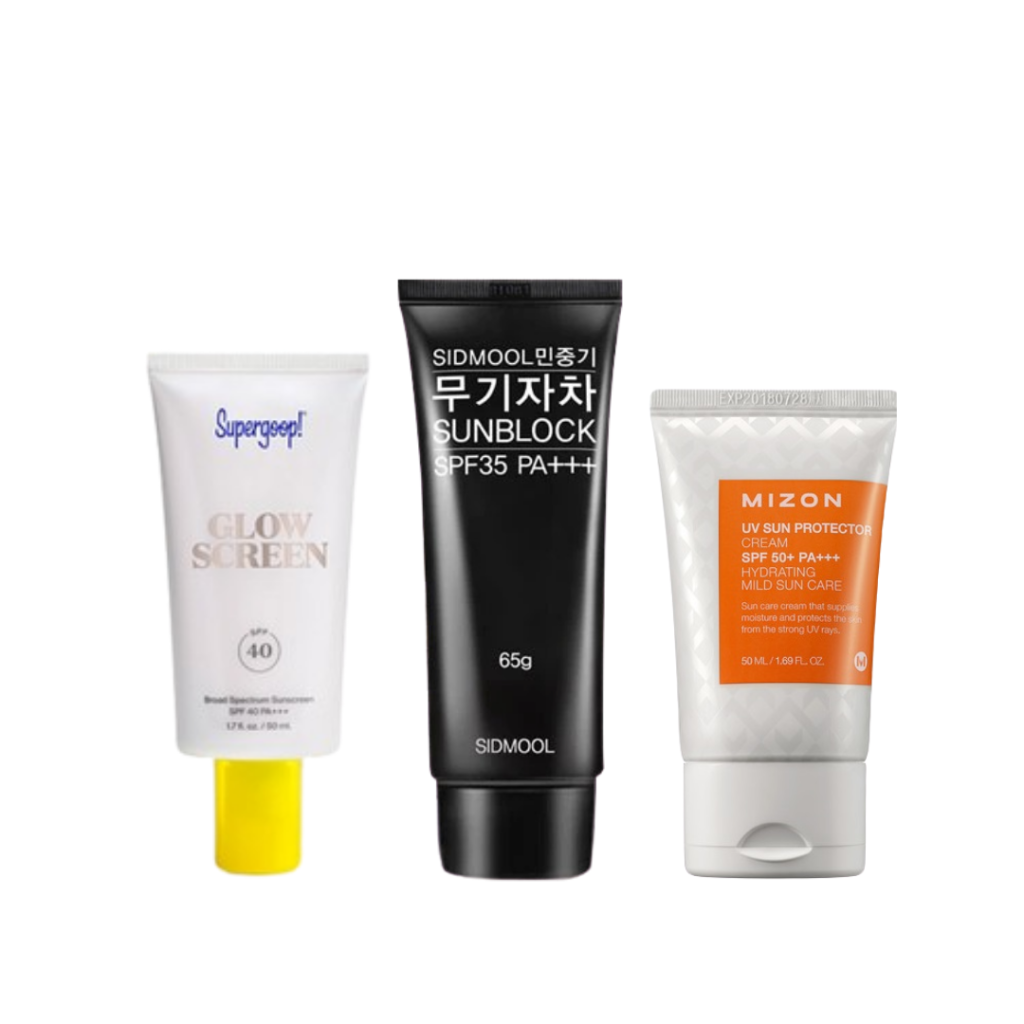 Try out these fun sunscreens! Supergoop! Glowscreen Sunscreen, Sidmool's Min Jung Gi Physical Sunblock, and Mizon's UV Sun Protector Cream.
Sensitive skin
If you have sensitive skin, be wary of a few ingredients. Avoid those with alcohol, fragrances, oxybenzone, para-aminobenzoic acid (PABA), salicylates, and cinnamates. You should opt for mineral types with zinc oxide and titanium dioxide, in addition to ingredients like panthenol, allantoin, and madecassoside. With these ingredients, it's less likely that you'll have a negative reaction, as they have soothing properties to reduce any irritation.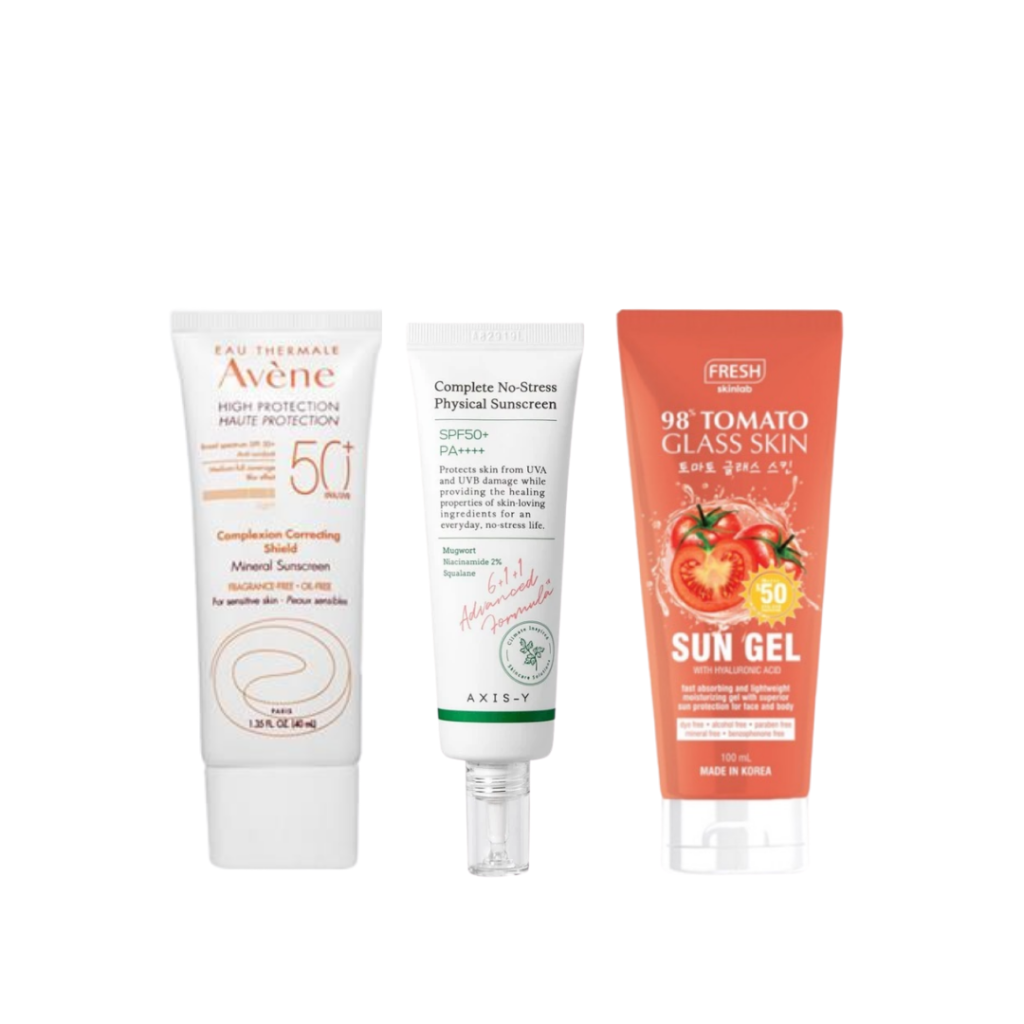 For sensitive skin types we recommend using Avene's Complexion Correcting Shield, Axis-Y's Complete No-Stress Physical Sunscreen, and Fresh Skinlab's Tomato Glass Skin SPF 50.
Acne-prone skin
Similar to sensitive or oily skin, it's best to go toward a sunscreen with light-weight and less irritating ingredients! Along with mineral type sunscreens, try some water-based and gel formulas too.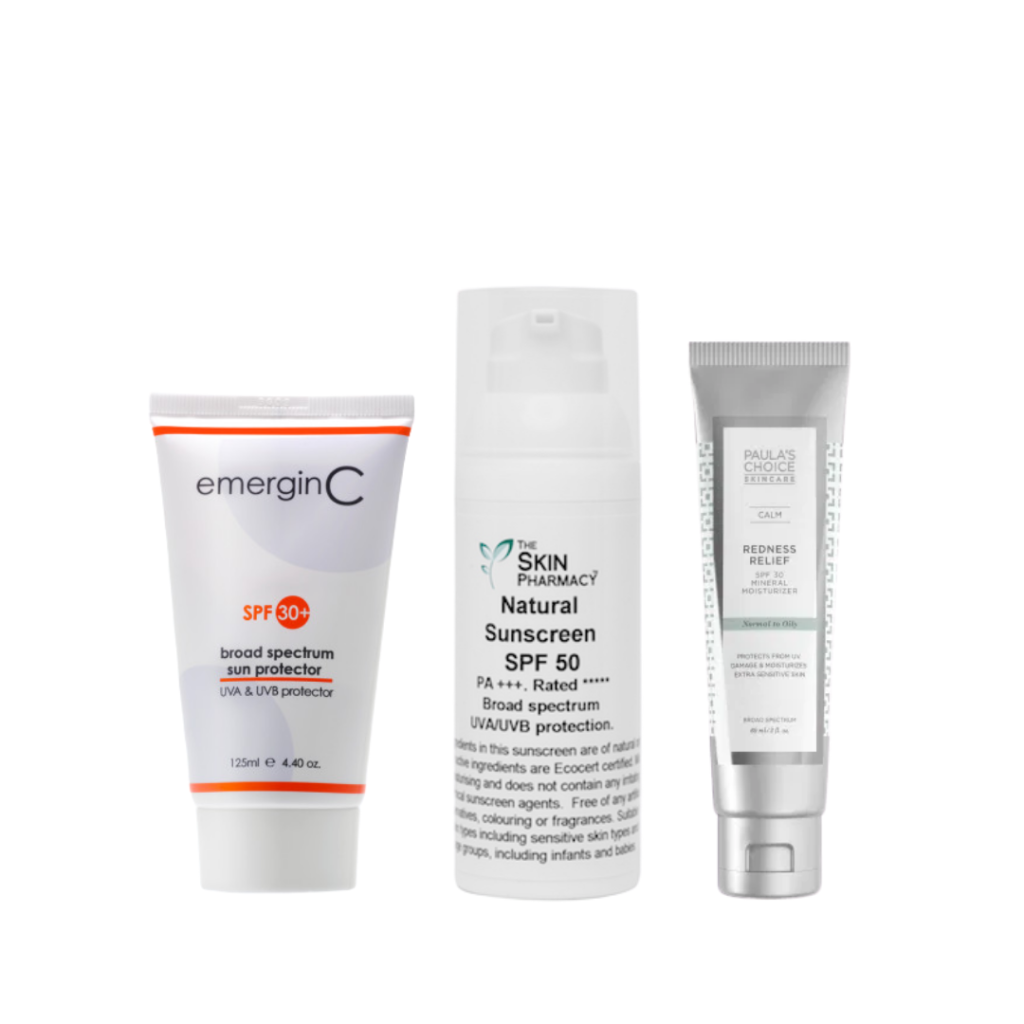 Acne-prone skin types should give some of these products a try! EmerginC's Sun 30 Plus, The Skin Pharmacy's Natural Sunscreen SPF 30, and Paula's Choice Calm Non-Greasy Moisturizer SPF 30.
Choosing and applying sunscreen: Other helpful tips
Sunscreen is incredibly important, so here are some helpful tips to make sure you're using it properly.
Your sunscreen should be at least SPF 30 with broad spectrum.
Apply it generously!
Don't rely on SPF in your makeup products. Having two different SPF products on your skin doesn't double up on its effects. Rather, your skin is only protected by the highest SPF that you wear. Proper sunscreen still gives you the best protection!
Always remember to also apply by your eyes and even on your ears.
Ready to find your summer suncream? Put these tips into practice and get searching on our Picky app for your next holy grail!
This article was written with insight from Picky's skincare scientist Claudia of @funskincare (check out her blog here) and Healthline. Click here to go to the Picky website, or here to go back to our blog.