If there's one ingredient everyone should know, it's ceramides! This valuable ingredient is key for hydration and giving that skin a healthy glow. Suitable for any and all skin types. Find out the science behind this ingredient and how you can squeeze it into your skincare with Picky Expert Jenny (@derm.talk).
What are Ceramides?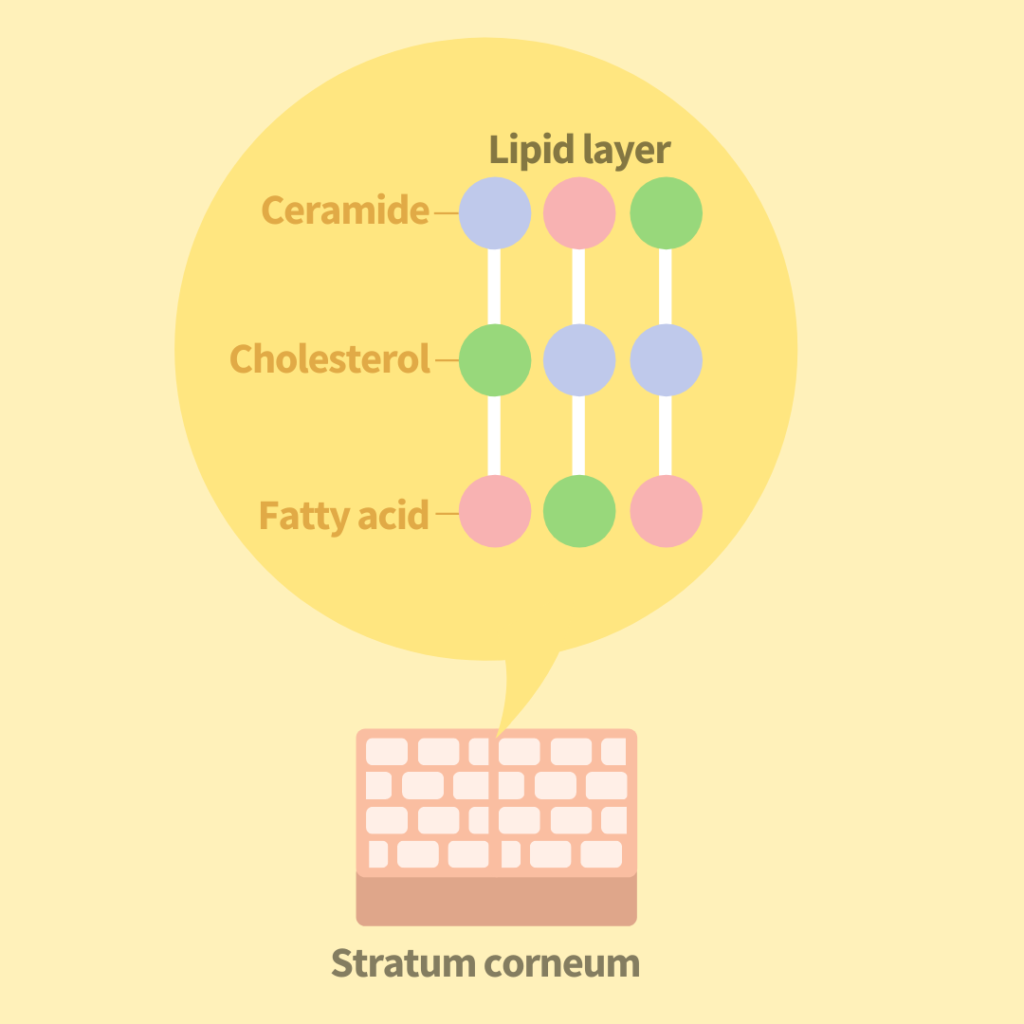 Get ready, we're about to get pretty scientific. Ceramides are a naturally occurring component in your skin! More specifically, the lipids in your stratum corneum (most outer layer of skin). Alongside fatty acids and cholesterol, these three musketeers create the lipid layer which keeps everything together and working!
The lipid layer is important for preventing transepidermal water loss, blocking external factors and holding corneocytes (lipid layer glue) together. Ceramides are key in this lipid layer because they keep our skin hydrated and waterproof! Also, due to their unique structure, they help bind corneocytes and the other lipids in the layer.
Most commonly used ceramide: Ceramide 1, 3, and 6.
Benefits of Ceramides
Sadly, ceramides decrease with age, inflammation, excessive cleansing and eczema. You may notice dry and flaky skin, inflammation or a breakdown of the skin barrier as a direct result of having a low ceramide level. However, with the right products and ingredient combinations, you can replenish your ceramide starved skin.
Products with ceramides are a great way to improve your skin's hydration level and help with eczema. Specifically, ceramide 3 can help increase the production of other ceramides. Ceramides are great for all skin types, not only dry or eczema prone skin. You can also find ceramides in many forms, but we suggest sticking with ceramides in moisturizers. And don't limit ceramides to just your face! Ceramides are versatile and necessary for skin all over your body. Don't deprive your skin of this valuable ingredient.
Picky's Picks
For Body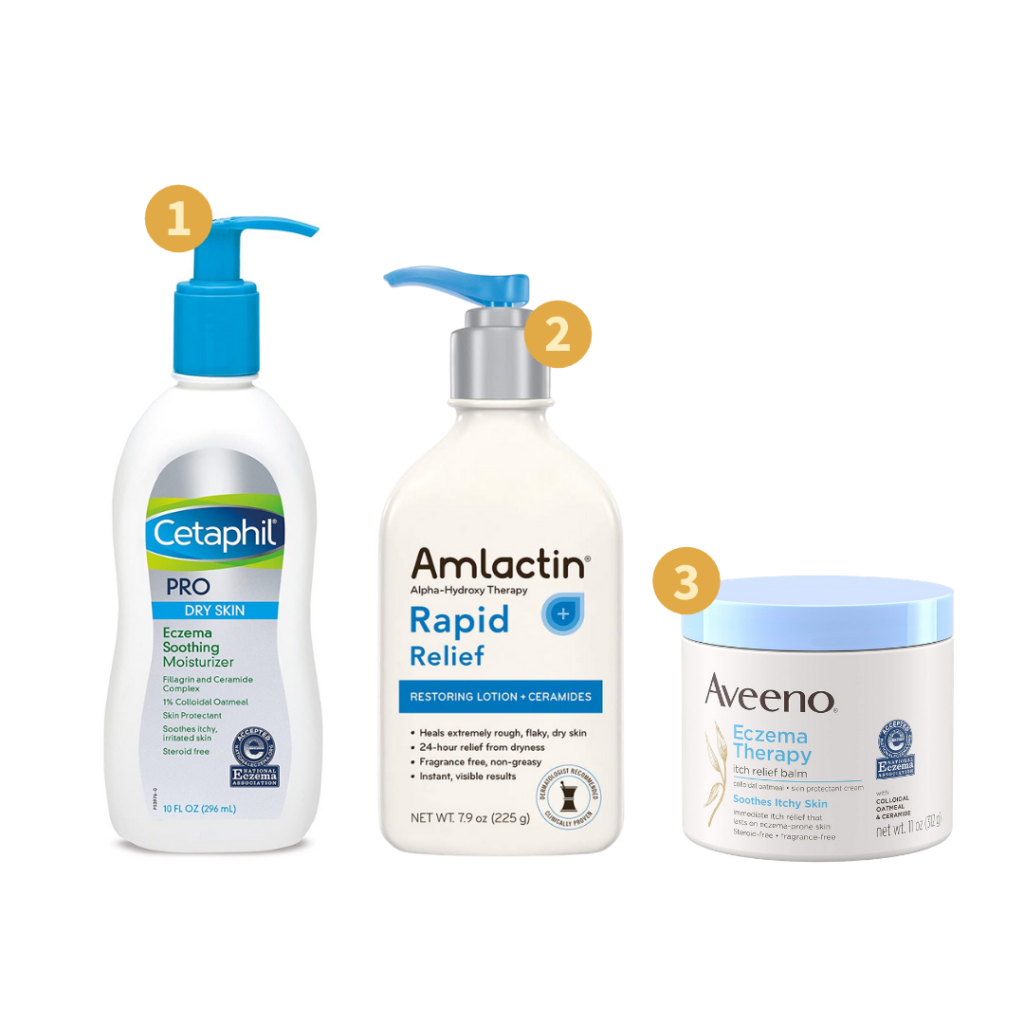 1. Cetaphil – Restoraderm Eczema Soothing Moisturizer
For more than just those with eczema, this moisturizer can help with dry, itchy, atopic and sensitive skin. Full of colloidal oatmeal and ceramides to restore moisture and calm irritation or itchiness. Contains 15 ingredients to help moisturize!
2. Amlactin – Rapid Relief
The Rapid Relief cream from Amlactin is great for those with flaky, rough, or dry skin. No fragrance, parabens or grease to keep your skin moisturized. Includes both lactic acid and ceramides to retain and better absorb moisture!
3. Aveeno – Eczema Therapy Itch Relief Balm
Natural oats -colloidal oatmeal- and ceramides in Aveeno's Eczema Therapy Itch Relief Balm are a great combination to bring quick and visible results to a dry complexion. Replenish your skin and relieve any itchiness or irritation with this balm.
For Face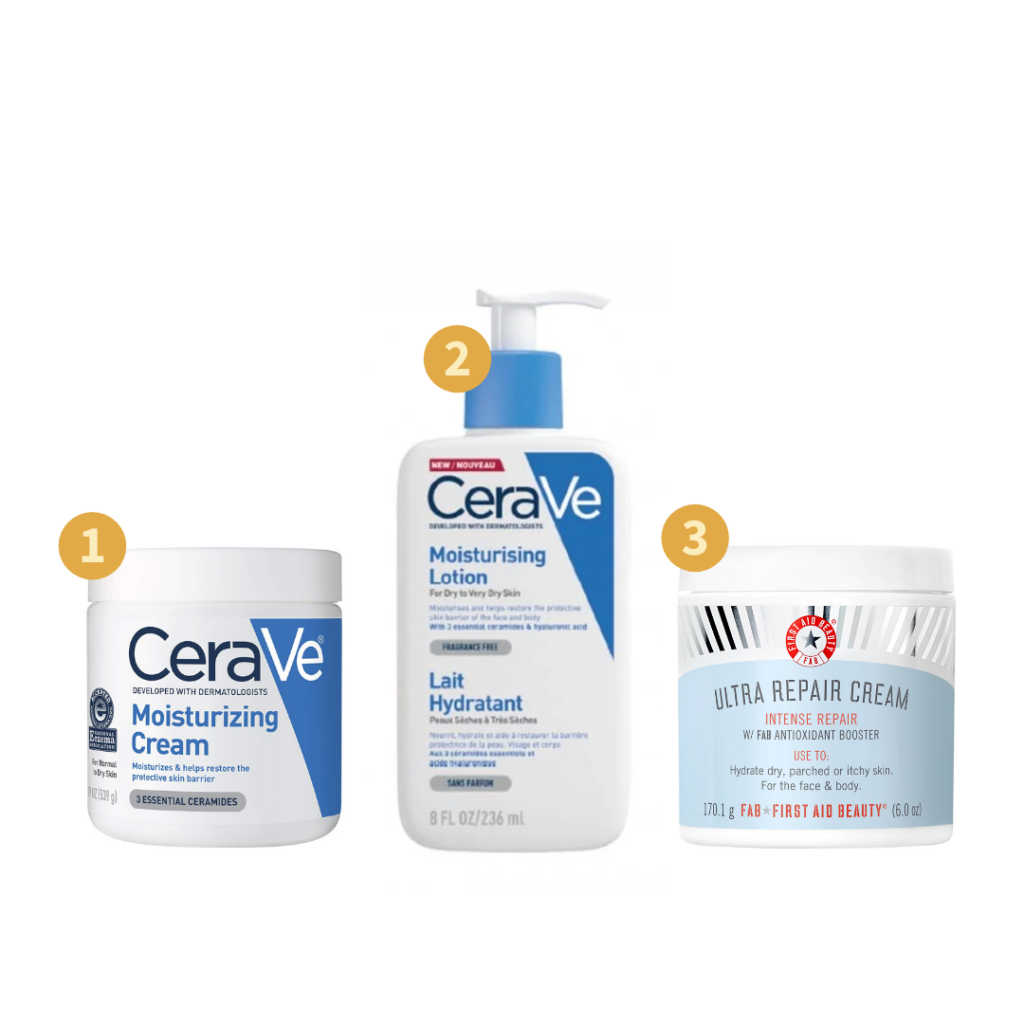 1. CeraVe – Moisturizing Cream
The Moisturizing Cream from CeraVe helps restore and strengthen the skin barrier with ceramides, hyaluronic acid and more. This cream can help hydrate your face for a whole 24 hours!
2. CeraVe -Daily Moisturizing Lotion
CeraVe's Daily Moisturizing Lotion has a ceramide killer combo ready to fight off dry skin! Not only does it have ceramide 3, but ceramide 1 and 6 too! Gives even more hydration thanks to the addition of hyaluronic acid and glycerin.
3. First Aid Beauty – Ultra Repair Cream Intense Hydration
The Ultra Repair Cream Intense Hydration really stands by its name. Experience instant hydration with a formula made up of colloidal oatmeal, ceramides, shea butter and more. Great for all skin types and concerns, especially sensitive and eczema prone types. A thicker cream that helps with irritation and flakiness.
For Both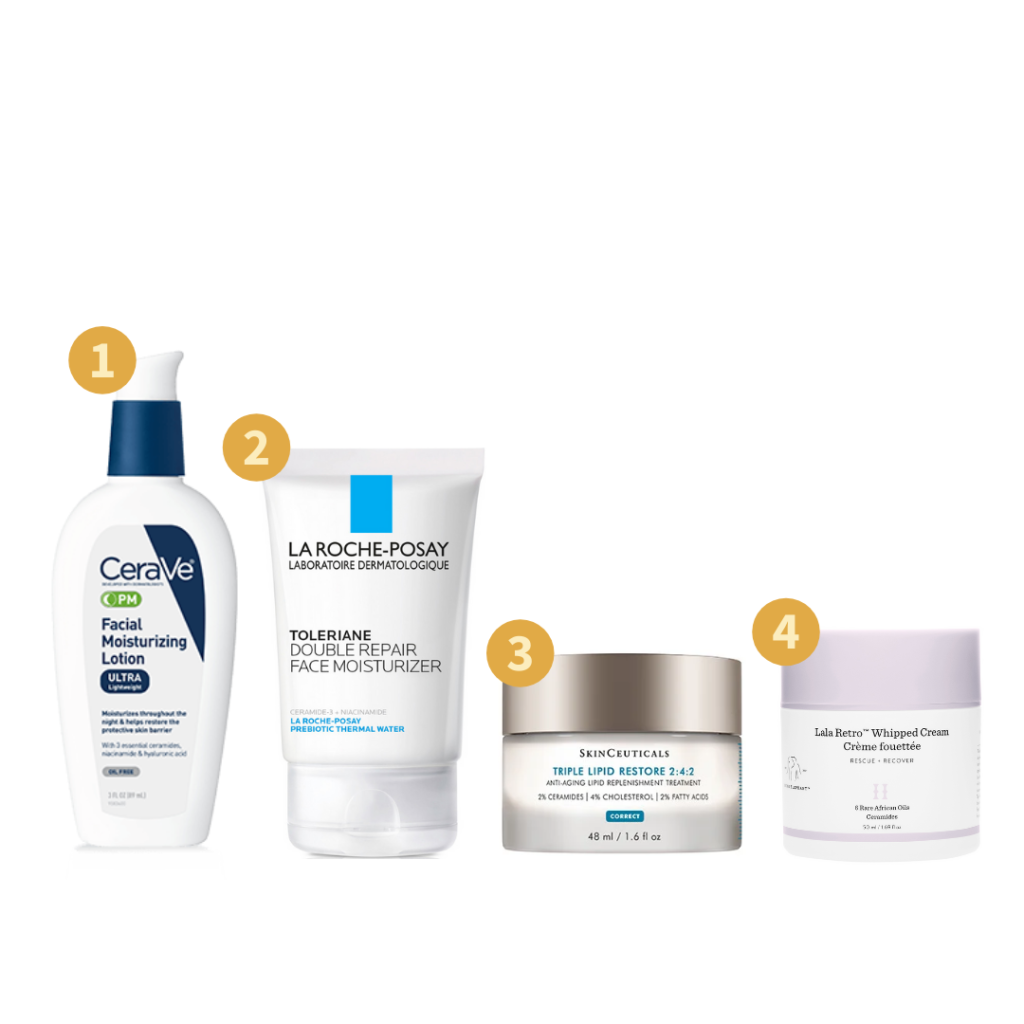 1. CeraVe – Facial Moisturizing Lotion PM
Regenerate your skin while you sleep! With the Facial Moisturizing Lotion PM you can wake up feeling refreshed and restored! Includes niacinamide, hyaluronic acid, ceramides and more to soothe and hydrate skin overnight.
2. La Roche-Posay – Double Repair Face Moisturizer
La Roche-Posay's Double Repair Face Moisturizer goes above and beyond, giving moisture for not 24, but 48 hours! With glycerin, ceramide 3, niacinamide and a special Prebiotic Thermal Water from La Roche-Posay, this moisturizer will restore your skin barrier without weighing you down!
3. SkinCeuticals – Triple Lipid Restore 2:4:2
If you want something more than just a moisturizer, then look no further than SkinCeuticals Triple Lipid Restore 2:4:2. This cream has 2% ceramides, 4% cholesterol and 2% fatty acids. The holy trio for healthy, balanced skin! Not only does it hydrate, but this moisturizer will work wonders for your wrinkles and fine lines too.
4. Drunk Elephant – Lala Retro Whipped Cream with Ceramides
This Lala Retro Whipped Cream with Ceramides from Drunk Elephant has so much to offer for your skin. Including African oils and ceramides to revitalize your skin barrier. In addition to green tea and sodium hyaluronate to help with soothing, anti-aging and further hydration!
Power of Picky
Search for "Ceramide 3" or any ceramide you wish in the Picky app and find the right moisturizer for you! We can get specific for your skincare needs and filter for just what you need. Make use of our Mega Search Filter and Q&A features to optimize your skincare experience. Don't forget to follow us on instagram or click here to head back to our blog for more skincare science expert.