We've seen a lot of new and revivals of skincare, but who was truly the best of 2021? We asked our Picky community to vote for their top cleansers, toners, treatments, moisturizers and sunscreens! The result? Well, check out these Picky Award Best Skincare Products of 2021 down below!
Top Cleansers of 2021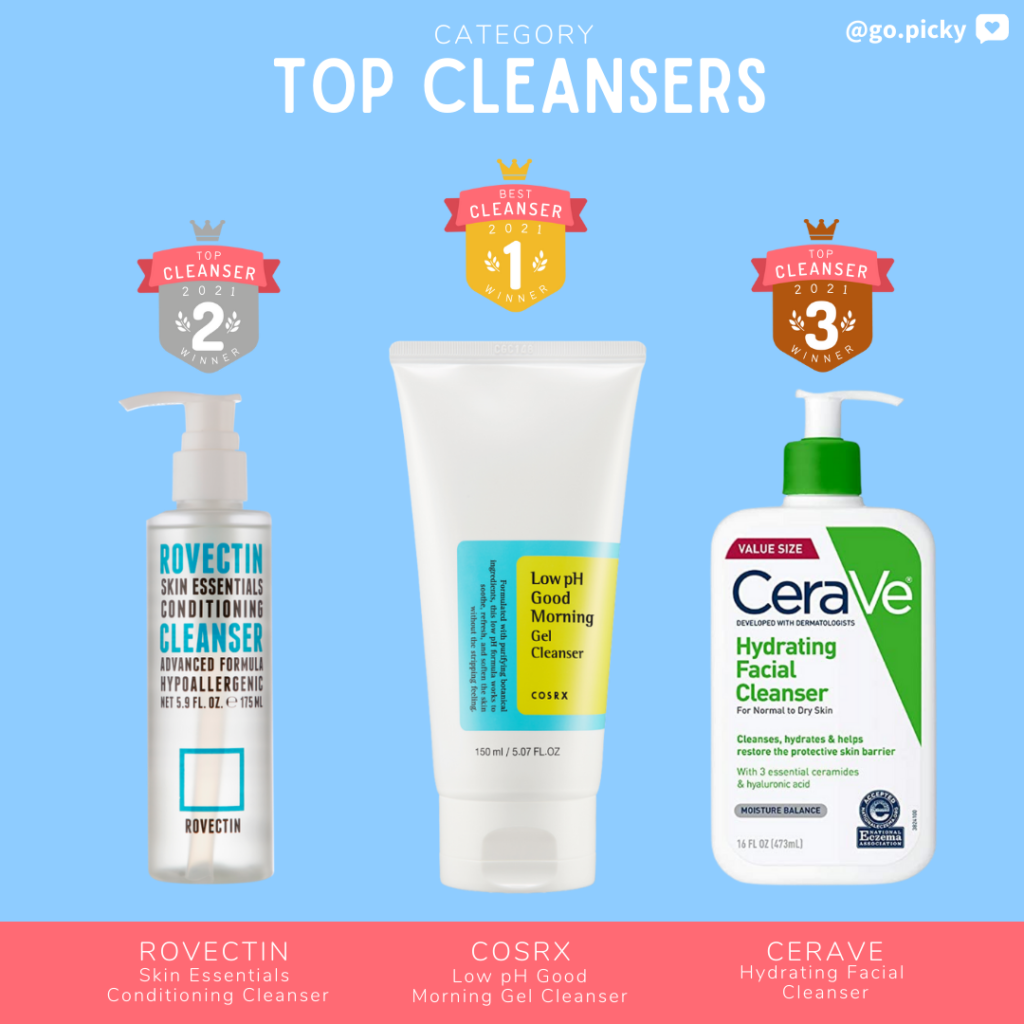 Coming in as the BEST cleanser skincare product of 2021 is the COSRX Low pH Good Morning Gel Cleanser! The people of Picky have made it quite clear, and that this cleanser can NOT be beat! With a cheap price tag and effective ingredients like tea tree oil and BHA, makes sense to use why this product has reached the top.



"Probably one of the best cleansers I ever used. The ingredients are clean, no icky ingredients like alcohol or fragrance. It also has betaine salicylate in it so it's good for my acne prone skin. I use this twice daily, and so far there's no negative effect from this. My skin doesn't feel tight after using, but it still feels clean. It also doesn't clog my pores, so it's a big YES from me!" -Witchedhazel
Another thumbs up from the Picky community on this cleanser! A hydrating cleanser with no artificial fragrance, just packed full of plant-based ingredients to foam up and lather away those pesky impurities, while respecting your skin barrier of course. Hyaluronic acid is a key factor for this gentle cleanser!



"This is one of the best cleansers for me. No strong, irritating scent, gel texture which foams well but not over the top. It contains gentle surfactants, so leaves your skin clean and without stripping it. If you have heavier make-up, it does clean your face, you just need more of the product. Definitely recommend this conditioning cleanser and am repurchasing it!" -KWYNBeauty
A cult classic! If you know skincare, most likely you've heard of CeraVe. They're affordable, straightforward, simple and effective. Which is why it quickly rose to the top amongst the Picky community voting board. Formulated with skin loving ceramides to help restore and balance out that moisture barrier!



"It's very easy to spread onto the skin and you don't need a lot of product to cover the whole face. It doesn't have a smell and after letting it sink in, my skin feels very hydrated and plump. A holy grail for me with dry/dehydrated skin! Especially good for the winter season or on exfoliation days. I really recommend this product 5/5." -Hina
Top Toners of 2021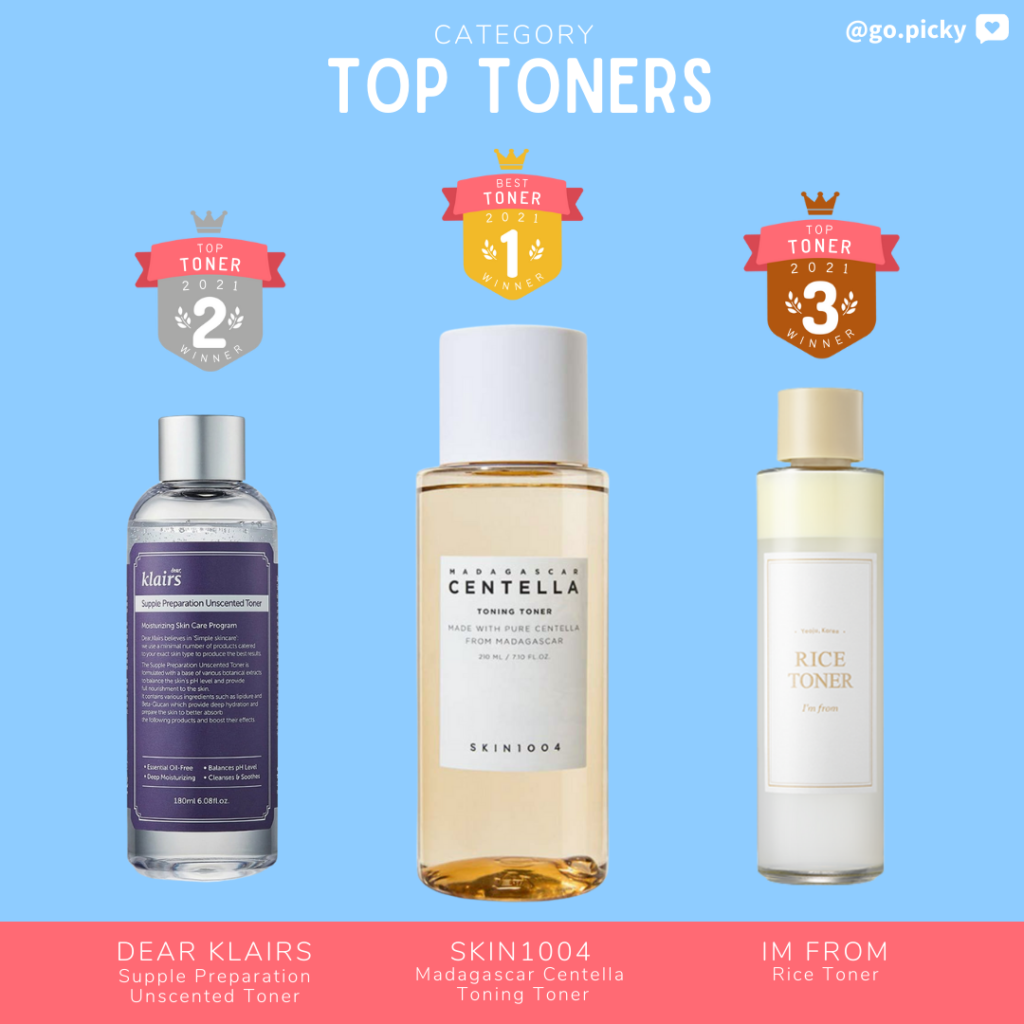 Now this is a HUGE fave on the Picky app. Introducing the best skincare (toner) of 2021! If you ask our Picky users which toner they love or want to try, this centella toning toner floods the response. Might be due to the simplicity of the formulating, focusing only on PHA (gluconolactone) and centella asiatica to provide a very gently exfoliation with ultimate soothing properties. Not to mention the $5 price tag!



"This toner's my current fave as it does wonders for my skin. It definitely soothed the redness away and I love that this contains PHA for gentle exfoliation. I use the 7-skin method for this toner and it doesn't feel tacky at all." -Skincarecompanion
Unscented, non-irritating and essential oil free? Yes, please! A go-to for sensitive skin folks, or any skin type if we're being honest, that are looking for a healthy complexion and burst of hydration! Formulated with centella asiatica, licorice root extract, tocopheryl acetate and so much more!



"I used this toner during winter when my skin is very dry and flaky, this toner helped me to hydrate my skin. Very lightweight and it gets easily absorbed into my skin and gives a very light dewy finish. It hydrates my skin and calms my irritated skin instantly. When I have angry red spots, this toner really calms the redness down. Really love this toner for my sensitive skin." -Canvas28
This toner is HOT! Full of rice extract (77.78% to be exact) to help give elasticity, brightness, luster and overall moisture for your skin. With ingredients from the fields of South Korea to Japan, this toner truly incorporates some fine natural ingredients for your skin. Makes sense why it's made its way to the best skincare of 2021 list.



"I think I've found the one. This is so perfect for my oily-combo skin! I have been using this consistently for 3 weeks, day & night. What I love about this is I can layer it because it's very lightweight and fast absorbing, it didn't make my skin feel greasy at all. And you can already see the instant glow right after application!" -Tenaciouskace
Top Treatments of 2021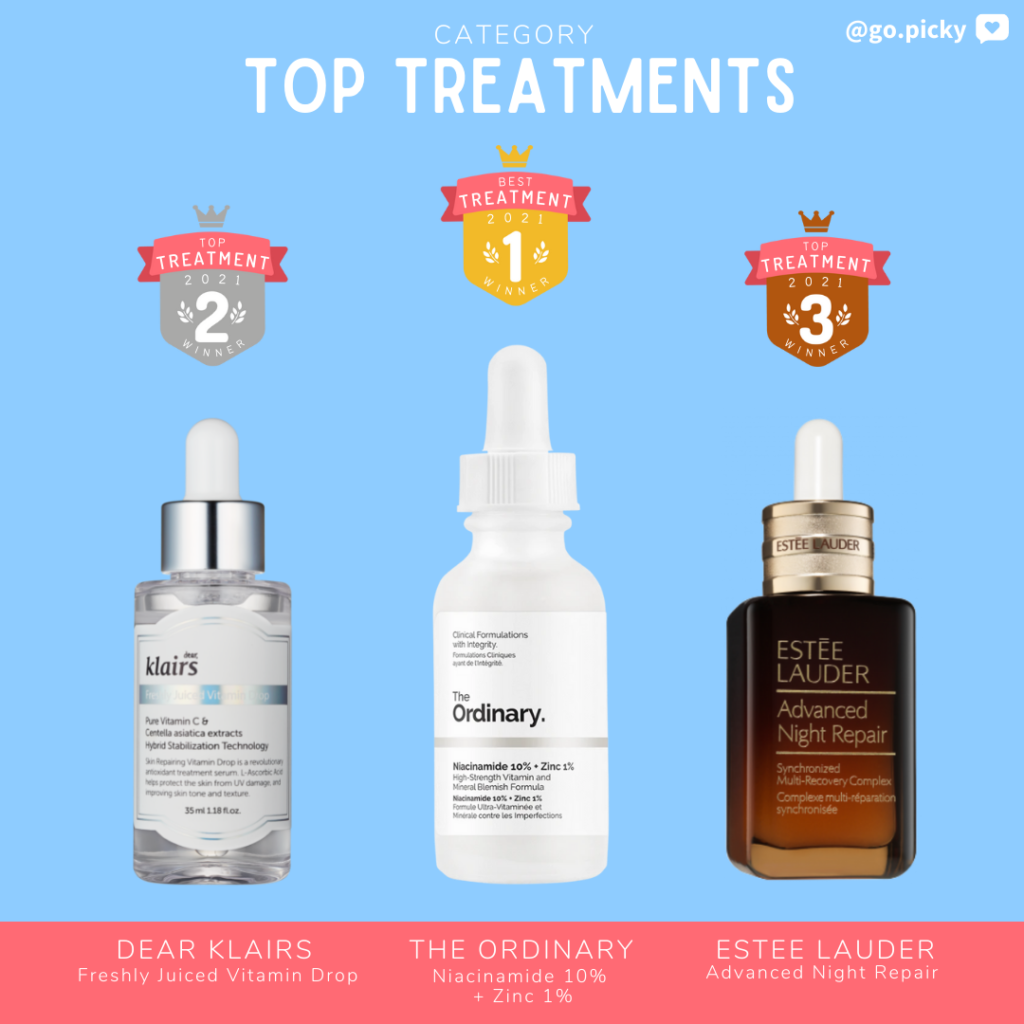 High concentration of vitamin and minerals to beat back those pesky blemishes! Oil free, silicone free and vegan what is there not to love? This serum has been one of the hottest on Picky for the past ENTIRE YEAR, so believe us when we say it's definitely a skincare cult classic.



"After 2 weeks of using this product, I did notice that I did not wake up having an oily face. I was so happy! And plus, what I really noticed was, the appearance of my pores, though not poreless (there's no such thing as that) wasn't expecting anything more about this one but it just delivers results that I did not expect. It helped with my pimple marks actually." -Izmelexxie
Need an antioxidant fix? Look no further! This serum is packed with your daily vitamin supplements, including vitamin C (5%) ! A great way to keep that water-oil balance while also being cruelty free and vegan.



"This product is my holy grail! I've been using this for 3 years already and I can't imagine my skincare routine without it. I noticed my complexion became even and brighter upon consistent application, like what the product claims. It really helps even out hyperpigmentation and reduces dark spots from acne." -Aeriellle
This serum can put a dent in your wallet so it's a bit surprising it made it to the best of skincare 2021 list, but people praise its benefits. An anti-aging miracle serum that plenty have raved about in the community, with radiant and reduced wrinkles in only three weeks of usage. Oil free, dermatologist tested, paraben free and jammed with ingredients to hydrate and anti-age
Top Moisturizers of 2021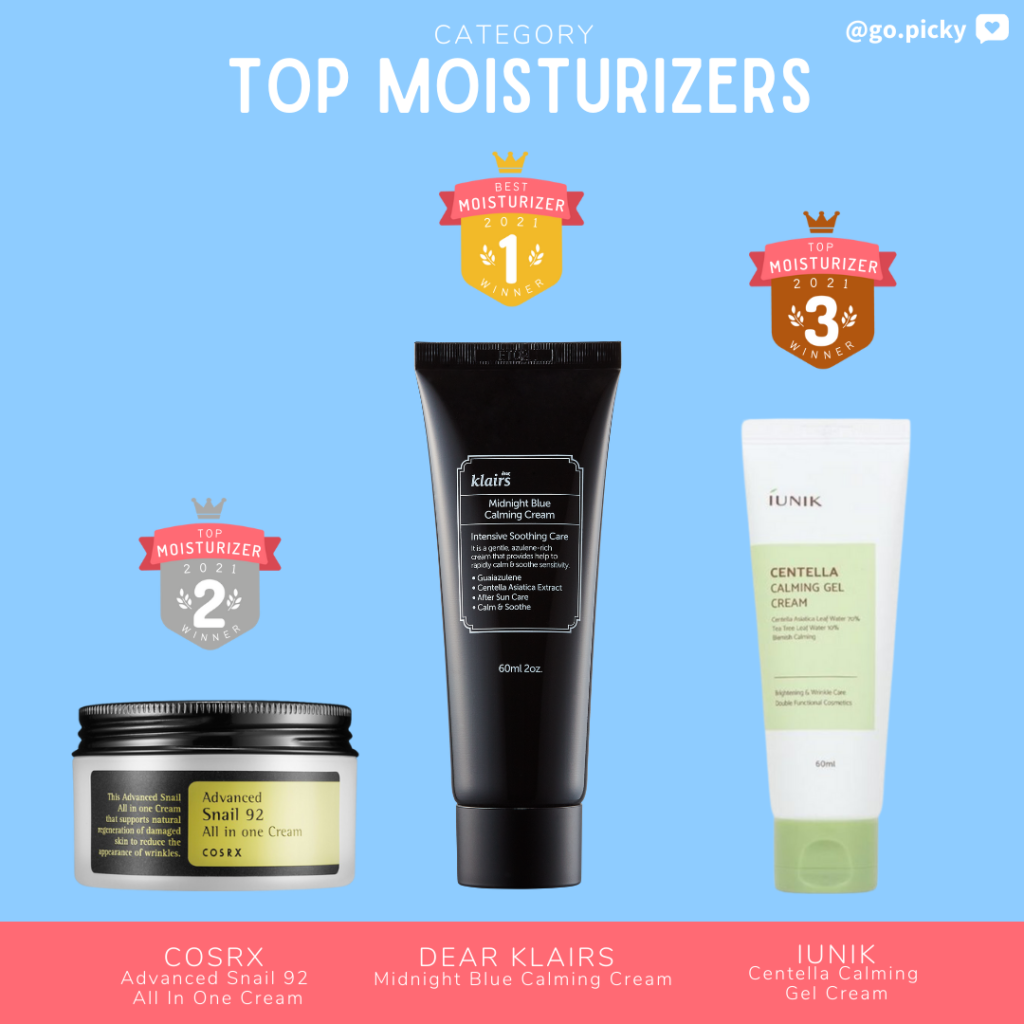 Azulene rich cream to sooth and calm sensitive skin, so it's a no-brainer this product rose to the top. Those on the lookout for a rich but lightweight cream, here you go!



"This is my go to moisturizer. Whenever I work from home, exfoliate or feel slightly dry or irritated, I slam this on my face. It's slightly thick, so I don't really enjoy using it under makeup, but I love to use it in every other situation. It's soothing, hydrating and repairing, so it feels good to put it on whenever possible on my dehydrated skin." -Ninalysczarz
Looking for long lasting hydration? Maybe a bit of snail mucin to boost that anti-aging benefit? Then you need to try this cream from COSRX, or at least our Picky community believes so. 92% snail mucin to plump, hydrate and soothe that skin!



"It has a fairly thick, very stringy texture and I'm not gonna lie, it took me a little while to figure out how to use this cream without making a complete mess, yet it is absolutely worth the trouble- as soon as it touches your skin it just magically transforms and melts in, is incredibly easy to spread, your skin just drinks it up and instantly looks more hydrated and radiant." -MargaritaX
Want the hydration, minus the oily, greasy after-feel? Wow, do we have news for you. This gel cream is a fan favorite for oily, combination and acne-prone skin types alike! Hydration and calming thanks to botanical ingredients like tea tree extract and centella asiatica but sinks in like a charm. A silky matte finish!


"As someone with oily skin I am constantly on the look out for a moisturizer that gives me the hydration I need, but not weighing me down and leaving my face feeling suffocated! This product does have a very mild (but pleasant) fragrance as well as containing essential oils -so worth noting in case you are sensitive to fragrance components and/or looking to avoid these." -WrightSkin
Top Sunscreens of 2021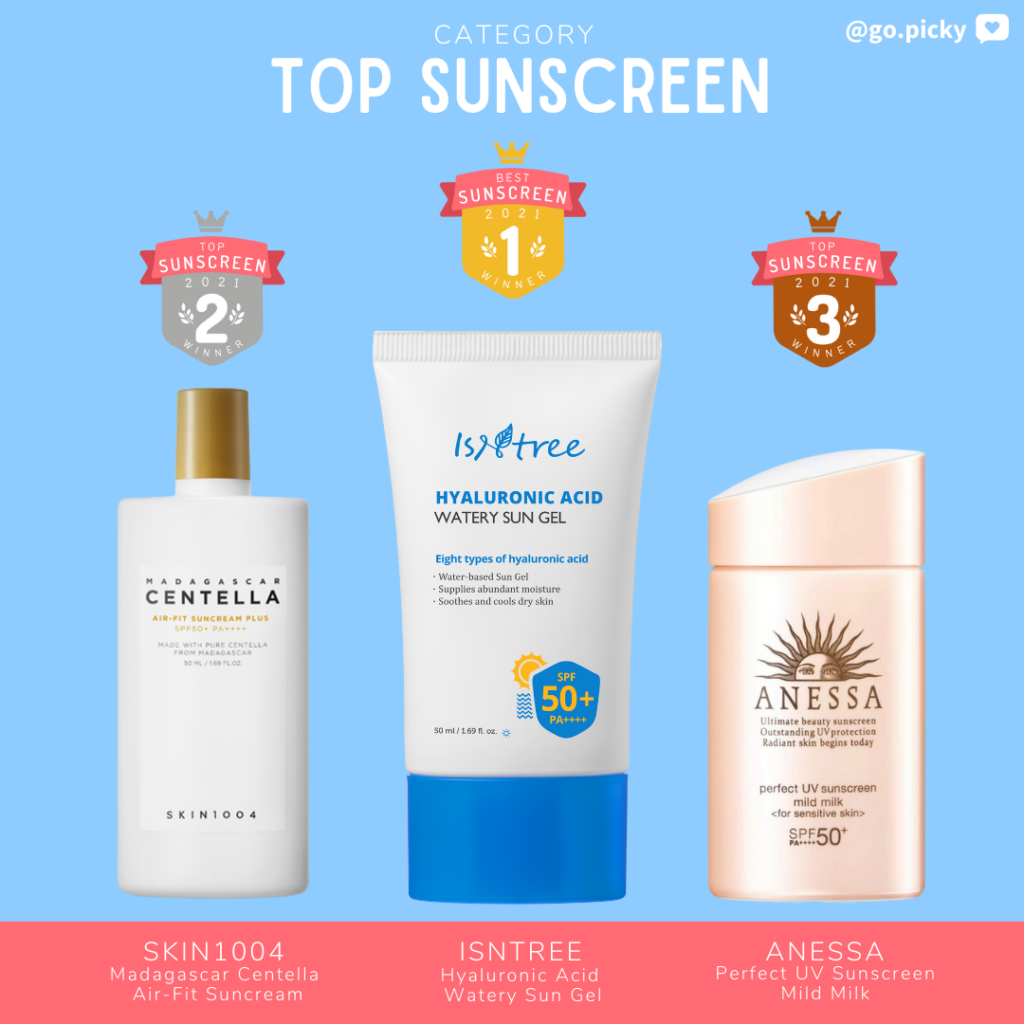 We know why this one made it to the best skincare of 2021, talk about an AMAZING sunscreen! Jam packed with 8 different types of hyaluronic acid and a chemical sunscreen that works to protect your skin from harmful UV rays! And thanks to amazing ingredients and formulation, this sunscreen sinks in without a white case and keeps skin moisturized and protected!



"I have to say, I absolutely love this sunscreen. It's definitely my favorite sunscreen that I've every used. It blends in so easily, feels nice and cooling on my skin and doesn't feel greasy. My only issue with this is the price point, but I can see myself buying this when it's on sale or if I feel like splurging. My skin looks so healthy when I use this spf, it's truly unlike any other." -Skinwithdee
With key ingredients, centella and niacinamide, this air light sun cream will protect your skin without the weight! Not to mention it will simultaneously brighten your skin and protect without a whitecast!



"This suncream is a physical mineral sunscreen which is very lightweight on the skin with a blend of centella asiatica. Has a slight beige tone and matte finish which suits my oily skin well and it blends very well onto the skin. It also works great as a primer to hold my makeup and definitely weightless even under makeup. Even after applying 2 or 3 layers, this suncream doesn't feel sticky." -Laoyi
Milky and light, this sunscreen could basically be called an essence it's so thin! Alcohol-free, paraben-free and mineral oil free! A great and effective way to protect your skin from UV rays without feeling the product heavy on your skin. It's also hypoallergenic, so even sensitive skin folks can give it a try!



"Has a milky consistency and slight velvety feel when spread. Slight white cast at first, but blends really well into my skin tone. I don't really mind it because the white cast goes away when it dries. Feels slightly greasy at first, but it dries up with powdery feel. Isn't heavy at all. This also sits well on top of my moisturizer and serves as a primer for my foundation." -Skincarejana
Best of Skincare 2021: Honorable Mentions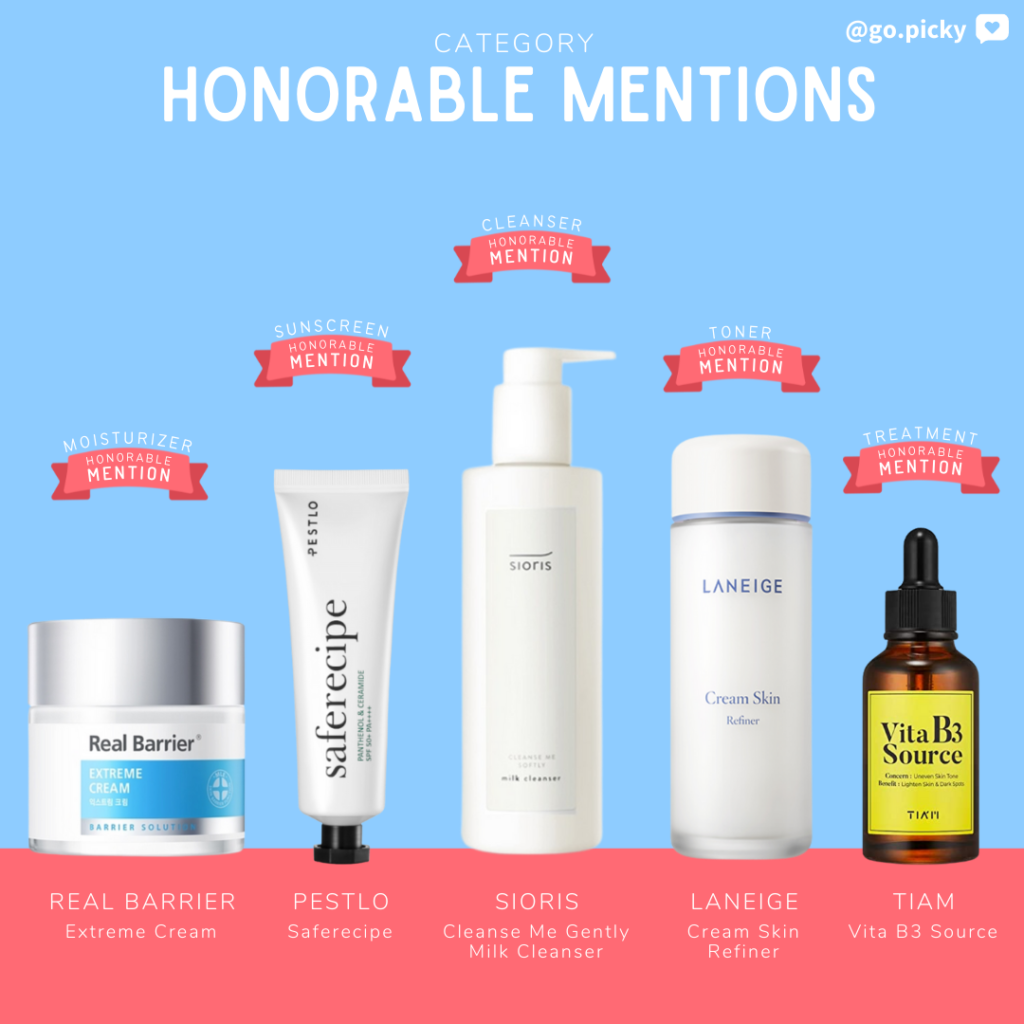 Sioris Cleanse Me Gently Milk Cleanser




"The first milk cleanser I really really like. A lot. This milk cleanser has great ingredients and leaves your skin clean and soft. On heavier make up days, I follow up with a water cleanser, but if it's just sunscreen and whatever life threw at me during the day, this cleanser is enough. There are even more soothing and happy aging ingredients, so check it out! I already purchased a back up." -PickyKeWe
Laneige Cream Skin Refiner




"The texture is like water, but a bit thicker. It might remind you of diluted milk. The scent is creamy, but light. Laneige Cream Skin Refiner is one of the best sellers, and I totally get it, the formula is so mild that even my oversensitive skin appreciated it. The cost is not the lowest, but this toner will be with you for quite a long time. For some people, this toner will be all they need to balance the moisture level of their skin." -Betweendots
Tiam Vita B3 Source



"So this serum is packed with superstar brightening ingredients like niacinamide (10%) and Alpha Arbutin (2%). Which might be a little too much for people with sensitive skin. As for me, since I've used niacinamide before, there was really no bad side effect. I've only been using this for less than a month but I'm already seeing some difference with my skin. My dark spots are starting to fade and my skin has brightened a lot. I've also noticed my breakouts have been less this month." -Skinscares
Real Barrier Extreme Cream




"I absolutely love this cream! My skin is pretty dry and this has some really great ingredients that keep my skin feeling soft and hydrated. It is thicker and rich so a lot isn't necessary. It's fragrance free and would be excellent for someone with sensitive skin. It's really good if you have over stripped skin or have overused various acids." -Kalasmom3
Pestlo Saferecipe Sunscreen




"I am so surprised that all their claims held true for me, especially the no white cast for a physical sunscreen. This is not as thin and elegant as some chemical sunscreens, but it's by no means thick at all! It is easily spreadable, takes only slightly longer than a chemical sunscreen to absorb into the skin, is not sticky at all and amazingly leaves NO white cast, and that's without having any tints in the formula!" -Hoarderbeauty
Picky Awards
Special thanks to all the Picky users and community that helped make the best skincare of 2021 happen! Without you guys voting and voicing your opinions, we wouldnt have any awards to give. So thanks for making our Picky Awards: Best Skincare of 2021 a smashing success! Can't wait to see what 2022 brings. Make sure to stay up to date with our Instagram and YouTube!