Why do we need actives?
Teenagers need actives to control blockages caused by excess sebum that usually lead to acne. People with more mature skin need potent ingredients in their skincare routine to maintain healthy and youthful looking skin. In fact, anyone exposed to the dehydrating effects of sun exposure needs active ingredients! This is because active ingredients help to avoid developing sun-induced skin conditions that can lead to skin cancer and pigmentation.
However, it's extremely common to get confused about using actives, or worse, make a mistake about its usage. This is why it's important to understand the effects of each active ingredient before using certain products together.
So let's go through a few skin actives, their effects, and how to use them!
5 HOLY GRAIL actives we can incorporate into our skincare routine: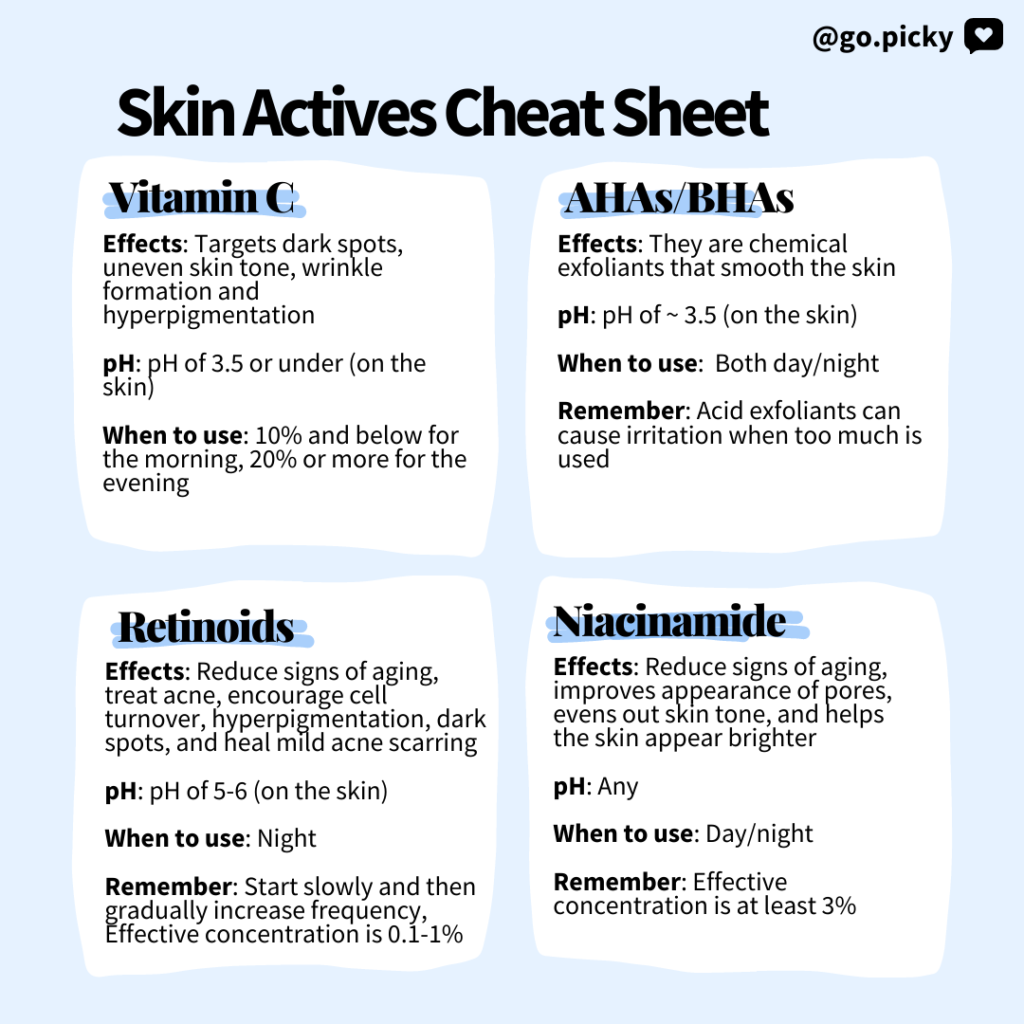 Vitamin C
Vitamin C is an antioxidant that targets dark spots, uneven skin tone, wrinkle formation and hyperpigmentation. It is the most effective and stable at a PH of 3.5 or under (on the skin).
When using vitamin C, your skin can become more sensitive to the sun, so if you're starting out, it could be worthwhile using this at night. It also depends on the strength of your vitamin C: a concentration of 10% and below can be used in the morning and will be less irritating. If it is 20% or more, stick to using it in the evening.
When it comes to vitamin C and niacinamide, the use of them together has long been debated. It really depends on your skin type and how sensitive your skin is. If you have highly sensitive skin, then combining these two products might not be good for you, as you may experience too much irritation or flushing.
It's also important to remember that vitamin C is also an acid. If you're thinking about using vitamin C and niacinamide together, it may be better to just swap one out when using the other. It's the same case when you're using vitamin C with retinol. Some retinol products can be really strong and can cause irritation when used together.
AHAs & BHAs
With AHAs and BHAs, it's better to be cautious, as acid exfoliants can cause irritation when too much is used.
AHAs (Alpha Hydroxy Acids) and BHAs (Beta Hydroxy Acids) are chemical exfoliants that make your skin smoother. They do this by getting rid of older layers of skin and pore blockages such as whiteheads and blackheads. In addition, they also make your skin appear brighter and smoother.
The lower the pH of your skin, the more effective the product is. To balance efficacy with minimal irritation, your skin pH should hang out at around 3.5.
The use of these acids with retinoids has been talked about for a while now. While there are contradicting statements, it is clear that both of them can cause dryness and irritation. This is especially true for first-timers or when using stronger products. It's best to use them separately, on different days. After using AHAs or BHAs, it's also recommended to use a heavier moisturizer or hyaluronic acid.
Retinoids
Retinoids are one of the holy grails of skincare. They reduce signs of aging and pigmentation, treat acne, encourage cell turnover, and heal mild acne scarring.
Retinoids are best used in the evening because they are sensitive against sunlight and make your skin sensitive to the sun. It's best to start slowly and then gradually increase frequency.
Effective concentration of retinoids ranges from 0.1% to 1%, but most people won't need it as high as 1%. Always keep in mind that for retinoids to work its magic, your skin has to be at around a pH of 5-6. It's mostly effective around that pH level.
It is generally advised to not use retinoids with other retinoids, unless recommended by a dermatologist. In addition to that, do not use them in combination with waxing or laser treatments. Also, do not use retinoids if you are trying to conceive or if you are pregnant, as there are concerns on how usage may affect the developing fetus.
Niacinamide
Niacinamide, also known as Vitamin B3, is an antioxidant that helps reduce signs of aging, improves appearance of pores, evens out skin tone, and helps the skin appear brighter. It also reduces the skin's transepidermal water loss (TEWL), meaning it prevents dryness and keeps the skin hydrated and moisturized.
You can safely use Niacinamide in the morning and in the evening daily.
Effective concentration for Niacinamide is at least 3%, and this vitamin can stand any skin PH level.
Takeaway
In short, we can all benefit from active ingredients. Remember that the concentration of your skin is the key to getting the most out of them. Additionally, always remember that you need to have a low-pH on skin to utilize the full benefits of acids.
Never forget your sunscreen when using skin actives in your skin care routine, especially with AHAs and retinoids (these have been proven to cause photosensitivity).
For more information on vitamins in skincare, check out this cheat sheet on 4 different kinds of vitamins for skin!
Interested in finding some products with the skin actives mentioned in this article? Head over to the Picky app and use our Mega Search Filter to find what you need! Click here to go to the Picky website, or here to go back to our blog.