Vitamins are essential to keeping both your skin and body healthy. But what purpose does each type of vitamin serve, and when should they be used? Picky Expert Lalita (@skinchemy on Instagram) shares four different vitamins in skincare you have to know, which skin types they are good for, and when to use them!
1. Vitamin A
Vitamin A, also known as retinoids, is known as the Holy Grail of skincare. It helps to increase turnover rate, reduces wrinkles, tightens skin, and reduces sebum production in oily skin. Vitamin A is best used with aging and oily skin, and only at night.
2. Vitamin B3
Next, there is Vitamin B3, also known as Niacinamide, which has a lot of functions in skincare. Some include reducing redness, acne control, improving hydration, and helping to prevent wrinkles. Niacinamide is great for dry skin or acne with oily skin.
3. Vitamin C
Vitamin C, a well-known vitamin also known as Ascorbic Acid, does wonders at brightening the skin, fading dark spots, and preventing free radical damage. Although Vitamin C is not stable because it is water-soluble, when it is formulated well, it can give your skin many benefits! It is best for aging, uneven, or dull skin and can be used at both day and night.
4. Vitamin E
Lastly, Vitamin E, known as Tocopherol, is a great fat-soluble antioxidant that offers great UVB protection (which is the type that burns your skin). Because it is soluble, it absorbs very quickly into your skin and is very moisturizing. This vitamin is great for all skin types, and it can be used at both day and night!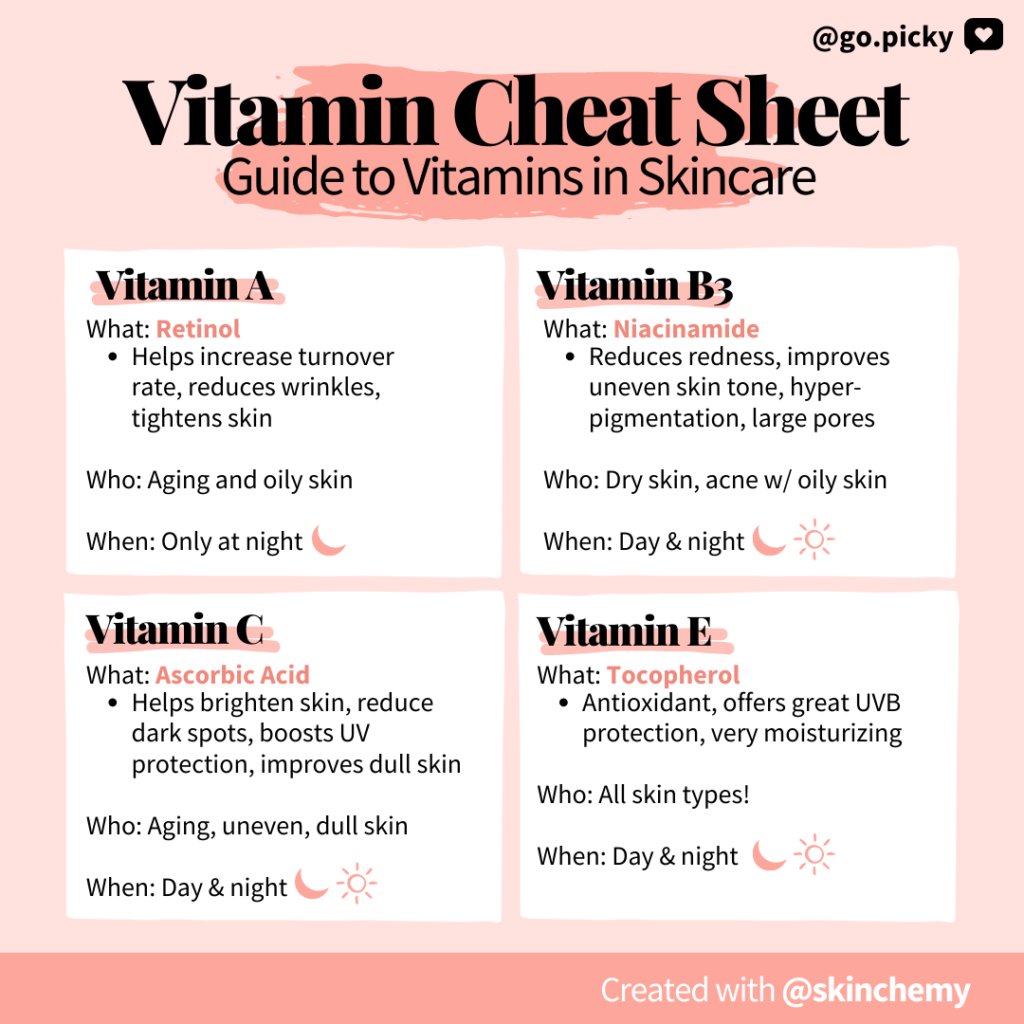 To find some great products with the vitamins mentioned above, go to the Picky app now and use the Mega Ingredient Filter to search for products with the exact vitamins you want! Don't forget to also follow us on Instagram and go back to our blog for more skincare science content!