Q. I feel so overwhelmed with all the moisturizers out there. How do I know which is the right moisturizer for my skin type?
A. Finding the right moisturizer can seem a bit daunting these days. There are so many to choose from! The best thing to do is check the ingredients and find what compliments your skin. So, let's break it down by skin type so you can discover what to look for in your next moisturizer!
Make sure to check out our last post 'All About Moisturizers: Humectants, Emollients, & Occlusives' to get a better understanding of the different categories of moisturizers. Now, let's get into which moisturizer is the best fit for your skin type!
Oily Skin Types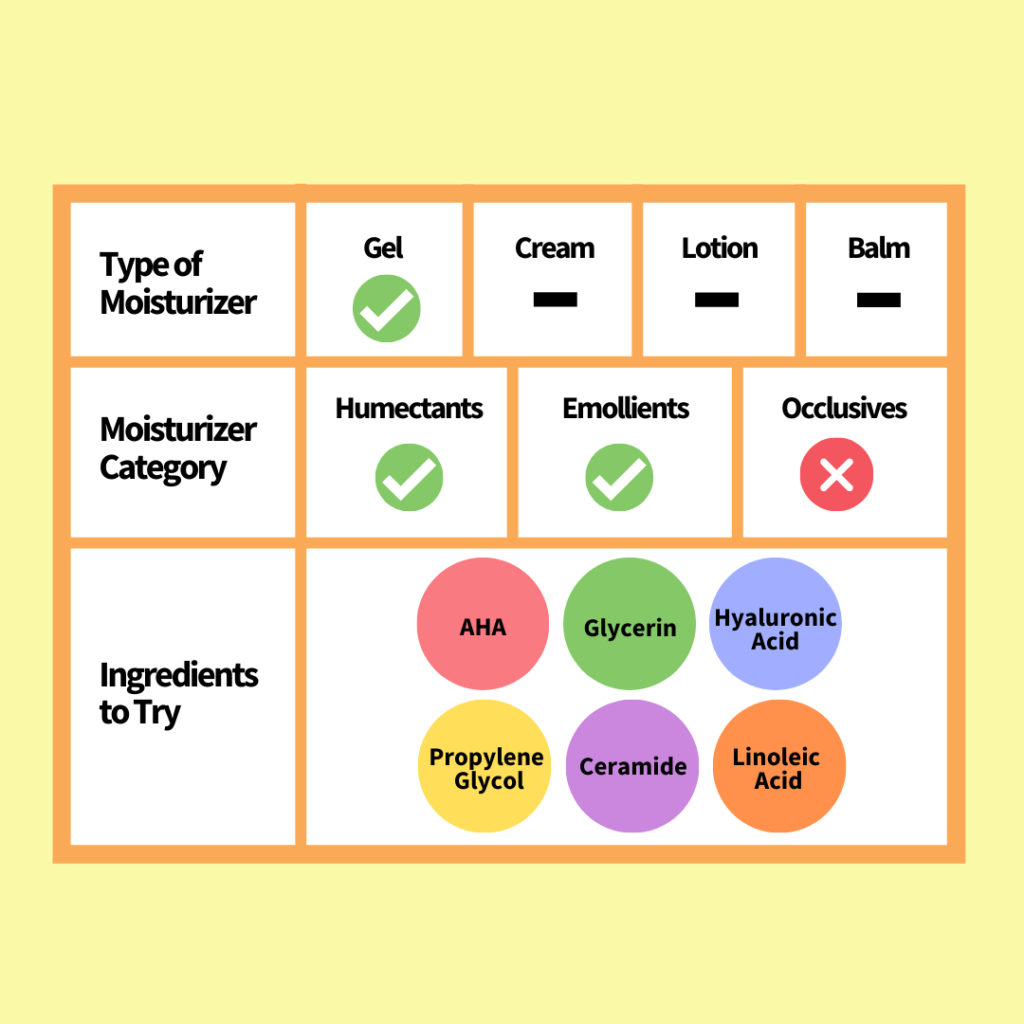 For oily skin types, a gel moisturizer would be the best fit for you! This is because gel-based moisturizers are formulated with less occlusives, which are thicker moisturizers that create a layer on your skin. Keep your eye out for water-based ingredients such as hyaluronic acid and glycerin. In addition to ingredients like AHAs (eg. glycolic and lactic acids) and propylene glycol, make sure to also look for emollients like ceramide and linoleic acid in your moisturizer. Emollients are lightweight but lock in that much needed moisture!
Picky Recommends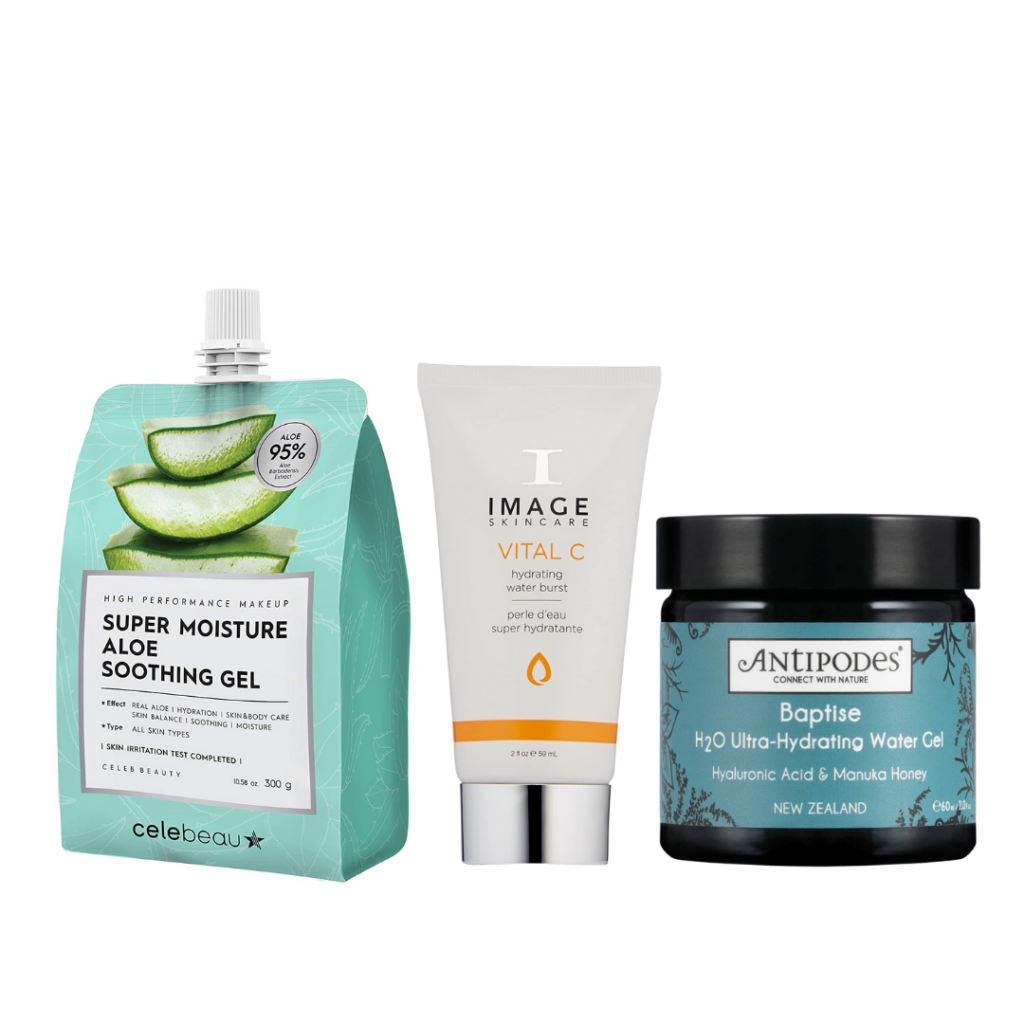 Celebeau Super Moisture Aloe Vera Soothing Gel – 95% Aloe Vera Extract contains hyaluronic acid and five different ingredients for soothing your skin!
Image Skincare VITAL C Hydrating Water Burst has propylene glycol, as well as ingredients like ascorbic acid and arbutin to fade hyperpigmentation and brighten the skin.
Antipodes Baptise Ultra-Hydrating Gel contains linoleic acid as well as aloe vera extract, making for a lightweight yet moisturizing product formula.
Dry Skin Types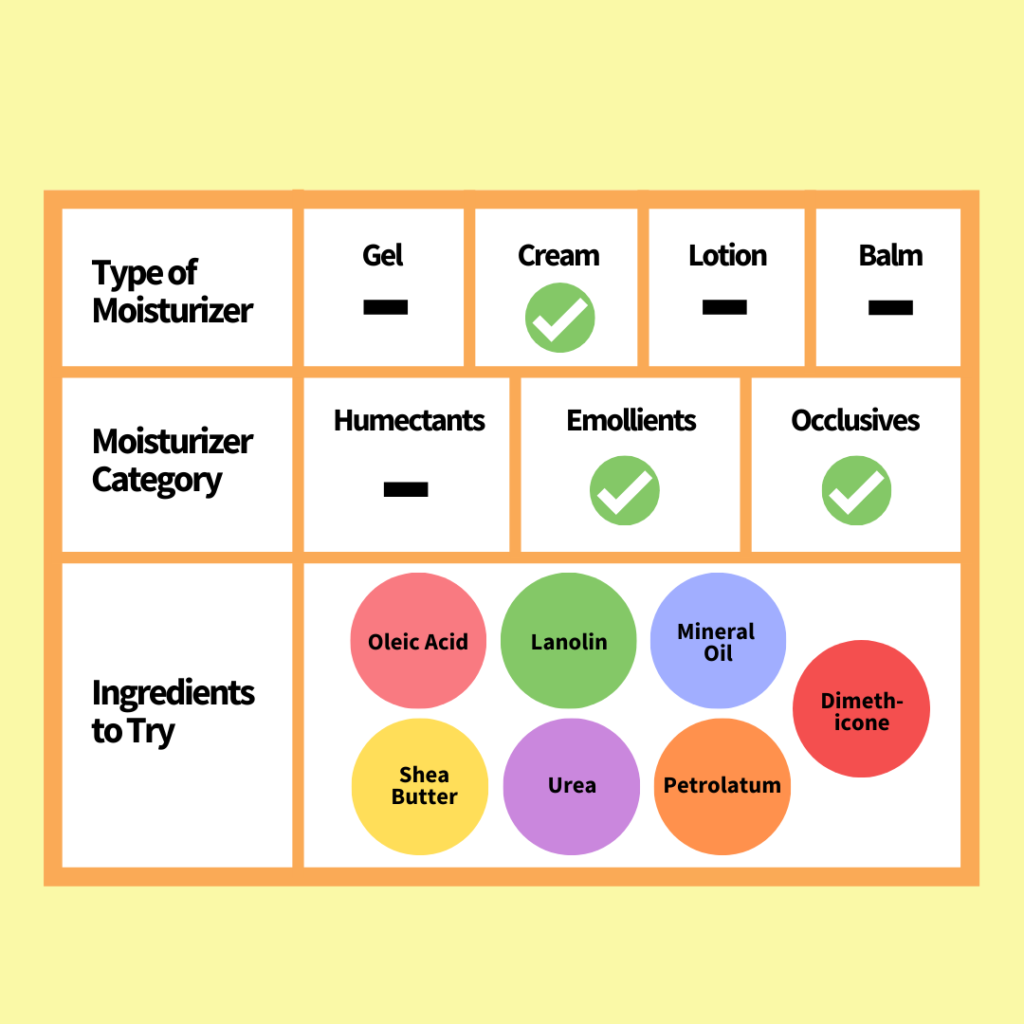 Drier skin types want something a little more rich and hydrating. This is why you should look for cream-based moisturizers! Cream-based moisturizer formulas include more of the thicker occlusives and emollients to lock that water into your skin. Some ingredients to try include oleic acid, lanolin, urea, and petrolatum. Also, you can consider ingredients like mineral oil and dimethicone, which help to trap water by forming a silky layer on the skin. Shea butter is also a highly moisturizing ingredient for dry skin that can also be very soothing!
Picky Recommends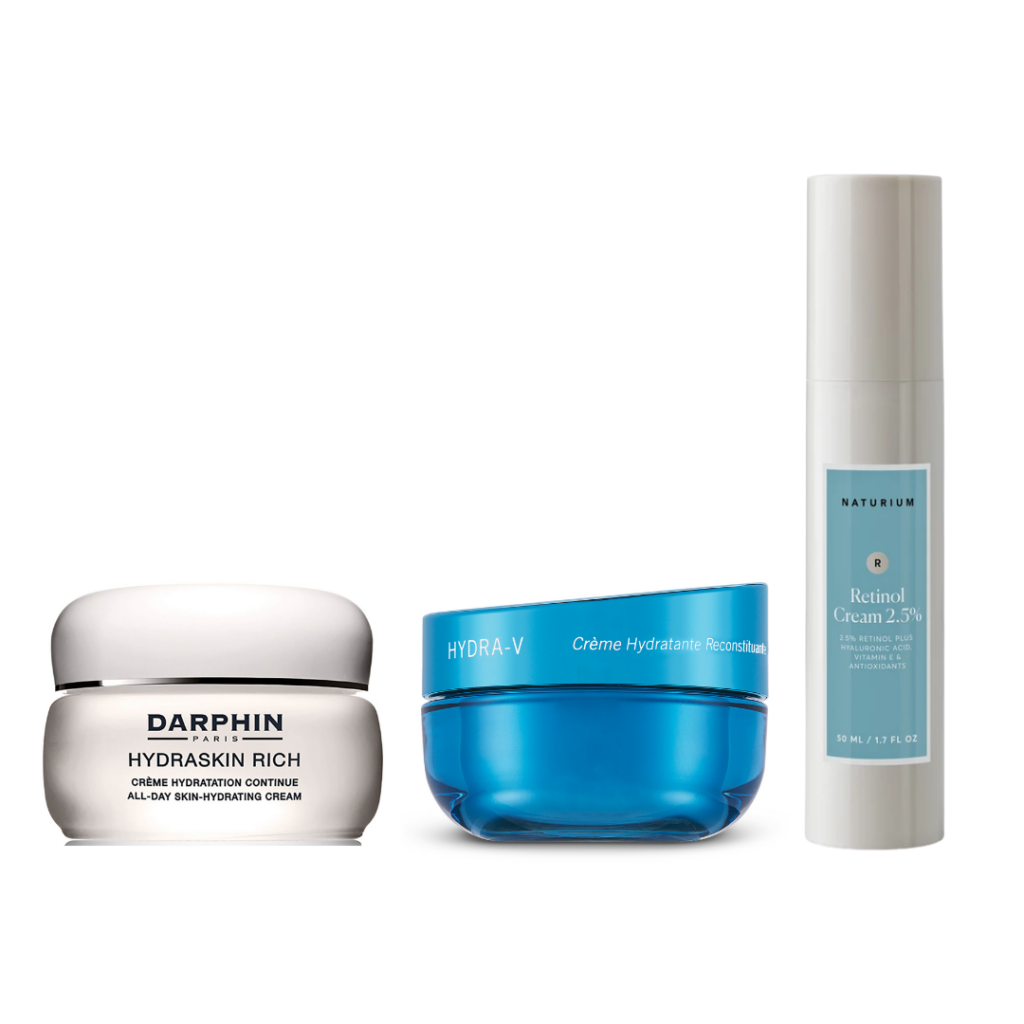 Artistry Hydra-V Replenishing Moisture Cream includes ingredients like urea and petrolatum to firmly lock moisture into the skin. Additionally, it also includes other other skin-soothing ingredients such as panthenol and camellia sinensis leaf extract (green tea).
Darphin HYDRASKIN Rich has oleic acid and dimethicone. The addition of tocopheryl acetate also dramatically helps with anti-aging.
Naturium Retinol Complex Cream contains both oleic acid and dimethicone. Notably, it also includes retinol, one of our favorite ingredients for anti-aging, fading hyperpigmentation and fighting acne!
Resilient Skin Types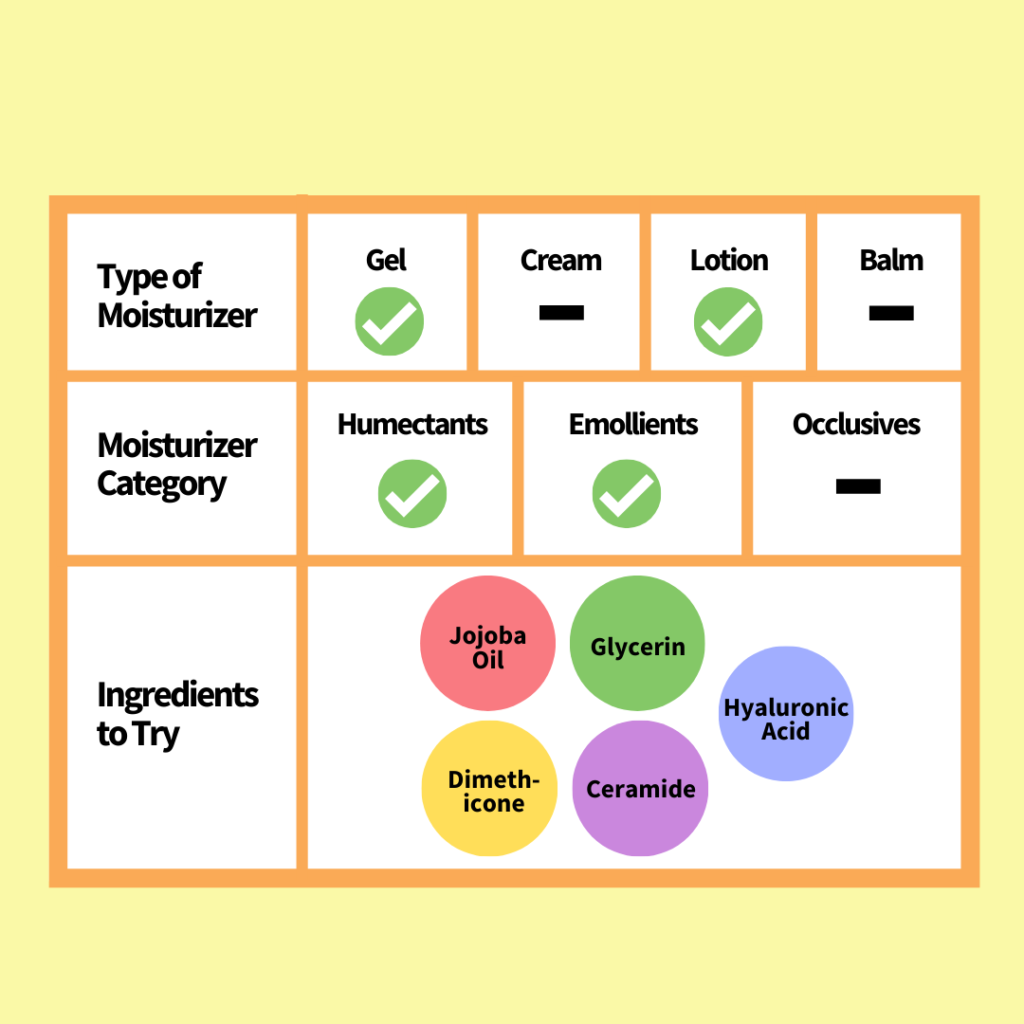 Lucky for you, because this skin type can use almost any kind of moisturizer. However, we'd still recommend focusing on gels and lotions since they can be more light weight. Light weight moisturizers will be less likely to irritate your skin in comparison to the heavier kinds of moisturizers. Some ingredients to look out for would include hyaluronic acid, glycerin, ceramides, dimethicone, and jojoba oil. Also, as a note, stay clear of fragrance just to be safe!
Picky Recommends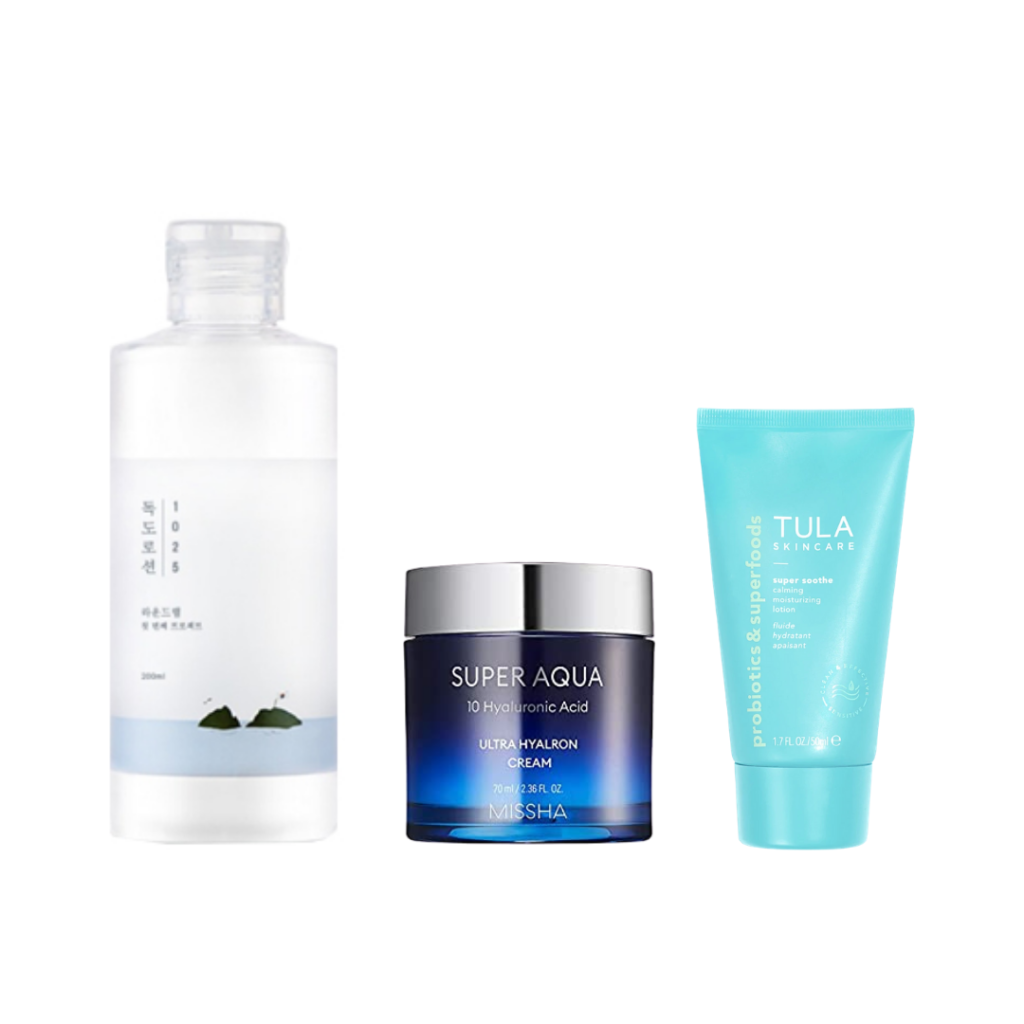 Round Lab 1025 Dokdo Lotion has hyaluronic acid, glycerin, and jojoba esters in its incredibly clean product formula. Ingredients like panthenol and tocopherol can also help with anti-aging and soothing the skin.
MISSHA Super Aqua Ultra Hyalron Cream includes ceramide, glycerin, and hyaluronic acid! Also contains niacinamide, which is great for fading hyperpigmentation and brightening the skin.
TULA Skincare Super Soothe Calming Moisturizing Lotion contains jojoba esters and glycerin. Also, ingredients like lactic acid and aloe vera leaf juice, help to improve skin cells' turnover rate without too much irritation.
Sensitive Skin Types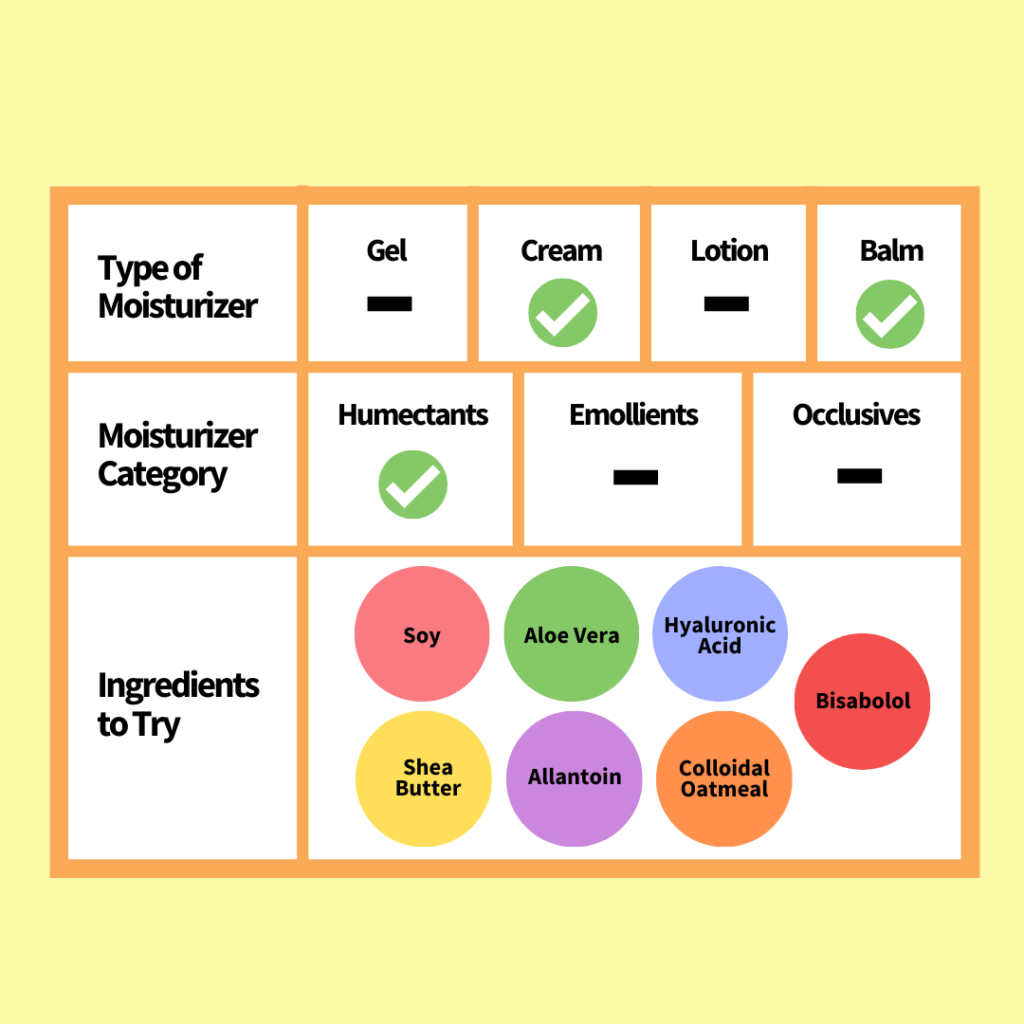 Sensitive skin types need extra care. Stick with a cream or balm-based moisturizer. Sensitive skin types need soothing, hydrating, and anti-inflammatory ingredients in their moisturizers, which is why we suggest looking for soy, aloe vera, allantoin, bisabolol, colloidal oatmeal, shea butter, and hyaluronic acid!
Picky Recommends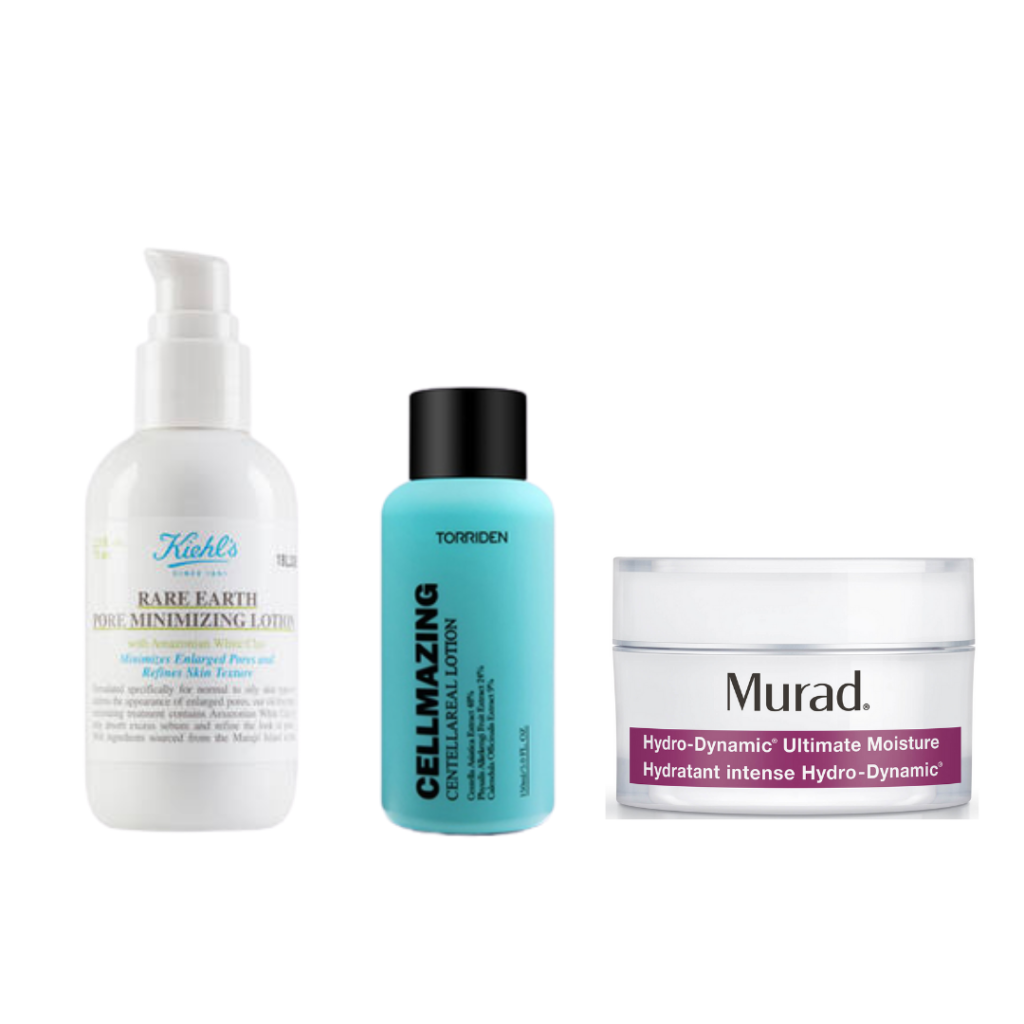 Torriden Cellmazing Centellareal Lotion is a treasure trove of soothing ingredients, with up to 8 ingredients scientifically proven to alleviate irritated skin.
Murad Hydro-Dynamic Ultimate Moisture includes allantoin, bisabolol, and shea butter! This moisturizer can help with hyperpigmentation, anti-aging, and overall brightening of the skin tone.
Kiehl's Rare Earth Pore Minimizing Lotion contains colloidal oatmeal, allantoin, as well as aloe vera! A great moisturizer for soothing sensitive skin and pore control.
Ready to find more moisturizers that fit your skin type? Head over to the Picky app and use the mega filter search to find moisturizers with the ingredients best for you! Make sure to follow us on Instagram and learn more skincare science on our blog!