Moisturizers are an obvious must for all skincare routines, but finding the right moisturizer for your skin type or concern can be confusing! We're here with our Picky Expert @askyourderma to shed some light on the different types of moisturizers and finding the right one for your skin. So here's the lowdown on moisturizers for all skin types.
What are Moisturizers?
It's written in the name, moisture! Moisturizers give our skin what it inherently needs, hydration and moisture by increasing the water content of the stratum corneum (part of our skin barrier). But on top of that, moisturizers can also be anti-inflammatory, anti-itch and photoprotective. Helping to smoothen, soothe and relieve inflamed or itchy skin.
However, the properties of each moisturizer are not made equal and the effects can vary greatly. That's why finding the right moisturizer for your skin type or concern is so essential. This way you can reap all the benefits!
Moisturizer by Skin Type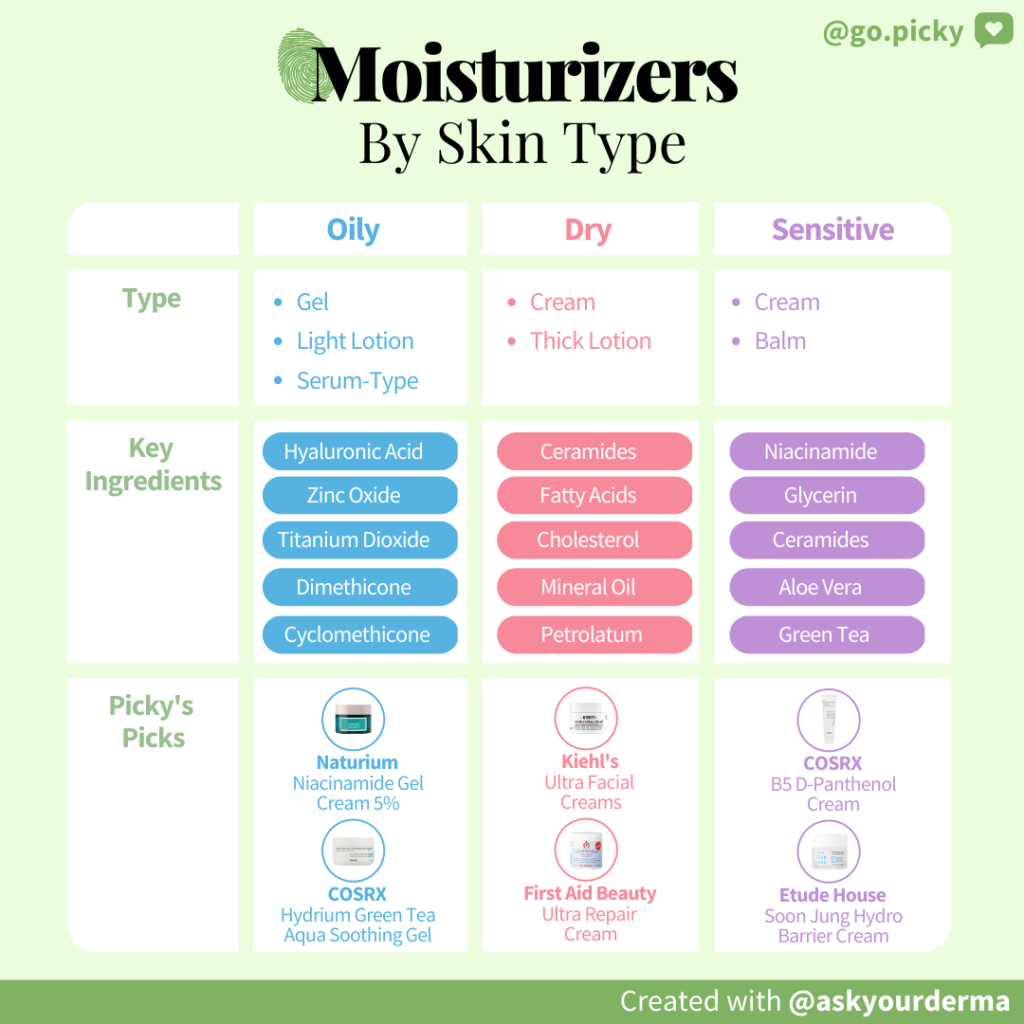 We'll be looking at oily, dry, sensitive, resistant, pigmented, non-pigmented, wrinkled and tight so you can decide the best for your concern. If you're not sure about your skin type or issues, check out our Beginner's Guide to Skincare for some help.
Oily
If your skin leans more on the oily side, then you want to want a formulation such as a:
Gel
Light lotion
Serum-type moisturizer
Key ingredients and additives: Check out humectants like hyaluronic acid, heparan sulfate analog and silicone based ingredients such as dimethicone and cyclomethicone. Some good additives are titanium dioxide and zinc oxide.
Tip: You can try using a sunscreen that doubles as a moisturizer during the day!
Picky's Picks: We have a whole blog post dedicated to products we found had ingredients best fit for oily skin types. Check it out!
Dry
Drier skin types need a little more in their formulation to lock in that hydration. The best formulations for dry skin types are:
Key Ingredients and additives: Try finding a moisturizer with ceramides, fatty acids (oleic acid), cholesterol, mineral oil and petrolatum.
Picky's Picks: Check out which products are best for dry skin types. From cleansers to moisturizers!
Sensitive
Sensitive skin is actually a symptom of other skin conditions, so if you're curious whether your skin falls under this category than double check with our article here. In general, you should look for a moisturizer with the following formulations:
Key ingredients and additives by concern:
Acne: Niacinamide, glycerin, ceramides, dimethicone, cyclomethicone, jojoba oil, aloe vera and witch hazel
Rosacea: Argan oil, chamomile, niacinamide, colloidal oatmeal, feverfew, licorice root extract and green tea
Tips: Try to avoid comedogenic ingredients like isopropyl myristate, isopropyl palmitate and coconut oil.
Picky's Picks: Wonder which products fit the bill for these ingredients? Click here to see our list of recommended products for sensitive skin types.
Moisturizer by Concern
The following concerns can generally use any formulation for moisturizers and depends on other concerns or preferences! But for key ingredients and additives, they can differ. So let's see which ingredients match best to your possible skin concern
Be Picky
Use the Picky app to your advantage and find the right moisturizer for your skin. See which ingredients address your specific concerns or skin type with the Picky Match and Ingredient Compatibility feature. Jump into some conversations on Discuss to see the most raved about moisturizers on Picky. Don't forget to follow us on Instagram and find even more skincare science content!