You asked, so we delivered! If you've done the Korean personal color test, and if you've found that you're a warm tone like Suzy from MISS A or Jennie from Blackpink, you're in for a treat! We've got all sorts of lip products for all our warm-toned Pickies!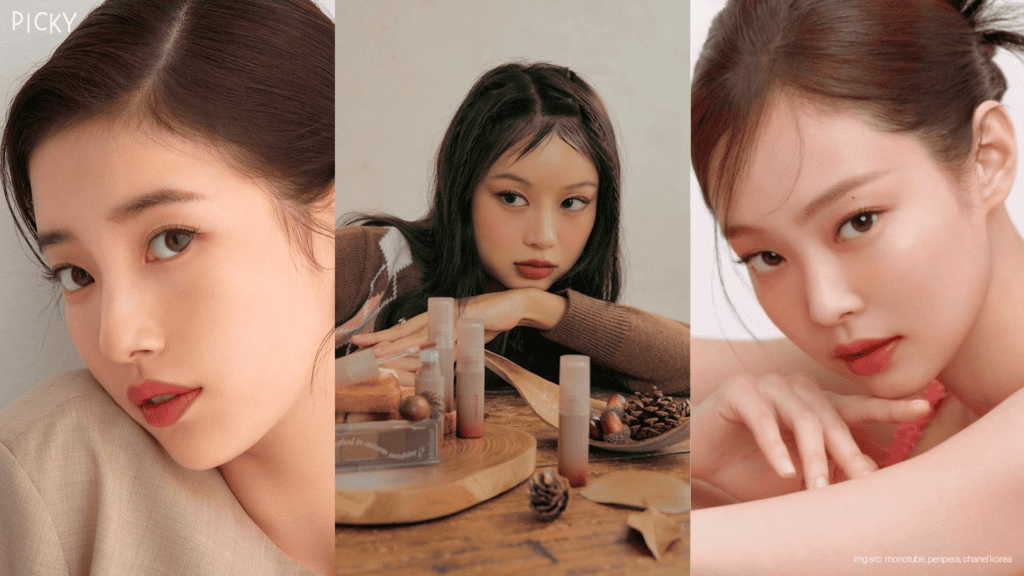 Today we invite again, a Korean makeup artist who works at DAKYO Makeup Salon based in Gangnam, Seoul. Please welcome back our Picky Expert Minhye, also known as Zzadoo! Read below to see some affordable and premium lip products she uses for warm-toned skin!
From A'pieu, it's a hydrating tint, but super affordable. It's a nude apricot color that doesn't dry and looks good on anyone with warm tones.
It's a nude watery tint, and it's good to use when you want a gradation effect. It's a light color, so it's very easy to apply.
All the spring warm-toned customers took a picture of this product because they wanted to buy one for themselves. I saw influencer Teriteri use it, so I bought it and it turns out it has a great texture! The only downside is that it's a little small and doesn't have a lot of product.
Super well-known, with good reason. It's a glowly, hydrating tint.
It's a bright and vibrant peach color, but I recommend it to those who don't like products that apply too heavily. It's a fluffy texture, so it's easy to blend into your base, and even if you apply it on its own, it brightens up your face!
It's a very bright and pretty fluorescent orange color. You hesitate because it almost feels like a highlighter color, but it isn't intimidating if you put it on your lips. And it's a good brightening coral color so I often use it for wedding shoots.
The packaging is pink but the product is a pretty coral color. I totally recommend this for anyone warm-toned. I get a lot of questions on what lip I used when I apply this slightly onto my inner lip.
This is one of Hera's best-selling products that all Korean makeup artists have because it's famous for being a super flattering warm-tone color!
I bought several because this product was soooo pretty! Whenever I posted a makeup tutorial using this product, I've had many people asking me to tell them where I got this lip. It's a gorgeous red and orange color.
If you don't like too dark of a lip but also don't like too light of a lip product this product will feel just right! Apply in the inner lip to enhance your natural lip color.
When you first swap it, it feels like a watery texture, but when applied it's a useful blur tint. It's a pretty, peachy texture that looks good even when applied just on its own.
Similar to Ahatt Serande but lighter and more of a fruity feel.
It's one of my favorite glow lipsticks. The texture is similar to the YSL tint, and it's peach color, but it's a bit toned down, so I recommend it if you avoid matte lipsticks.
Similar to rom&nd's Coral Jubilee but more long-lasting and better pigmentation!
If you like hydrating nude lips, make sure to buy this. If my customers have a warmer tone, I always use this product to finish their look! I have used it often for Asiana flight attendant makeup and wedding makeup looks.
Want more inside scoop on Korean makeup, skincare, and style insight? Make sure to stay updated with us!
Download the Picky app, and follow us on Instagram and TikTok.
Created with