We're excited to see Celebrity Routine Reveal is a hit! So let's keep it going with another well-known and adored skinfluencer Liah Yoo! We took a peak at her "My simple skincare routine (practice) for combo skin" YouTube video to get some insight on her skincare so we could share and analyze with you! So let's see what wisdom Liah Yoo's skincare routine has in store for us.
Liah Yoo's Skincare Routine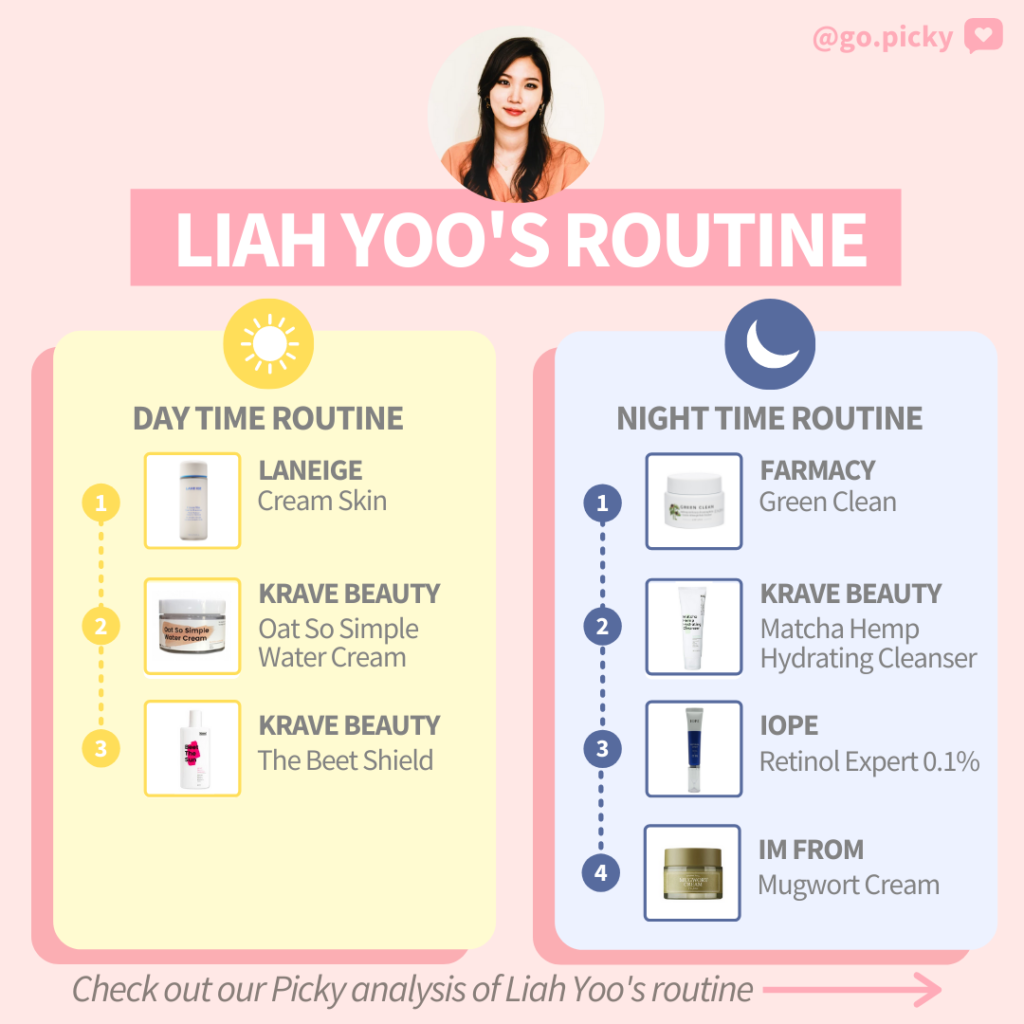 This is a quick overview of Liah Yoo's AM and PM routines. Routines can change depending on your skin, weather and concerns so we're only highlighting Liah Yoo's latest skincare practices! Check out our tips for each routine to improve your own skincare game.
Day Time Routine
Product Highlight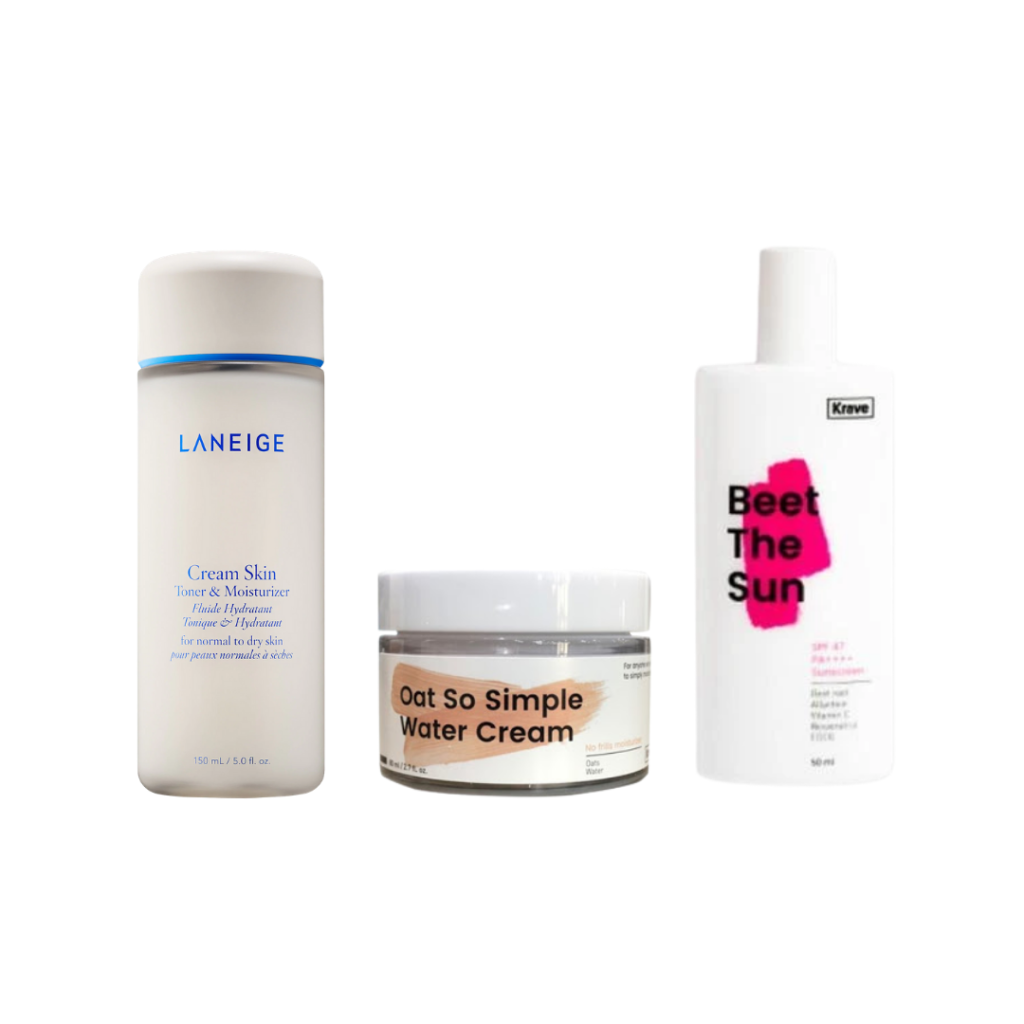 For her morning routine, Liah keeps it nice and simple with only three products! She first uses a cotton pad to wipe away any sebum produced overnight with Laneige Cream Skin and then does another round to let the essence-toner sink into her skin. Then she follows up with a nice and light moisturizer Krave Beauty Oat So Simple Water Cream and then her SPF Beet The Sun.
Tips
What we can take away from Liah's AM routine is that you don't always need to cleanse. For some skin types, such as sensitive and dry, it's almost better to skip it in the morning. Moisturizer should always be in your routine, whether light or thick, hydration is key for your skin. And lastly, SPF! Always add an SPF to your routine and use as the last step.
If you're confused on which moisturizer or sunscreen is right for your skin type, fear no more! We have a full article on different types of moisturizers and sunscreens you can explore.
Night Time Routine
Product Highlight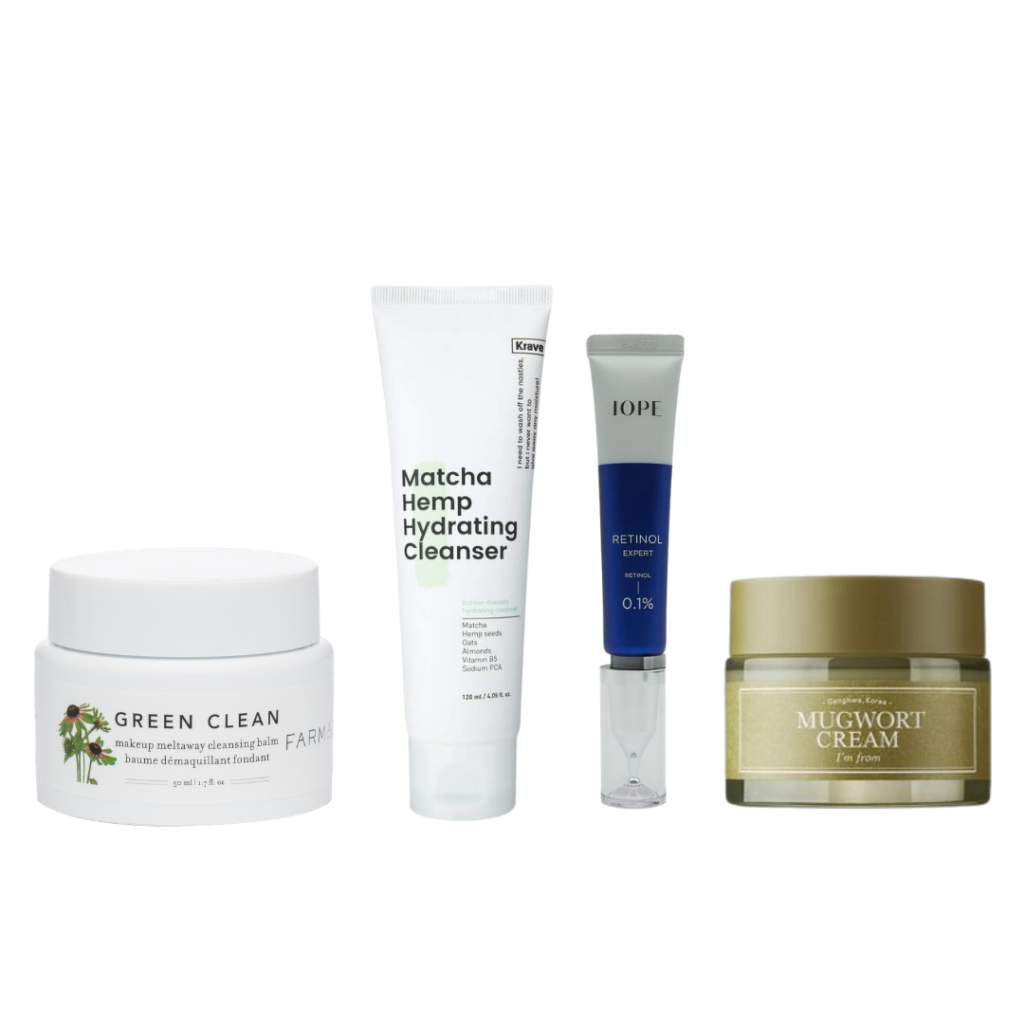 When it comes to Liah's PM routine, there's a few more steps. But overall, the routine is very minimal and simple! She starts off with Farmacy's Green Clean to wipe makeup and dirt, then double cleanses with Krave Beauty Matcha Hemp Hydrating Cleanser. Paying attention to her own skin concerns, she adds in Iope Retinol Expert 0.1% for anti-aging and finishes it all off with the Mugwort Cream from I'm From.
Tips
When it comes to double cleansing, it's not always a necessity (check out more on the double cleansing debate here). But one thing is for sure, keep your products clean! Use a small spoon or freshly cleaned hands to scoop the cleansing balm, or any container based product, from the container. Also, when it comes to retinol make sure you use only at night and follow up with a moisturizer to counteract its drying affect.
Not sure when to start using retinoids? Check out our When to Start Using Retinoids article for more.
Liah Yoo's Skincare Routine Analysis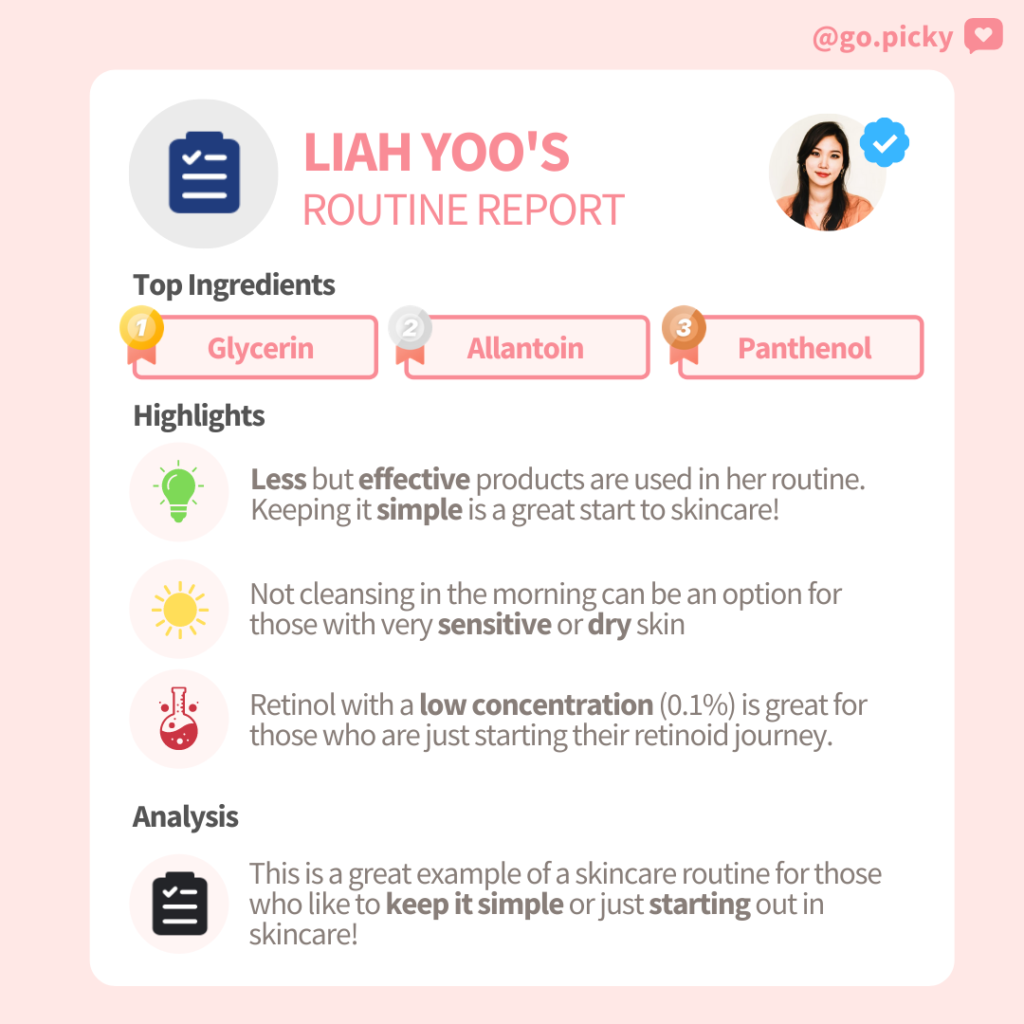 What we can say for certain about Liah Yoo's skincare routine is that she keeps it nice and simple, and we love it! It's a great routine for anyone just starting out in skincare or those who want to keep their routine simple. Her routine contains less products but effective for her skin type and concerns. So if you're not sure where to start on building your routine, head to the Picky blog and dive into our skincare science content for more! Maybe start out with our Beginner's Guide to Skincare.
Build Your Routine
Want to make a routine like this? Head to the Picky app and build your routine now! Compare products with our new Product Comparison feature and create a skincare routine that works for you. Need help getting started? Click here to go back to our Picky Blog for more skincare science content or here for our Instagram!