Q. What are some popular Asian beauty ingredients? What effect do they have?
A. There are six Asian beauty ingredients that have really grown trendy these days! Let's take a look at them.
With the rise of K-beauty globally, it is no surprise that Asian beauty ingredients have been gaining more and more traction recently. Most of them hail from the world's unofficial beauty capital… South Korea! Let's take a look at some trending ingredients in Asian beauty, and how they can improve your skin.
BUT! Keep in mind that these ingredients don't have a vast amount of evidence-based research yet (especially on human skin). So, take brand claims with a pinch of salt and feel free to experiment. More importantly, don't be discouraged if you use these ingredients but don't see any improvements!
#1. Snail Mucin
Snail mucin is a popular ingredient in many South Korean skincare and beauty products these days because of its growth factors. It's said to help with aiding in healing wounds, increase hydration, and hypothesized to penetrate the skin through hair follicles due to its larger molecule size.
Picky Recommends: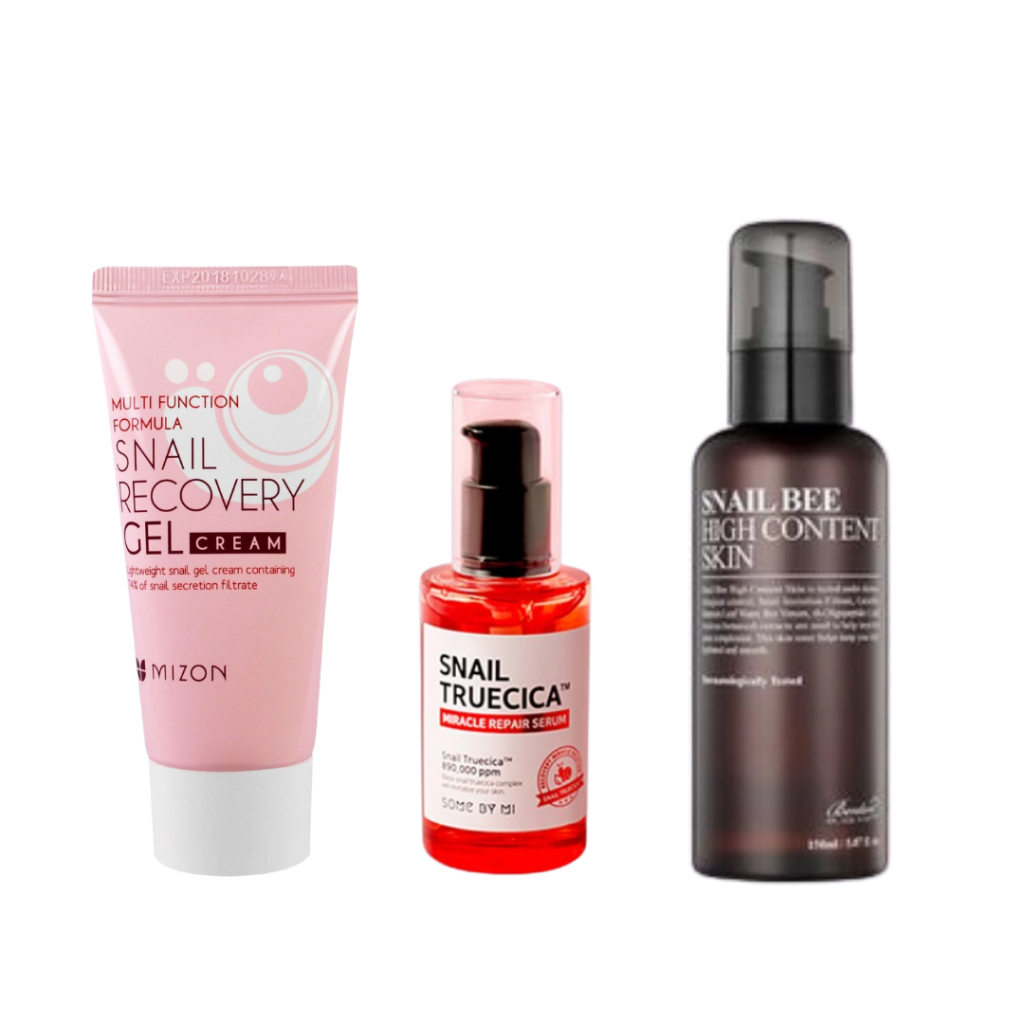 Mizon's Snail Recovery Gel Cream not only has snail mucin, but also green tea extract as well as allantoin. A soothing treat for the skin!
Some By Mi's Snail Truecica Miracle Repair Serum contains ingredients like other popular ingredients like niacinamide, centella asiatica extract, and allantoin to help with brightening and anti-aging.
Benton's Snail Bee High Content Skin contains ingredients along with snail mucin that help with brightening, anti-aging, and fighting acne. Log into the Picky app to see how these ingredients work with your skin type.
Find more products with snail mucin on the Picky app when you use the Mega Ingredient Filter and search for snail mucin using its scientific name 'snail secretion filtrate'!
#2. Centella Asiatica
Centella asiatica, aka cica, has been showing up in more and more products all over the world in recent years! Brands and skincare lovers alike have sworn by the ingredient's ability to increase the production of collagen, promote wound healing, and reducing inflammation.
Picky Recommends: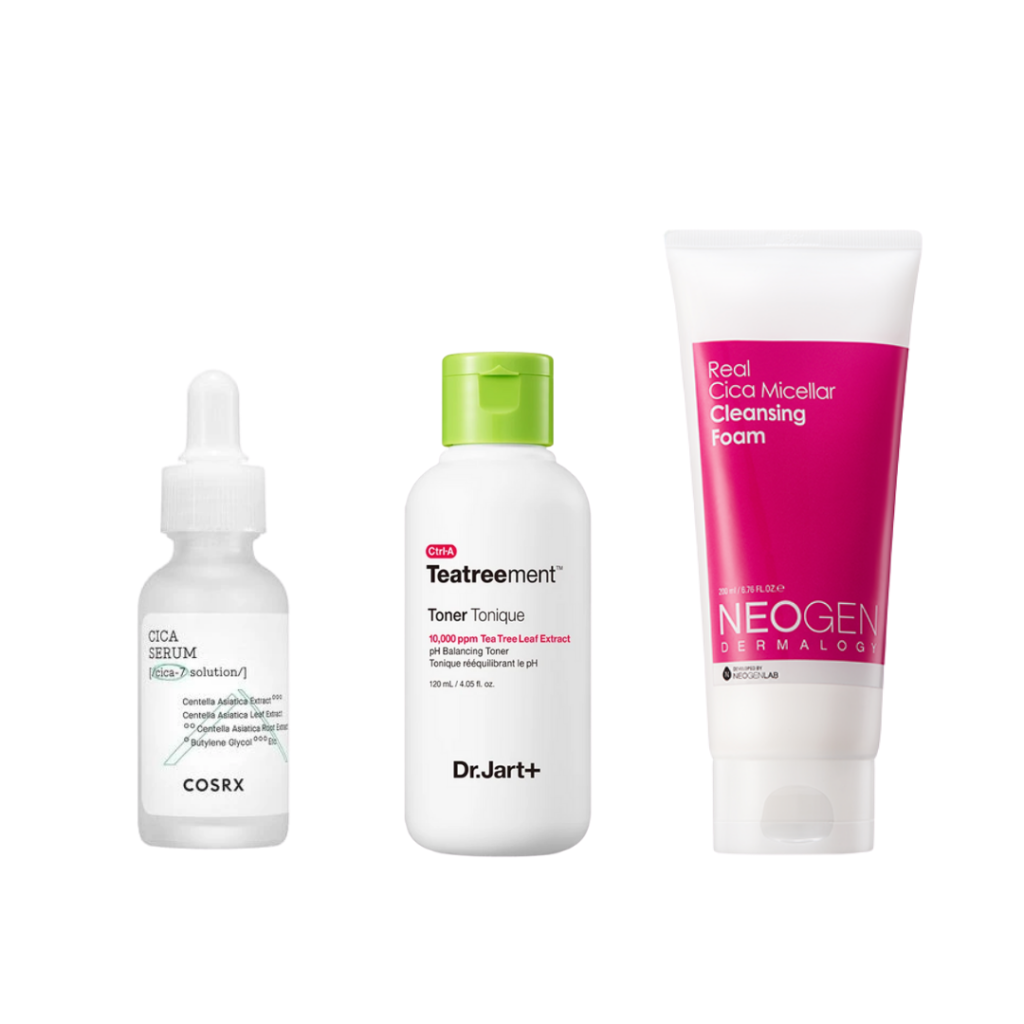 COSRX's Pure Fit Cica Serum contains nine different ingredients to help with soothing the skin, including centella asiatica, panthenol, and allantoin.
Dr. Jart+ Ctrl-A Teatreement Toner is another product you'd wanna look out for. In addition to centella asiatica, this toner has ingredients like niacinamide and salicylic acid for a total brightening and pore care solution.
Neogen Real Cica Micellar Cleansing Foam is great for anti-aging and soothing benefits, thanks to its ingredients like ceramide, centella asiatica, and allantoin.
#3. Propolis
We've talked about this great ingredient before, but it's worth repeating! Propolis is essentially 'bee glue' and has some amazing benefits, including antibacterial capabilities, improving hydration, and promoting the healing of wounds.
Picky Recommends: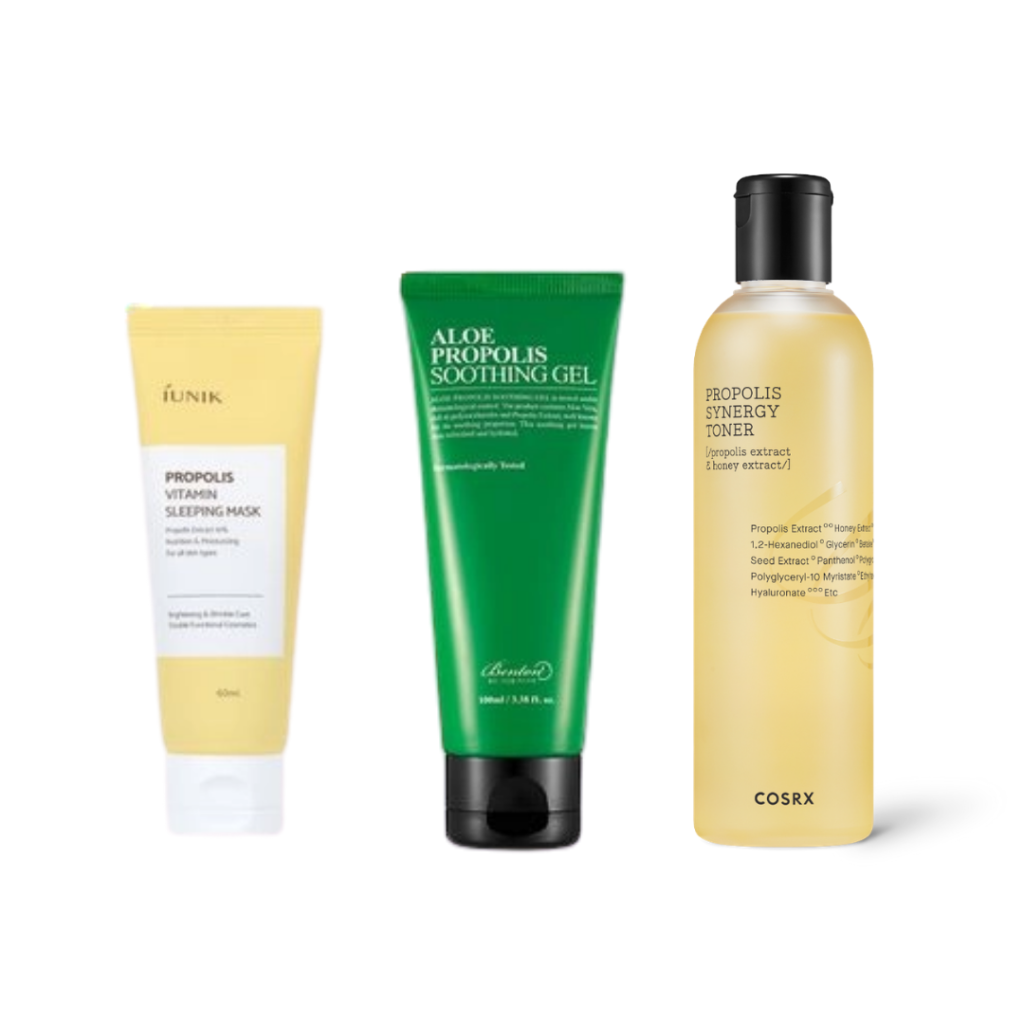 Iunik's Propolis Vitamin Sleeping Mask: Brighten and soothe your skin as you sleep. Slather on this sleeping mask and let the formulation of propolis, niacinamide and aloe vera leaf extract sink into your skin overnight.
Benton's Aloe Propolis Soothing Gel includes four different ingredients, including aloe vera and camellia sinensis leaf extract (green tea), for soothing the skin.
COSRX's Propolis Synergy Toner has honey extract, glycerin, and panthenol! Great for soothing and hydrating dull and irritated skin.
#4. Aloe Vera
Next up, aloe vera! Aloe vera is a great and natural ingredient that has an array of beneficial properties. It helps with inflammation, healing burns, increasing moisture, and reducing redness.
Picky Recommends: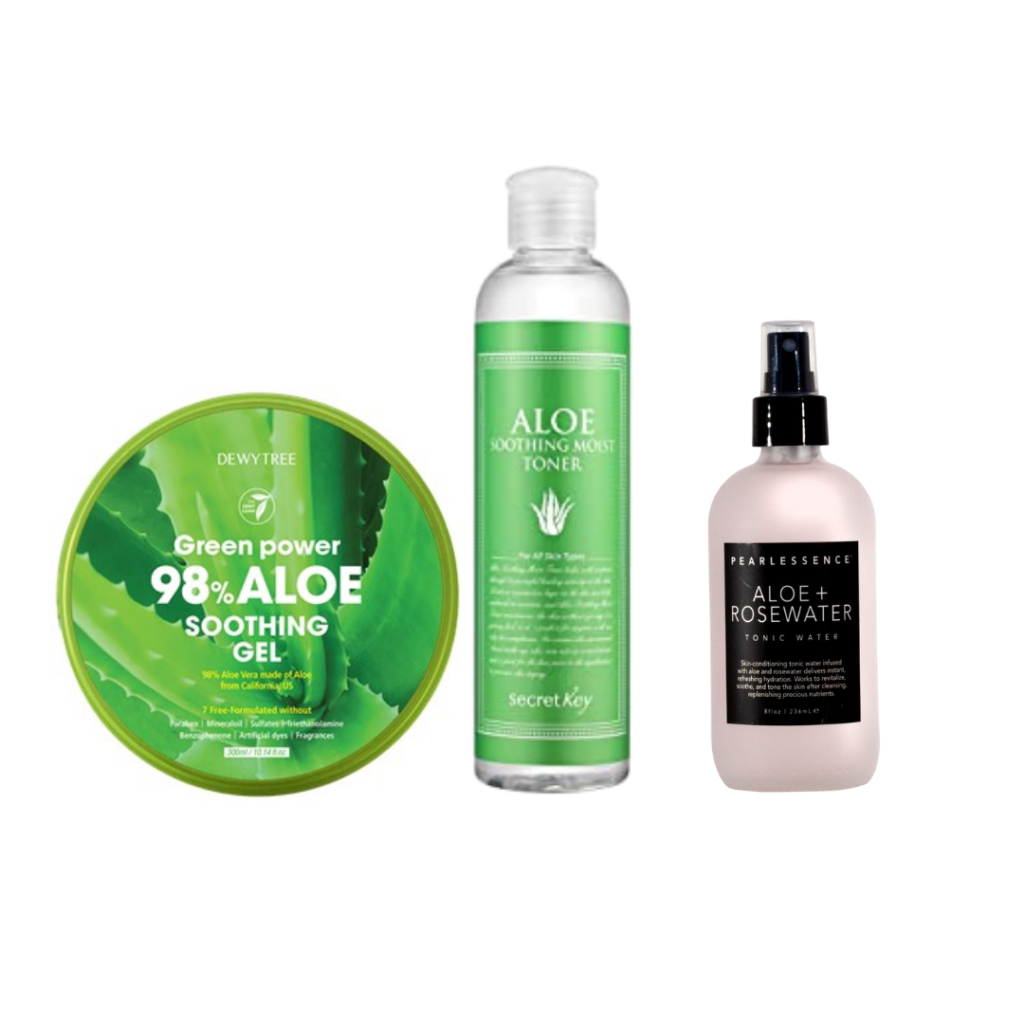 Dewytree Aloe Soothing Gel: Sometimes, all you need is a trusty aloe vera gel for a quick pick-me-up. This option includes four different ingredients in addition to aloe vera just for relieving dry and irritated skin.
Secret Key Fresh Nature Toner Aloe: Ever imagined aloe vera in liquid form? This toner from Secret Key will probably be it. The toner is a refreshing formulation of aloe vera, anthemis nobilis flower extract, centella asiatica and other great ingredients for all skin types. An underrated treat for your skin that deserves attention.
Jocott Brands, Inc's Pearlessence Aloe + Rosewater Tonic Water also contains power humectants like glycerin and panthenol, acting as synergistic sidekicks to aloe vera's soothing abilities.
#5. Rice Water
Rice water has traditionally been used in ancient skincare regimens in Asia. It has many beneficial components that may help with improving damage to the skin done by the sun. Rice water can also has a brightening effect and antioxidants! We've talked about rice water before, so check out our previous article to learn some more.
Picky Recommends: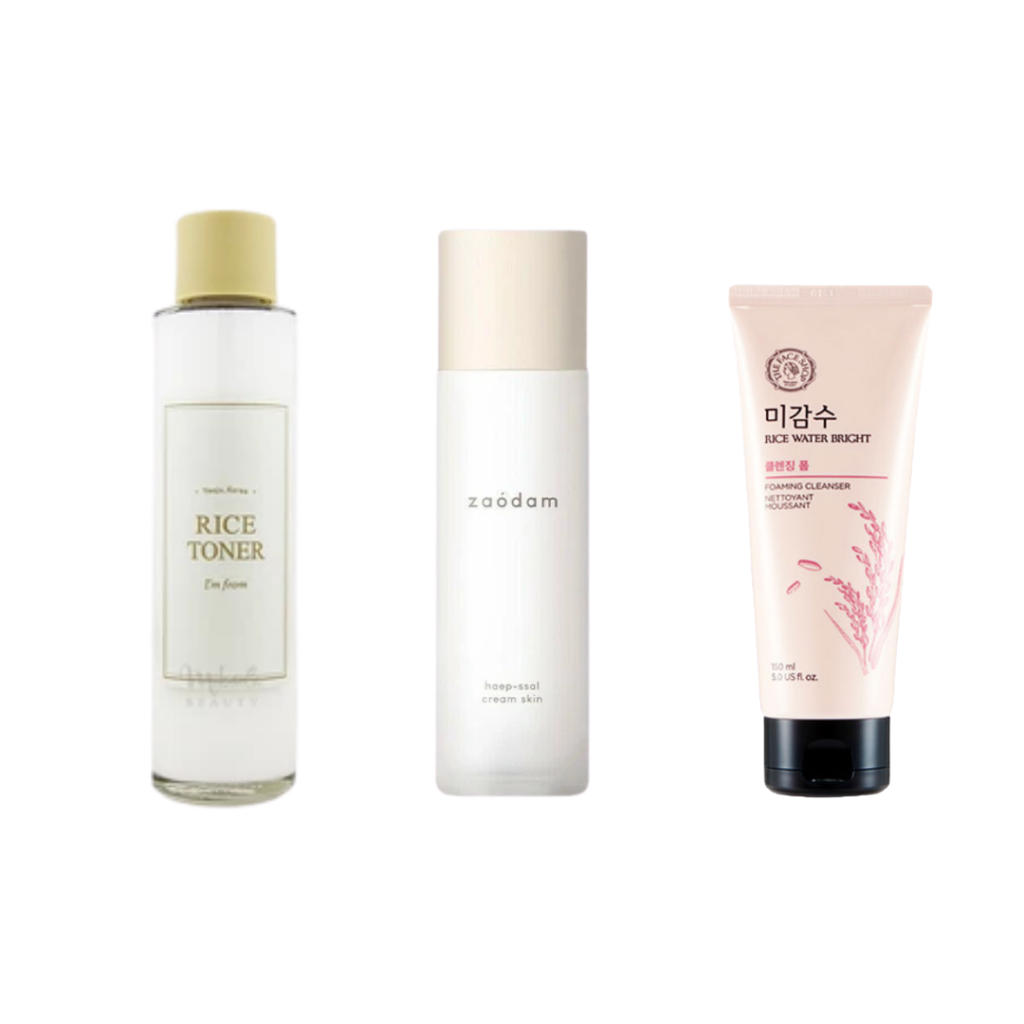 I'm From Rice Toner is a favorite with Picky users and a firm HG for many skincare enthusiasts championing Asian beauty. It's not hard to see why! Along with rice water, this toner also contains ingredient favorites like niacinamide and adenosine for serious brightening and anti-aging action.
Manyo Factory Zaodam Haep-Ssal (Rice) Cream Skin. Move over Laneige, Manyo Factory did it first. This rendition by the brand is a creamy but light interpretation of the regular toner. Perfect for dry climates and harsh winters.
The Face Shop Rice Water Bright Foam Cleanser: This one's probably a staple in every AB lover's skincare starter kit. Not only does it foam beautifully with just a bit of water, the cleanser also contains titanium dioxide for a hint of UV protection. Don't skip the sunscreen, though!
#6. Ginseng
Lastly, we're rounding up our list of Asian beauty ingredients with one with a rich history. Ginseng has been used in traditional eastern medicine since ancient times. With great beneficial properties, this ingredient has also found its way into skincare products. Ginseng can help with wrinkles and fine lines, in addition to protecting the skin from free radicals. It's also said to help with wound healing! Check out our previous article to learn about more skincare benefits ginseng can bring.
Picky Recommends: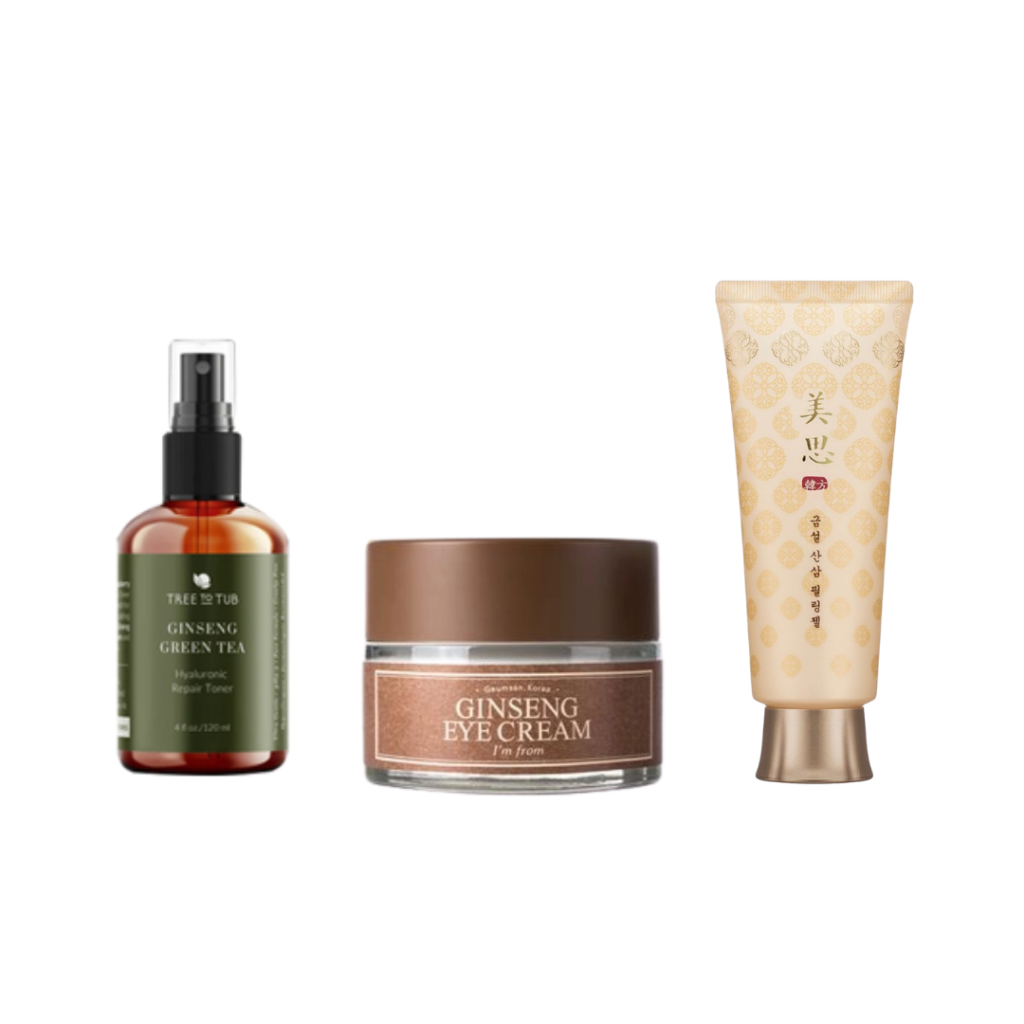 Tree to Tub Ginseng Green Tea Toner with Hyaluronic Acid: As the name suggests, this toner is a mesh of ginseng, green tea, and hyaluronic acid! Splash this onto clean skin for a refreshed and moisturized canvas for the rest of your skincare routine.
I'm From Ginseng Eye Cream: On the market for an eye cream? This one from I'm From packs in ginseng as the main ingredient. Additionally, it also includes allantoin to soothe the skin and adenosine for an added anti-aging effect.
MISSHA MISA Geum Sul Wild Ginseng Exfoliating Gel also contains camellia sinensis leaf extract (green tea) and morus alba fruit extract for brightening the skin and tackling hyperpigmentation!
Find More Products with Asian Beauty Ingredients on Picky!
Now, are you ready to start trying some Asian beauty ingredients in your skincare routine? Head over to the Picky app now and start searching for these ingredients with the Mega Ingredient Filter! Click here to go to the Picky website, or here to go back to our blog.