Ever heard of propolis? This ingredient is the latest thing in skincare and for good reason. We have the 411 on propolis, thanks to our friends at Wishtrend, and we can't wait to share these skincare tips with you. Take a look and see how propolis can up your routine and change your skincare game!
What is it?
Propolis comes from the natural substance found in resins collected by honey bees when they make their hives. So in essence, it's bee glue! And boy, does it have some amazing healing properties not only for your health but for your skin as well. Assisting in healing and soothing skin, it's no wonder this natural ingredient is a keeper.
1. Fight Acne
Propolis has a strong antibacterial nature, so they are a worthy ally in the fight against bacterial acne. Having it in your routine can help decrease the amount and severity of your pimples. Additionally, its anti-inflammatory properties also make it super effective for managing acne for sensitive and acne-prone skin types. Propolis helps to ease redness and soothes the skin by cooling it down, while also preventing future outbreaks.
2. Control Dead Skin Cells
If you don't exfoliate away dead skin, it'll plug up your pores and mess with your skin's natural balance! This step is even more essential for acne-prone (both dry or oily types) individuals who need to make sure their skin stays properly moisturized. While propolis does not have exfoliating properties, it makes a wonderful follow-up step after removing dead skin cells to restore the skin of the moisture it needs.
3. Protect from Free Radicals
Another star quality of propolis is its ability to fight off free radicals! It helps protect the skin from any external environmental damages. We can easily be exposed to pollution, sun, small doses of radiation, and other elements on a daily basis. These free radicals borne from environmental pollution can be extremely harmful to our skin. Too much free radicals coming into contact with your skin can lead to the weakening of the skin barrier and a change in its color, among many others!
Free radicals wreak havoc on the skin by clinging onto extra electrons from atoms present in the skin. But, the antioxidants in propolis can help to fend this off by donating electrons for the free radicals to grab onto instead. Propolis is full of antioxidants and therefore helps prevent against free radicals, so your skin can stay young and bright.
4. Skin Healing and After Acne Care
Propolis has gained recognition for its healing ability on burns and increasing the capacity of skin cell growth. People have praised the ingredient for its effectiveness in treating burns and repairing wounds. It also creates a collagen barrier on the skin, which helps to balance out water and oil. This creates a healthy skin barrier that can speed up your skin's healing process. If you have blemishes, dark spots or acne scars, propolis could be a possible solution for treating these concerns.
Adding Propolis to Your Routine
Propolis products can range from toners to serums and more. Because it is so rich and hydrating, its products often carry the consistency of thick and sticky textures. If you want to add some propolis to your routine, check out these different types of products below and find what's best for you.
Refreshing
If what you want out of your your skincare routine is a refreshing feeling, try essences with propolis! Essences can come in a lighter texture when compared to ampoules or serums. If you're feeling too oily or sensitive, or just want a nice, lightweight product in the form of a facial essence. It will give your skin all the great benefits propolis has to offer.
Wishtrend's Recommendation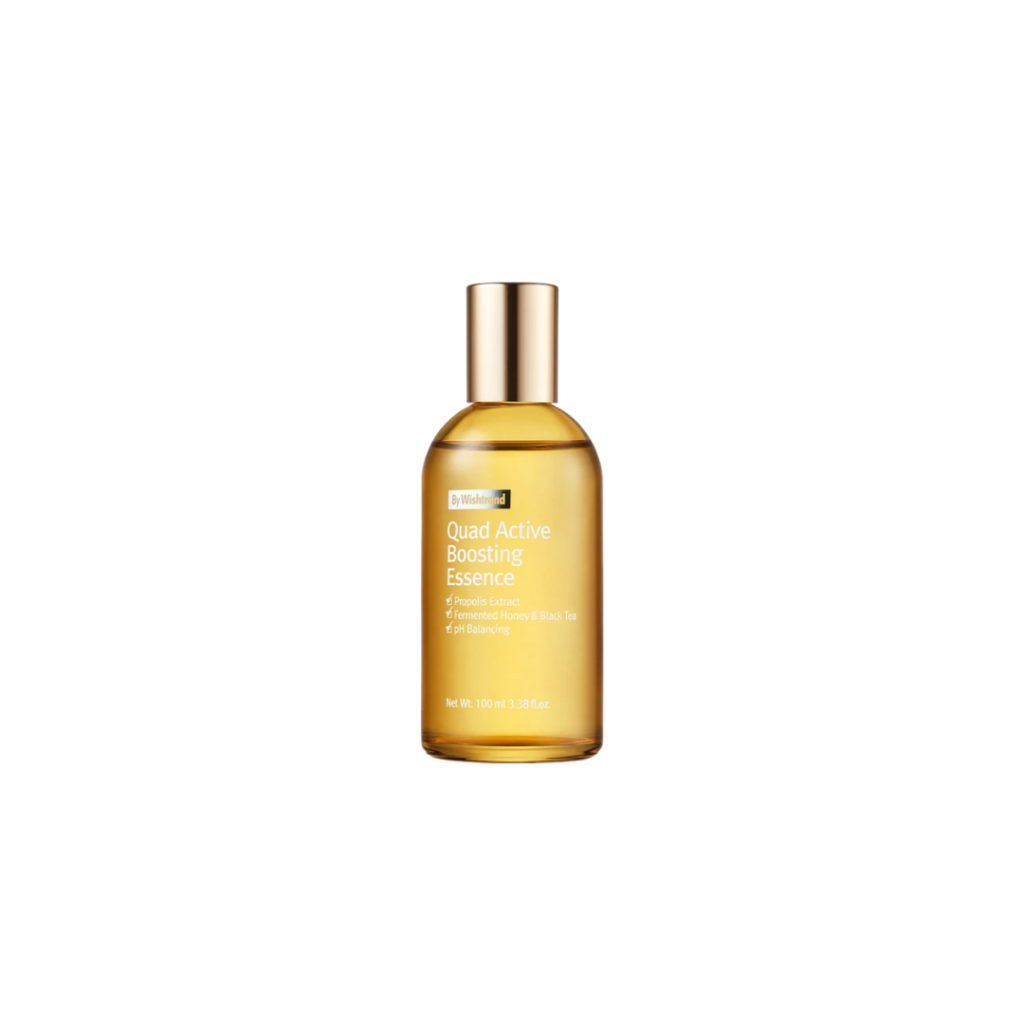 The Quad Active Boosting Essence from By Wishtrend has ingredients widely known to help with anti-inflammatory, anti-pollution, and anti-bacterial effects to maintain healthy and lively skin. It's also great for moisturizing your skin. We recommend using this essence between your toner and serum steps!
Nourishing
If you need some extra hydration and protection, then a propolis ampoule is the way to go. Find an ampoule that can give that powerful antioxidant hit to your skin with just a few drops. But, make sure to take time and allow the propolis ampoule to fully penetrate the skin, so that it can truly hydrate and give all of its healthy benefits.
Wishtrend's Recommendation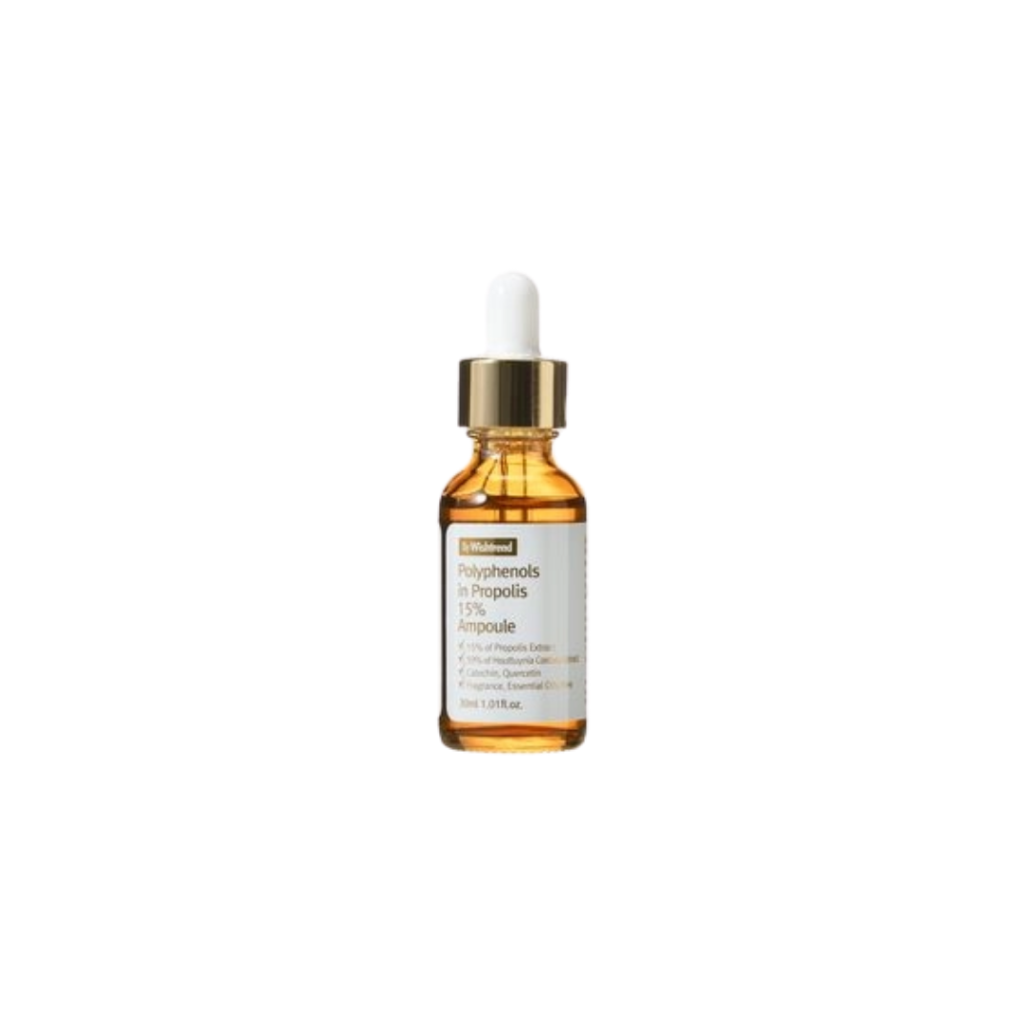 The Polyphenols in Propolis 15% Ampoule from By Wishtrend contains 15% Propolis with powerful antioxidant effects. It improves acne and sensitive skin through powerful anti-inflammatory and antioxidant effects and immune system enhancement.
Want to find more propolis products to try out? Head over to the Picky app and use our Mega Ingredient Filter to find some great products with propolis right for your skin type! Don't forget to also follow us on Instagram and more on our blog for more skincare science content!