We've got something exciting to share with you today. Picture this: finding the perfect eyeshadow shades that not only make your eyes pop but also complement your complexion. How? By uncovering your personal color! Trust us, it's a game-changer. Forget about those overwhelming trips to the makeup counter, trying to figure out which shades suit you best. We're here to simplify things. In this article, we're exploring the magic of personal color, breaking it down into four fantastic categories: Spring Warm, Summer Cool, Autumn Warm, and Winter Cool. So, buckle up and get ready to discover the magic of finding your perfect eyeshadow palette based on your personal color. Let's dive in and unleash your eye game in style!
Eyeshadow Palettes by Personal Color
When it comes to choosing the perfect eyeshadow palette, considering your personal color can make a significant difference in putting together makeup looks. Let's take a look at these color palettes to help you select eyeshadow shades that harmonize with your complexion, eye color, and undertones!
Spring Warm
For those who fall under Spring Warm, the key is to choose eyeshadow shades that complement your warm undertones and enhance your natural glow. Peachy colors are your best friends when it comes to creating stunning eye looks. Think soft peaches, delicate corals, and even warm golden bronzes. These shades will bring out the radiance in your complexion and give your eyes a fresh and youthful appeal.
Whether you're going for a subtle daytime look or a vibrant sunset-inspired glam, reach for those peachy hues to make your eyes truly pop. Don't be afraid to mix and match different shades within the peachy spectrum to create depth and dimension. Experiment with light champagne hues for highlighting the inner corners of your eyes or adding a touch of shimmer to the center of your eyelids for that extra sparkle.
Here are some eyeshadow palette recommendations that will get you those warm, bright vibes you're striving for!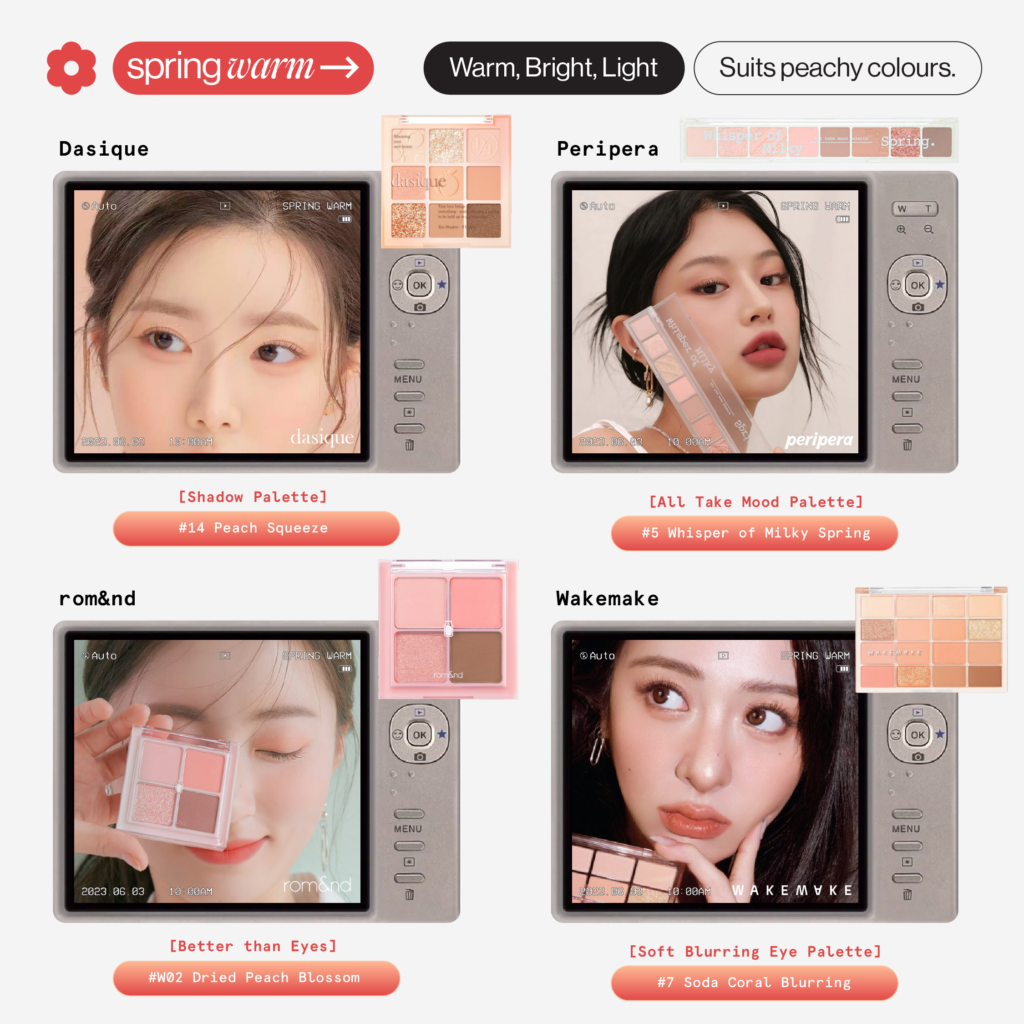 Dasique Shadow Palette – 14 Peach Squeeze
Peripera All Take Mood Palette – 5 Whisper of Milky Spring
Rom&nd Better than Eyes – W02 Dried Peach Blossom
Wakemake Soft Blurring Eye Palette – 7 Soda Coral Blurring
Summer Cool
The Summer Cool color palette is all about embracing your cool undertones and creating a soft and serene vibe around your eyes. When it comes to eyeshadow, think of colors that are reminiscent of a beautiful summer sky or a delicate bouquet of flowers. Pastel shades are your go-to for achieving that effortlessly chic look.
Play with different pastel shades and experiment with combinations. Mix and match the colors to add depth and dimension to your eyes. Consider using light, shimmery pastels to highlight the inner corners or apply a soft wash of color over the lids for a fresh and ethereal appearance.
So, check out the following palette recommendations and dive into the world of pastels and let your eyes radiate a dreamy and enchanting vibe!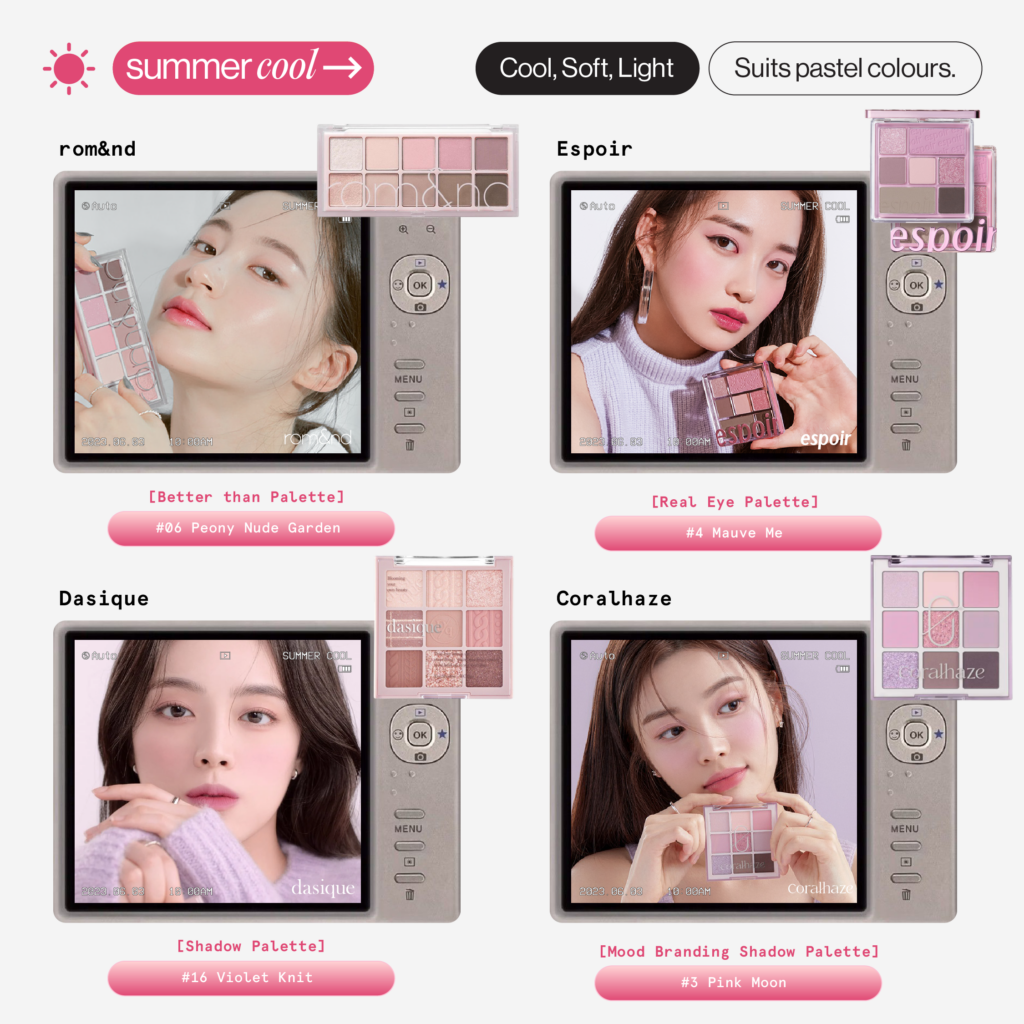 Rom&nd Better than Palette – 6 Peony Nude Garden
Espoir Real Eye Palette – 2 Mauve Me
Dasique Shadow Palette – 16 Violet Knit
Coralhaze Mood Branding Shadow Palette – 3 Pink Moon
Autumn Warm
When it comes to the Autumn Warm palette, think of colors that evoke the earthy and enchanting beauty of fall. Dense, rich shades are your secret weapon to achieving that warm and captivating allure. Imagine adorning your lids with deep bronzes, golden browns, and rich terracottas. These colors will perfectly complement your complexion, enhancing your warm undertones and giving your eyes a captivating depth.
Channel your inner beauty guru and explore different combinations of shades. Mix and match to create depth and dimension, or use a single shade for a striking monochromatic look. Consider adding some shimmer to your eyes with gold or bronze accents to add a touch of glamour and draw attention to your gorgeous peepers.
So, dive into the following eyeshadow palette recommendations and let your eyes captivate everyone around you!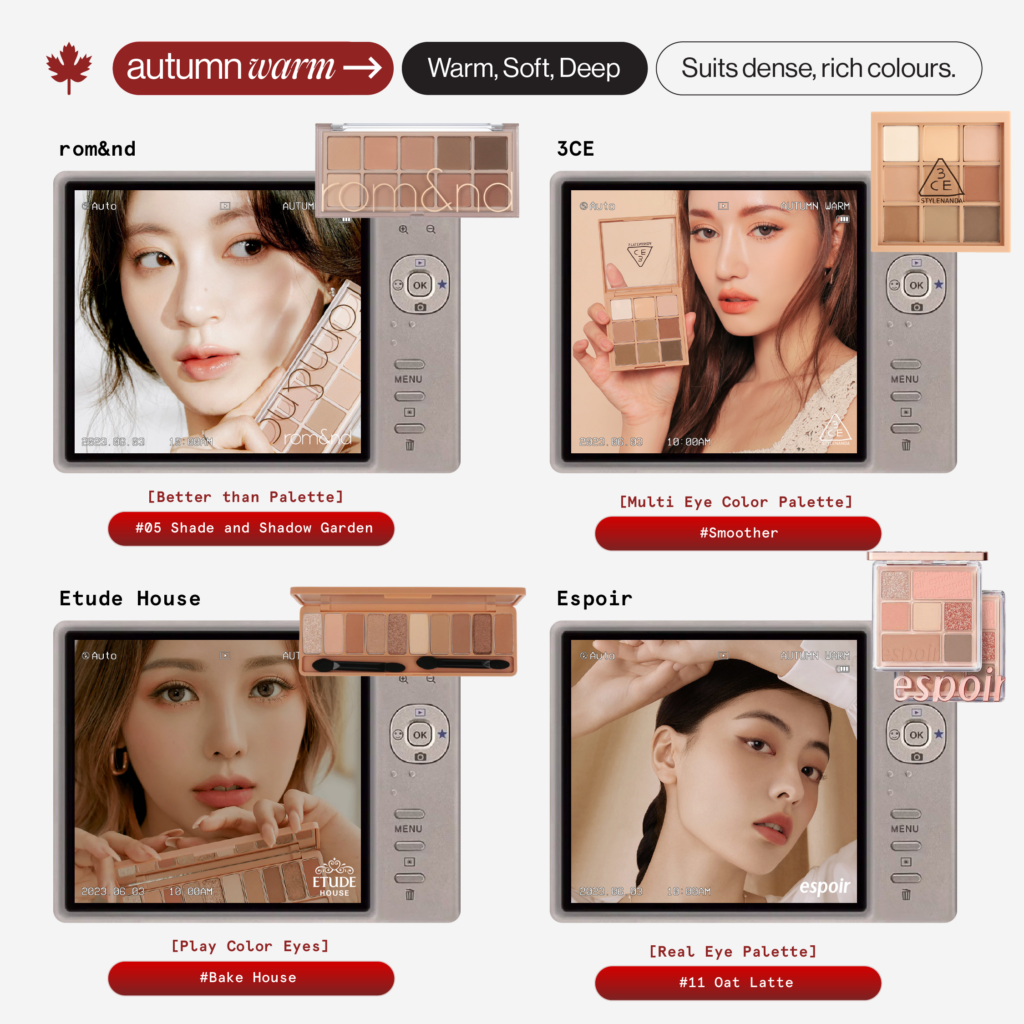 Rom&nd Better than Palette – 5 Shade and Shadow Garden
3CE Multi Eye Color Palette – Smoother
Etude House Play Color Eyes – Bake House
Espoir Real Eye Palette – 11 Oat Latte
Winter Cool
Lastly, the Winter Cool color palette is all about embracing your cool undertones and creating looks that exude confidence and intensity. Picture colors that mirror the icy beauty of a winter wonderland or the vibrancy of a starry night. Bold colors are your best friend in achieving that show-stopping allure.
Picture your lids with shades like deep plums, shimmering silvers, icy blues, and rich emeralds. These colors perfectly complement your cool complexion, enhancing your features with a touch of drama. Also, consider adding some shimmer or metallic accents to your eyes for an extra dose of glamour and sparkle.
So, take these eyeshadow palette recommendations, let your eyes steal the show, and leave a lasting impression wherever you go!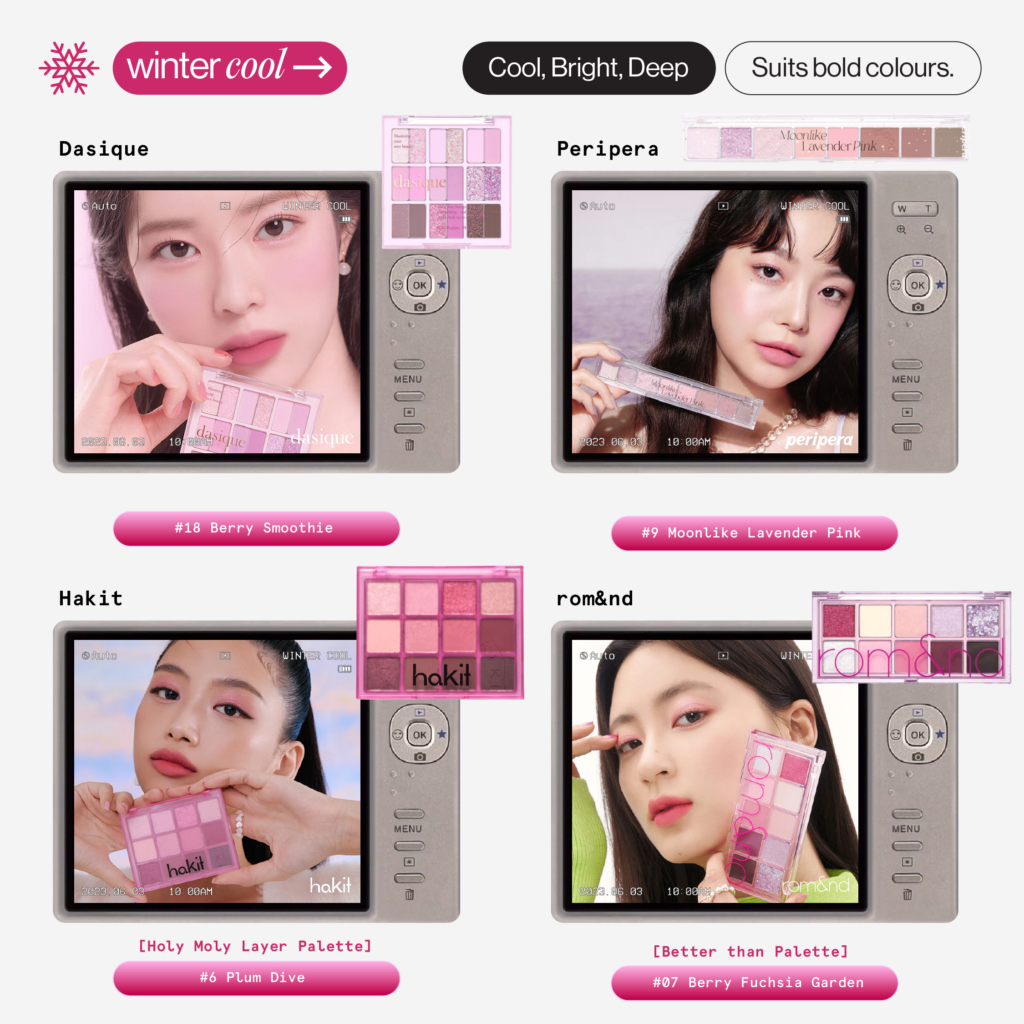 Dasique Shadow Palette -16 Berry Smoothie
Peripera All Take Mood Palette – 9 Moonlike Lavender Pink
Hakit Holy Moly Layer Palette – 6 Plum Dive
Rom&nd Better than Palette – 7 Berry Fuschia Garden
Click Here to view our blog on how to take the personal color test! Also, don't forget to check out some tasteful recommendations for lips and blush from the personal color series!
While you're at it, download the Picky app and follow us on our Instagram and TikTok.