Jennie (Ruby Jane) Kim, or just Jennie is a member of the mega K-pop girl group Blackpink. Blackpink as a unit has toured globally and headlined major events such as Coachella, and has not been showing signs of stopping.
Each member have also become household names, becoming brand ambassadors for iconic labels.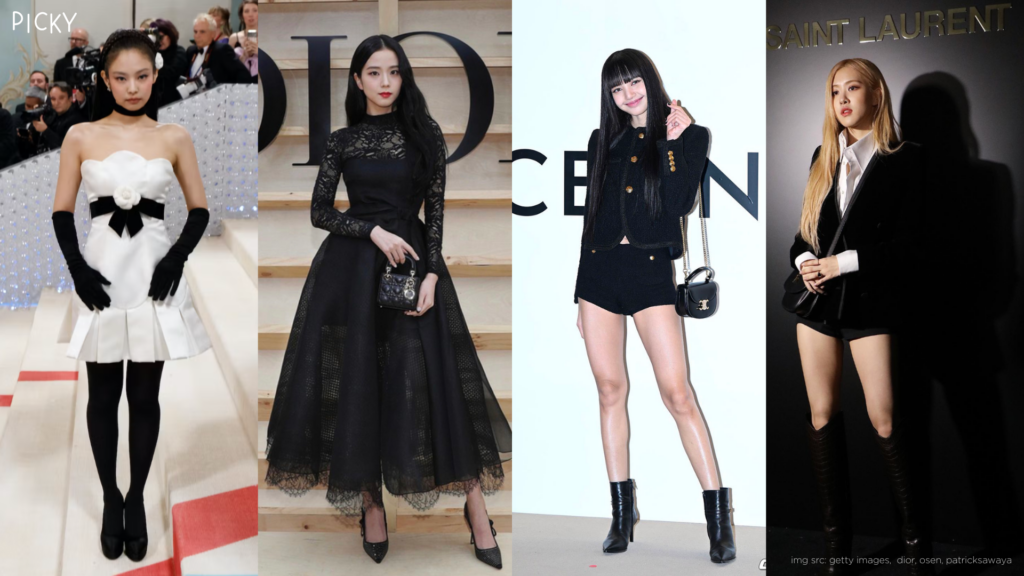 Blackpink members and their luxury deals: Jennie for Chanel, Jisoo for Dior, Lisa for Celine, and Rosé for YSL.
Jennie herself is a talented idol of many hats. Apart from singer, dancer, and performer, her aura has also drawn in many modeling projects as well as acting! Jennie was recently featured in The Idol, a show where she co-starred with Lily-Rose Depp and Troye Sivan.
She's most known for being Korea's it-girl, with a sense of style that has given her the nickname the 'Sold Out Queen'. The products Jennie endorses almost always sell out, as her fans in Korea and worldwide trust her knowledge in knowing what's hot. And now, you can know too!
Read more below to learn about Jennie's favorite makeup and body products, and get the inside scoop on her nightly routine.
What's in Jennies Makeup Pouch?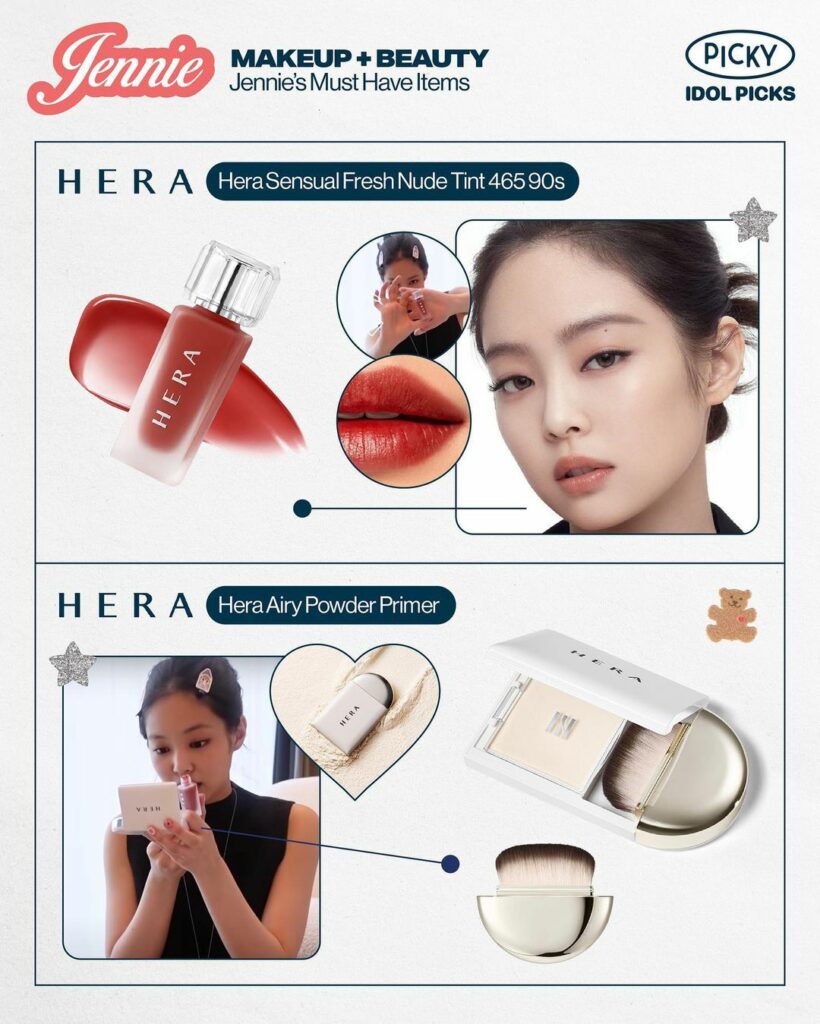 Jennie has been the face of many well-known Korean brands like eyewear brand Gentle Monster and hair care brand mise en scene. However, most notably, she is the brand model for Hera – a higher-end K-beauty cosmetic brand. She has been seen in her vlogs using some of the Hera products in her real life.
Jennie uses the Hera Sensual Fresh Nude Tint in the shade 90s. It's described as a delicate pink-brown, giving you a blast from the past with a more vivid, but nude lip. Very on-par with the beloved MLBB or my lips but better trend in Korea! The Hera tint can be both an everyday lip or something to neutralize the mood when you have heavier or more dramatic eye makeup.
This powder is perfect for when you need a matte finish but when you don't want a cakey finish. It's described as a dough-type formula which is then thinly coated with powder. It gives you that airbrushed look without feeling too heavy.
What's in Jennie's bathroom cabinet?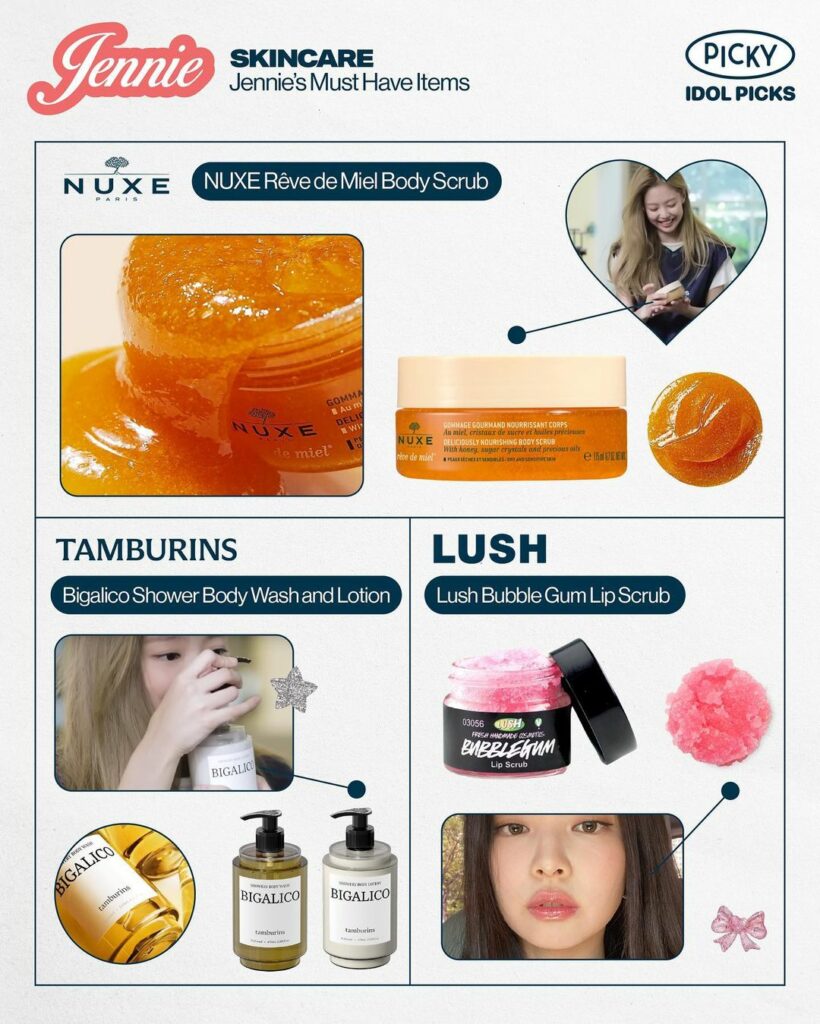 Jennie uses Bigalico – a body wash from Tamburins, a sub-brand of Gentle Monster. The notes include bitter orange, cedarwood, and sweet licorice – leaving a sweet and refreshing summery scent on your body after a shower.
Jennie's lotion is also Bigalico from Tamburins. Like Jennie's body wash, the lotion has a citrusy top note which is followed by calming and comforting cedarwood and sweet licorice bottom notes.
Jennie uses the Lush Bubble Gum lip scrub to achieve smooth, kissable lips. The name says it all with its yummy smell, and it also works to hydrate, soften, and exfoliate with its makeup of castor sugar and jojoba oil. Picky recommends using a lip scrub to exfoliate 1-2 times a week. During dryer and colder seasons, increase the frequency when necessary, maybe 3-4 times a week.
Jennie's body scrub is Rêve de Miel from NUXE. It also smells delicious and nourishing – made with honey, sugar crystals, and precious oils. Picky recommends using a body scrub to exfoliate 1-2 times a week – so that you get rid of your dead skin, but don't strip your body of its natural oils and moisture.
Want more Korean celebrity makeup, skincare, and style insight? Make sure to stay updated with us on our socials!