If you've got dry skin, you know the struggle of your makeup looking all cakey as the day goes on, right? It's like the foundation just clings to your dry patches and makes them stand out even more. Sometimes you end up looking worse with makeup than without it, which is super frustrating. But hey, don't worry! The K-beauty scene has got your back with these awesome cushions made especially for dry skin. They're like a magical combo of skincare and makeup, packed with moisturizing ingredients that'll keep your skin happy and hydrated while giving you a flawless finish. It's like a mini spa treatment for your face, but with extra style!
Glowing Foundation for Dry Skin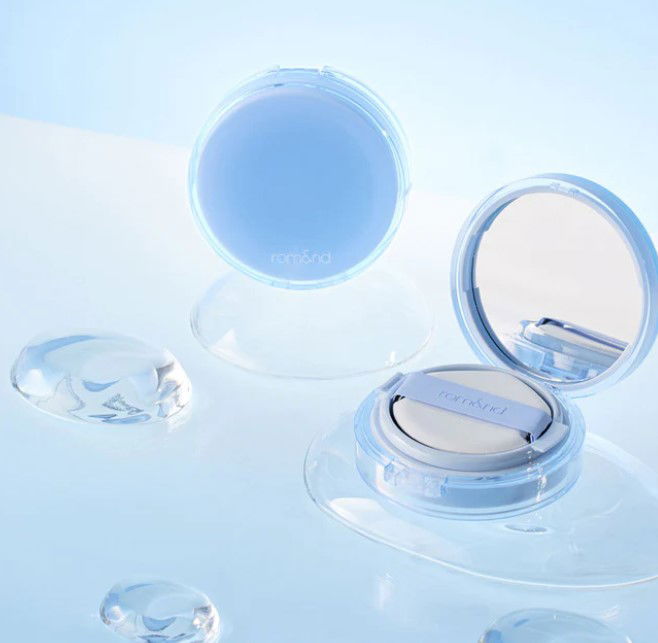 Rom&nd Bare Water Cushion
The Rom&nd Bare Water Cushion is at the top of our list for a reason!
This cushion is all about giving you that juicy, dewy look that makes your skin glow like crazy. If you're on the dry side and have been daydreaming about your cheeks reflecting light like a disco ball, girl, today is your lucky day!
But hey, here's a heads-up: this cushion takes moisturizing to the next level. So if you've got combination or oily skin, it might make you look like you just took a dip in a pool. And let's be real, that's not exactly the look we're aiming for, right? So, consider this cushion your secret weapon for that radiant, hydrated vibe, but if you've got oilier skin, you might want to pass on this one.
Specs & Ingredients
Sunproof: SPF38 PA++++
Vegan: Yes
Cover: Medium
Notable Ingredients: Hyaluronic Acid, Peach Blossom, Aqua Cerimide, Baobab Tree Sap
Wear Time: 12 hours
Everyday Cushion for Dry Skin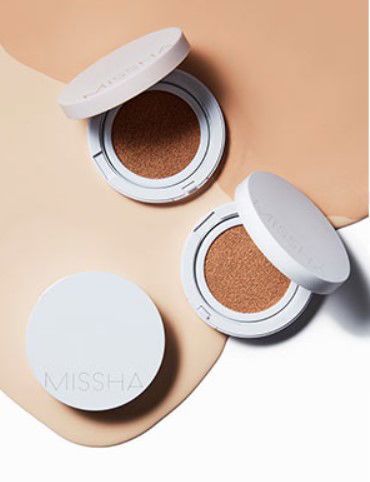 Missha Magic Cushion Moist Up
If you're all about that soft, natural glow, then this cushion is your go-to. It's like the holy grail for those chill, everyday looks when you're rocking slightly dry skin. It won't leave you looking flat and matte, but you won't be mistaken for a disco ball either. It's all about that perfect balance, mimicking the texture of regular skin. You'll be slaying that effortless, "I woke up like this" vibe, my friends. So grab this cushion and get ready to rock that low-key glow!
Specs & Ingredients
Sunproof: SPF50+ PA+++
Vegan: No
Cover: Light
Notable Ingredients: Camellia Sinesis Leaf Water, Sage Leaf Water, Nelumbo Nucifera Root Water
Wear Time: 12
Matte Cushion for Dry Skin
Age20's Noble Cover Satin Cushion
So, you might have believed that a matte foundation was off-limits for you, right? Well, guess what? We're about to drop some serious knowledge on you! Check out this miraculous cushion that gives you that matte finish you've been lusting after, but without drying out your precious skin. How does it do that, you ask? Well, it's like a magical combo of essence and foundation all rolled into one. Talk about a hydration power move!
And hold up, that's not all! This baby is a total boss when it comes to coverage. Just one swipe and most of your blemishes are outta there, like magic. No need to pile on layers and suffocate your skin, my friend. This powerful, high-coverage cushion has got your back with just a single layer. Say goodbye to those pesky imperfections and hello to flawless, hydrated goodness!
Sunproof: SPF 40/PA +++
Vegan: No
Cover: High
Notable Ingredients: Hyaluronic Acid, Collagen, Elastin
Wear Time: 70 Hours
Want to explore different ways of applying your foundation? Click Here to read about make-up spatulas, affordable, and luxury!