Hey there, beauty lovers! Let's dive into the fabulous world of makeup spatulas. These little cuties are here to make your makeup game flawless. They're a must-have for any K-beauty fan, helping you apply your favorite cosmetics with precision and style. But hold on, we've got options, honey! In Korea, the Piccasso makeup spatula is all the rage, but it can break the bank. Fear not, broke beauties, we've found the perfect dupe at our favorite Korean store, Daiso! It's time for a luxury vs budget showdown – will this Korean makeup dupe wow us? Let's find out!
Piccasso Makeup Spatula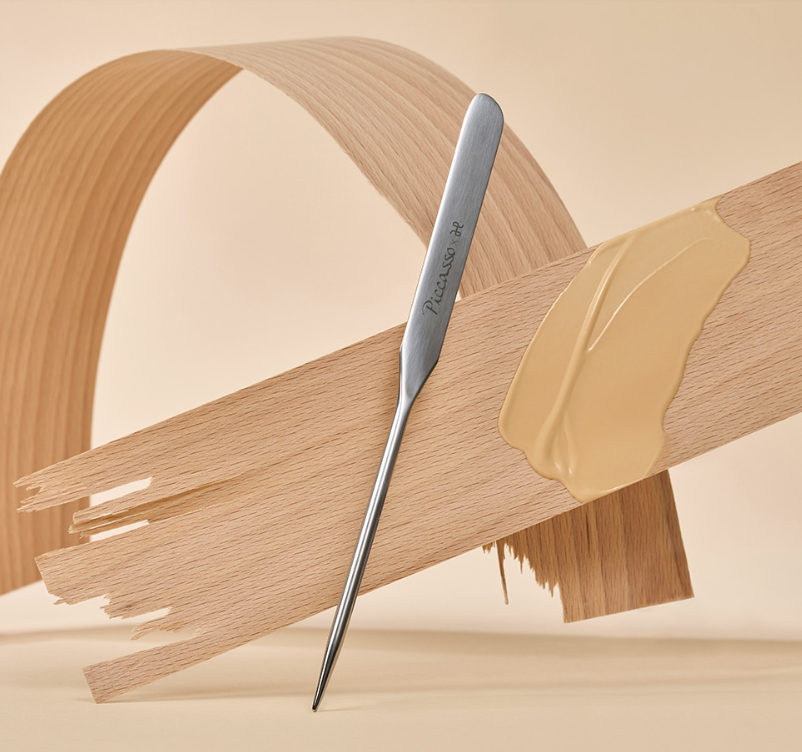 Have you heard about the Piccasso makeup spatula? It's like a superstar in the world of K-beauty! This adorable little tool has made history and earned the title of South Korea's favorite beauty companion. And guess what? It even has earned the top spot for beauty accessories at Olive Young!
Why is it so beloved, you ask? Well, it's all about that perfect blend of practicality and a touch of celebrity magic. Who can resist a tool that's not only useful but also endorsed by the stars? It's like having a piece of K-beauty history right in your hands!
Specs
19,000 Korean Won (14.19 USD)
Designed in collaboration with famous makeup artist Ham Kyeongsik
Transparent protective film protects against scratches and fingerprints
Top-ranked beauty tool at Olive Young
Practicality
Let's talk about the K-beauty makeup spatula that's taking the world by storm. It's like the hygiene hero we all need, especially after going through the pandemic trauma. Hygiene is on everyone's mind, right?
This sleek metal spatula is here to save the day, with no holes or crevices for any nasties to hide in. It's like a fortress against icky stuff! Say goodbye to worrying about bacteria ruining your makeup party.
But wait, there's more! This spatula comes with a transparent protective film. It's like a shield of perfection! You'll never have to worry about fingerprints or scratches messing up its flawless appearance. It's always ready for its close-up, no matter what.
So, let's give a round of applause to this hygienic hero, the K-beauty makeup spatula! Say hello to a clean and flawless makeup routine, and wave goodbye to any worries. Get ready to slay those looks with confidence, knowing that your trusty spatula has your back (and your makeup, too!).
Celebrity
The Piccasso Makeup spatula is not just here to keep it clean – it was also created by a star! It was made in partnership with the amazing Ham Kyeongsik, one of South Korea's most famous makeup artists. This genius has been making Korean idols, like f(x), GOT7, and even the incredible Sia, look absolutely fabulous since 2003. Talk about a glam squad!
And that's not all! The Piccasso makeup spatula has also won the hearts of other famous Korean makeup gurus, like the talented Ssin with a whopping 1.5 million followers. When these beauty experts swear by it, you know it's something special. They've created magic with this spatula, and it's no wonder that K-beauty enthusiasts have been dying to get their hands on it. The hype is real!
But hey, let's spill the tea. Is it really worth it? We're about to find out, my darlings. Stay tuned to see if this superstar collaboration lives up to all the hype. Prepare for some serious makeup excitement!
Daiso Makeup Spatula Dupe
The tea is hot and it's dupe time!
Get ready to meet the Daiso Makeup spatula, the ultimate look-alike of Piccasso's magical tool. And guess what? It's a steal compared to the original!
The Daiso Makeup spatula has that uncanny resemblance to its pricier cousin, but it comes at a fraction of the cost. We're talking major savings here, folks! Who says you have to break the bank to achieve flawless makeup? The budget-friendly option is here to save the day!
So, whether you're a makeup enthusiast on a tight budget or just love a good deal, the Daiso Makeup spatula is calling your name. Don't miss out on this fabulous dupe that's ready to rock your makeup routine without emptying your wallet. Get ready to slay those looks without breaking the bank!
Specs
1,000 Korean Won (0.75 USD)
Let's talk about the Daiso makeup spatula, the ultimate dupe for the fancy Piccasso version. These two are like twins, with similar weight, texture, and shape. But hold on, there's a little difference that sets them apart!
Unlike its fancy counterpart, the Daiso makeup spatula skips the transparent coating. So, it's not scratch-proof or fingerprint resistant. Oopsie! But don't fret, we've got you covered.
The amazing Picky Team has taken one for the team and tried out both spatulas, so you don't have to go through the trouble. They've got the inside scoop for you, my beauty-loving pals. Get ready for some real talk!
Comparison
The verdict is in from our fabulous Picky Team! They put the Piccasso and Daiso makeup spatulas to the test, and here's what they found: They're pretty darn similar when it comes to application. Both have that oh-so-soft touch and make applying makeup a breeze.
But wait, there's a twist! We've got a fun TikTok waiting for you below. Take a peek and see if you can spot any differences between the two. It's like a little beauty challenge, and we want you to join in on the fun!
Once you've watched the TikTok, drop your thoughts in the comments below. We're dying to hear your take on it!