Are you ready to dive into a world of whimsy and charm with the bubbly eyeshadow trend? Like a fizzy burst of joy for your eyes, this adorable K-beauty trend makes you feel like a delightful character straight out of a fairy tale. Whether you're a beauty aficionado looking to make a statement or someone seeking a fun and playful twist on traditional eyeshadow, this trend is guaranteed to leave you bubbling with excitement!
Colorgram Pin Point Eyeshadow Palette
Hear it from Shuhua of (G)I-DLE herself! The Pin Point Eyeshadow Palettes resemble paintboxes each filled with 12 shades ranging from peachy coral to sultry brown. It will ignite your creativity and take your eye game to the next level.
Yet, the Colorgram Pin Point Palette is not your ordinary palette collection. The pinpoint design makes it perfect for on-the-go touch-ups and ensures it's always ready to add a pop of color to your day. It is also super easy to apply and blend colors with the flick of a brush. So, if you are a makeup newbie or a seasoned pro, you can create eye-catching looks for any occasion!
Therefore, dip into a world of endless possibilities with this shadow palette where your imagination becomes your beauty weapon. Embrace your inner artist and let your eyes do the talking with bubbly eyeshadow! Unleash the magic of color with the Colorgram Pin Point Eyeshadow Palette.
Dasique Ice Cream Shadow Palette
Calling all sweet tooth make-up lovers! Prepare to be whisked away on a flavorful journey of color and confectionary delights. Introducing the Dasique Ice Cream Shadow Palette collection, a tempting treat for your eyes that leaves you craving more!
Imagine opening these palettes and being greeted by an array of shades inspired by an ice cream parlor's dreamy menu. We've got a trio of a palette featuring brown chocolates, another with sweet strawberry pinks, and a third with a speckled mix of both! Each shade also has a bubbly design for easy application.
Treat yourself to a scoop of happiness, one delicious eyeshadow shade at a time. Whether you create a sugary pastel look or a bold, eye-catching masterpiece, these bubbly eyeshadow palettes will be your ultimate companion on your journey to makeup bliss. Indulge in the sweetest makeup experience and let your eyes sparkle with these miniature ice cream parlors right at your fingertips!
Lilybyred Mood Keyboard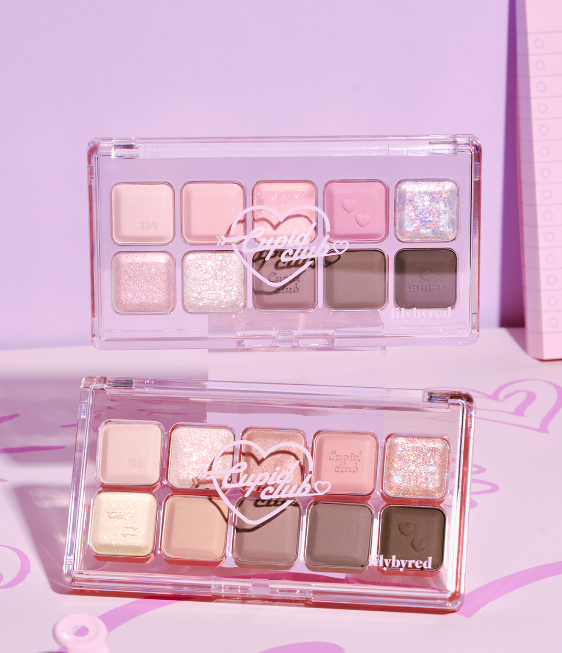 Life is full of ups and downs, and the Lilybyred Cupid Club Mood Keyboard collection is here to help you wear your heart on your eyelids. These palettes are all about celebrating the different emotions that make us who we are. It's like having a magical color palette that lets you express yourself and set the mood with just a few brush strokes!
Inside these enchanting palettes, you may find an assortment of vibrant shades that embody a variety of emotions. Whether you are feeling the cooler, moody tones or you are on the sunny side, each palette represents a different facet of your ever-changing mood. The Mood Keyboard palettes are like your own artistic playground, where you become the painter of your own emotions with bubbly eyeshadow.
If you want to learn more about current beauty trends in Korea and explore various beauty sites, Click Here.