This Korean skincare trend is taking the beauty world by storm and could be the key to dewy and glowing skin some hope to achieve. If you haven't heard of slugging, well hold on to your seats because you're in for a ride! We're not talking about actual slugs, so no mucus involved. Instead this is a simple moisturizing technique that could be beneficial for some, so let's get into it!
What is slugging?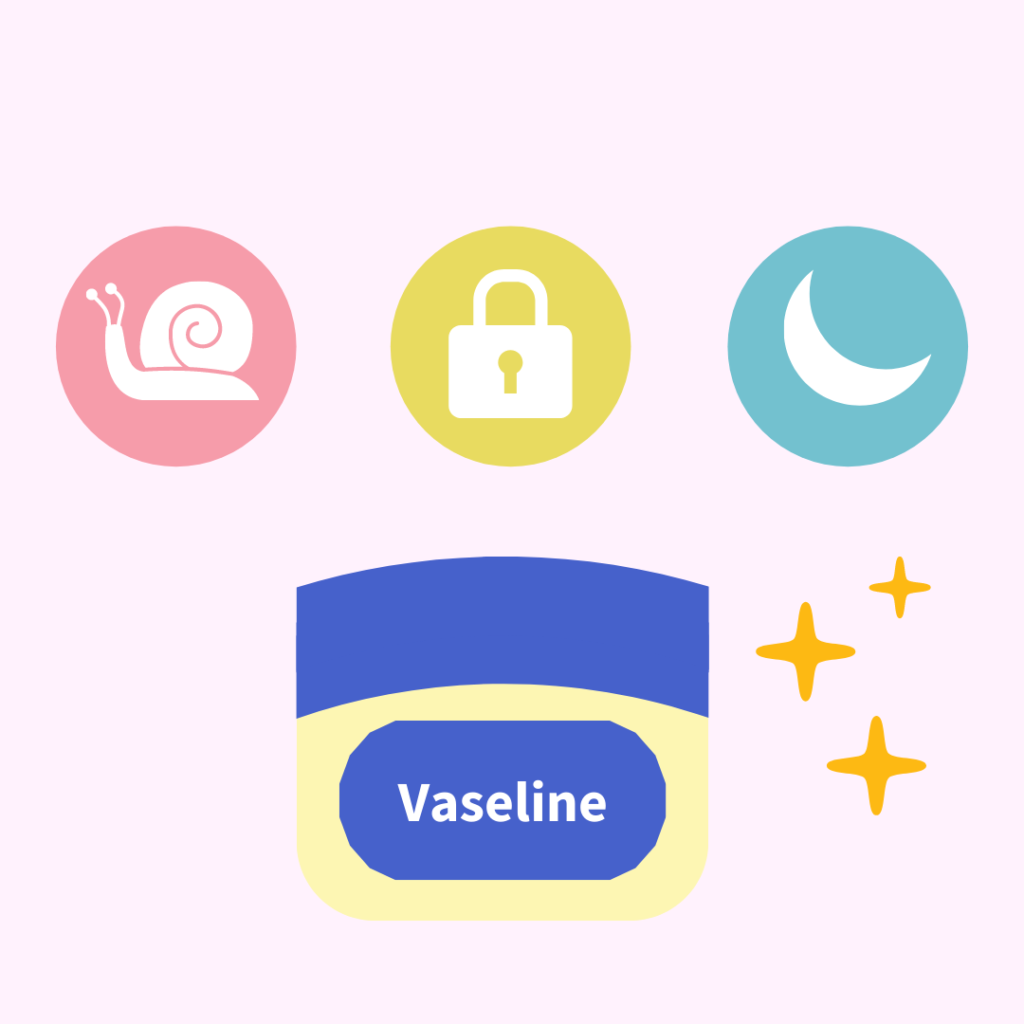 To put it simply, slugging is basically smearing petroleum-based products over your skin. This is in the belief it will prevent dryness, protect the skin barrier and boost your glow. It's based on an old, but trending, Asian beauty ritual where you add a heavy barrier cream on top of your usual skincare routine. The heavy moisturizing product, like vaseline, creates a slug-like effect. The main foal is to lock in all that moisture when your skin is coated with various rich products! Of course this should only be at night.
If you're worried about petrolatum, don't be. The truth is, petrolatum has been used for cosmetic and personal products, usually derived, with highly refined and purified formulations so it can be a safe addition to your skincare routine.
Benefits of slugging
The magic of slugging lies in products we already use, like good ol' Vaseline. Vaseline has an intensive moisturizing properties and an occlusive texture. Helping to reduce trans epidermal water loss by 99%. Vaseline, over other emollients or occlusives, forms an impermeable barrier on top of your skin. Some water loss is important, since it acts as a signal to our skin to produce more intercellular lipids and repair the skin barrier.
Vaseline's emollient properties, meaning it fills in those gaps between dry skin cells, helps stimulate the production of the skin's own lipid-making machinery. Making the skin's surface appear smoother and softer feeling!
But of course, there are alternatives if you're not sold on Vaseline. You can always find a moisturizer that includes as little as 5 percent of the occlusive moisturizing agent in their formulas. Or even face oils can help to get the benefit of slugging without using a petrolatum-based product.
And if you're a bit lost on what emollients and occlusives are, check out our All About Moisturizers article here for more info.
Who should try slugging?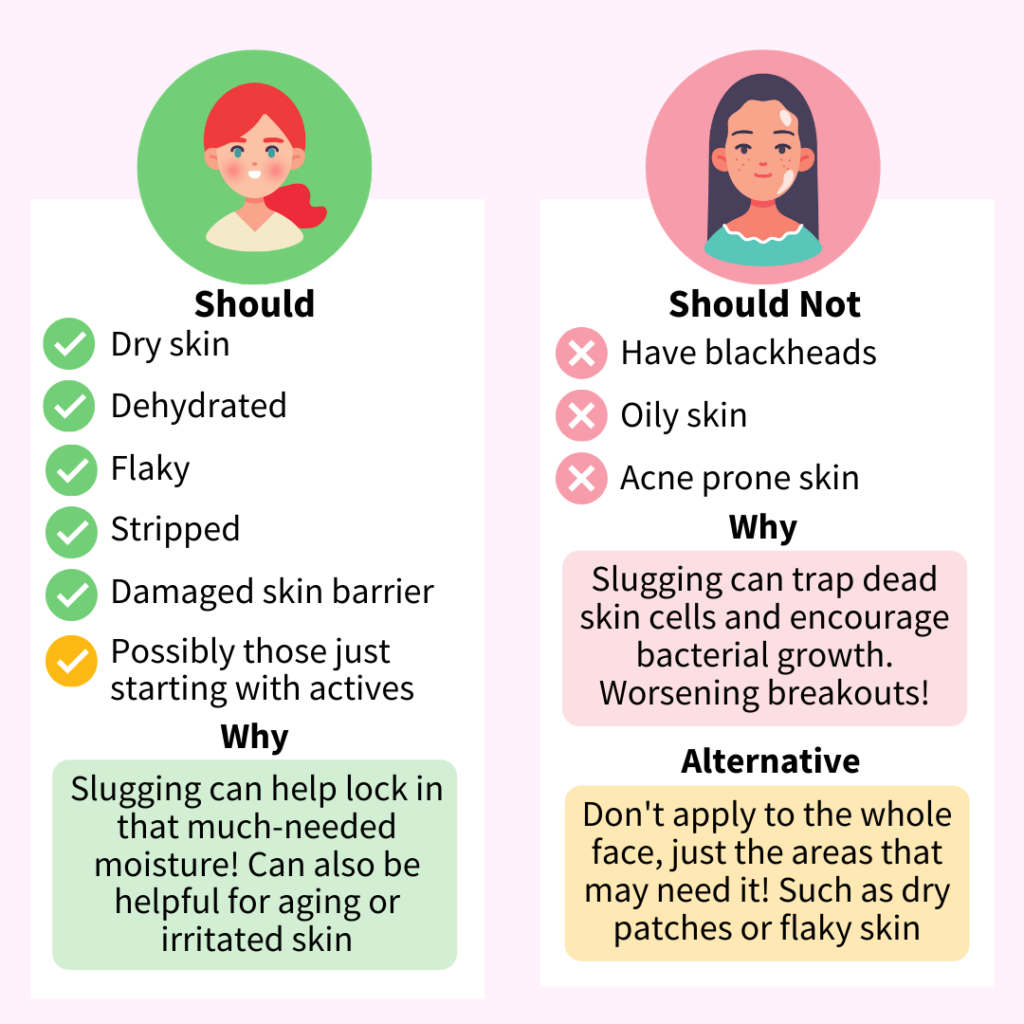 As fun as it sounds, slugging isn't for everyone. The reason being that there are different skincare routines and techniques that work for different sky types. Not all products or methods work for every skin type.
But if you're skin is dry, dehydrated, flaky, stripped or you suffer from a damaged skin barrier, slugging can help by locking in that much-needed moisture. Also those with sensitive, aging, reactive or irritated skin, slugging could help as well! Or even those that just got started with skin actives or prescription retinoids.
While products used for slugging are considered safe and non-comedogenic, referring to Vaseline or other heavy emollients with petroleum, it's not recommended for those with: Blackheads, oily or acne prone skin. Slugging can trap dead skin cells and encourage bacterial growth, possibly making breakouts worse for acne prone skin types. Also those fighting with inflammation or cystic acne.
If you fall under the no slugging group, don't worry there's some alternatives for you! Instead of lathering an extra product all over your face, just apply to the areas that you need it. If you have dry patches, areas of flaky skin, fine lines or wrinkles, then add an extra shot of moisture to that area.
How do you slug?
First, make sure the area you wish to slug is completely clean. Once you've finished cleansing away the dirt, carry on with your regular night time skincare routine. Then scoop a pea size amount of your slugging product, could be Vaseline or something else, and evenly distribute all over your face, or to the desired area, before heading to bed. Always make sure the slugging product is the last step!
Let's talk about it
How do you feel about slugging? Want to get other's opinions or give your own experience? Check out the Discuss page on Picky to see if there's already a conversation buzzing about it. If not, start your own discussion! The Picky community is a great place to learn more about skincare, so make sure to head over to the Picky app and check it out. Don't forget to check our Instagram for more skincare science content and our new YouTube channel!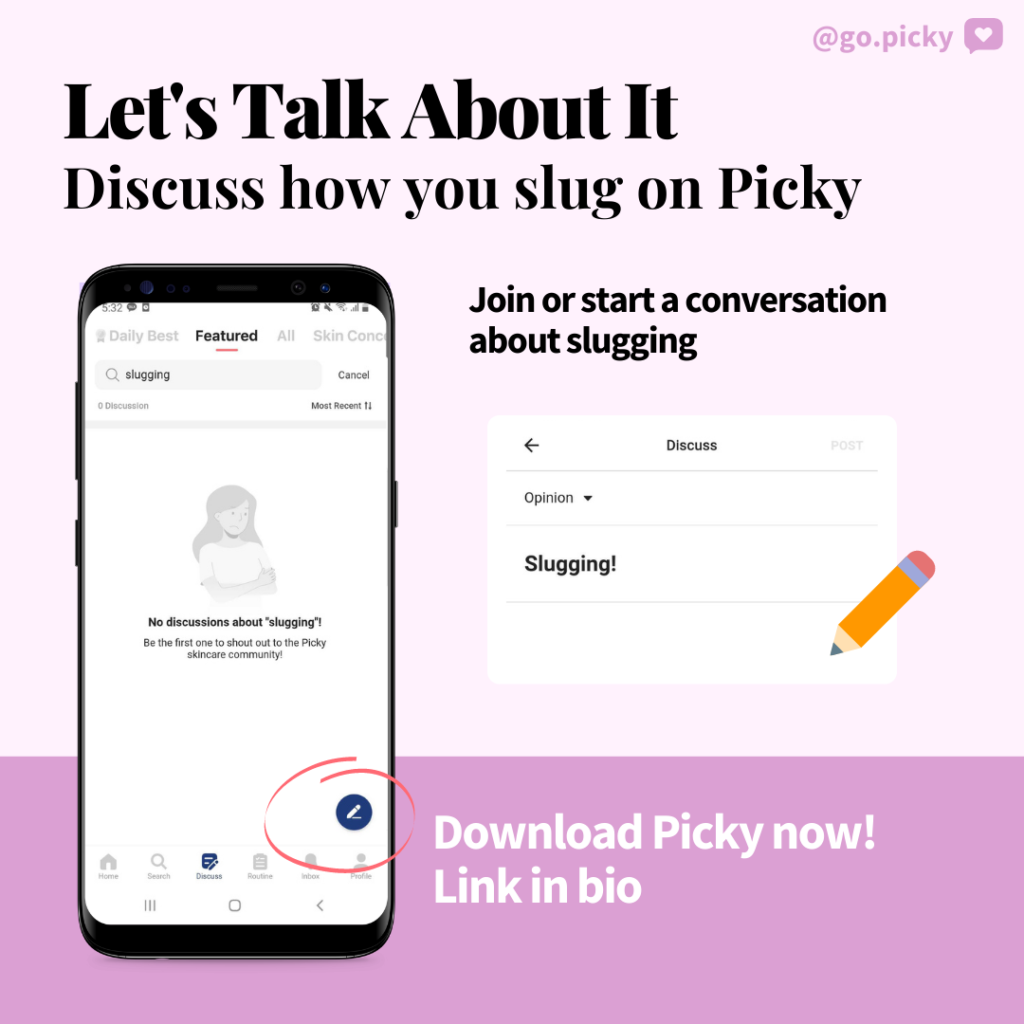 Created with
Aaish
@shedoesskin
Studying Dermatology