We're launching a three week 3000 winner giveaway with COSRX! All you have to do is sign up on the Picky app for a chance to win the Propolis Light Ampoule. But if you invite your friends to join Picky you can unlock a 12 piece set of COSRX's hottest products! Keep reading to learn more about this awesome collab.
What you can win
The Propolis Light Ampoule will deliver the moisture and nourishment your skin needs with 83% Black Bee Propolis Extract! Not only that, this ampoule will give that glow without the sticky residue. Propolis is a hot skincare ingredient these days, and that's thanks to its anti-inflammatory and antibacterial properties! Hypoallergenic without any harmful ingredients.
How to enter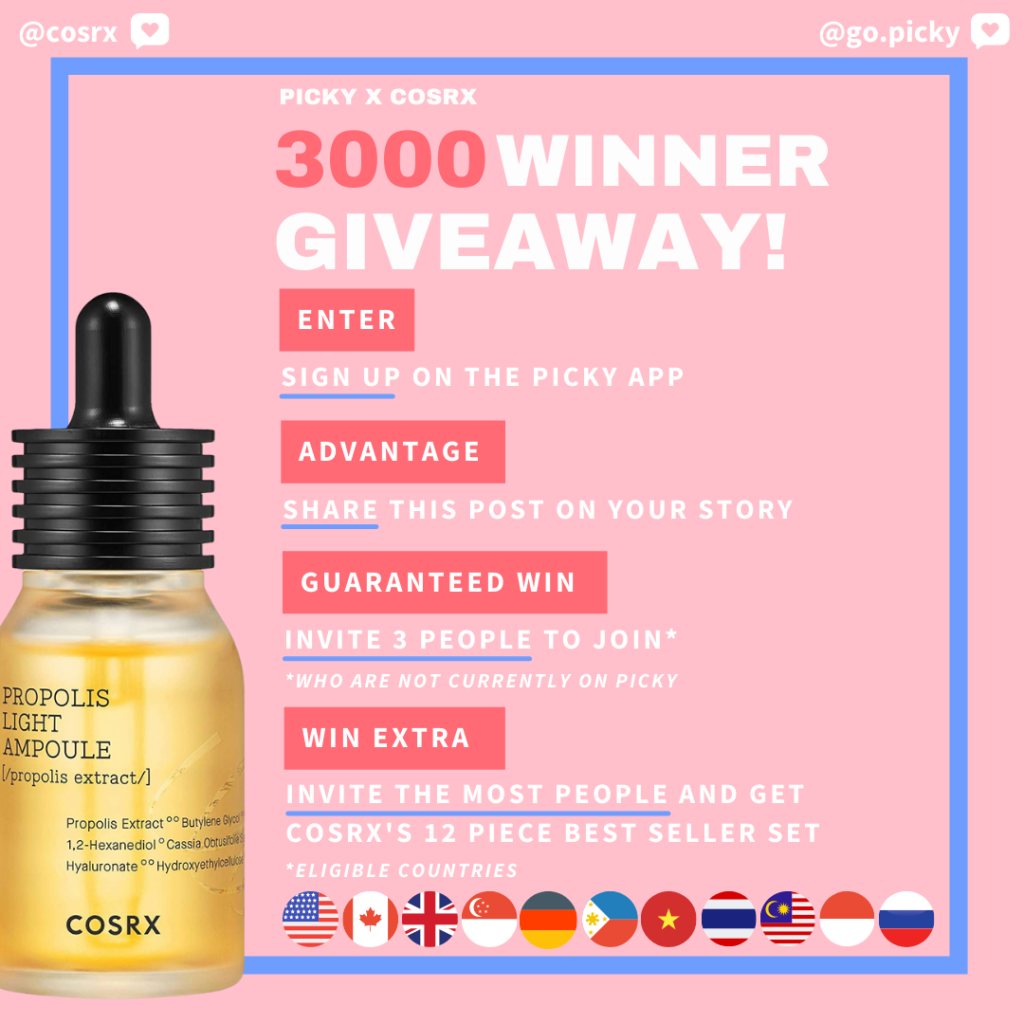 Just sign up on the Picky app! You can either access the giveaway through the giveaway banner on the homepage or check out the Giveaway page from the Inbox tab! You need 1000 Picky Points to sign up, learn how to earn them here.
This giveaway is limited to the following countries: USA, United Kingdom, Singapore, Canada, Denmark, Russia, Indonesia, Malaysia, Thailand, Vietnam and Philippines.
Wait, there's more!
Spread the love
Share the giveaway on your Instagram or Facebook story. Or whichever social media platform you like best. Just tag us @go.picky @cosrx
Secure your Propolis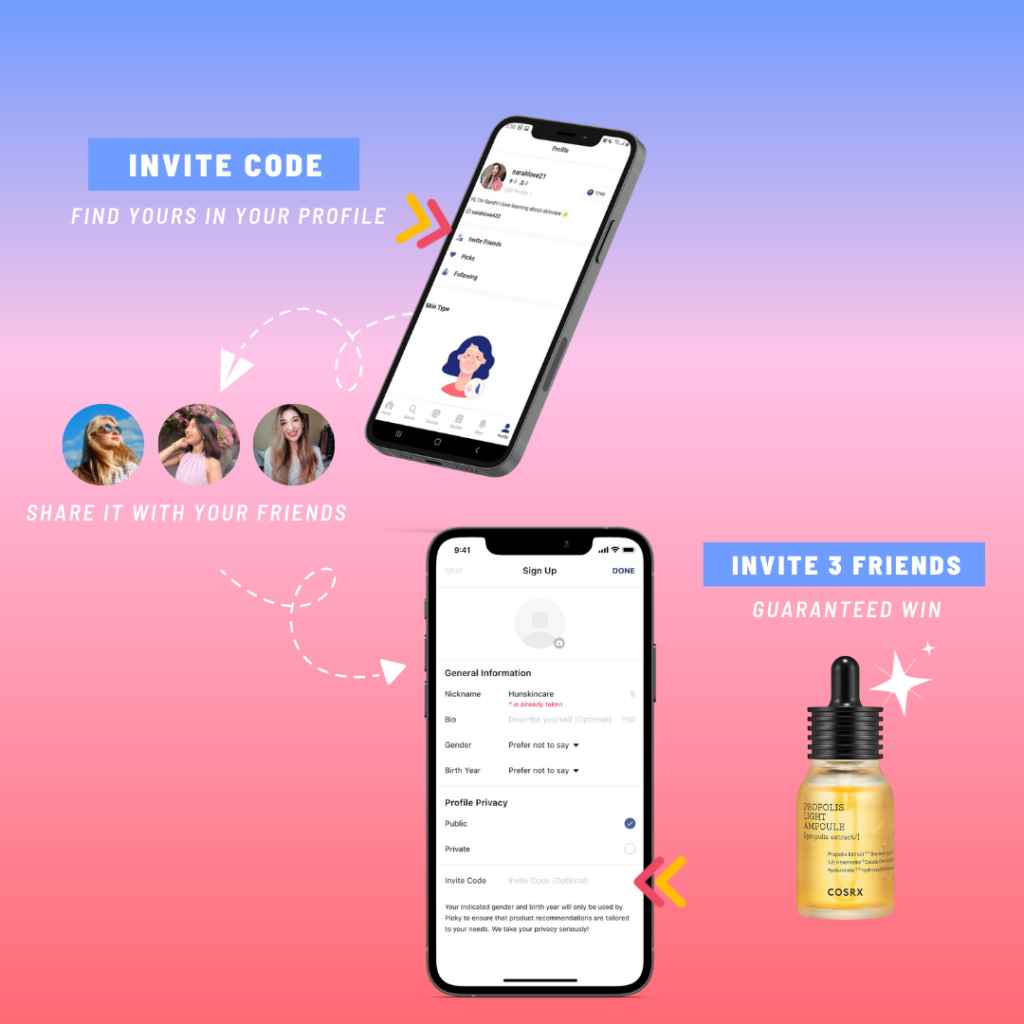 If you're keen on winning the Propolis Light Ampoule, then invite your friends to Picky! Share your invite code and have three new friends (in eligible countries) join Picky to lock in a win. They can add in your unique invite code when they sign up for Picky.
Win all of COSRX's hot products!
Add the most new friends in eligible countries to Picky using your invite code and win 12 of COSRX's hottest products. Including the Acne Pimple Master Patch, AHA 7 Whitehead Power Liquid, AHA/BHA Clarifying Treatment Toner, Aloe Soothing Sun Cream, Low pH Good Morning Gel Cleanser, Advanced Snail 92 All-In-One Cream, Advanced Snail 96 Mucin Power Essence, One Step Original Clear Pad, Full Fit Propolis Light Ampoule, BHA Blackhead Power Liquid, AHA BHA Vitamin C Toner and Balancium Comfort Ceramide Cream.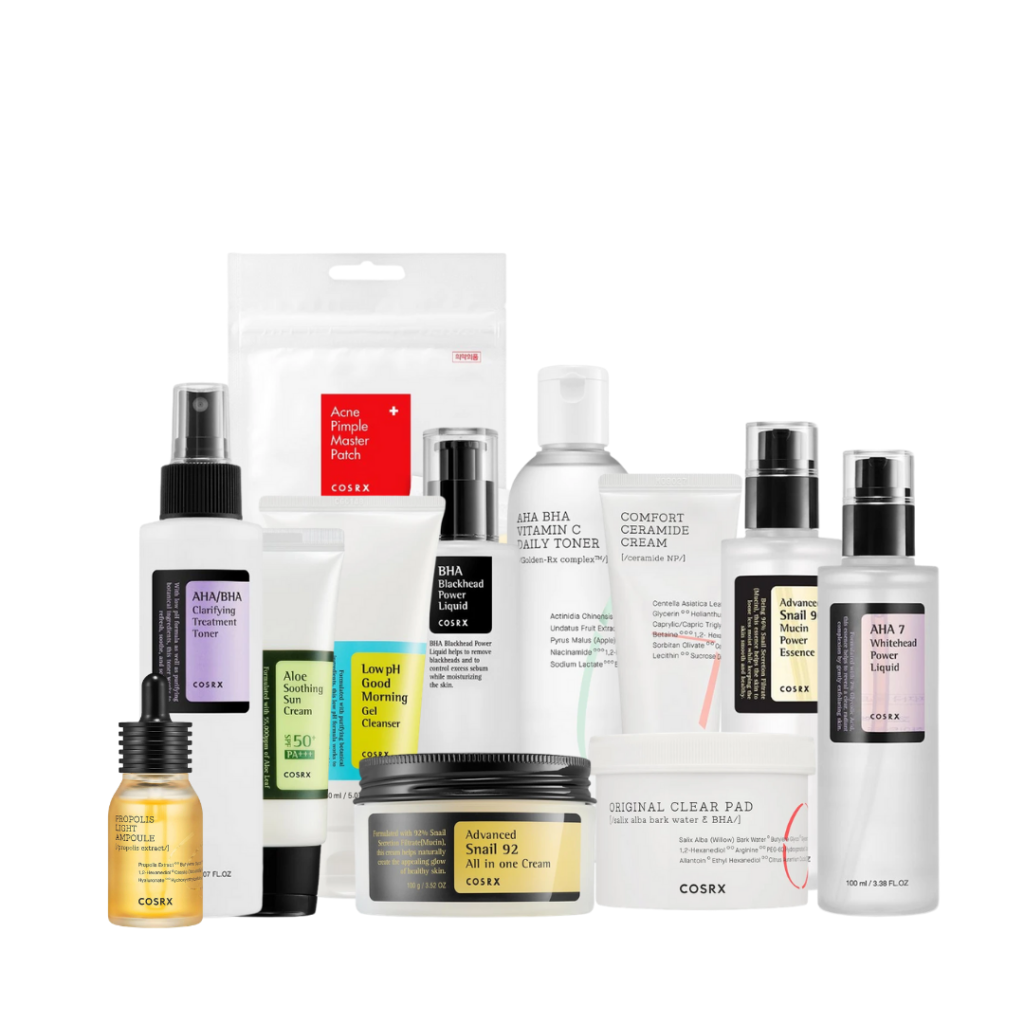 Spotlight Reviews
And it doesn't end there. If you participate in the 3000 Mega Giveaway and write an amazing review, COSRX will select 30 of the best for an extra special set of 3 COSRX products: BHA Blackhead Power Liquid, AHA 7 Whitehead Power Liquid, AHA BHA Vitamin C Refresh Toner! We're talking reviews not only on Picky, but Instagram, YouTube and TikTok! COSRX will pick their favorites.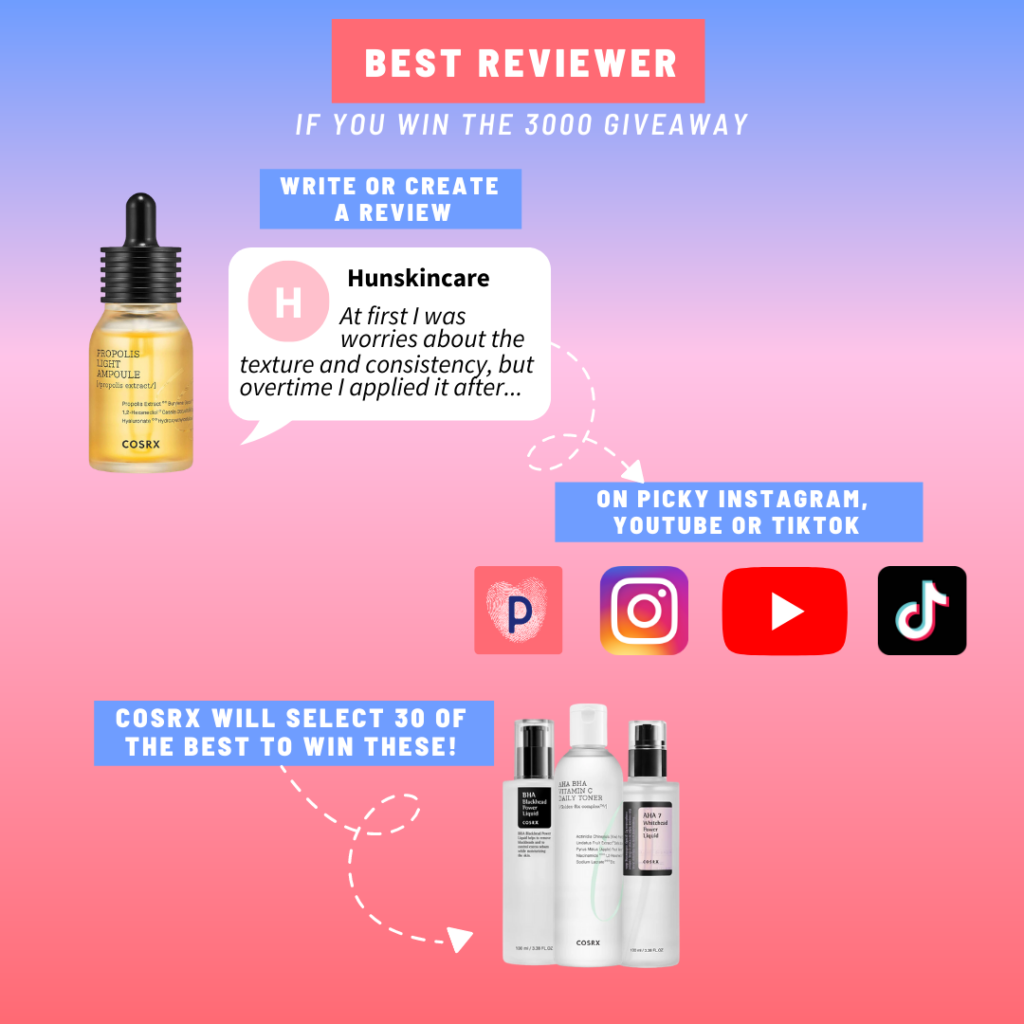 Some reviews might even be featured on COSRX and Picky's Instagrams, or websites! Check out the Reviewer Rules and Guidelines to help your chances for winning MVP reviewer!
Timeline
Giveaway opens March 19th 11AM (Korean Time) and closes April 10th 11AM (Korean Time). Winners will be notified April 12 through email and push notifications (so have them turned on!). Failure to confirm by the deadline means forfeiting the product.
Terms & Conditions
Before the review deadline, we will send a follow up email to ensure all requirements have been fulfilled! So make sure the email address you give us is correct.
Reviews that lack quality or don't fit our guidelines will be blacklisted for the next review event.
Fail to meet requirements and you will be blacklisted for all upcoming events.
Head to the Picky App now and sign up for the Picky x COSRX Giveaway!