The Picky Giveaway powerhouse brand Abib is back with a third giveaway! Showering our Picky community with more amazing sets and products to try out. There's 300 sets available so see how you can win one!
Third Abib Giveaway
Calming Kit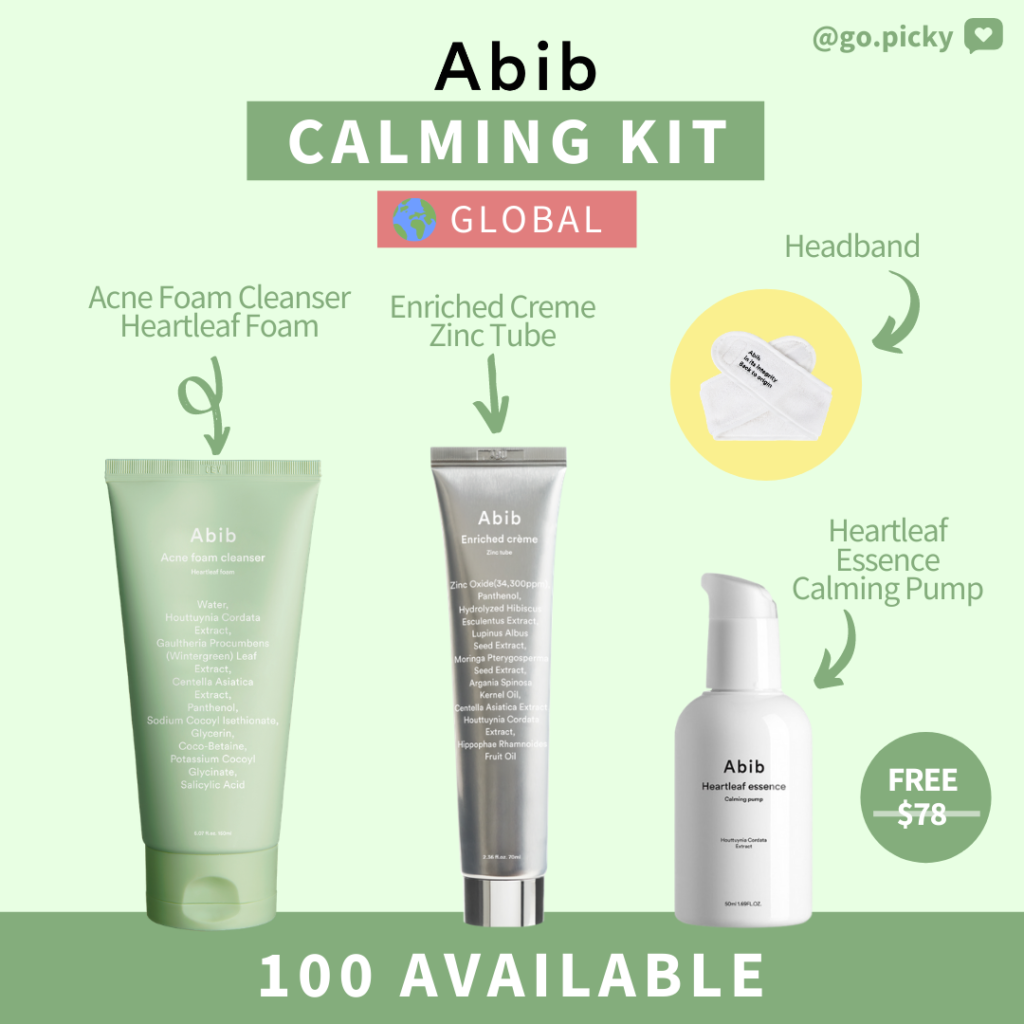 Another big giveaway with Abib including the Calming Kit, equipped with the Acne Foam Cleanser Heartleaf Foam, Enriched Creme Zinc Tube, Heartleaf Essence Calming Pump and free headband! Usually this package deal comes with a $78 USD price tag, but you can try everything for free!
This event is available to all Picky app users! As long as you have 1000 points, you can sign up for it. Points are not returned if you're not selected. Fees and taxes could apply depending on region.
Relaxing Kit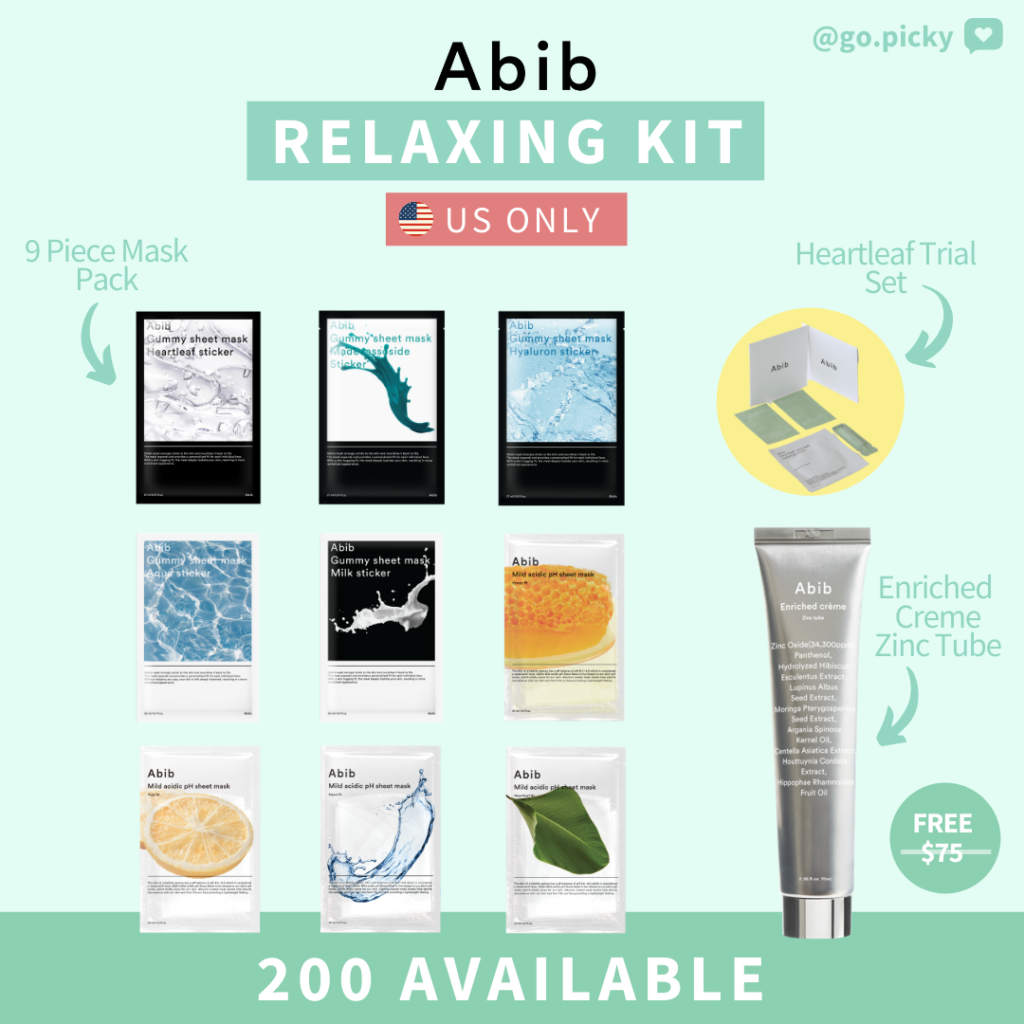 Second giveaway kit is only for those residing in the US, but full of fun products to try! Including Enriched Creme Zinc Tube, Heartleaf Trial Set and 9 Piece Mask Pack. Typically it would cost you $75 USD for all this, but we're knocking that price tag to zero! 200 sets available!
This even is available only to US Picky app users! Those that are ineligible and sign up will not be refunded points. Users that sign up under a false address will automatically be cancelled and blacklisted for the next event.
How To Enter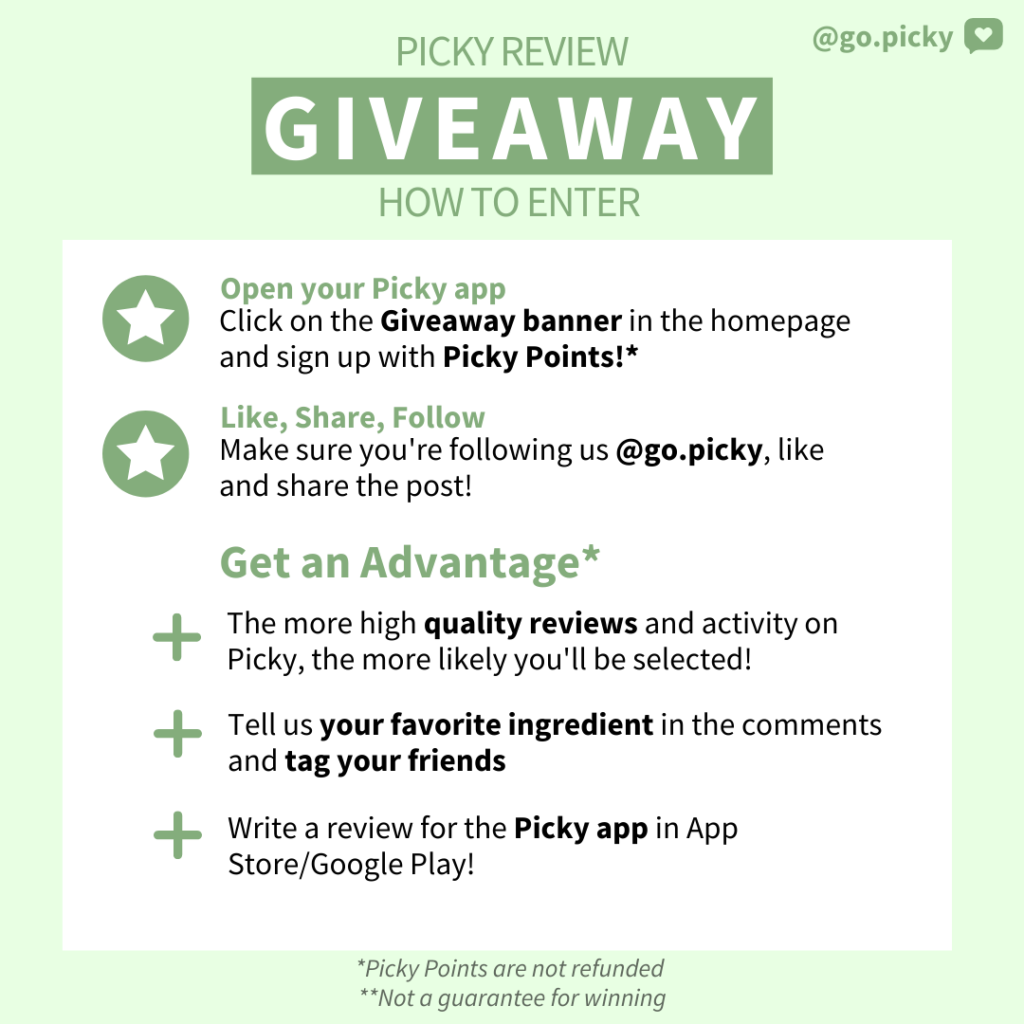 Sign up for the giveaway in the Picky app. You can either click on the giveaway banner in the homepage or go to the giveaway page in the Inbox Tab! Make sure you have enough Picky Points so you can apply!
Follow @go.picky and @abib.global on instagram. And make sure to like the post!
Get an Advantage
+The more high quality reviews and actions you take on Picky, the better your chances to be selected!*
+Write your favorite skincare ingredient and tag your friends
+Write a review for the Picky app in the App Store or Google Play (if you haven't already)
*not a guarantee
2. After Selection
If you're selected, you will be notified through email! Make sure to confirm your participation by providing a valid shipping address by the given due date, otherwise the Abib products will be given to someone else!
Reviewer Rules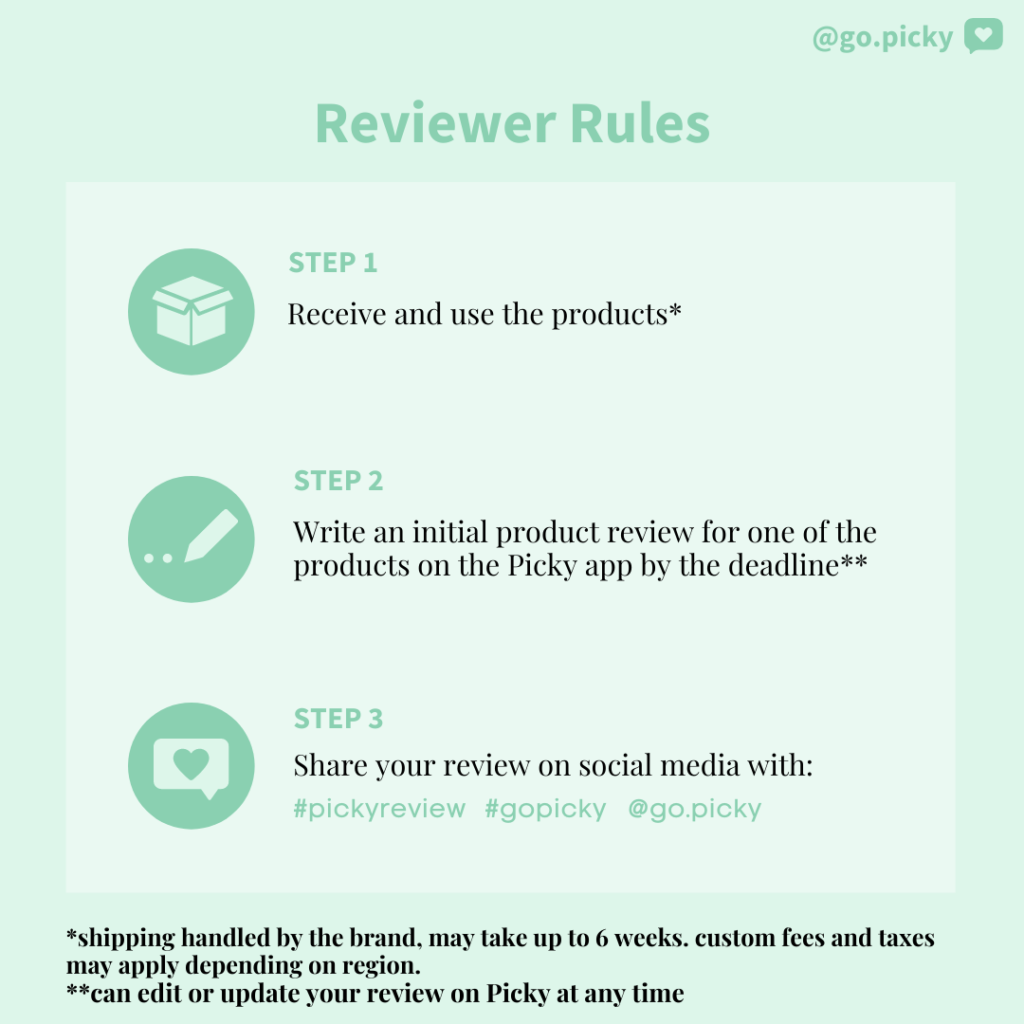 Receive and use the product
Leave an initial product review on the Picky app. You can update your reviews on Picky at any time! So if you see a big difference after a month of use, let us know!
Share your review on social media (Instagram and/or Facebook) with the hashtags #pickyreview, #gopicky and tag @go.picky.
Timeline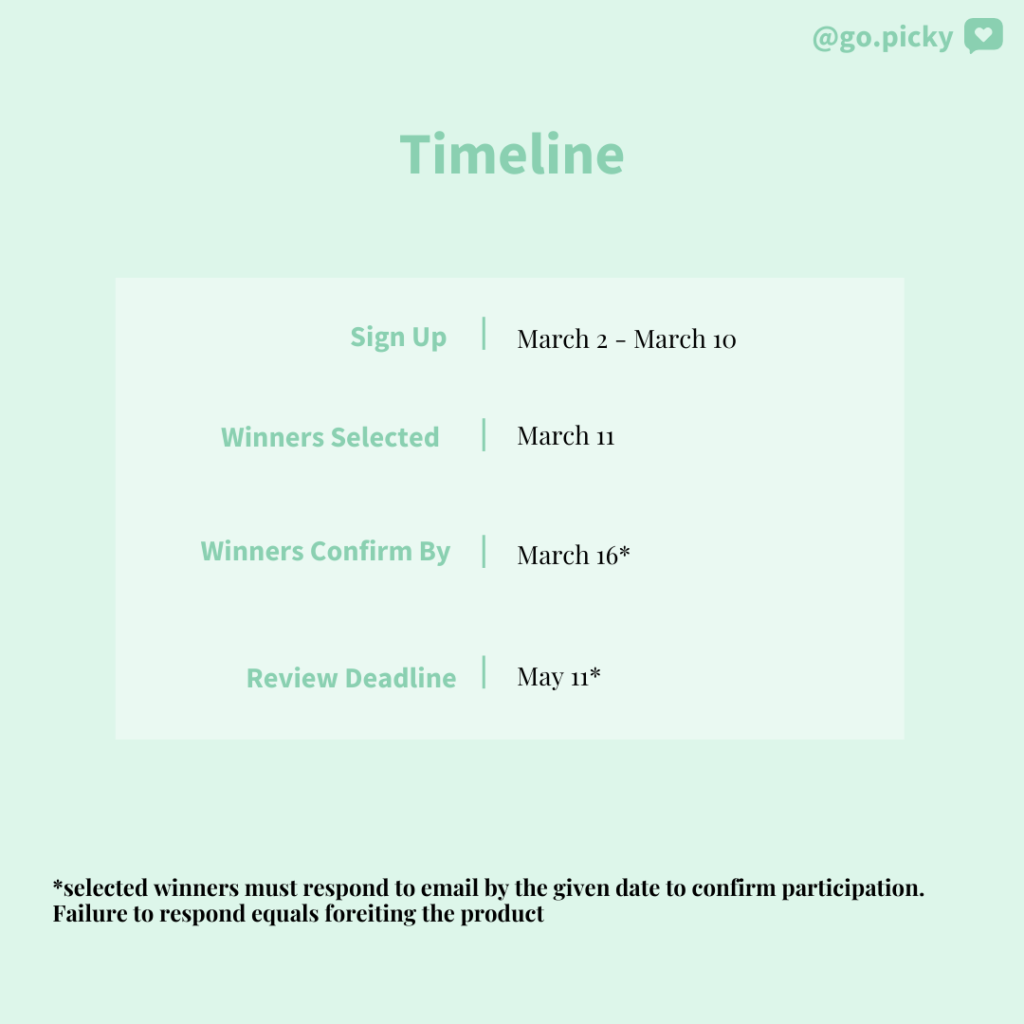 Sign up period: March 2 – March 10 (11AM)
Winners selected: March 11
Winners confirmation needed by March 16 (11AM)
Reviews need to be submitted and uploaded by May 11 (11AM)
*Time is in Korea Time Zone
Third Abib Giveaway: Product Highlight
Calming Kit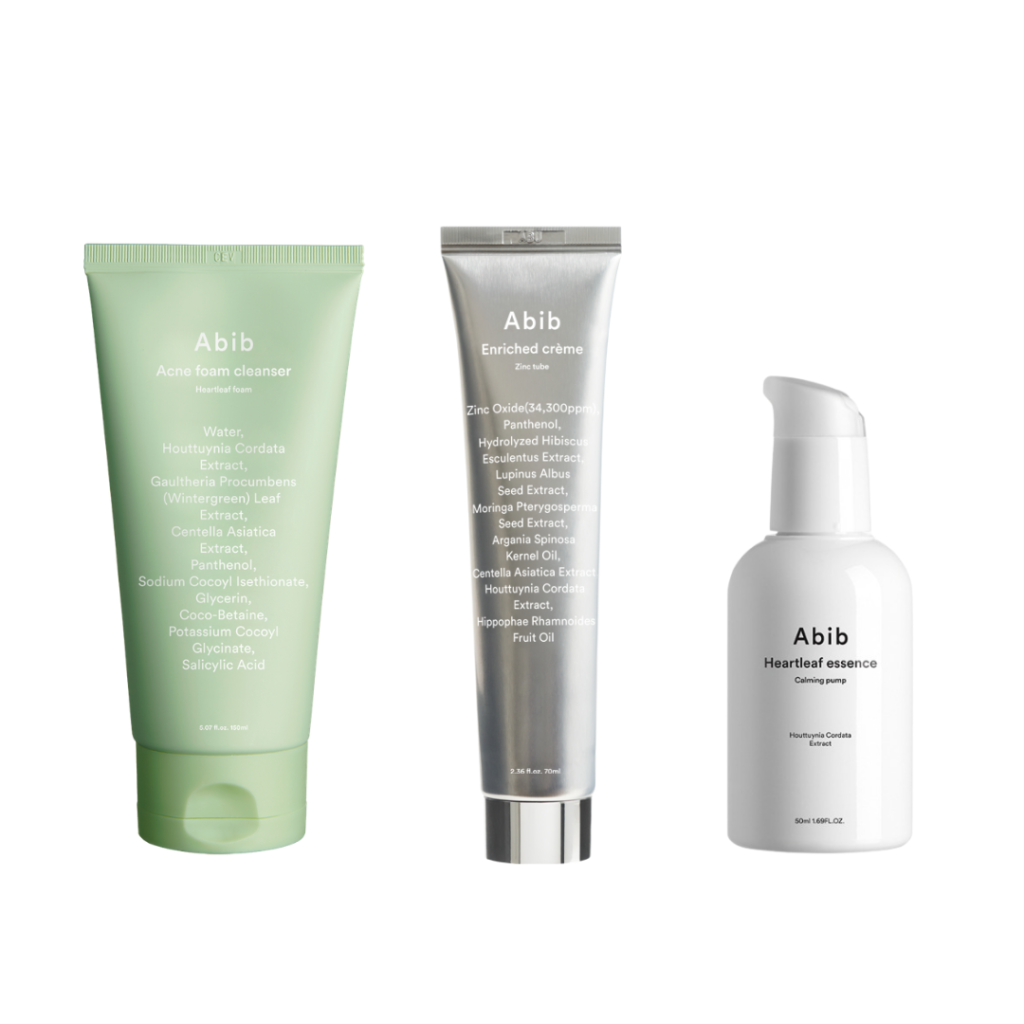 This all-star set will help keep your skin cool, calm and collected! Clean deep with the Acne Foam Cleanser Heartleaf Foam, a mildly acidic foam with salicylic acid and centella asiatica to help with troubled skin without irritation. Lather your skin in 85% huttuynia cordata (hearleaf) extracted from the hillside of Jiri Mountain in South Korea with the Heartleaf Essence Calming Pump. Then pack all those nutrients with the Enriched Creme Zinc Tube. A cream to comfort sensitive skin while keeping it supple thanks to star ingredients like zinc oxide, panthenol, centella asiatica and more!
Relaxing Kit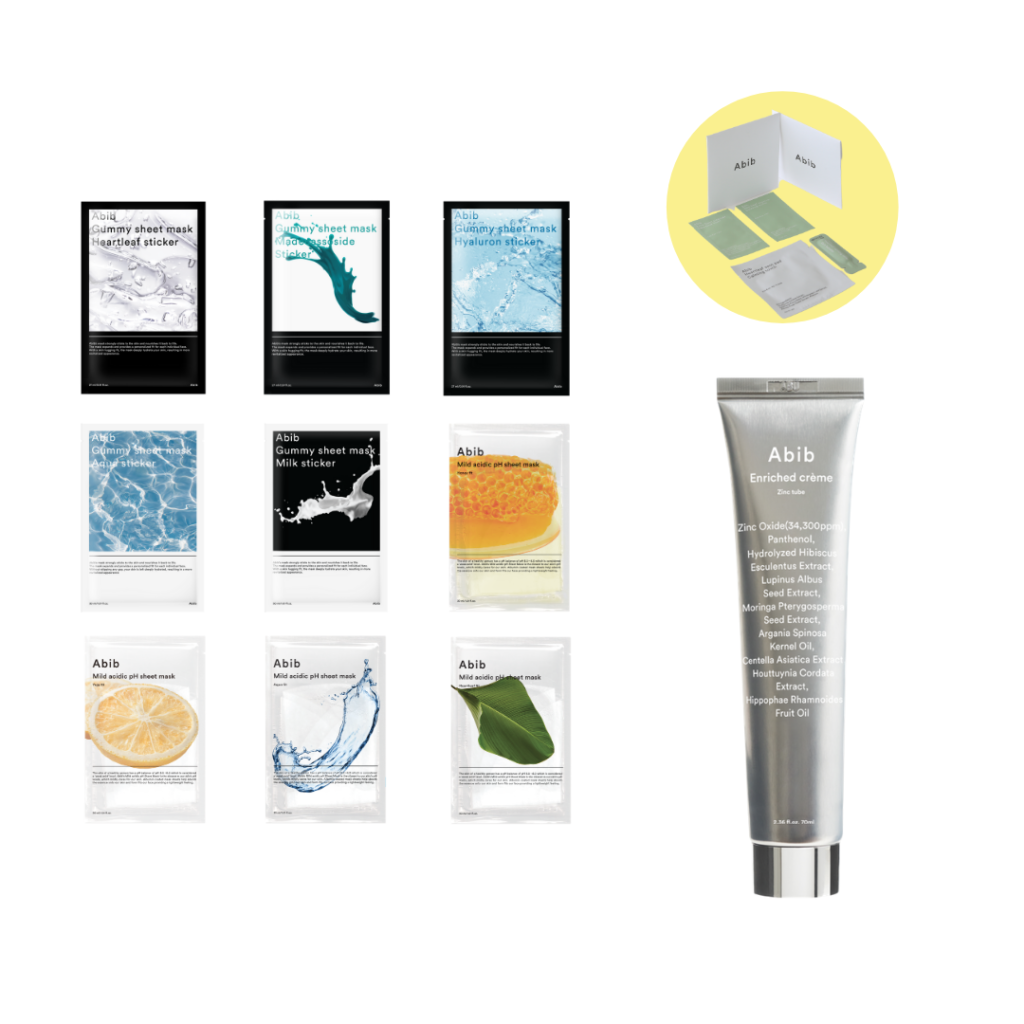 The Relaxing Kit comes with a fun Heartleaf Trial Set, so you can test out a bunch of Abib's heartleaf hit products! You can also try the Enriched Creme Zinc Tube, fit for sensitive skin and strengthening the skin barrier with amazing ingredients like zinc oxide and panthenol!
Not only that, but you also get to try out 9 of their masks: Including Gummy Sheet Mask Heartleaf Sticker, Gummy Sheet Mask Madecassoside Sticker, Gummy Sheet Mask Hyaluron Sticker, Gummy Sheet Mask Aqua Sticker, Gummy Sheet Mask Milk Sticker, Mild Acidic pH Sheet Mask Honey Fit, Mild Acidic pH Sheet Mask Yuja Fit, Mild Acidic pH Sheet Mask Heartleaf Fit and Mild Acidic pH Sheet Mask Aqua!
MVP Reviewer Reward!
Abib will be selecting their favorite reviews from the Picky app to give an EXTRA gift box set to! Make sure to pour everything into your review so you can secure the chance for an MVP Reviewer Reward. You could win a mask trial kit, Hydration Gel Water Tube, Yuja Essence, NEW Barrier Jelly, Moisturizing Lip Balm Relief Tube and a certificate with YOUR name on it!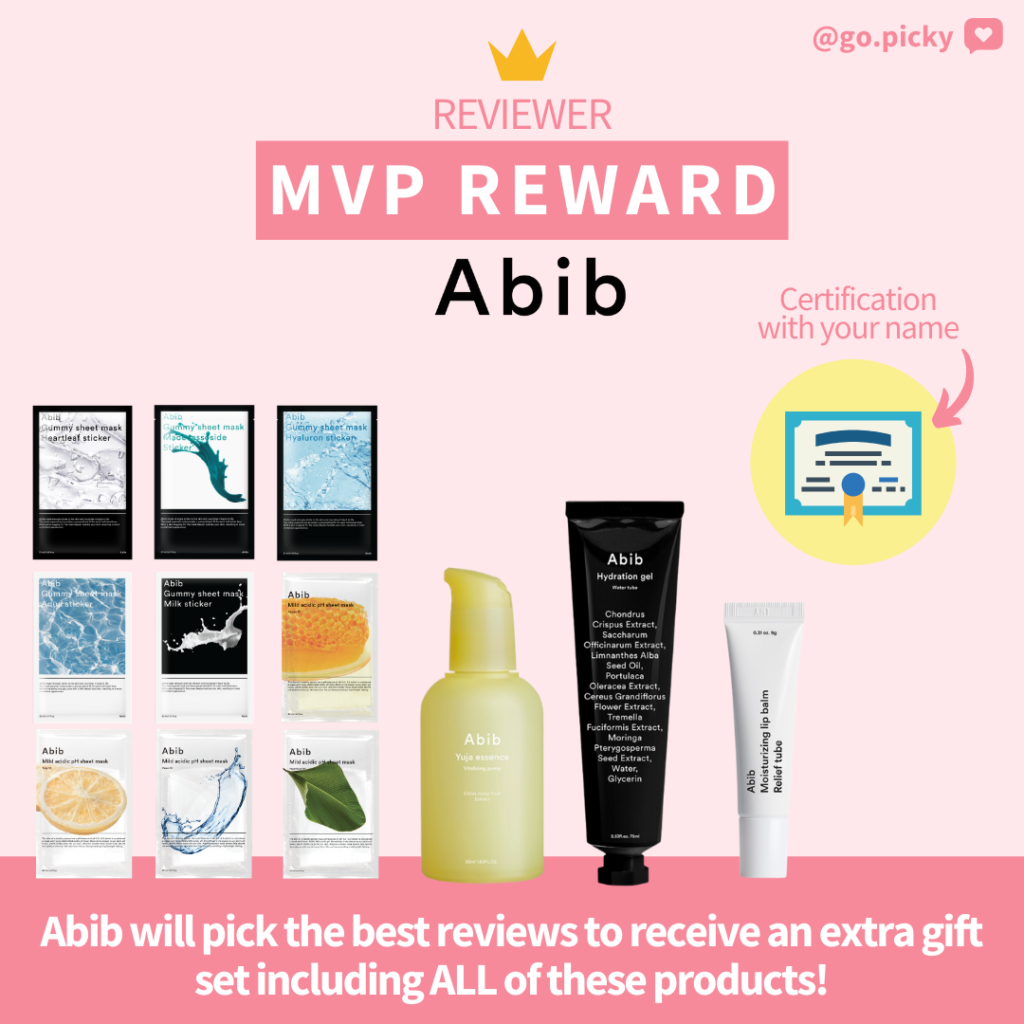 Terms & Conditions
Before the review deadline, we will send a follow up email to ensure all requirements have been fulfilled! So make sure the email address you give us is correct.
Reviews that lack quality or don't fit our guidelines will be black listed for the next review event.
Fail to meet requirements and you will be blacklisted for all upcoming events.
Head to the Picky App now and sign up for the Third Abib Giveaway Sets!