It's a new month, Pickies! You know what that means? Another Monthly Pick! This time we're shining the spotlight, or rather the moonlight, on Dear, Klairs' Midnight Blue Calming Cream! This award winning product has become a favorite in the skincare community, and it's easy to see why! Keep reading to find out more about the cream, the Klairs brand, and why we feel it deserved to be our featured product for November! Plus, we'll give you a look at this month's fun and educational theme, as well as a sneak peek at the challenge you can join to show your love and place your entry for the chance to win a prize!
It's hard not to love a product that's both beautiful and effective! Just as the cool blue color suggests, this cream is calming, soothing and healing. This is largely thanks to the ingredient: Guaiazulene, a compound derived from chamomile oil. For all kinds of damaged and irritated skin, whether it's due to acne, sunburn, razor irritation or a damaged skin barrier, Guaiazulene works fast to calm redness and inflammation. Similarly, the cream's other main ingredients, Centella Asiatica and Ceramide hydrate the skin while also relieving irritation. It's low pH and ethanol, silicon, gluten, artificial coloring and fragrance-free formulation also ensures it's gentle on all skin types. It's soothing all around!
Brand Spotlight: Dear, Klairs
Much like the Midnight Blue Calming Cream, as a company and a brand, Dear, Klairs values simple, powerful functionality with a gentle impact. Their products are cruelty-free, vegan and eco-friendly, safety tested, and made without harsh ingredients! They also consistently work hard to produce high quality products at a reasonable price. Founded in 2010, they've been a bestseller all around the globe for many years, and recently opened their first flagship offline store in the Gangnam district of Seoul, South Korea!
Why We Love It
What drew us to choose the Midnight Blue Calming Cream as November's Monthly Pick? A few reasons, actually!
First, the Picky community has already expressed its love for this product. It was voted the #1 moisturizer in the 2021 Picky Awards! It also has a 4.6 out of 5 rating over 450 reviews on the Picky. So it's clear this product lives up to its claims and satisfies users. It's important to us to only feature products that are genuinely helpful and effective!
Second, we like the messaging of the Dear, Klairs brand! Clean, high quality, affordable skincare is always a no-brainer to support. Plus, the company's focus on sustainability and eco-friendliness is so important, now more than ever! Dear, Klairs also takes a unique approach to their marketing. They rely on customer reviews to spread the word about their products organically and without gimmick. We strive for the same as well! Sharing the truth about products through honest reviews and discussions is a key part of what makes the Picky community great!
Lastly, we love a good theme! With the pandemic, other world events, and just daily life stress, the concept of the Midnight Blue Calming Cream really resonated! It emphasizes calm, healing and balance. So, it's our hope that through this month's theme, 'Finding Your Midnight', Pickies can also find peace and calm while learning more about night routines and our Monthly Pick!
'Finding Your Midnight'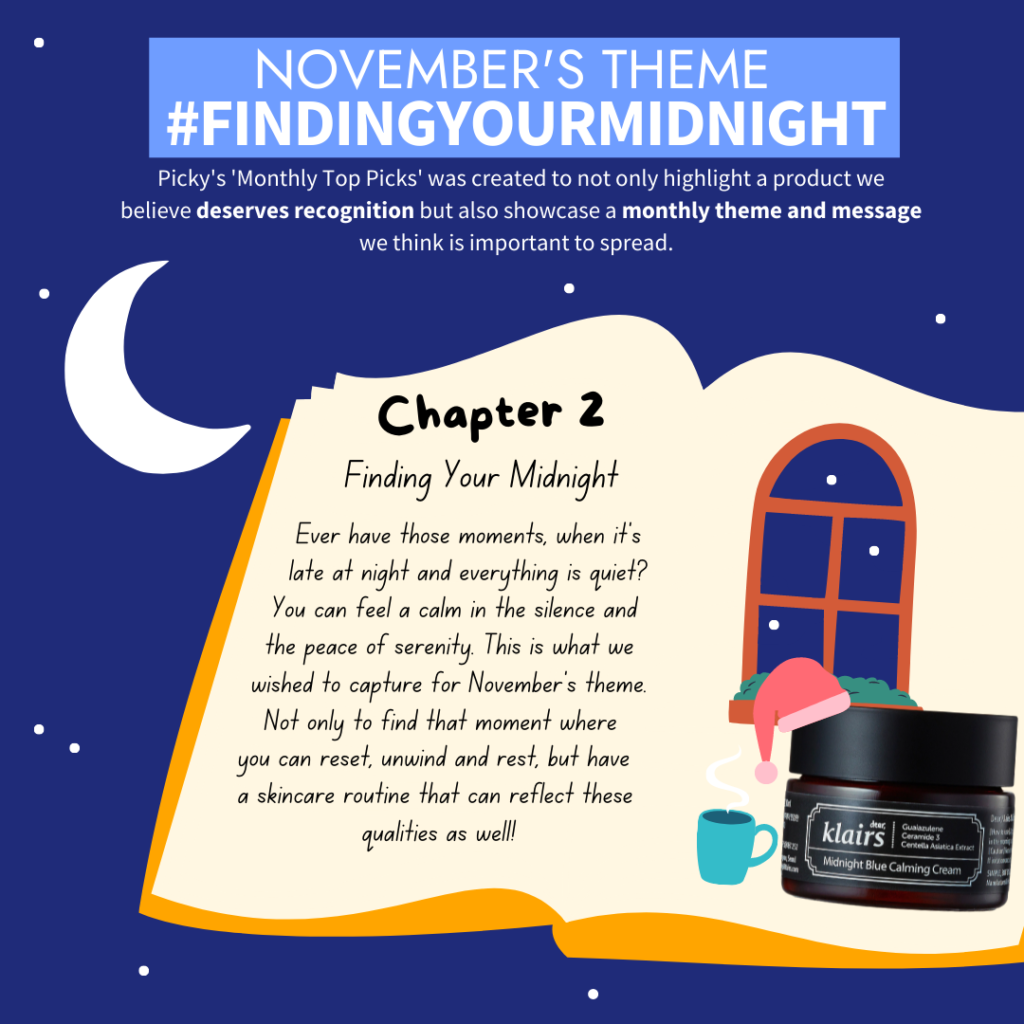 Imagine a peaceful, quiet starry night. You're unwinding after work or school and preparing for a nice, restful sleep. A good nightly skincare routine is essential for cleansing makeup and impurities gathered throughout the day, and resetting the skin. It's also a time for peace and reflection. For this month's theme, we wanted to draw attention the importance of a good night routine that incorporates calming and healing ingredients, like those found in the Midnight Blue Calming Cream, for both skin health, as well as overall wellbeing. The serene hours of midnight are a chance to find a balance, both within and without.
Keep a Lookout for the #findingyourmidnight Challenge!
To go along with our monthly theme, we'll be announcing a social media challenge soon! There will be a prize up for grabs for those who participate, so make sure you follow us on TikTok, Instagram and Youtube for updates! We also post daily skincare content and other educational posts!
Check out the Picky app as well for reviews, discussion boards and more!