'Tis the sea-sun to be UV protected, and say hello to our monthly pick for December, Isntree's Hyaluronic Acid Watery Sun Gel! As a steady bestseller around the world and a community favorite on Picky, the choice was clear as day for us when deciding to feature Isntree's sun gel for this month! Keep reading to learn more about the product, the brand, and why we love both!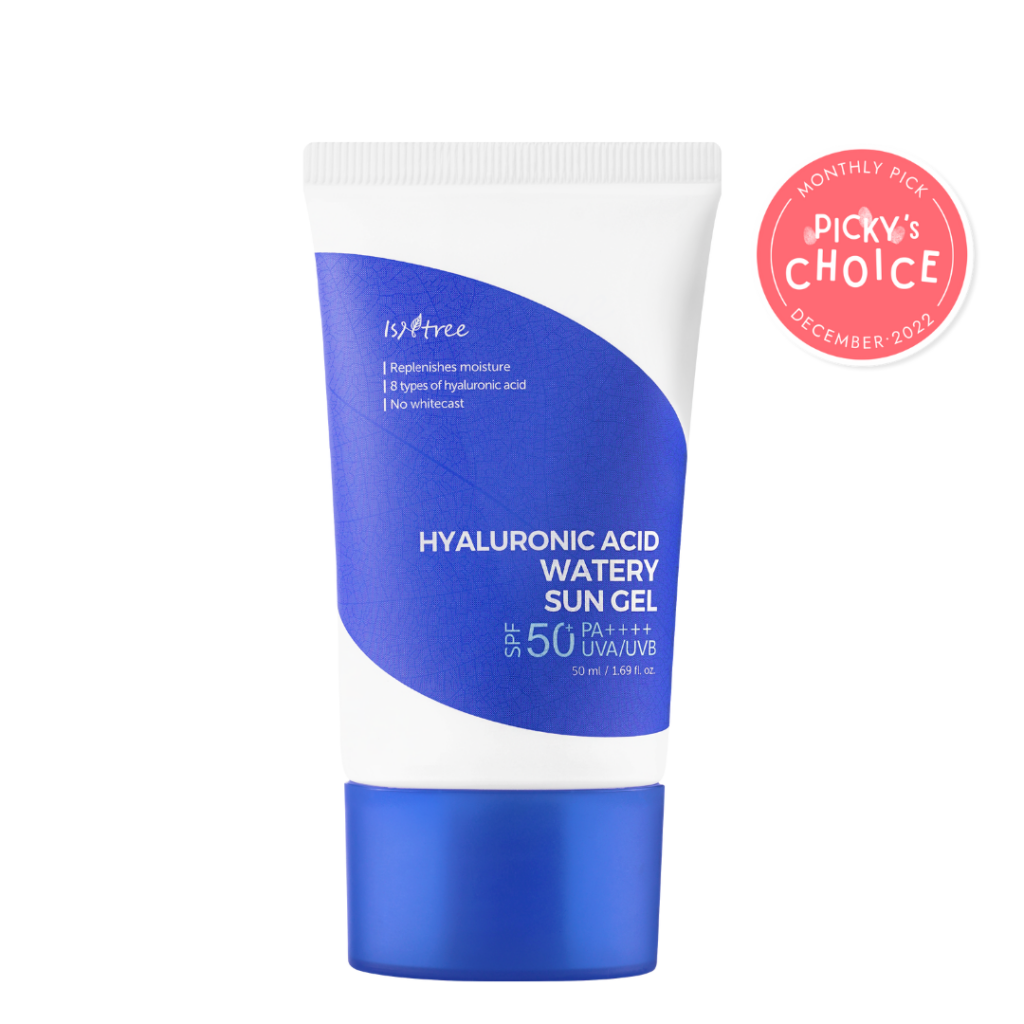 The days are getting colder and nights are getting longer, but that doesn't mean the sun stops shining! Even in winter, it's important to remember one of the golden rules of skincare: Always wear SPF!
Isntree's Hyaluronic Acid Watery Sun Gel is a great choice. It is a mild chemical sunscreen with a lightweight formulation that includes soothing and nourishing ingredients like Centella Asiatica extract and astaxanthin (an antioxidant), as well as moisturizing ingredients like fig fruit extract and ceramides. 8 types of hyaluronic acid also work to provide deep hydration for all the skin's layers. Not to mention, it's hypoallergenic, irritation-free and leaves no white cast making it a perfect daily sunscreen to add to your routine.
The Watery Sun Gel has a moisturizing finish, making it great for dry skin. This doesn't mean it's oily or greasy though! The finish is hydrating but also lightweight, so it is suitable for oily and combination skin as well. Isntree also has two additional sunscreens to suit all skin needs. Similar to the Sun Gel, the Hyaluronic Acid Airy Sun Stick is a chemical sunscreen with a smooth, non-sticky finish, and it comes as a portable solid, making it great for reapplication on-the-go. For fans of physical sunscreen, the Hyaluronic Acid Natural Sun Cream has a mineral formula that is also moisturizing and suitable for all skin types.
Brand Spotlight
Isntree was launched in 2009 by Jinwoo Kim, a pioneer in the Korean cosmetics world. He was one of the first ingredient bloggers in Korea who helped consumers learn exactly what was in their beauty products. This expert knowledge and understanding about the importance of ingredients helped influence the foundational goal of Isntree. The brand aims to create safe and effective green beauty products with optimal combinations of natural and functional ingredients!
Now, let's take a moment to answer a burning question… What does 'Isntree' mean?
Isntree stands for "Island-Nature-Tree". This reflects the brand's commitment to green beauty, eco-friendliness, and working toward a better earth for all through social campaigns, opposing animal testing and non-vegan ingredients, and developing quality products for consumers.
We're sure everyone can agree this is a brand message worthy of support!
Why We Love It
Since the product launched in June 2020, this sun gel has been a rising star! This is one of the biggest reasons it's our pick this month. It's hard to argue with the facts!
The Picky community has shown its love for Isntree's Hyaluronic Acid Watery Sun Gel already by voting it the best sunscreen in last year's Picky Awards! A well-deserved title since it has a 4.7 star rating across more than 770 reviews on Picky! That makes it the second most reviewed sunscreen on the entire platform! Check out some of our favorite reviews below: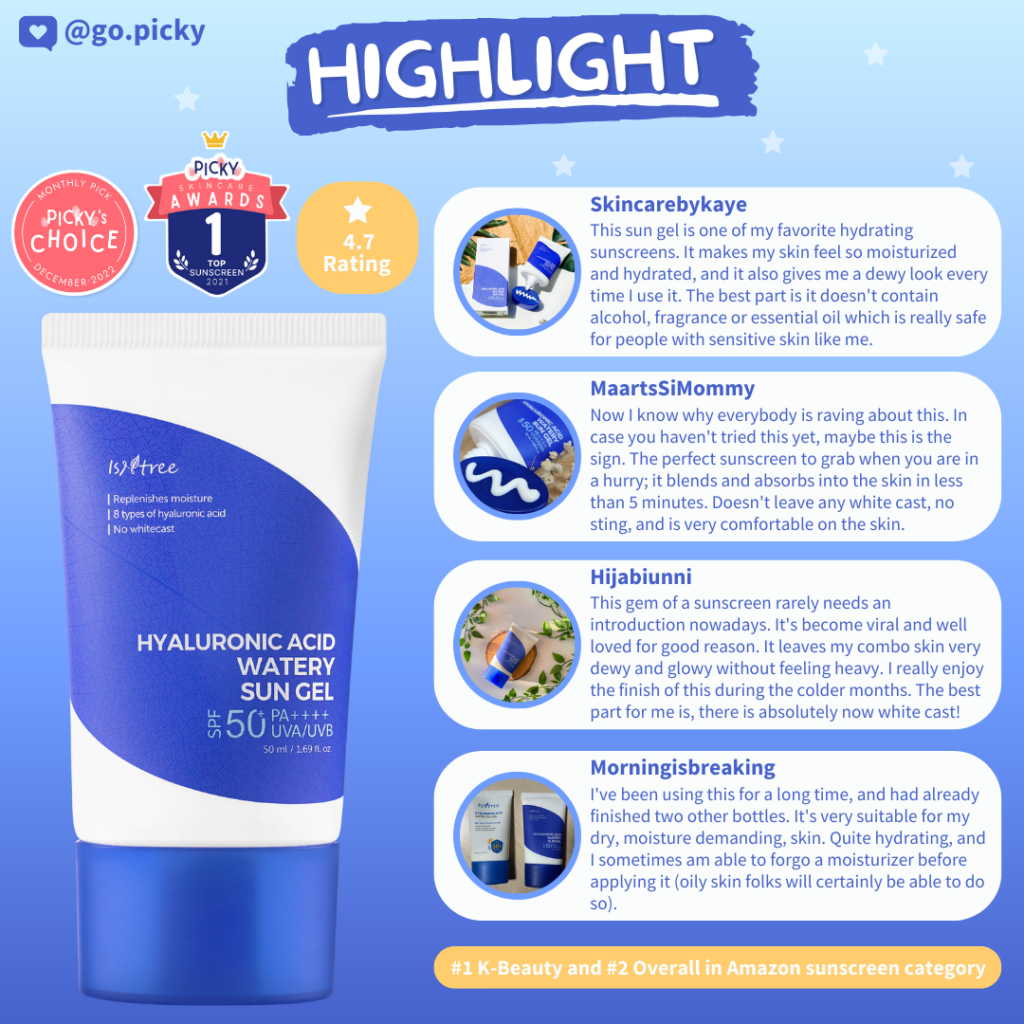 Even more impressively, though, it also has more than 2,700 reviews on Amazon with an average star rating of 4.7 as well! And with numbers like these, come some records as well. Over the last 2 years, it has ranked as the #1 bestselling K-beauty sunscreen and the #2 bestselling sunscreen in the overall beauty category on Amazon.
It's obvious this product is a fan favorite. So, to celebrate how much this sun gel has benefitted so many people (and introduce it to new future fans who may be missing out) we decided to make it this month's top pick!
If you've used it before let us know your thoughts in the comments, and if you haven't, we hope you'll give it a shot!
Stay Up-to-Date!
Make sure to follow Picky on Instagram, TikTok and YouTube to get daily updates on giveaways and events! Plus, we share fun and informational skincare content you don't want to miss out on!