Last time we introduced Celebrity Routine Reveal with skincare influencer Hyram, now we're following up with another well-known name (just not in the skinfluencer field)- Kendall Jenner! Curious which products are in Kendall Jenner's skincare routine? Keep reading to see what they are and how Picky grades her routine report.
Kendall Jenner's Skincare Routine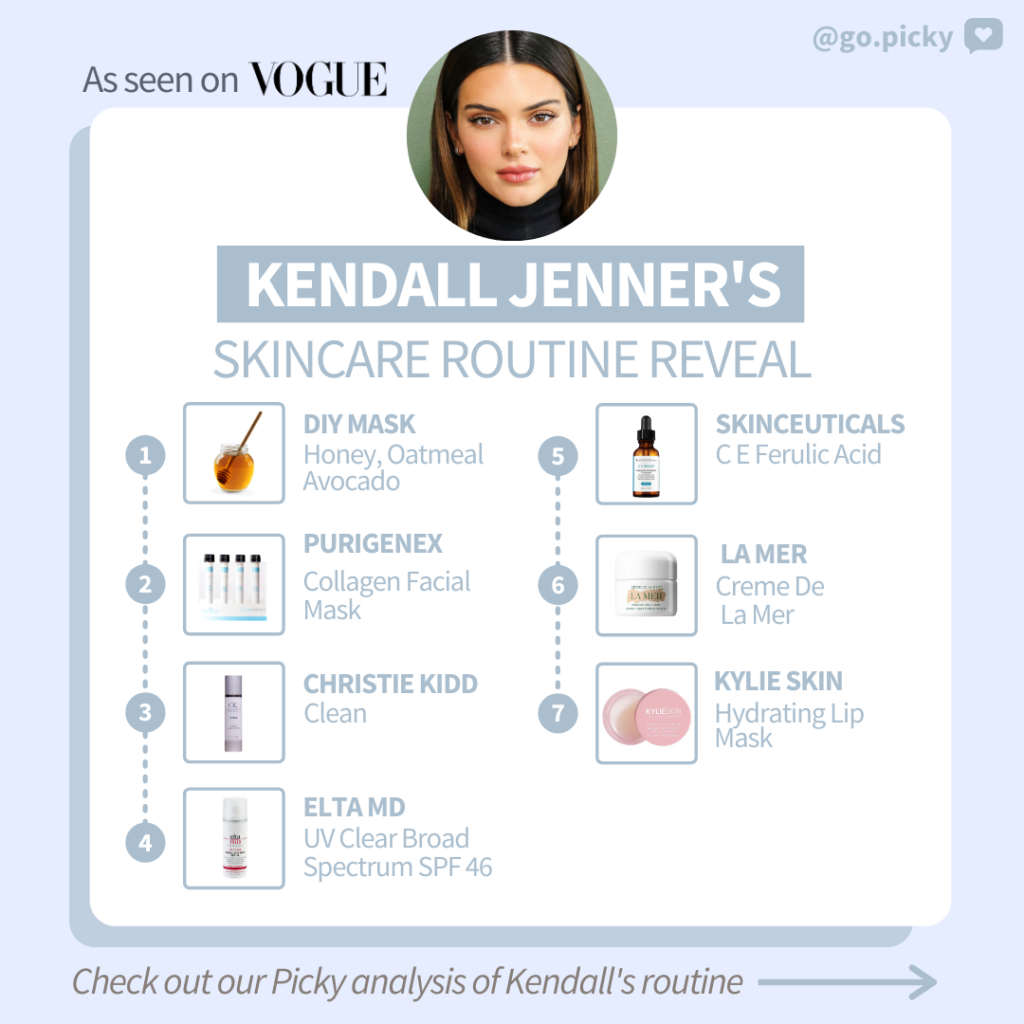 Here's an overall view of Kendall Jenner's skincare routine, given through a collab with Vogue:
Face Masks: DIY + Sheet
Cleanser
Sunscreen + Vitamin C
Moisturizer
Lip care
At first glance it doesn't look too bad, but there's always room to improve! Let's jump into her routine step by step to see the highlights and possible alterations.
#1. Face Masks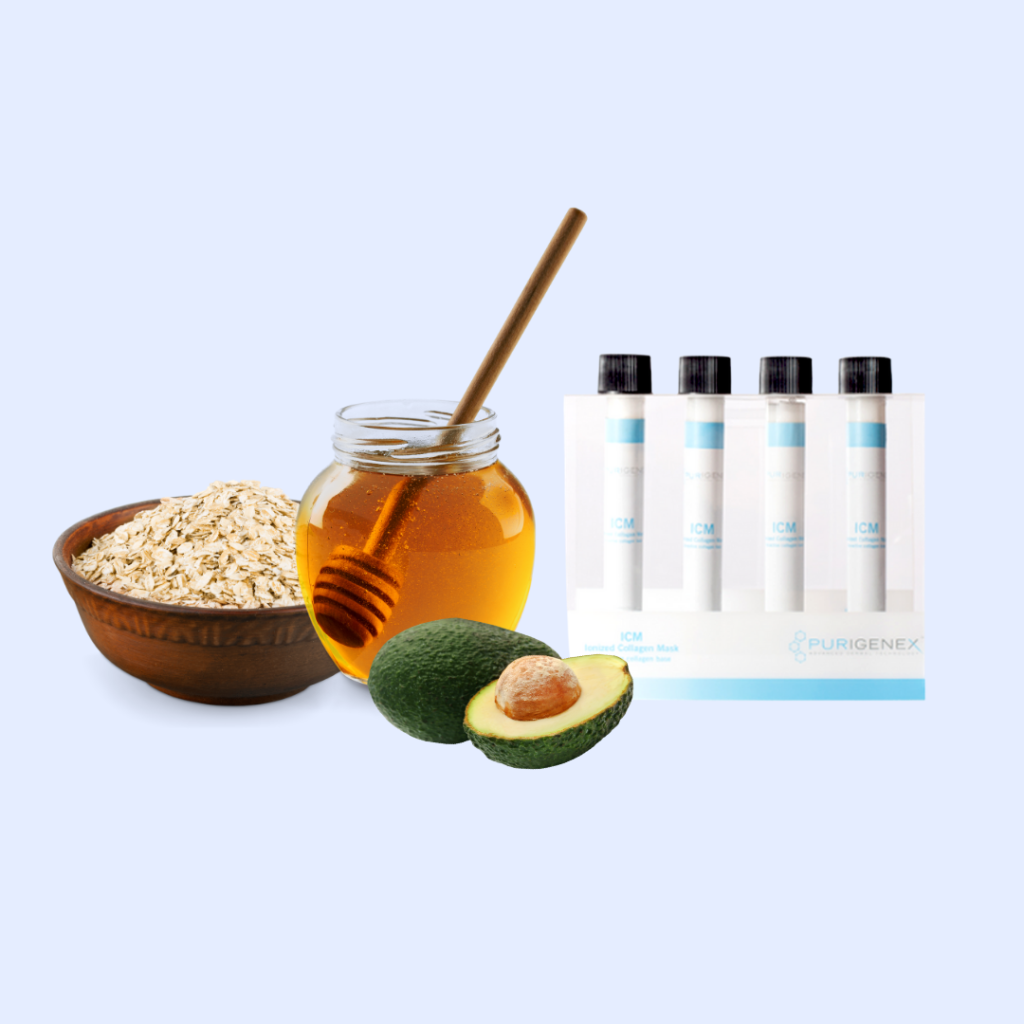 Kendall uses both a DIY mask and Purigenex's Collagen Facial Mask as the first step in her routine. The DIY mask is made up of mashed up avocados, honey, oatmeal and lavender essential oil. The Collagen Facial Mask is from Purigenex and consists of ingredients claiming to promote collagen production.
Picky's Feedback
Purigenex Collagen Facial Mask: The sheet masks from Purigenex are quite pricey ($400+) and collagen are large proteins that can't replace your skin's natural collagen. It works as a humectant that help to hydrate your skin, but more than that isn't really claimable. We recommend some cheaper options: Tonymoly's Collagen Mask ($4 per sheet) and Mediheal's Collagen Impact Essential Mask ($2 per sheet)
DIY Mask: Oatmeal, honey and avocado are safe ingredients to apply to your DIY mask since they have little irritation potential. These ingredients alone would be a nice and simple mask to try out! BUT adding the lavender essential oil is such a risk! It can be irritating for certain groups of people (especially sensitive skin types) and finding the right amount to add or not diluting it properly can cause concerns!
#2. Cleanser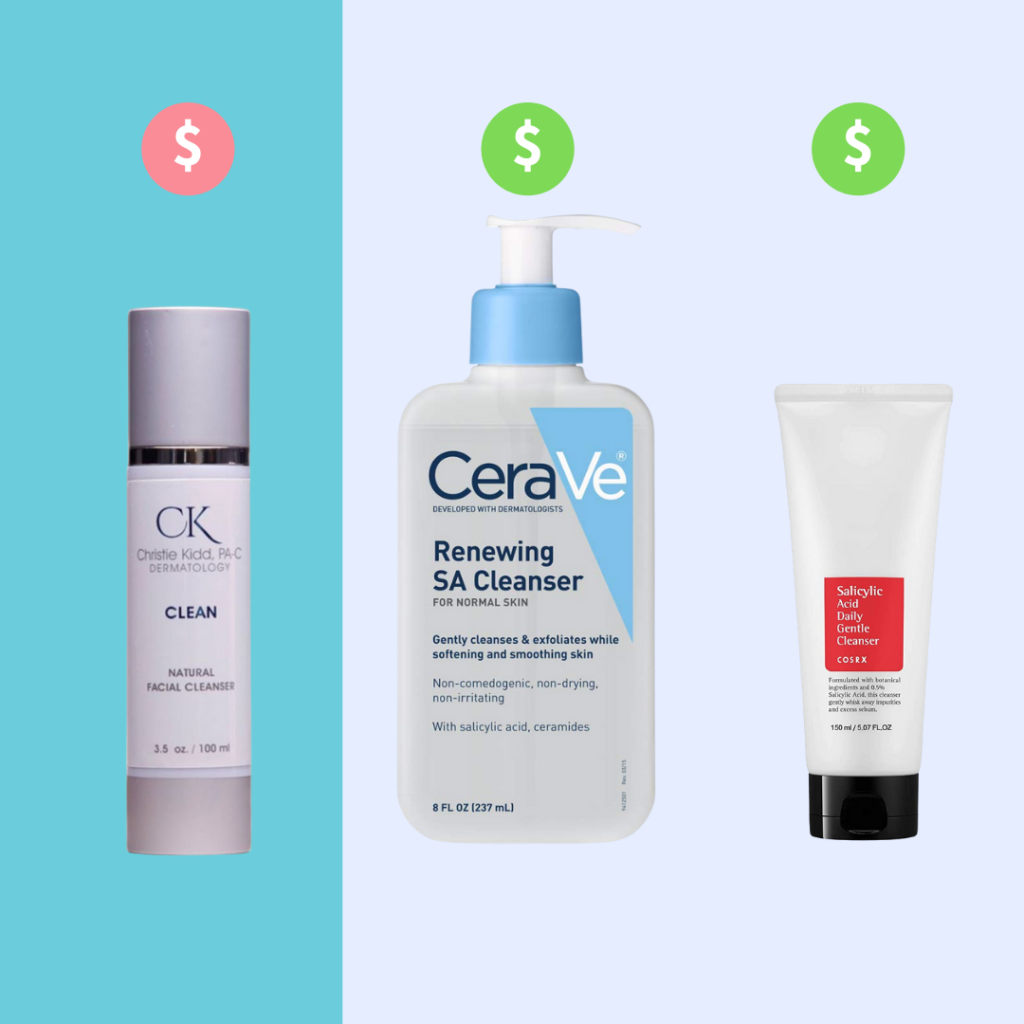 In Kendall's routine she uses a cleanser from Christie Kidd PA-C. Christie Kidd's products are only available for her clientele, so very much a brand cut off from everyday skincare enthusiasts.
Picky's Feedback
We can't say much about this cleanser since ingredients are disclosed to those who purchase and Christie Kidd herself. Although we have been informed it includes salicylic and glycolic acid. In addition, we can say it probably comes with a big price tag. Some alternative, but amazing cleansers to try out: CeraVe's Renewing SA Cleanser ($16) and COSRX's Salicylic Acid Daily Gentle Cleanser ($12).
#4. Sunscreen & Vitamin C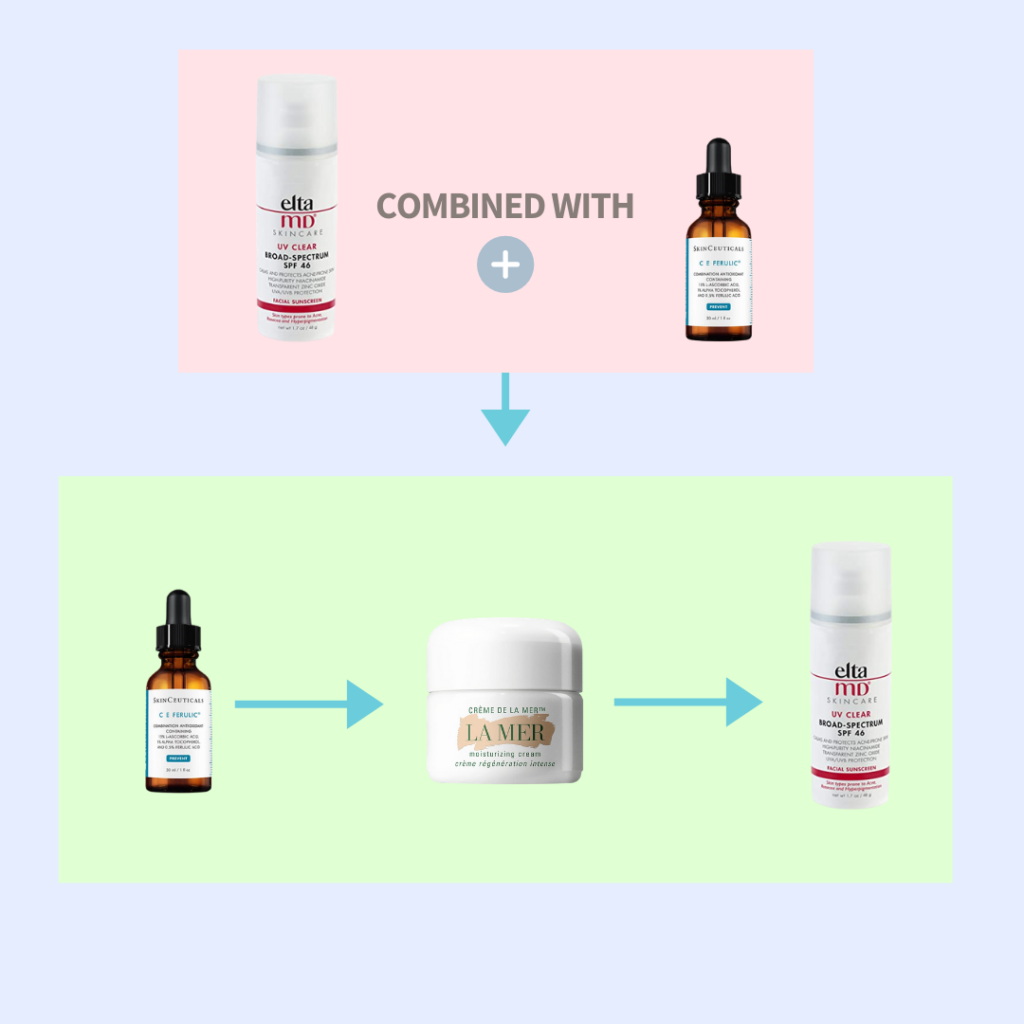 Next step includes amazing sunscreen Elta MD UV Clear Broad Spectrum SPF 46 and Skinceuticals C E Ferulic treatment. We can agree with the raving reviews both of these products receive! And let's give a round of applause for emphasizing sunscreen usage! Kendall, however, mixes the two together and applies to her face. We have some Picky feedback on that!
Picky's Feedback
Kendall mixes her sunscreen with vitamin C, both are great to LAYER but not MIX! Apply vitamin C first and let it set, then add your sunscreen. Mixing the two can actually destabilize the UV filters in the sunscreen and protect you less.
You don't need to dish out over $100 for a decent vitamin C serum. Here's some budget friendly alternatives: Timeless's 20% Vitamin C&E Ferulic Acid Serum ($26) and Paula's Choice C15 Super Booster ($49)
#5. Moisturizer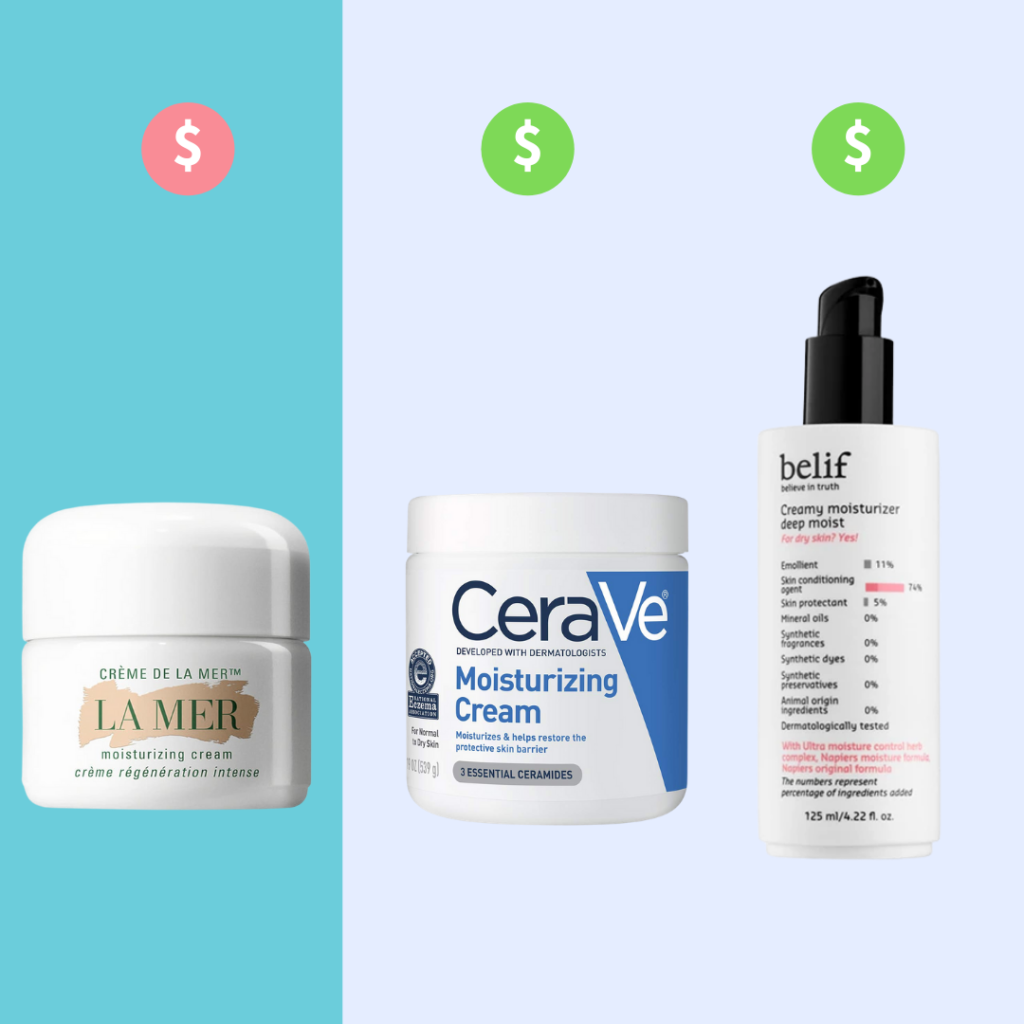 We can all agree, moisturizing is key! And in Kendall Jenner's skincare routine she uses the luxurious La Mer's Creme De La Mer moisturizer. However, she uses it AFTER her sunscreen…Picky has something to say about that.
Picky's Feedback
In anyone's routine, sunscreen should ALWAYS be last! Layering on top of sunscreen can dilute the formula and deoptimize it's level of protection. So again, don't add moisturizer after your sunscreen.
Also, this moisturizer has good ingredients such as panthenol and glycerin, but nothing too stellar to justify the nearly $200 price. So here's a few cheaper alternatives to try out: CeraVe's Moisturizing Cream ($14) and Belif's Creamy Deep Moisturizer ($38).
Kendall Jenner's Skincare Routine Analysis
Kendall Jenner's skincare routine is not bad, we only have a few things to change! First vitamin C, moisturizer and then sunscreen! Her routine also uses quite a bit of luxury products, which in itself isn't bad but not a necessity to achieve great skin. Also, spending more money doesn't guarantee great results! And using the products you have properly is the best way to gain maximum benefits. Unfortunately, in Kendall's routine there are a few fundamental errors in her layers. But once this is altered, her routine looks great!
Build Your Routine on Picky
Start making your own routine on the Picky app! You can easily share right from the app to your Instagram, Facebook, instant messenger, or other. And now, you can even check a Routine Report to get some insight on your routine. Don't forget to check out our Instagram and blog for more skincare science content.