We all have that day when some unwanted visitors pop up on our face. Little, big, one or many, breakouts and acne are the worst! Acne can be infuriating and difficult to deal with if you don't understand the root cause of the problem. Luckily, we have a great big guide to help you discover different causes of acne, what could be making it worse, and some solutions!
What is Acne?
Acne is a chronic, inflammatory skin condition that causes spots and pimples. You can see them popping up all over the body, especially on the face, shoulders, back, neck, chest, and upper arms. It happens when hair follicles get plugged up with oil and dead skin cells! This condition is more common among teens, but it can affect anyone at any age.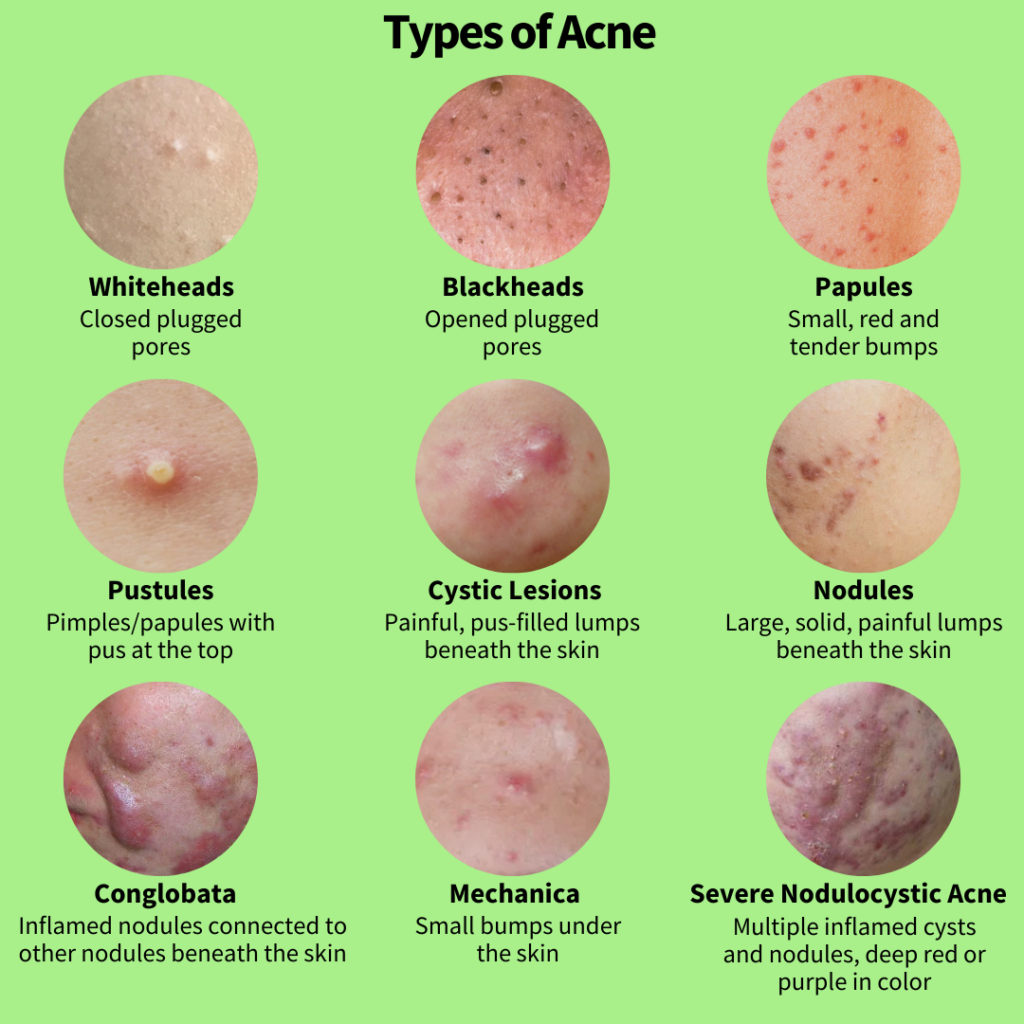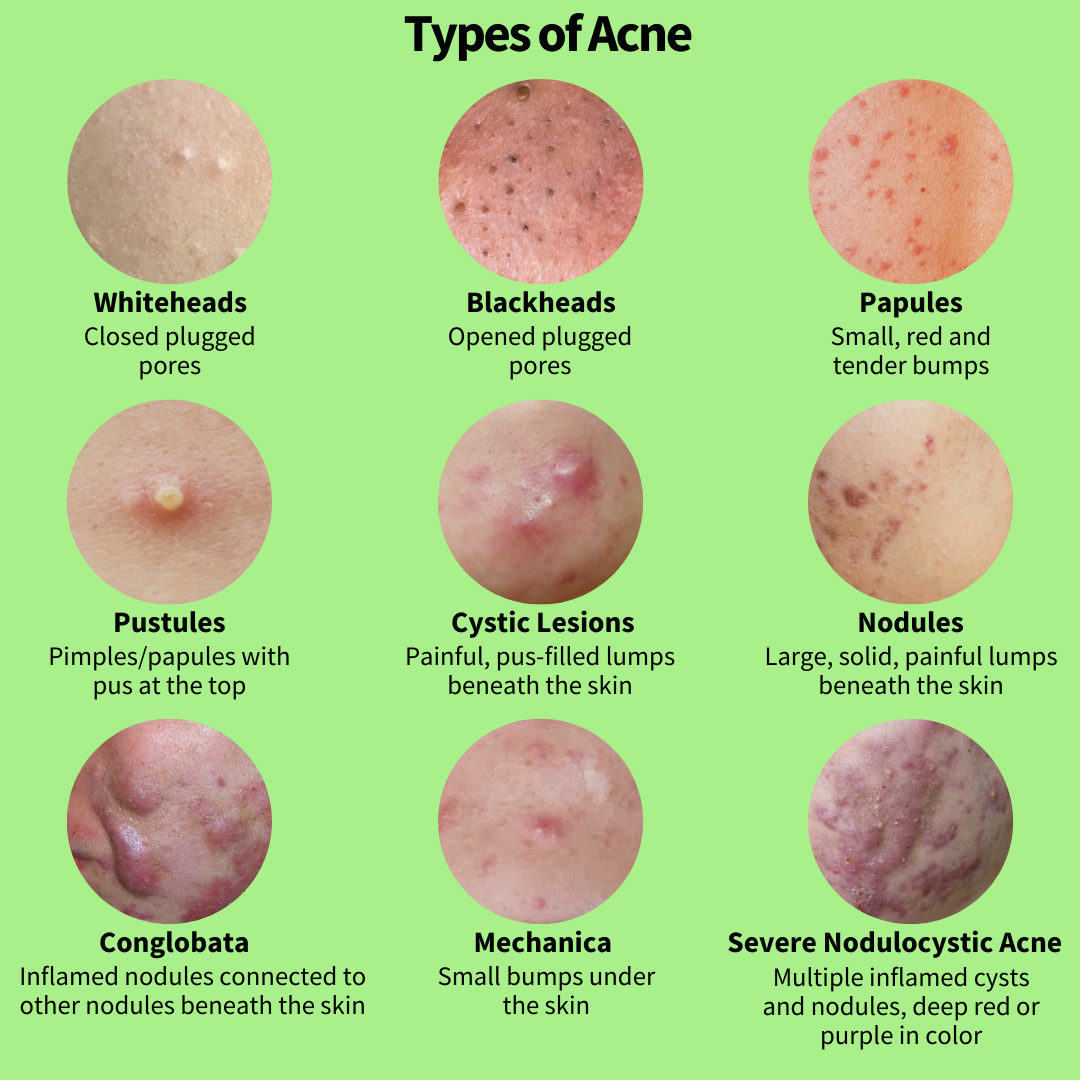 Causes of Acne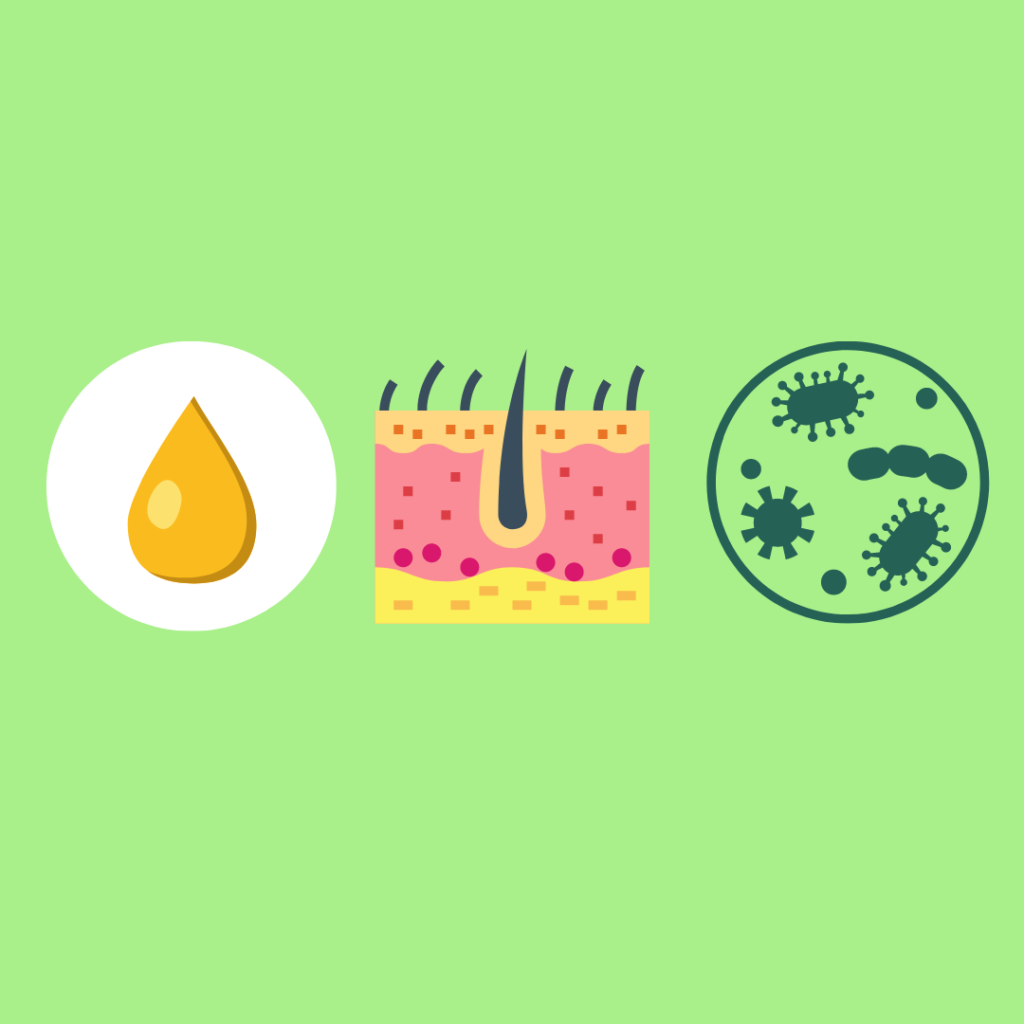 Excessive oil production
Hormones cause oil glands to be overactive, resulting in excessive oil production. This excess in oil makes our skin greasy which is ultimately an inviting environment for bacteria.
Dead skin cells
Dead skin cells can clog up pores which means that the pore prevents oil from being secreted. And when the oil is trapped inside, it creates a living environment for acne bacteria.
Bacteria
The bacteria responsible for acne are called Propionibacterium Acnes, or easily referred to as P. Acnes. The increase in bacteria can cause infection and inflammation which results in severe acne with pus or dead white blood cells.
What Can Make It Worse?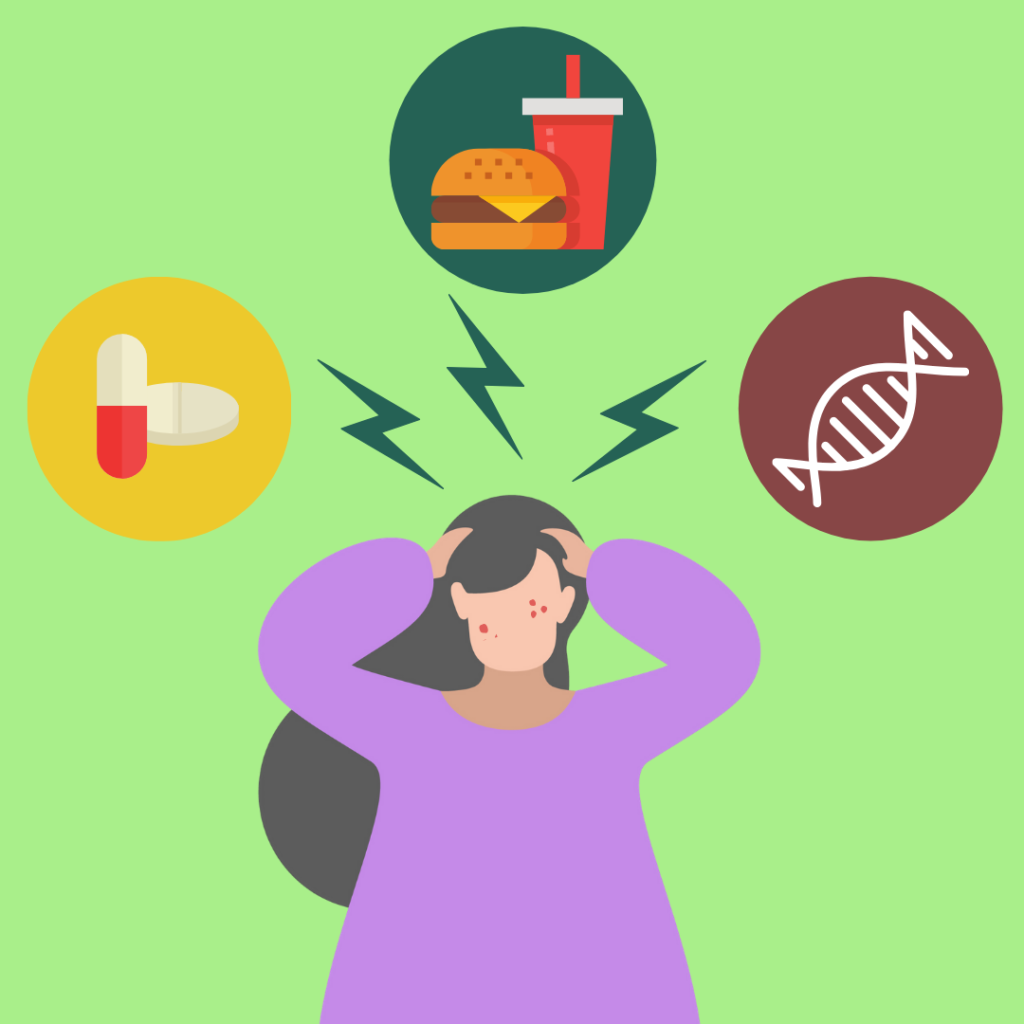 Hormones
Androgens are hormones that increase during puberty which cause the sebaceous glands to enlarge and produce more sebum. Hormonal changes related to pregnancy and oral contraceptives can also affect sebum production. Conversely, a low amount of androgens circulating in a female's blood can also worsen your breakout.
Stress
Stress is a hard thing to avoid at times, but be careful because it will make your acne much worse!
Diet
Studies show that certain dietary factors can worsen acne. This includes skim milk and carbohydrate-rich foods like bread, bagels, and chips. Chocolate has also been a long time suspect of making acne worse. Overall, be aware of what you're putting into your body. Skincare is not only about what product you put on your body but what you feed it as well!
Certain medications
Some medications could possibly make your acne worse, so keep an eye out for drugs containing corticosteroids, testosterone or lithium.
Risk Factors for Acne
Genetics: Family history and genes play a big role.
Age: People of all ages can get it, but it's definitely more common among the teenage demographic
Hormones: These kinds of changes are common among teens, females, and people using certain medications (as listed above) in addition to medications that also contain androgens.
Greasy or oily substances: Acne develops at the point of contact between your skin and oily lotions, creams, or grease. Be wary of environments that can be greasy or have oily surfaces you could come into contact with.
Friction or pressure: We are constantly touching things and putting them on our face or skin. Cellphones, helmets, collars, backpacks, etc. Be mindful of what your skin comes into contact with!
Stress: Mentioned before, but emphasis is needed! Stress won't cause you to break out, but if you're already having skin issues it will make it so much worse!
Want to learn more about what treatments and solutions there are for acne? Check out 'All About Acne Part 2: The Treatments' where we go into detail about the different treatments for each acne type.
Want to find the right products with ingredients best for your skin type? Log into Picky and use our mega ingredient filter to get started. Don't forget to also follow us on Instagram and read more from our blog for more skincare science content!