With end-of-the-year festivities just around the corner, now is a good time to start stocking up on gifts for friends and family! But holiday shopping isn't always easy, is it? From finding the perfect present to making sure you're getting the best deals possible, it can be a daunting task. That's why YesStyle has decided to team up with Picky to hold an exclusive discount event with a lucky draw prize for everyone who participates! Keep reading to find out more, and get your holiday shopping done with YesStyle!
Discount Event Details
Here's everything you need to know to participate:
What? Get 15% off the entire Yesstyle.com website with no minimum purchase necessary!
When? For 48 hours only from November 22nd to November 24th!
How? Use the code: YSPICKY at checkout to redeem your discount! (Please note: this discount is not stackable with other discount codes)
Extra Perk: Everyone who uses the YSPICKY discount code during the event period will automatically be entered into a lucky draw for the chance to win YesStyle's 2022 Advent Calendar!
Lucky Draw: Advent Calendar!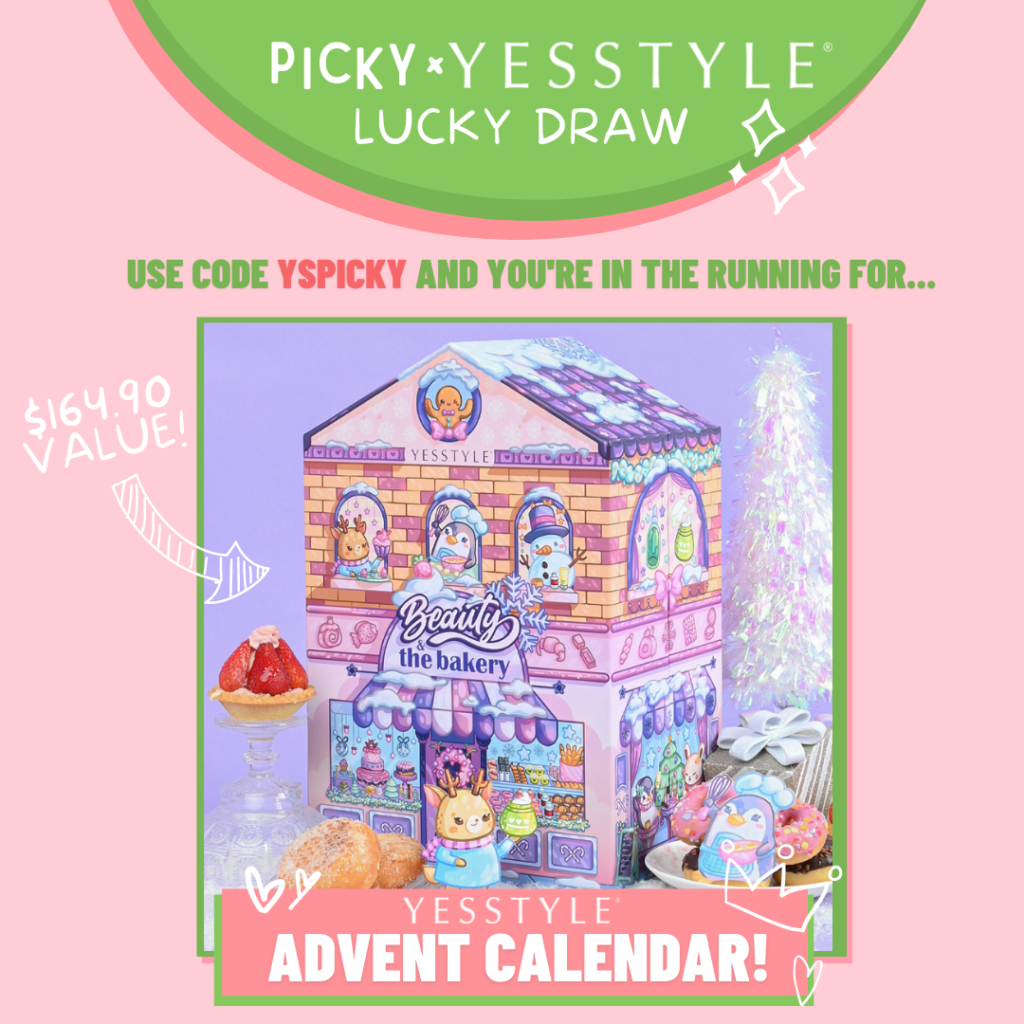 Getting a little chocolate everyday of December is great, but YesStyle is taking it to the next level! While the items themselves are a secret (shhh!), this calendar is packed full of beauty and skincare goodies with a value of $164.90 USD! Not to mention, the box alone makes an adorable holiday decoration!
One winner will be chosen randomly from a lottery of everyone who uses the YSPICKY discount code during the 48 hour event period. YesStyle will contact the winner by email to arrange shipping details.
Make sure to secure your entry by shopping on YesStyle on November 22-24th and using the 15% off discount code!
YesStyle: THE Online K-Beauty Retailer
Now that the details are covered, let's talk a little more about what YesStyle has to offer!
YesStyle is the largest online retailer of fashion, beauty and lifestyle goods from brands all over Asia! Their selection of beauty and skincare includes over 300 brands from Korea, Japan and beyond, and they even offer the opportunity to shop unique niche brands that may be hard to find elsewhere! You can find everything from the most popular well-known products from big brands, to products up-and-coming in the trends, and even clean, vegan, cruelty-free or eco-friendly beauty!
Here's a look at some of the MANY popular K-beauty items you can find on their website!
Stay Updated!
Make sure to follow Picky on TikTok, Instagram and Youtube for updates about new giveaways and events! Also, make sure to download our app so you can apply to giveaways! We have new ones every week!