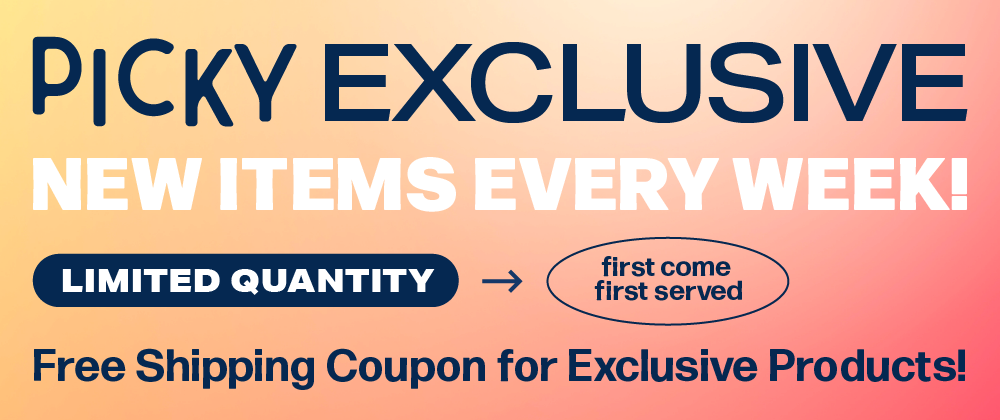 What's Picky Exclusive?
Get ready to dive into the exciting world of Picky Exclusive – the raddest project brought to you by the Picky Team! We're hooking up our Picky users with the hottest, freshest K-beauty brands and products out there. And guess what? We're keeping it super exclusive with limited quantities, so act fast!
Be at the forefront of the beauty game with early access to the newest K-beauty trends! Discover products that haven't even launched globally yet, but are already causing a sensation in Korea. We're not stopping at just one or two items – we're launching THREE fabulous products this week, with more to come. Indulge in the latest K-beauty gems that will elevate your beauty routine.
Our mission is to release mind-blowing new products every week, ensuring constant beauty bliss! Picky users can trade in their points for sweet coupons, like free international shipping. Thoroughly reviewed and approved by the Picky Team, our products are a guaranteed hit. Find juicy content on Picky TikTok, Instagram, and the app, along with epic community reviews.
So, what are you waiting for? Dive into Picky Exclusive and unlock the real Korean beauty trends everyone is raving about. It's time to shine, glow, and conquer the beauty world as a true beauty aficionado! 💫✨
Why Picky Exclusive and where do I start?
We know what you're wondering – how does the Picky exclusive work? Well, on June 9th, Picky is launching three excellent products including the INGA Tattoo Cushion, INGA Freeze Lip & Cheek, and the Unleashia Gochujang Lip Balm!
The Picky team understands the needs and desires of K-beauty lovers like you. We've carefully curated this exclusive event, bringing together these three remarkable products at an unbeatable price. This is your chance to experience the best of K-beauty without breaking the bank.
Not only are you getting top-quality products, but you're also receiving incredible value. Here at Picky we know the importance of delivering a worthful deal to our users. We are committed to bringing you the best of the best. With our dedication to curating exceptional beauty products, you can trust that you're making a fruity decision!
All three products will be available for sale on June 9th at 4 PM KST through the link below. You can purchase up to 2 products per order. There is a limited quantity of Picky Exclusive products available and will be sold on a first come, first serve basis!
Additional benefits for Picky Members!
We've got a sweet deal for you! Exchange just 1000 points on the Picky app and score a free international shipping coupon. The best part? You can use it right away when making your purchase. So go ahead and treat yourself!
How to apply for a coupon:
Apply for the event – don't miss out!
Coupons are valid for June Picky Exclusive products (sorry, Picky Boxes not included).
Coupons expire on June 30th 11:59 PM KST.
Watch your inbox! You'll receive your coupon via email. First batch drops June 9th at 4 PM KST.
Get free shipping by exchanging 1,000 points. Once exchanged, no refunds.
Remember, Exclusive Products are limited, so it's first come, first served!
Not a Picky member? Download the Picky app and become a part of our community! You are just one install away from receiving these benefits and a ticket to free international shipping. So, act now before the offer ends!
Please Note:
Coupons can be used for future deals as we are aiming to release new items weekly.
Exchanged points are non-refundable.
We offer a flat shipping fee of $9.99 without the coupon.
Standard shipping takes up to 3 weeks after the order ships.
Frequently Asked Questions (FAQs)
How many products can I purchase at a time?
You can buy up to two products for each order.
Do I have to pay customs?
Some countries have different importation laws, and you might have to pay importation taxes or customs. This is something implied by each country and may be unpredictable. It is the responsibility of the customer to pay importation fees. Neither Picky nor the brands will pay or reimburse fees incurred from customs for buying products from our shop.
How long does it take for my Picky Exclusive orders to ship?
Our deals will usually be shipped one week after the order date. After the package has been shipped, delivery times depend on the destination country. However, the average is between 1 to 3 weeks.
How much do I have to pay for shipping?
There is a $9.99 flat rate regardless of the item/country. Thus, Picky users can redeem a free shipping coupon for June Picky Exclusive products.
How many products are available each time?
It varies every time, but most likely less than 100 items. Therefore, grab it before it's gone!
Can I get the coupon refunded if I end up not purchasing any product?
No, the coupons are non-refundable. However, they are not tied to a single product. You can use the free shipping coupon for any Picky Exclusive item up until the coupon expiration date.
Which specific courier is Picky Exclusive using?
Picky uses a shipping partner to complete shop orders. Our partner chooses the best carrier for each different country – most items are shipped using Express Mail Service.
What countries are Picky Exclusive products shipped to?
Asia-Pacific
Australia
Hong Kong
Indonesia
Japan
Malaysia
New Zealand
Philippines
Singapore
Taiwan
Thailand
Vietnam
Americas
Argentina
Brazil
Canada
Chile
Costa Rica
Puerto Rico
United States
Middle East
Israel
Qatar
United Arab Emirates
Europe
Austria
Belgium
Croatia
Cyprus
Czechia
Denmark
Estonia
Finland
France
Germany
Hungary
Ireland
Italy
Lithuania
Luxembourg
Netherlands
Norway
Poland
Portugal
Romania
Slovakia
Slovenia
Sweden
Switzerland
United Kingdom
If you have any further questions regarding Picky Exclusive or for general information about our app, contact our support team at [email protected].