Age like fine wine, they say. Sadly, now that we are wiser, we know for sure 'fine lines' are more like it. Unless we have the ability to turn back time, signs of aging are something that are inevitable and the only thing we can do is to embrace them with grace. Trust me, a little bit of anti-aging skincare products will do the trick. Let's read through the well-aging ingredients together, both beginner and advance user friendly!
Well-Aging Ingredients For Beginners

Hyaluronic Acid
A naturally-occuring sugar molecule in our body that decreases as we get older. This ingredient can be considered a staple inside everyone's skincare cabinet. I'm pretty sure everyone of us has used at least one product that contains hyaluronic acid in it. This amazing humectant gives our complexion a boost of hydration by absorbing and retaining water. It improves the appearance of fine lines and wrinkles, leaving our skin looking fresh and healthy.
Expert Product Picks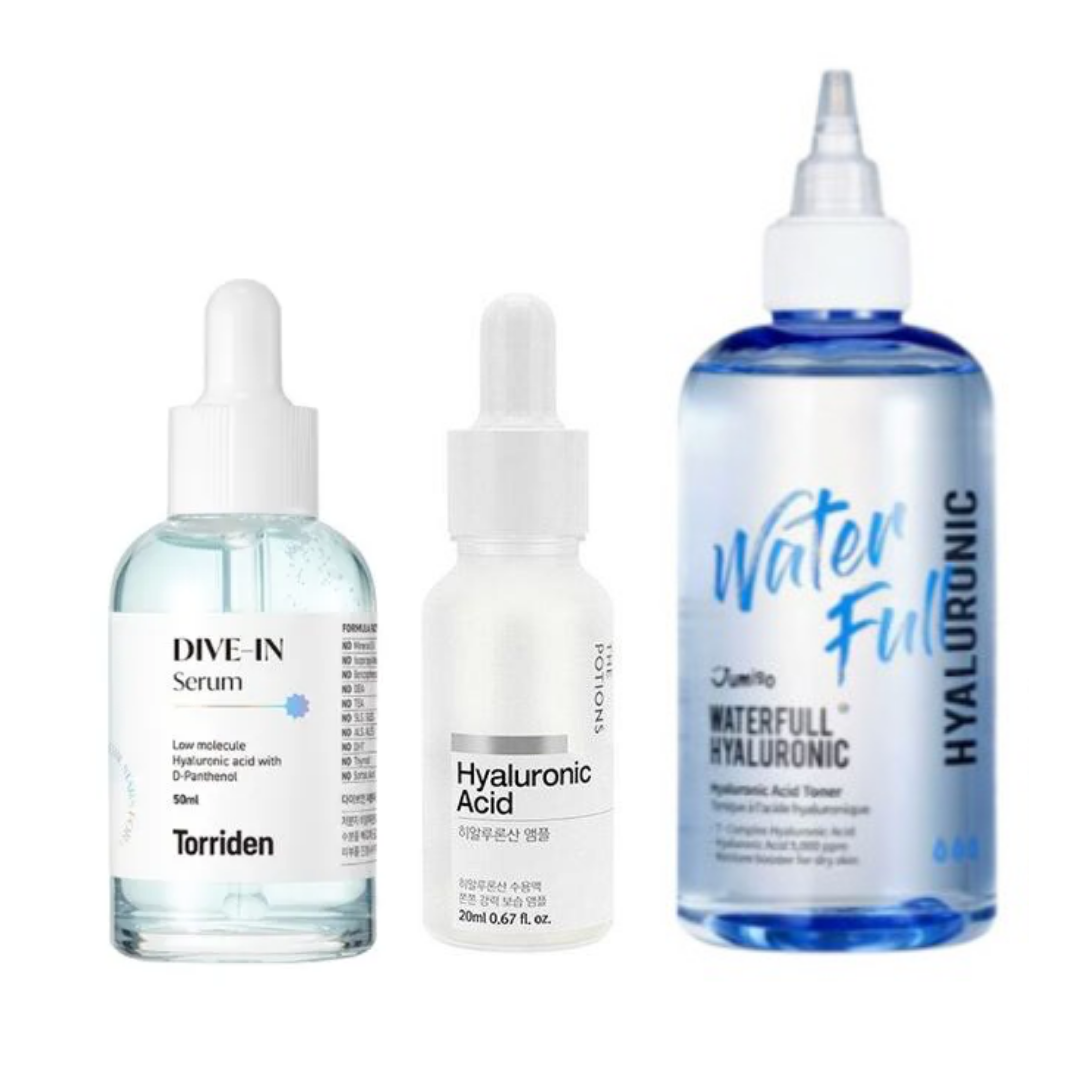 TORRIDEN Dive-In Low-Molecular Hyaluronic Acid Serum
"I am impressed by how this applies and gets absorbed on my skin. It glides well and provides instant hydration without leaving my skin sticky or greasy. Overall, happy with the moisture and hydration this gave my skin…" -PoshLife
THE POTIONS Hyaluronic Acid Ampoule
"Very suitable for dry, very dry and combination skin because HA (hyaluronic acid) from The Potions is able to hydrate deep into the skin and is more plumpy. My skin type is a sensitive combination and so far there have been no negative reactions…" –Opheliaaayu
JUMISO Waterfull Hyaluronic Acid Toner
"The toner looks very liquidy but the texture is more like a thick gel toner. It is very easily absorbed into the skin. A little goes a long way, this bottle is going to last quite a while." -wendywdeng
Niacinamide
An all-star ingredient that has the ability to address pretty much any kind of skin concerns from redness, hyperpigmentation, acne, as well as premature signs of aging. There's literally nothing that niacinamide can't do. This Vitamin B3 visibly reduces fine lines and wrinkles and improves elasticity.
Expert Product Picks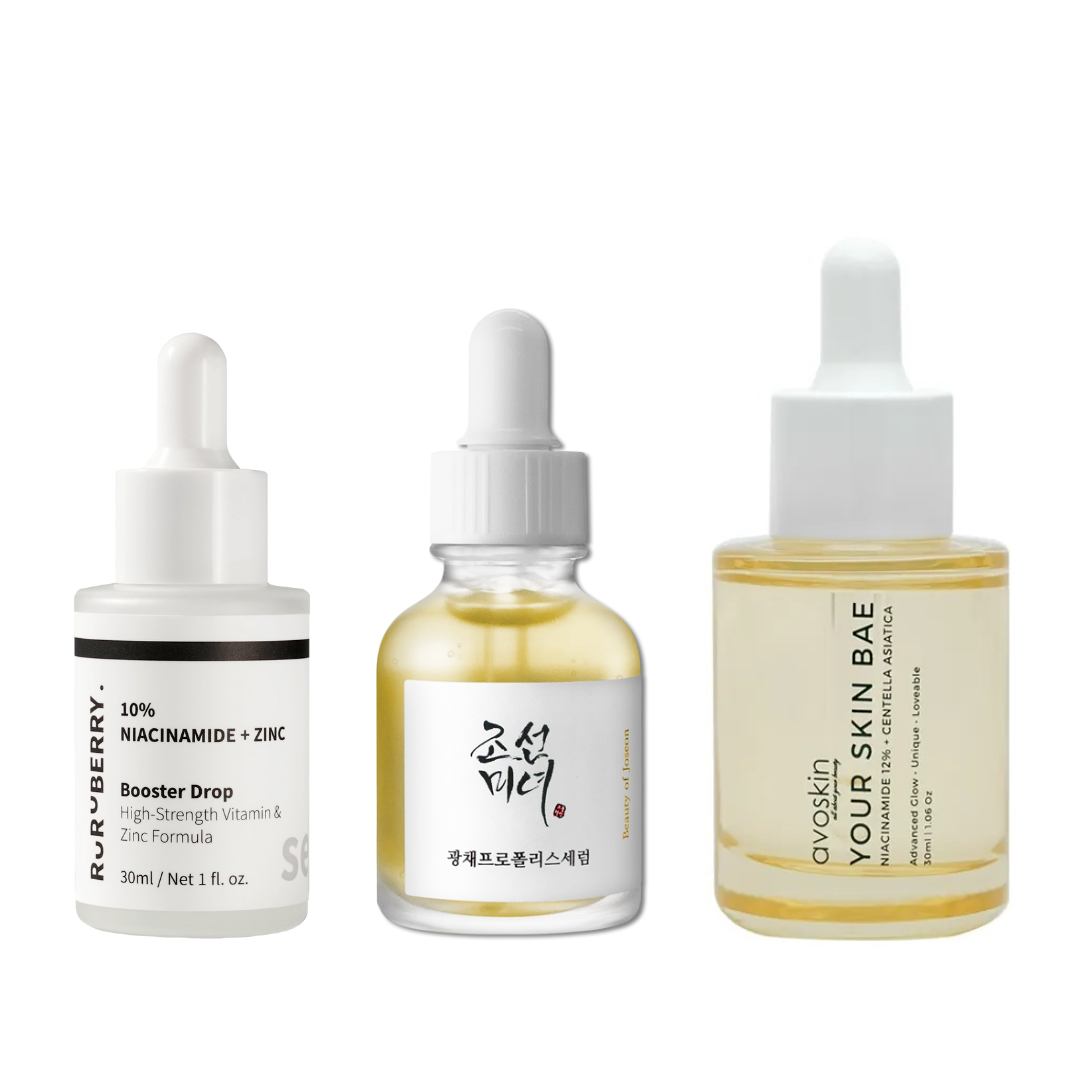 RURUBERRY 10% Niacinamide + Zinc
"I'm using this for almost 2 weeks and my skin loves it! No bad effect at all. Although it has a thick consistency, this serum is still perfect for layering. I noticed that my skin is brighter and the acne is quickly gone from my face." –Sapphirelf
BEAUTY OF JOSEON Glow Serum: Propolis + Niacinamide
"Has a lightweight, water-gel texture. No scent. Gives a nourishing and calming feeling. My skin looks noticeably brighter and very hydrated, and gives a healthy glow. Delivers antioxidants to protect the skin against UV damage." –SkincareUprising
AVOSKIN Your Skin Bae Niacinamide 12% + Centella Asiatica
"I love this serum so much. The texture is a bit thick, it is slightly tacky at first, but it absorbs really well. I love the fact that it has centella asiatica in it as it helps to calm and soothe any redness on my skin. As for someone with oily skin, niacinamide is kinda my staple…" –Stellamarselie (Picky Expert)
Peptides
Peptides are short chains of amino acids. When applied topically, peptides signal our skin to generate more collagen and elastin or decrease the amount of collagen that gets broken down. They aim to improve skin's firmness and elasticity and give our complexion a smoother and plumper appearance.
Expert Product Picks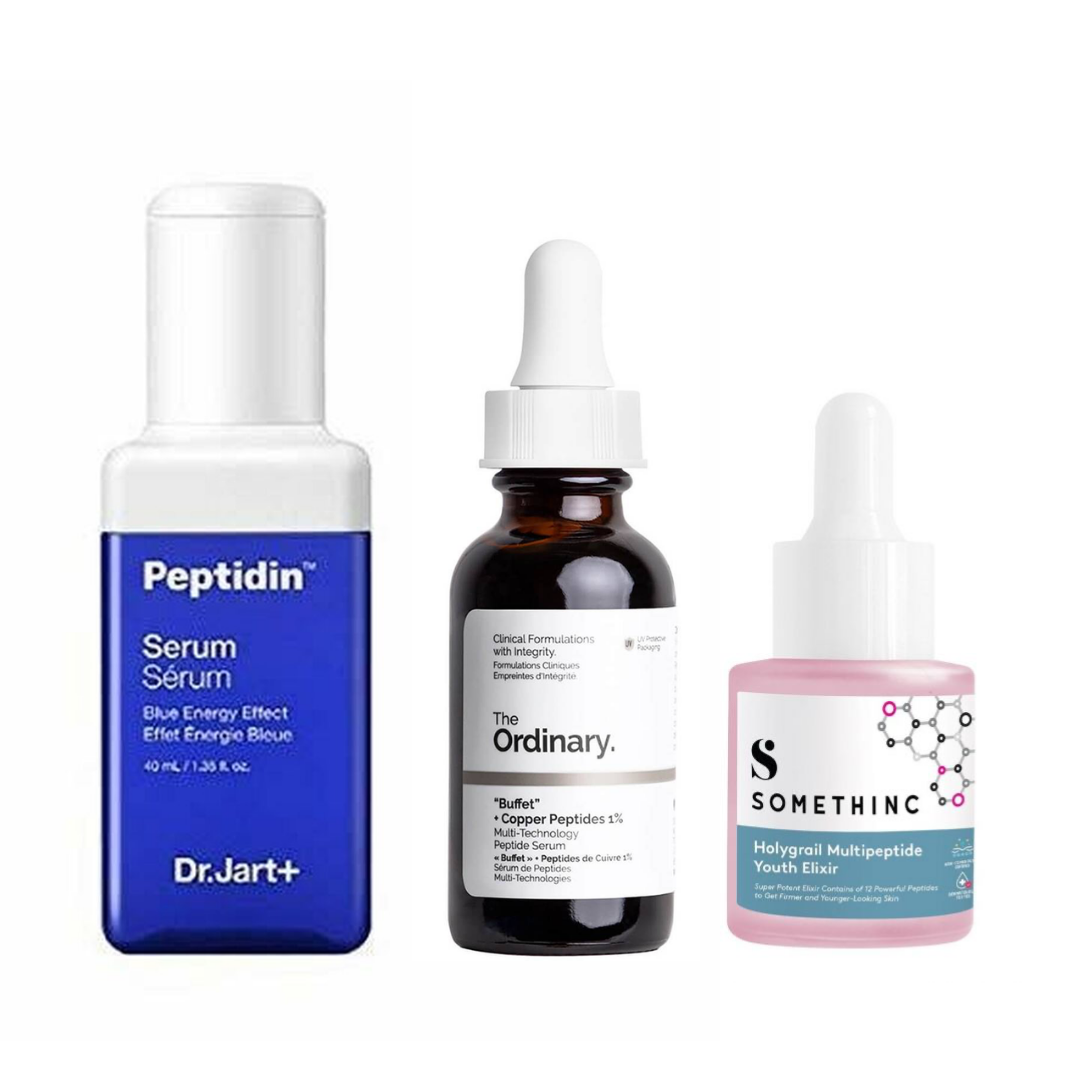 DR. JART+ Peptidin Firming Serum with Energy Peptides
"This serum is silky and ultra-light, I usually use it in the evening (to help my skin stay plump and elastic) but since it's so lightweight you can definitely use it also in the morning. I just need a few drops for a firm, plump and pillowy feel." –Sofiia
THE ORDINARY "Buffet" + Copper Peptides 1%
"It has started to help with my wrinkles between my eyes and I have noticed it helping with the elasticity in my skin. I'm happy with the results. Helps improve textural damage, uneven skin tone and the appearance of blemishes." –Drmoate
SOMETHINC Holygrail Multipeptide Youth Elixir
"Hydrating. Helps my acne wounds heal faster with minimal hyperpigmentation and scarring. Smooths fine lines around my eyes and mouth. Enhances my skin elasticity. Gel consistency that's easy to spread and absorb. A little goes a long way." –Mikoskincare
Bakuchiol
A new plant-based ingredient that comes from a native Indian plant called babchi. Bakuchiol can be an alternative for sensitive skin who can't tolerate retinol. It is safe to apply bakuchiol twice a day, in the morning and in the evening. Bakuchiol offers anti-inflammatory, antioxidant, brightening and anti-aging properties.
Expert Product Picks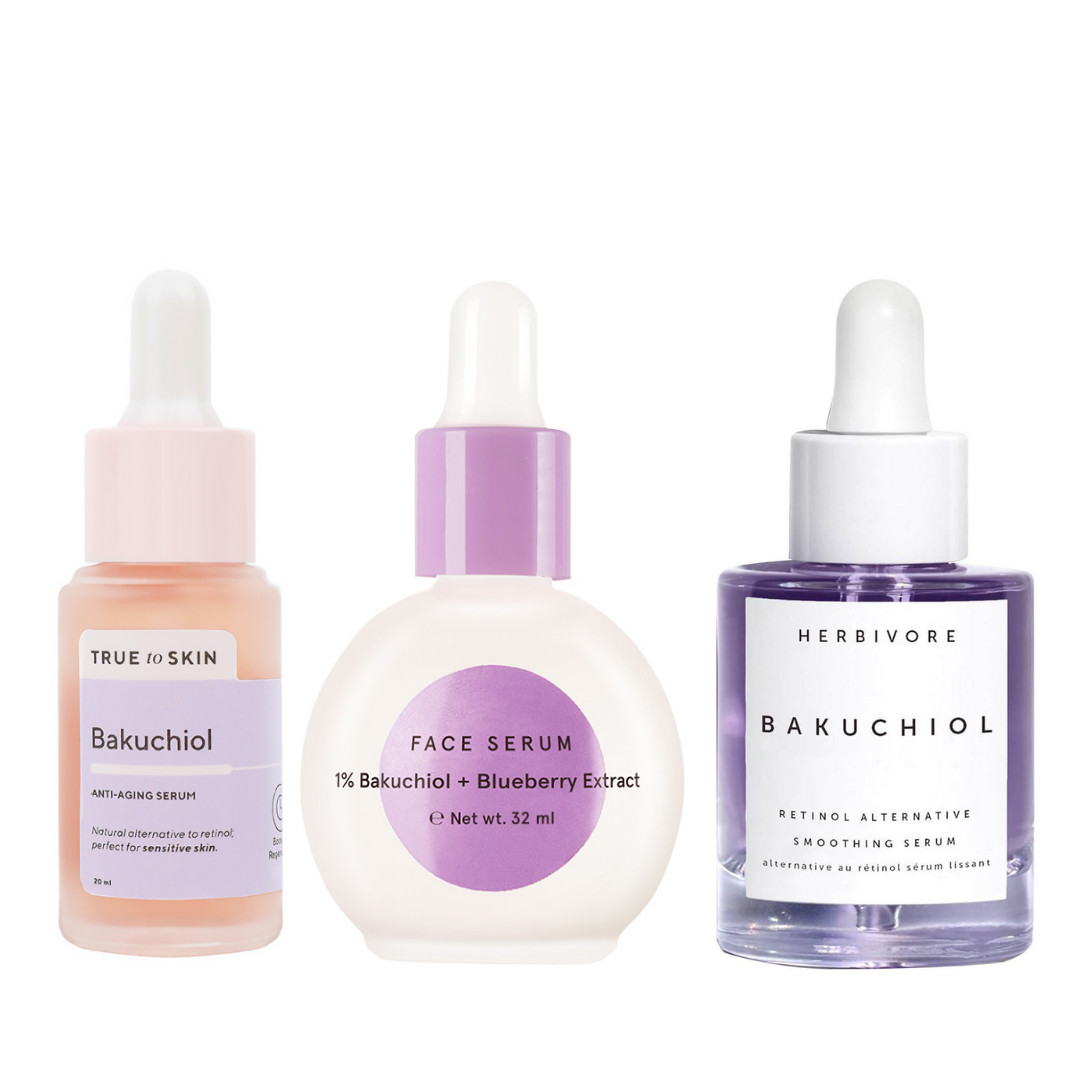 TRUE TO SKIN Bakuchiol Anti-Aging Serum
"My first anti-aging serum, I'm still hesitant to use retinol so I tried bakuchiol instead. This serum absorbs really fast, and I have a dry sensation after so I usually layer it with my peptaronic serum. Helps with my skin texture problems, but still waiting for my fine lines." –YuniQ
DEAR ME BEAUTY 1% Bakuchiol + Blueberry Extract Face Serum
"Texture is water based serum, so yeah it's watery but quite thick. A light smell of blueberry and medicine smell, but in my opinion the smell isn't disturbing. When I apply this serum at night, in the morning I feel my skin is softer than before." –SyLL
Herbivore Botanicals Bakuchiol Retinol Alternative Smoothing Serum
"This is an amazing plant-based retinol alternative. This bakuchiol has changed my life! Within about two weeks I have noticed a difference in my skin's elasticity along with reduction of redness." –SkincareMare
Retinoids
Retinoids is an umbrella term for several different forms of vitamin A–the gold standard of anti-aging. They help increase cell turnover and stimulate collagen production to reveal a smooth and youthful looking skin. For those who are about to incorporate retinoids into their skincare regime, start from a low concentration and use it once or twice a week. You can layer on top of moisturizer or pair with niacinamide to decrease its side effects. When your skin can tolerate it, you can slowly step up the frequency and concentration. Remember to apply retinoids only at night time.
Expert Product Picks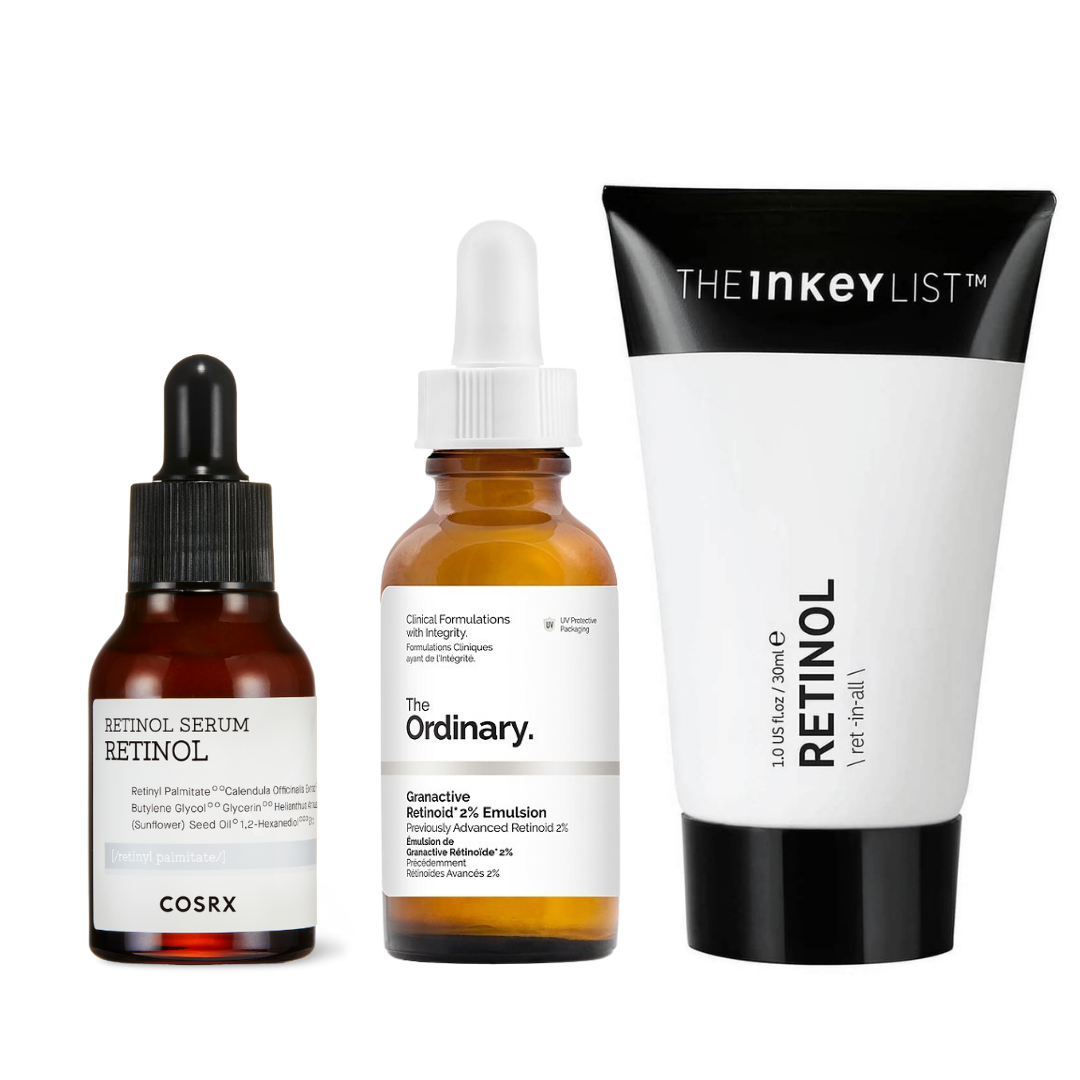 COSRX Real Fit Retinol Serum
"My skin feels smoother. I noticed that it lightens my acne scars and skin discoloration. I use this every night and have not experienced any irritation or feel even a slight itching. The lightweight consistency of this product is absorbed by my skin giving it a good moisture after I' dried out by my anti-acne skincare." –Maan94
THE ORDINARY Granactive Retinoid 2% Emulsion
"This product was a LIFESAVER for my hormonal acne – I had never used a retinoid before and this was effective and also incredibly gentle with my sensitive and dry skin. Even after 3 years, this is still an integral part of my skincare routine." -sgm18
THE INKEY LIST Retinol Serum
"Love this formulation of retinol since it doesn't cause irritation and sensitivity to my skin. The consistency isn't too thick so it's easily absorbed by the skin. It's also easy to spread." –kyamoooi
Well-Aging Ingredients For Advanced Users

You can pair your retinoids with these few ingredients that can synergize and help you achieve an optimum result for your anti-aging concern. However, be cautious since they may cause irritation. Be mindful when you incorporate these ingredients into your skincare routine. Remember to always start low and slow to make sure your skin can handle it.
AHAs/BHA
AHAs and BHA are both chemical exfoliants. AHAs are water soluble. Besides getting rid of dead skin cells, some AHAs like glycolic acid and lactic acid have the ability to increase hydration which make them suitable for normal to dry skin. On the other hand BHA is oil soluble, it works beyond the skin surface and penetrates into the pores. BHA has skin-calming properties which makes it suitable not only for oily and combination skin, but also sensitive skin. When we use acid before slathering our face with retinoids, it helps to remove the buildup on the surface of our skin, thus paving the way for retinoids to reach the deeper layer of the skin to perform its magic.
Expert Product Picks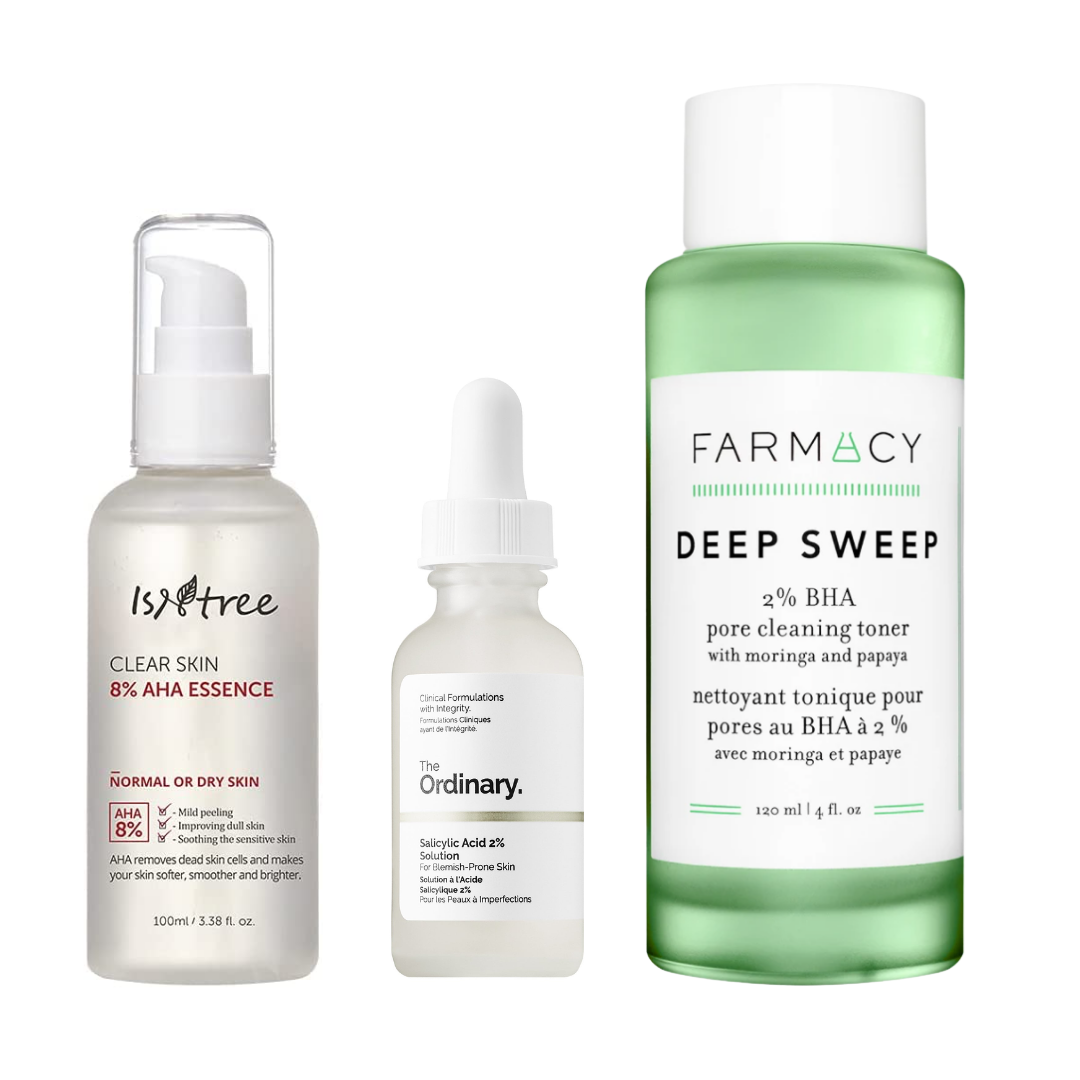 ISNTREE Clear Skin 8% AHA Essence
"I love that this is an AHA essence designed for my dry skin. The 8% AHA in it helps to mildly peel off dry skin, leaving it softer, smoother and brighter. The formula has a watery consistency that absorbs quickly into my skin leaving it feeling smooth without any stickiness." –Keppers
THE ORDINARY Salicylic Acid 2% Solution
"The serum is so affordable, and contains very few but pure ingredients. It is fragrance free and helped clear up my skin from acne and blackheads within a matter of a few weeks." –SkincareMare
FARMACY Deep Sweep 2% BHA Pore Cleaning Toner with Moringa + Papaya
"I love how light the texture is, it feels invisible on the skin. There is no residue or stickiness, my skin feels really balanced and refreshed. I haven't experienced any burning/irritation from it. It's helping the congestion (white heads) my blackheads are minimized greatly." –blushedluxury
L-Ascorbic Acid
Just like our body which needs vitamin C, our skin can benefit from it too. L-ascorbic acid is the most effective form of Vitamin C. It packs a powerful punch of antioxidants that is beneficial to protect the skin from environmental damage and improve visible signs of aging. You can apply L-AA in the morning or if you're feeling extra adventurous you can layer it with retinol in the evening too.
Expert Product Picks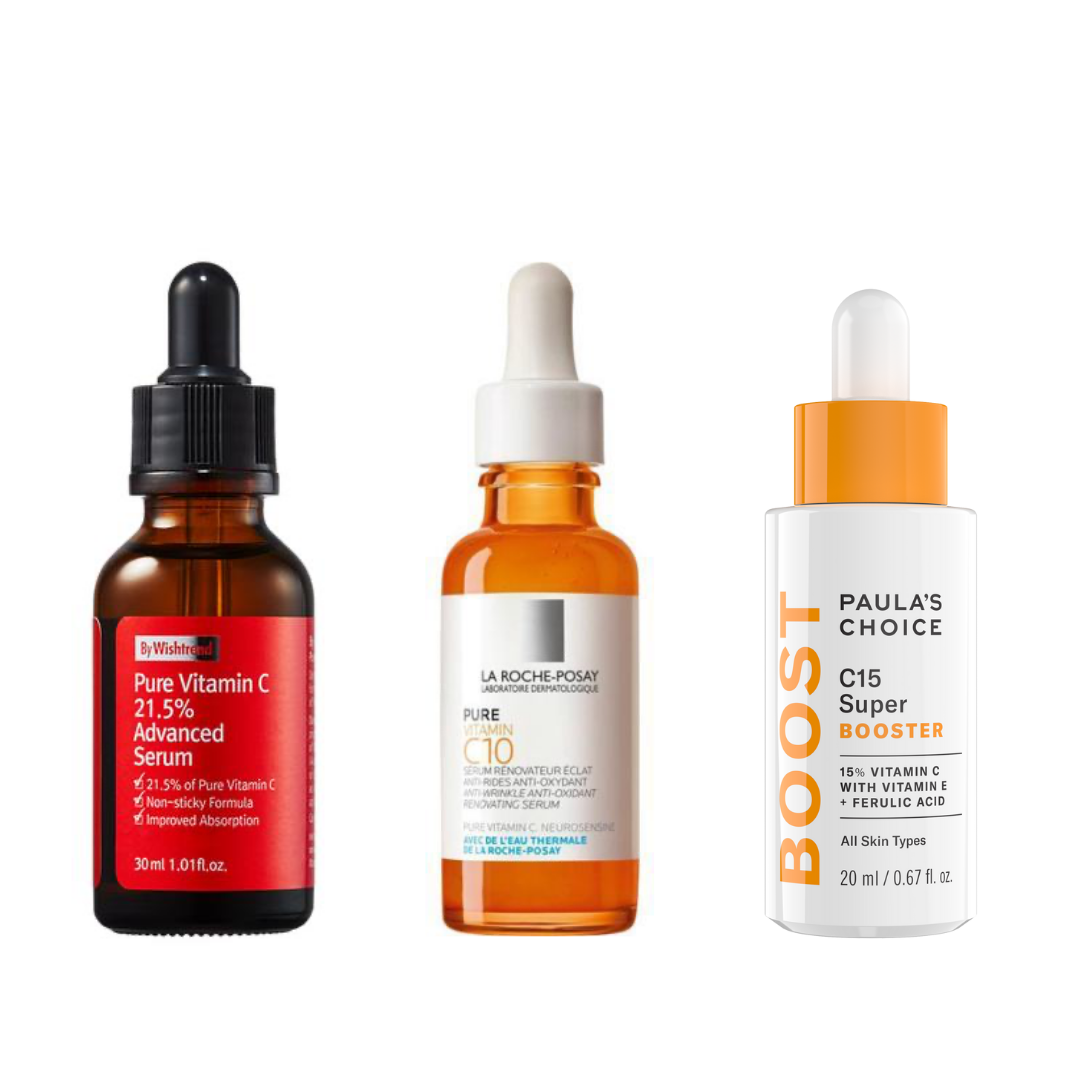 BY WISHTREND Pure Vitamin C21.5% Advanced Serum
"It absorbs very quickly and leaves no sticky layer. Although the serum has a quite high concentration of ascorbic acid, it doesn't cause any irritation or redness on my skin. It makes my skin look smoother, brighter, toned and more even." –InNameOfBeautySkin
LA ROCHE POSAY Pure Vitamin C10 Serum
"The tingle that comes with vitamin C serums at a concentration of 10% or more can leave me red-faced. So I confess I was initially quite nervous about trying this. BUT I LOVE this. It's great for #sensitivedryskin." –gemstones
PAULA'S CHOICE C15 Super Booster
"This is the best vitamin C I have ever tried. It's not oily which most vitamin C serums can be, which I hate. It absorbs really well. I've been using it for a few months now and it has significantly improved a lot of the stubborn hyperpigmentation I've been struggling with. This one's a keeper for me." –FreestyleRonnie
Tips
Some other helpful tips our Experts can give you are…
Always wear sunscreen with an SPF of 30 or more everyday, especially when you apply retinoids the night before.
Live a healthy lifestyle: avoid smoking, limit alcohol consumption and sugar intake, eat a healthy and well-balanced diet.
Be Picky
Whether you're advanced or beginner, wherever you are on your skincare journey, Picky is here to help! Our Picky community is full of all walks of life that have one thing in common -skincare! Join the community, learn together and discover what's best for your skin. Don't forget to follow us on Instagram and check out our YouTube channel!
Created With