What is veganism and vegan beauty?
Veganism is not just a diet, it's a total lifestyle. Vegan beauty has emerged in recent years as a leading beauty trend, and is founded on the same fundamentals that guide the vegan way of life, where the consumption and use of meat, and other products of animal origin including dairy and eggs, are to be avoided.
In the beauty context, this means that vegan beauty products should be completely free of animal ingredients.
How does Picky define vegan beauty?
Vegan beauty can be tricky to really nail down. Picky strives to create the largest and most reliable vegan beauty database – we currently have over 1,000 vegan skin care products across 100 brands.
Here's quick 10-sec video on how to use the Picky vegan beauty filter:
This list is under continuous maintenance, using this rigorous two-step approach:
1. Identifying vegan brands
We began the journey of building Picky's vegan beauty database by identifying as many vegan brands as possible. This was done by reaching out to noted online communities passionate about vegan beauty (/VeganBeauty on reddit, for example, has been bookmarked by the team for their lively and constant discussions on all things vegan beauty), talking to corporate contacts active in the vegan beauty industry, and also on a personal level to vegan friends and acquaintances who have been practicing the lifestyle. We've found out that most "vegan brands" can be categorized into the following broad groups:
100% vegan brands: these are brands that have marketed and declared themselves as using only vegan ingredients in their products. Examples include renowned vegan beauty brands like as Aesop, Pacifica and even K-Beauty cult favorites such as Krave Beauty. Additionally, Picky's strategic location in Seoul allows us firsthand access into the upcoming movers and shakers in the K-Beauty industry. This has allowed us to identify new Korean vegan brands including Bonajour, Dear Dahlia and Melixir – niche but powerful brands that are shaping the industry.
Mostly vegan brands: not every brand marketed as vegan can commit to a completely vegan product line. For example, most of Dear Klairs' products are vegan, safe for one that contains honey, an animal-derived ingredient that does not fit vegan standards.
Brands with some vegan products: some mainstream brands have embraced the vegan beauty trend, and have increasingly included vegan products into their product lineup. Vegan products from these brands, for example Bliss, have been included into our vegan product database.
Can we be sure, then, that what these brands have declared to be vegan are true? Picky takes it a step further for you.
2. Picky Ingredient Analyzer – We do the nitpicking for you
To make sure that these vegan products are truly vegan, Picky additionally runs these brands and products through our internal ingredient analyzer, and filters out products containing animal ingredients*.
Most of the time, most products claimed by the brands to be vegan have turned out to be as such (which is a good thing)! However, just like the regular consumer, some brand owners may also be confused about what really constitutes veganism, and may wrongly define their products. We've seen several cases of supposedly "vegan" products contain ingredients like honey in their formulae, which is a huge no-no. This extra step taken by the team at Picky helps to safeguard our vegan users against such potential false/wrong marketing messages.
Example of a product marketed as vegan, despite containing honey: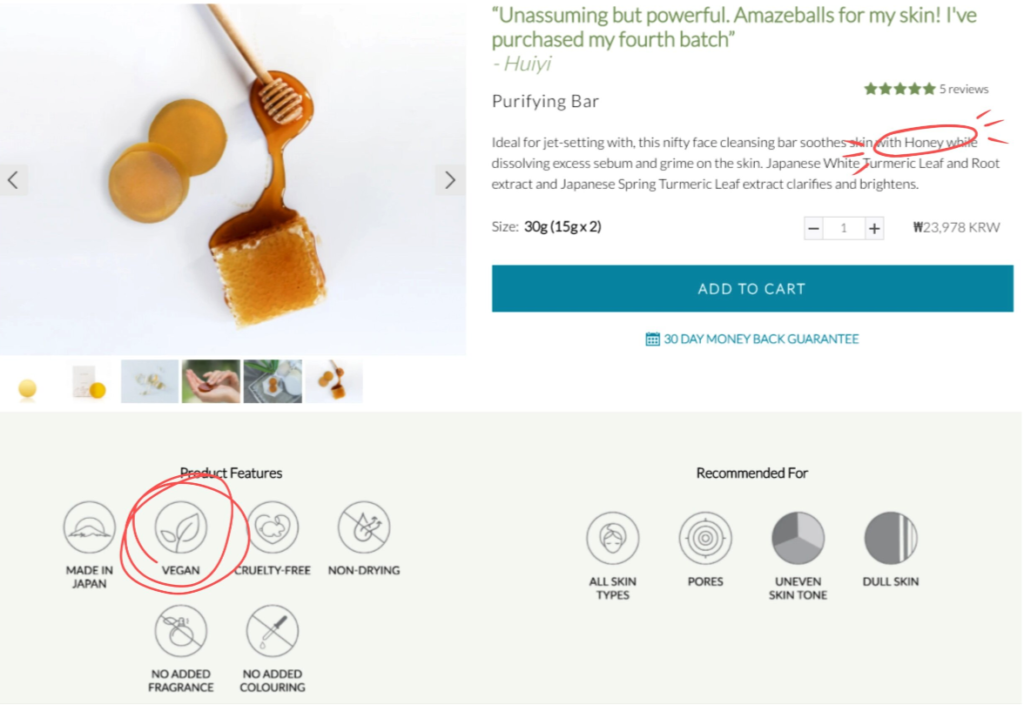 Just like the regular consumer, some brand owners may also be confused about what really constitutes veganism, and may continue to wrongly define their products. Make sure to check the vegan filter on Picky the next time you're searching for a vegan product!
Click here to view the complete list of exclusive filters, carefully maintained by Team Picky.
*There may be some ambiguity involving specific ingredients, for example hyaluronic acid, which may be an animal-derived or plant-derived ingredient. In order to maximize your browsing experience, we include these ingredients in our vegan filter for now, based on the belief that vegan brands would have done their due diligence to ensure that these ingredients have been obtained using plant-based manufacturing methods. We are constantly refining this methodology and working on presenting these information to you in a clearer, more transparent manner.