We can't believe how much our Picky community has grown over the year! Thanks to our passionate users there are countless quality reviews, recommendations, advice and so much more. So the Picky Team wanted to recap the most buzzed about products and brands to share with you in our Top Skincare of 2020 on Picky!
Most Reviewed Skincare Products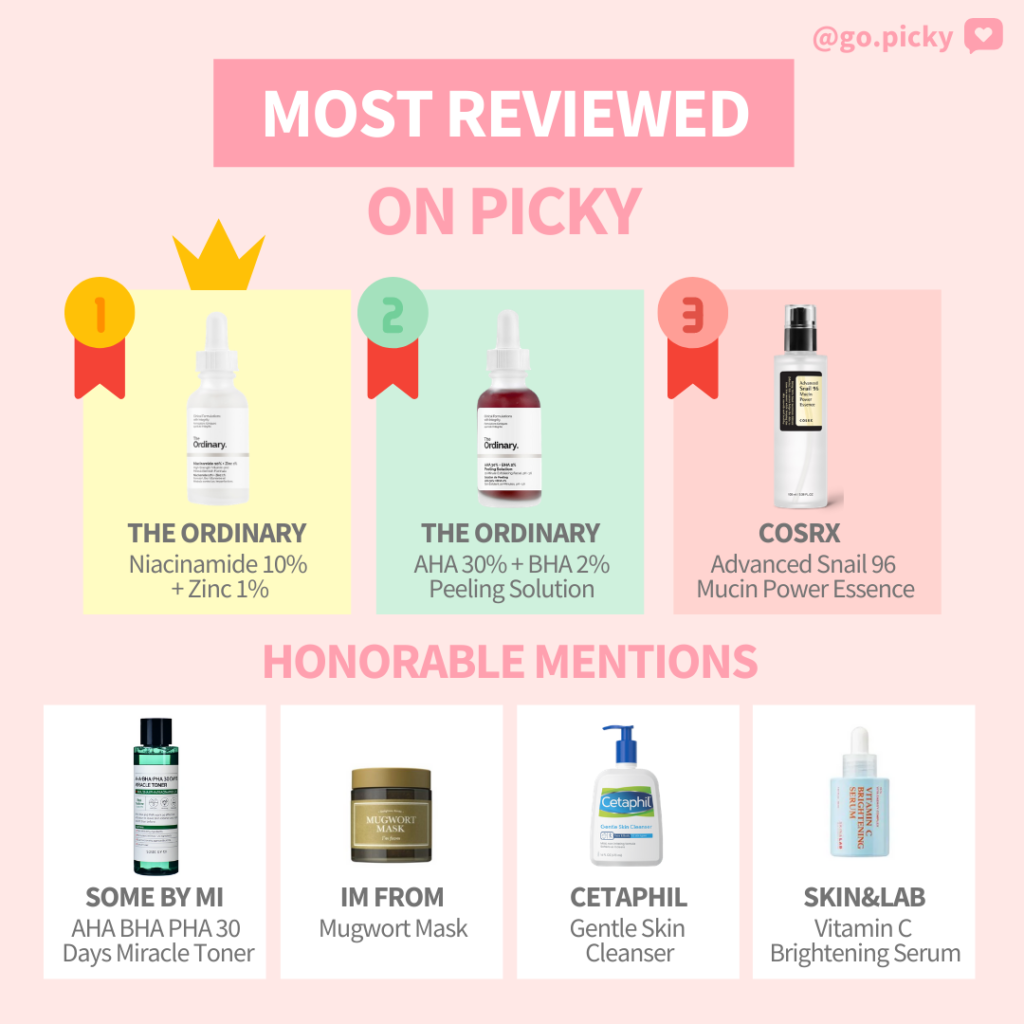 When it comes to reviews, these products far out run their competitors.
The Ordinary's Niacinamide 10% + Zinc 1% steals the show with a whopping 223 reviews!
In second place is COSRX's Advanced Snail 96 Mucin Power Essence with 154 reviews.
Third we have, yet again, The Ordinary with their AHA 30% BHA 2% Peeling Solution at 137 reviews.
Honorable mentions include Some By Mi's AHA BHA PHA 30 Days Miracle Toner, I'm From's Mugwort Mask, Cetaphil's Gentle Skin Cleanser and Skin&Lab's Vitamin C Brightening Serum. Make sure to check out these products and their stellar reviews.
Most Talked About Skincare Products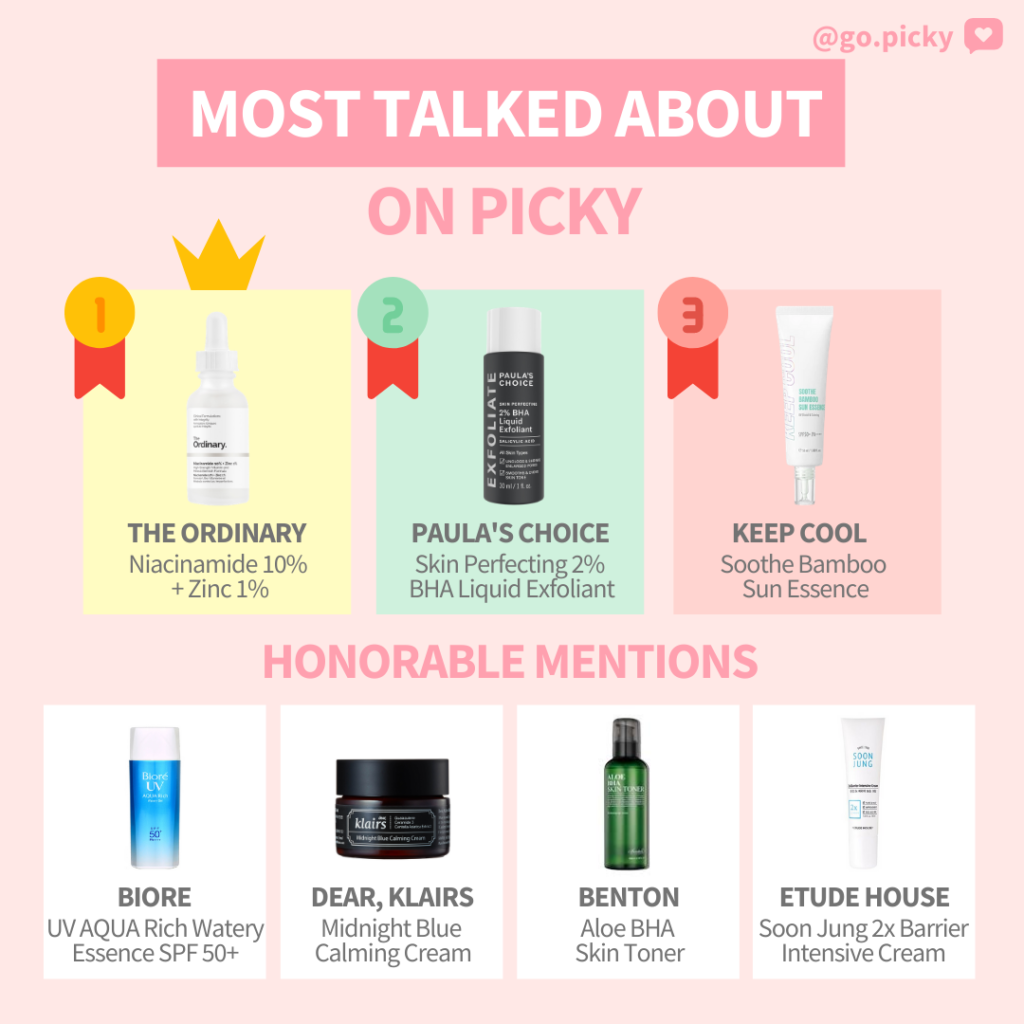 The Q&A feed on Picky is full of amazing product recommendations, discussions and questions. So we pulled the products most buzzed about on Picky, and the list goes as follows:
The Ordinary's Niacinamide 10% + Zinc 1% holding a strong lead in this category too with 416 tags and mentions.
Second place is Paula's Choice Skin Perfecting 2% BHA Liquid Exfoliant with 411 tags and mentions.
Making it's way into the top three is Keep Cool's Soothe Bamboo Sun Essence with 297 tags and mentions.
Honorable mentions include Biore's UV AQUA Rich Water Essence SPF 50+, Dear Klairs' Midnight Blue Calming Cream, Benton's Aloe BHA Skin Toner and Etude House's Soon Jung 2x Barrier Intensive Cream. See what people are talking about on Picky on the Q&A tab!
Most Search Brands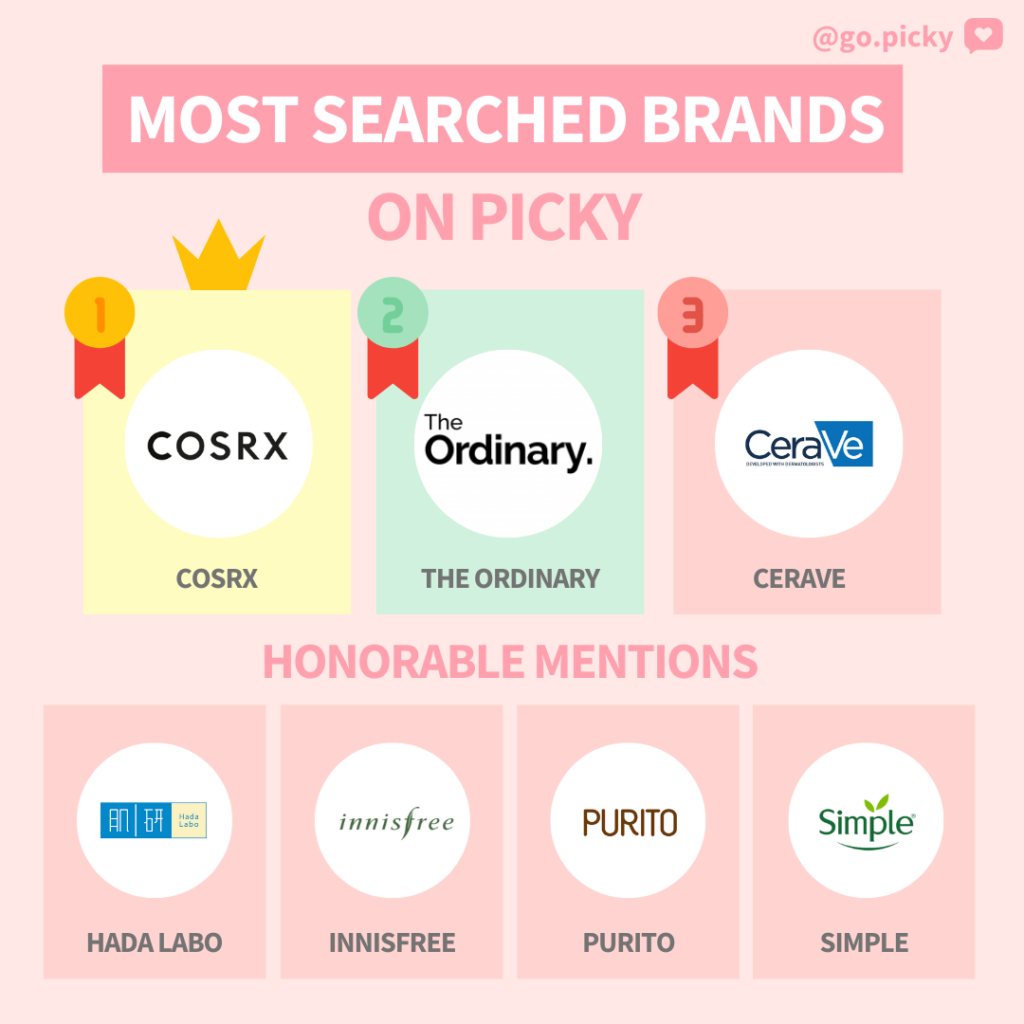 Something surprising Picky learned this year is how often Picky users search for brands over products. So we dedicated a category to showcase the most searched for brands!
First up is COSRX
Next is The Ordinary
Third place is CeraVe
Honorable mentions include Hada Labo, Innisfree, Purito and Simple as the most searched! You can look forward to browsing a brand's detail page soon on Picky, containing all the products, reviews and discussions about the brand and brand products all in one spot!
Rising Stars on Picky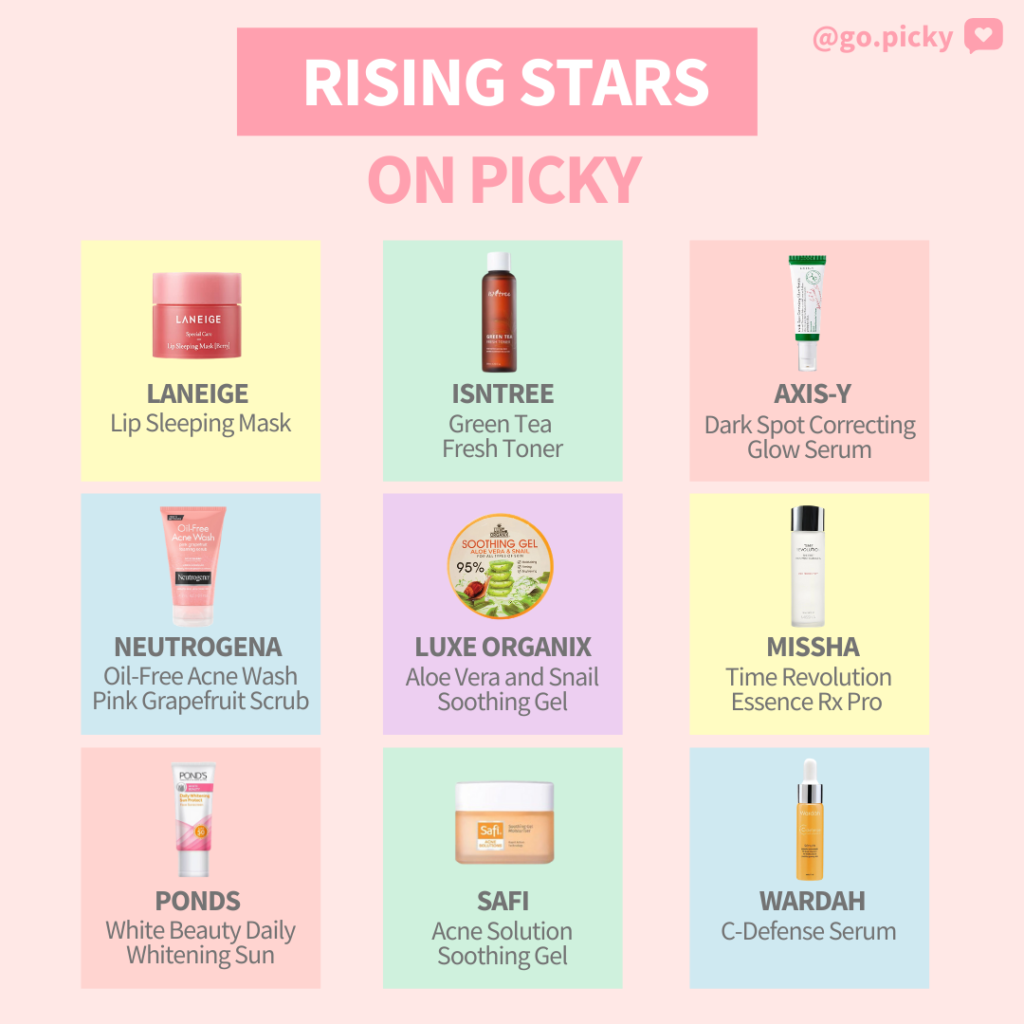 Of course we have to give a shout out to the brands and products that are on the rise in Picky. Here we have Laneige's Lip Sleeping Mask, Isntree's Green Tea Fresh Toner, Axis-Y's Dark Spot Correcting Glow Serum, Neutrogena's Oil-Free Acne Wash Pink Grapefruit Foaming Scrub, Luxe Organix's Aloe Vera and Snail Soothing Gel, Missha's Time Revolution The First Treatment Essence Rx Pro Ferment, Ponds' White Beauty Daily Whitening Sun Protect, Safi's Acne Solution Soothing Gel Moisturizer and Wardah's C-Defense Serum! Get more details about these products on Picky!
Most Popular on Picky
We took all factors into account to measure products' popularity on Picky. Number of 'Picks,' ranking, amount of views and number of reviews. All of these were calculated together to bring you the top skincare products of 2020 on Picky!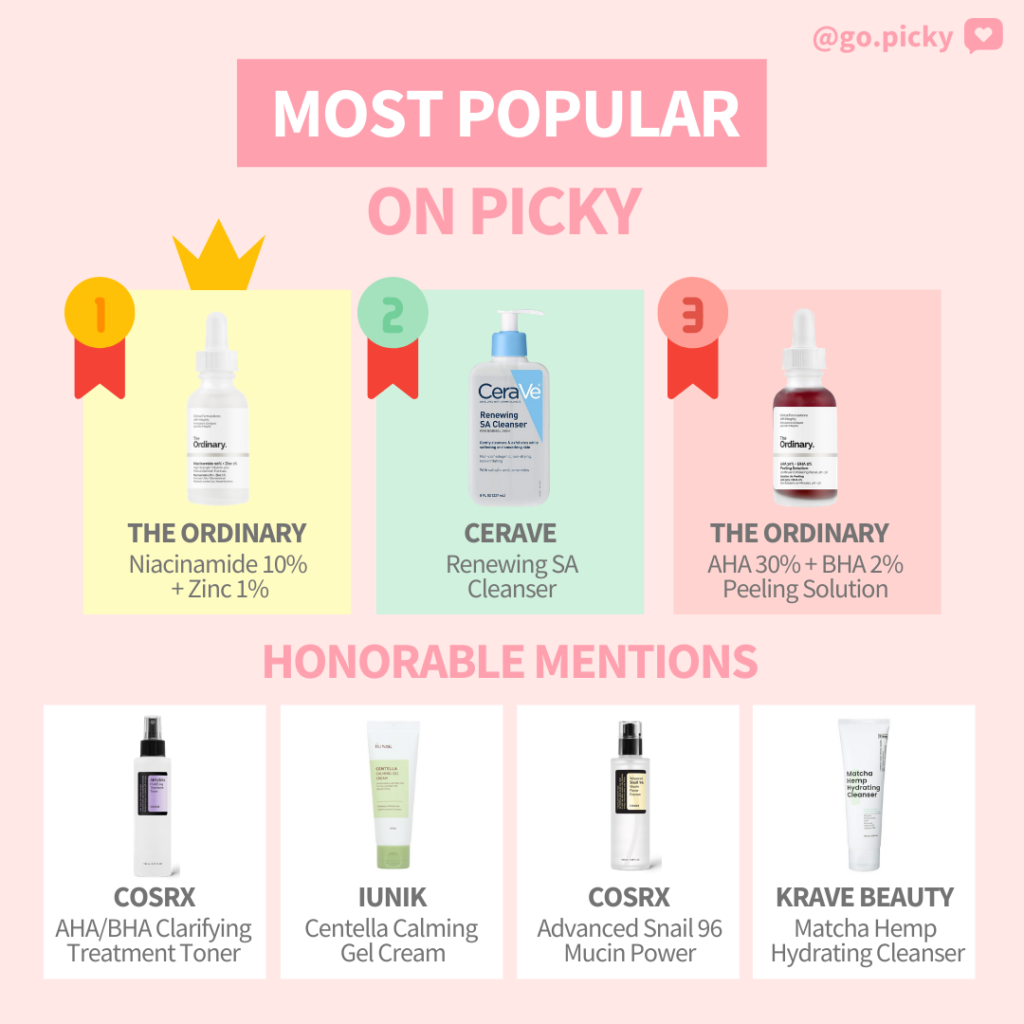 Number one should be no surprise! The Ordinary's Niacinamide 10% + Zinc 1% is the most popular skincare product of 2020 on Picky! Second is CeraVe's Renewing SA Cleanser and third is another hot product from The Ordinary, AHA 30% + BHA 2% Peeling Solution!
Honorable mentions! We should definitely list out those skincare products that also had an impact on Picky this year: COSRX's AHA/BHA Clarifying Treatment Toner, Iunik's Centella Calming Gel Cream, COSRX's Advanced Snail 96 Mucin Power and Krave Beauty's Match Hemp Hydrating Cleanser.
Thanks for Being Picky!
We want to thank all of those using Picky and part of the Picky community for sharing your passion for skincare with us. These awards were decided by your actions on the app and reflect all of your interest and interactions! So thanks for making our Top Skincare Products of 2020 on Picky possible.
If you're curious about these products and want more details. Head to the Picky app and check out their product detail pages. You can find where the product has been tagged or mentioned in Q&A, reviews, ratings, ingredient analysis and so much more. Click here to find more product and skincare science related content, and don't forget to follow us on instagram for more fun!