New year, new Super Picky Squad! We have some fun new changes coming to our Picky community. And we decided with the new year, it's the best time to hit 'refresh' on our Super Picky Squad so we can re-vamp and improve!
Requirements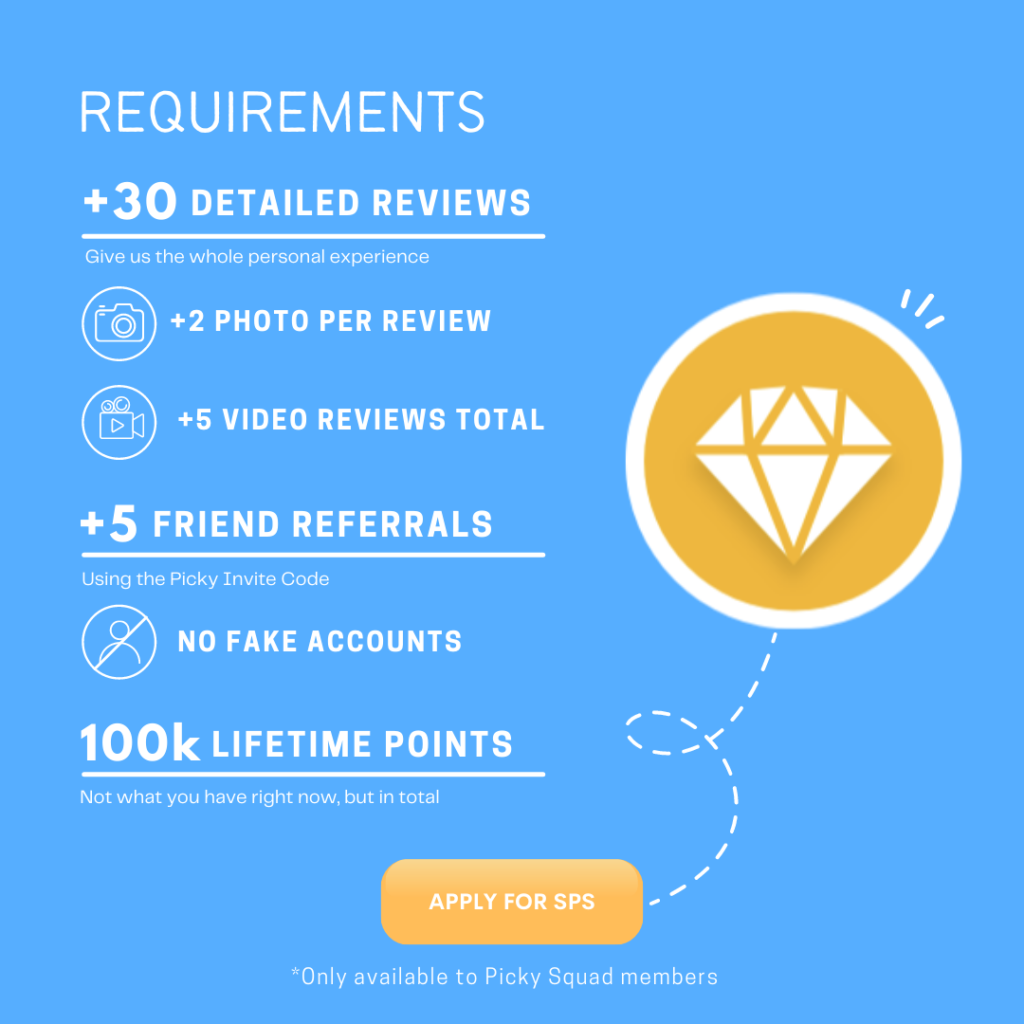 To be a Super Picky Squad member, there's quite a high bar to reach. But we'll lay everything out so you know exactly how to achieve this ultimate status. What we're looking for is…
30+ Detailed Reviews. Including:

2 photos per review
At least 5 video reviews in total

5+ Friend Referrals
100k Lifetime Picky Points
Detailed Reviews
Our guideline for detailed reviews mean highlighting that personal experience with a product. Explanation of the texture, skin feel, scent, results and more details as they relate to YOU. Not just the information on the bottle. Plus, two photos showing product, texture, before and after, etc for each product review. And starting from our last feature update, at least five video reviews!
Friend Referrals
Inviting others to Picky through the Invite Code is another requirement to be a Super Picky Squad member. But careful, adding fake accounts just to achieve this will ultimately block you from being a member.
Picky Points
For Super Picky Squad members, 100,000 points will most likely be a breeze! And no, we don't mean in your account right this second, instead we're talking lifetime points!
Super Squad Benefits
What comes with being in the squad? Well, besides the bragging rights and awesome badge, you can also have access to exclusive events and programs. Not to mention, special features on our social media channels. We'll be highlighting your A+ quality content from Picky through our Instagram and other media.
Monthly Refresh
If you don't make it this month, there is always the next! So don't give up because there's always a chance. This also means that if you are currently a Super Picky Squad, make sure to stay active because that Super Squad badge isn't permanent once you achieve it. But don't worry, you don't need to write another 30 detailed reviews every month. Rather we just want to make sure you're staying active! As long as you're continuing to contribute to the community via detailed reviews, thoughtful comments or posts, you'll be refreshed into the next month's batch!
There's a grace period for current Super Picky Squad members, as of February 1st, if you don't fulfill the new requirements your status will be downgraded to Picky Squad.
Eligibility
To apply to be a Super Picky Squad member, you need to have passed the requirements for Picky Squad. Without passing this level, you won't be able to selected as a Super Squad member. If you're part of the Picky Squad, you can fill out the form via your Picky Point page on the app for a chance at becoming a Super Squad member!
How You'll Know If You've Been Accepted
Easy, with an email! Picky will notify those that have successfully applied for the Super Picky Squad via email. We only refresh the Squad monthly, so if you've applied during one month and have been accepted, expect the email to come at the beginning of the following month.