New Picky Reviewer event with youth focused K-beauty brand Mauve Fantasticever! There are three different products up for review: Hydro Mafia Booster, Cool Kids Never Sleep Cream and Flash Architect. This Picky Reviewer event is limited to certain countries, so make sure to read the whole way through to get all the details and see if you're eligible to sign up!
Event Details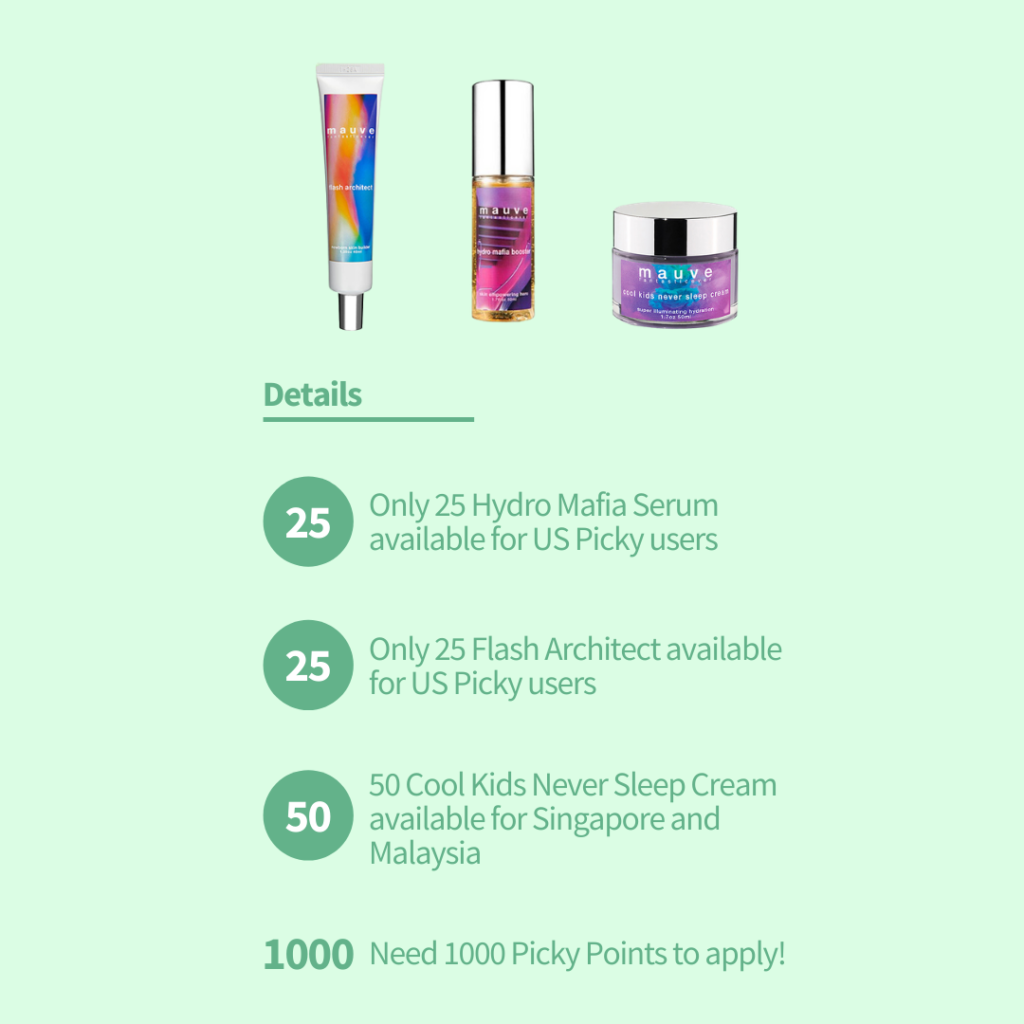 What?
We have 25 Hydro Mafia Boosters and 25 Flash Architect products for Picky users in the US! Also we have 50 Cool Kids Never Sleep Creams for Singapore and Malaysia! Want to know more about these products? Keep scrolling to see our Picky ingredient analysis!
Who?
The Hydro Mafia Booster and Flash Architect are only available for Picky users in the US. Cool Kids Never Sleep Cream is available for Singapore and Malaysian Picky users only. 1000 points needed to sign up!
How To Sign Up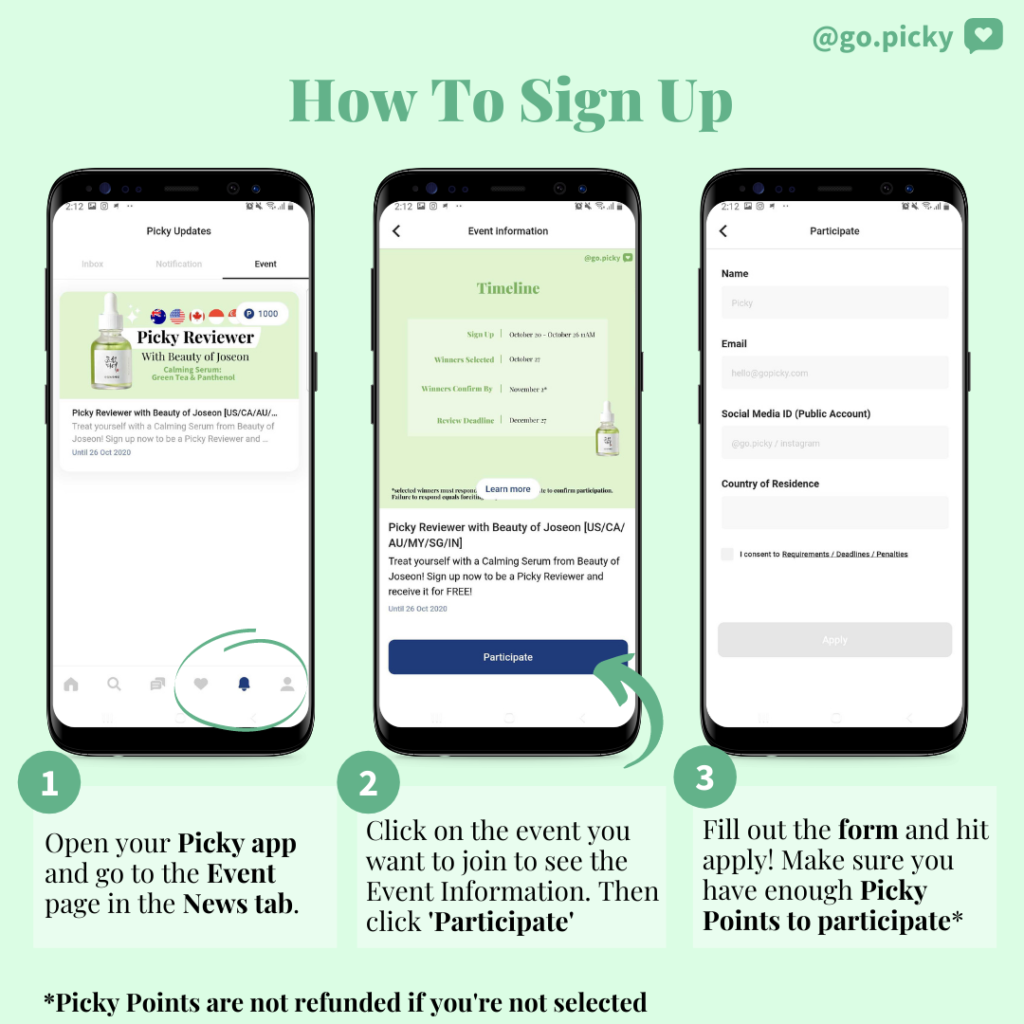 1. Sign Up
Go to the News tab in Picky and click on the Event page. Then find the Picky Reviewer with Mauve Fantasticever event banner for the product you want to apply for and hit 'participate.' Take note that tagging your friends and sharing our post on social media will boost your chances of being selected!
2. After Selection
If you're selected, you will be notified through email! Make sure to confirm your participation by providing a valid shipping address by the given due date, otherwise the Mauve Fantasticever product will be given to someone else!
Reviewer Rules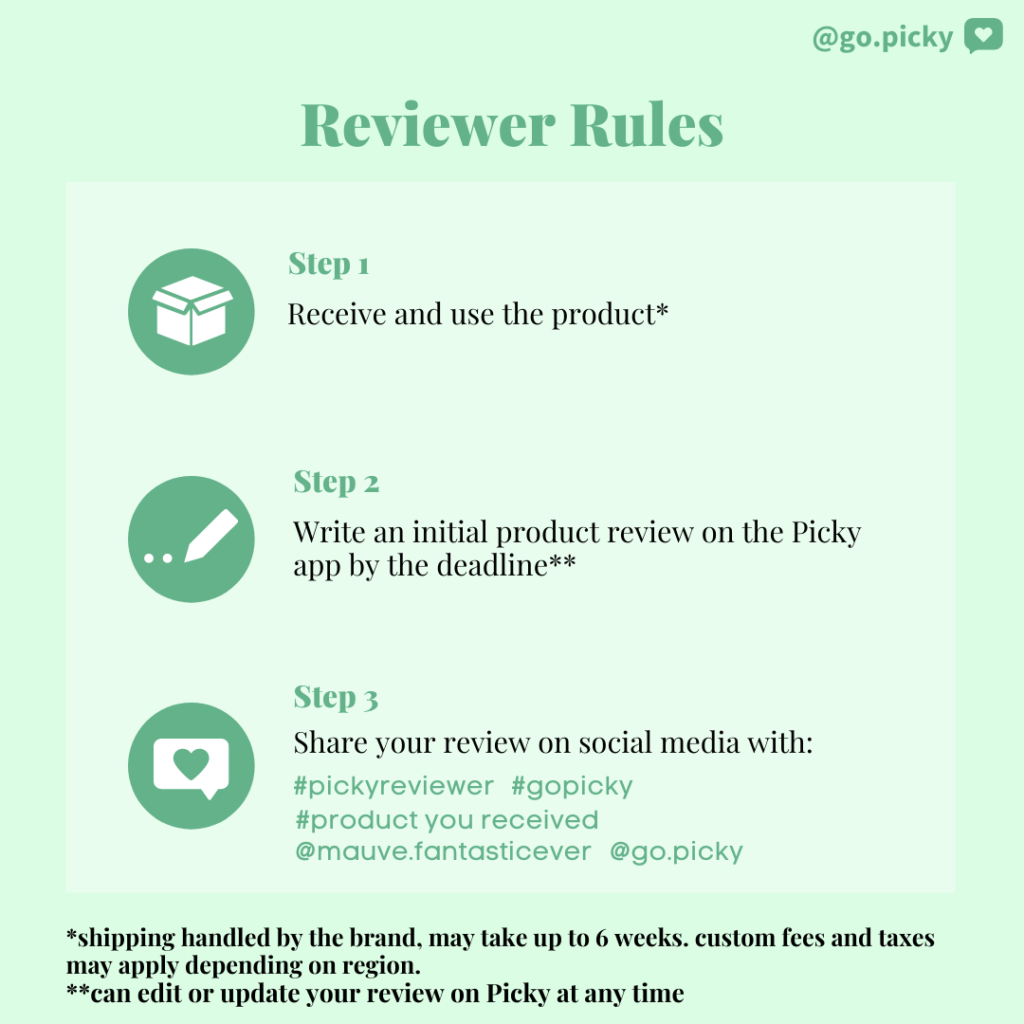 Receive and use the product
Leave an initial product review on the Picky app. You can update your reviews on Picky at any time! So if you see a big difference after a month of use, let us know!
Share your review on social media (Instagram and/or Facebook) with the hashtags #pickyreviewer #gopicky #mauvefantasticever #product your received and tag @mauve.fantasticever and @go.picky.
Timeline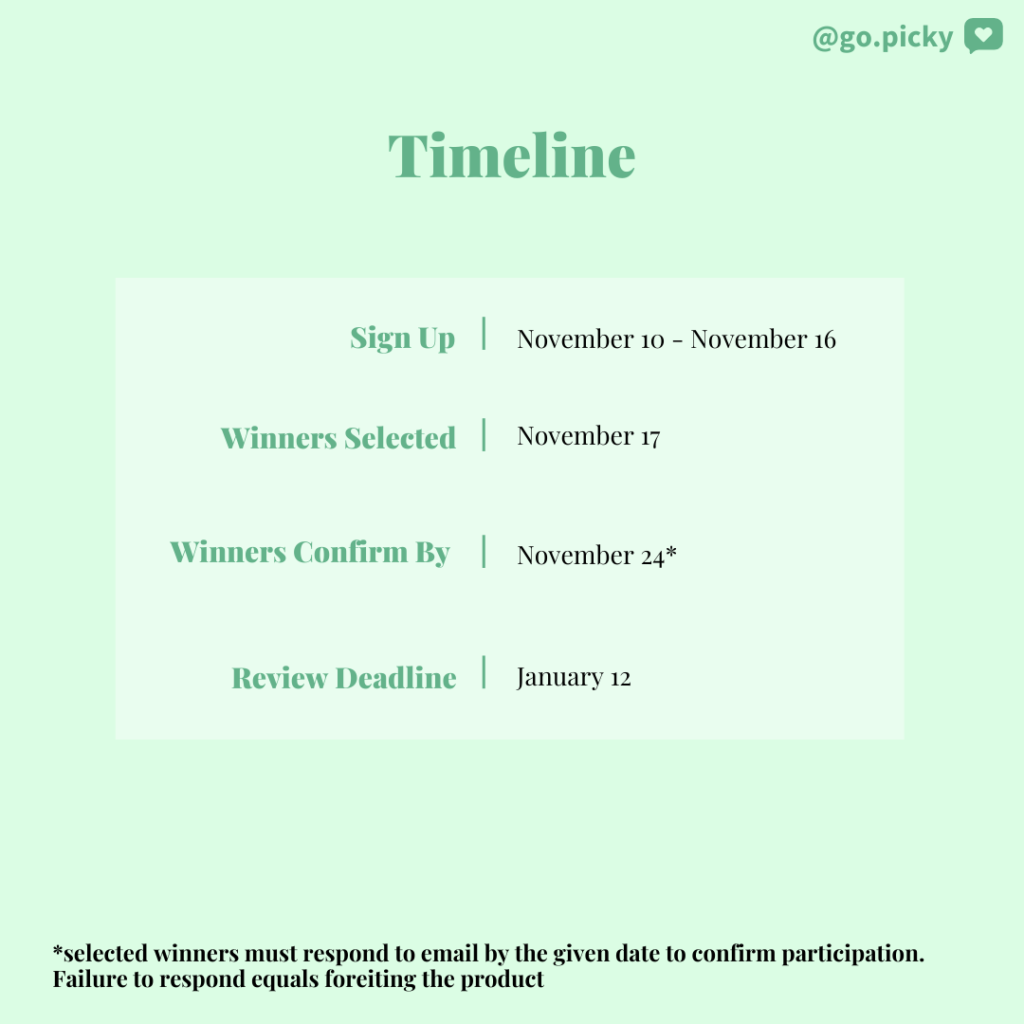 Sign up period: November 10 – November 16
Winners selected: November 17
Winners confirmation needed by November 24 (11AM)
Reviews need to be submitted and uploaded by January 12 (11AM)
*Time is in Korea Time Zone
Product Highlight
Hydro Mafia Booster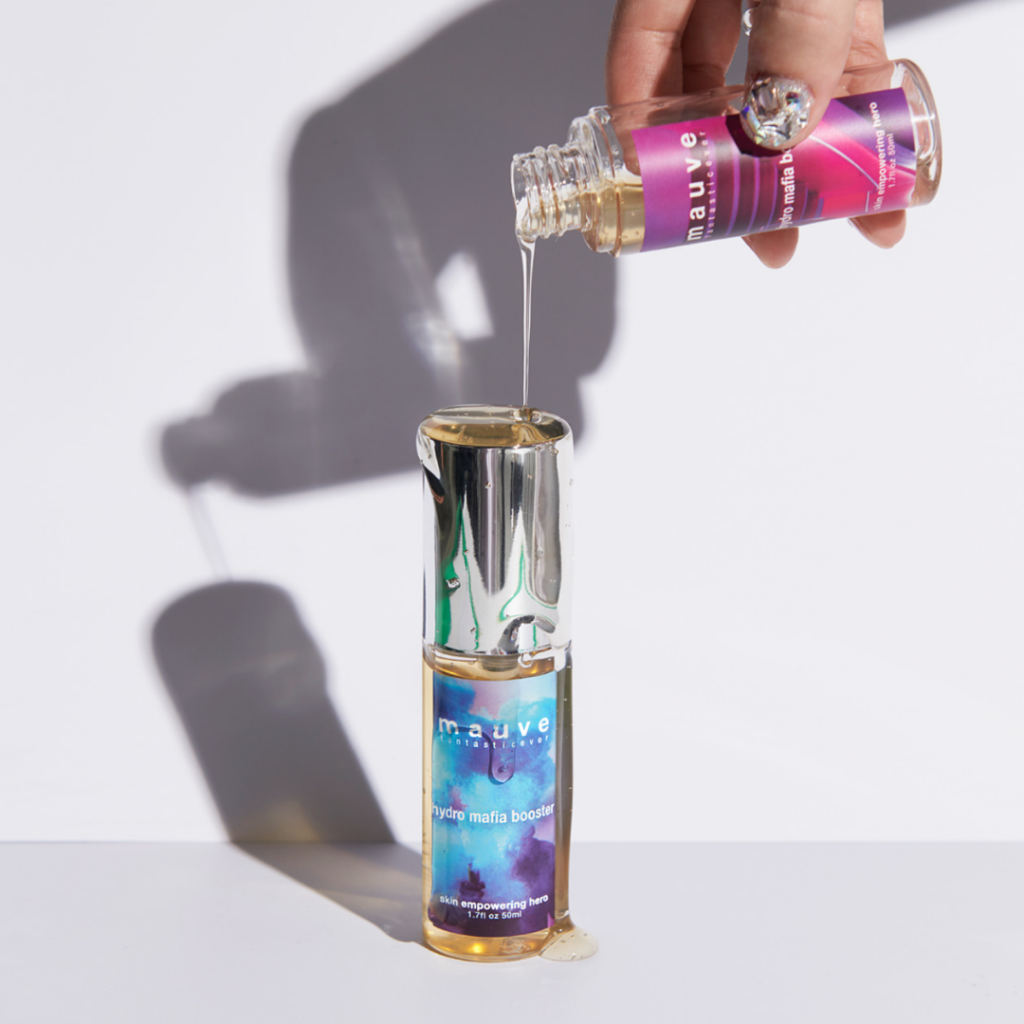 The Hydro Mafia Booster can help with dry skin or to add a little boost to the end of your routine. With ingredients like polyglumatic acid, cellulose and green tea, this booster can pump up the soothing hydration your skin needs! Contains CNF (cellulose nano fibers), a new technology that helps restore moisture and deeper penetration of actives! Normally priced at $22 USD, but try it for free as a Picky Reviewer.
Flash Architect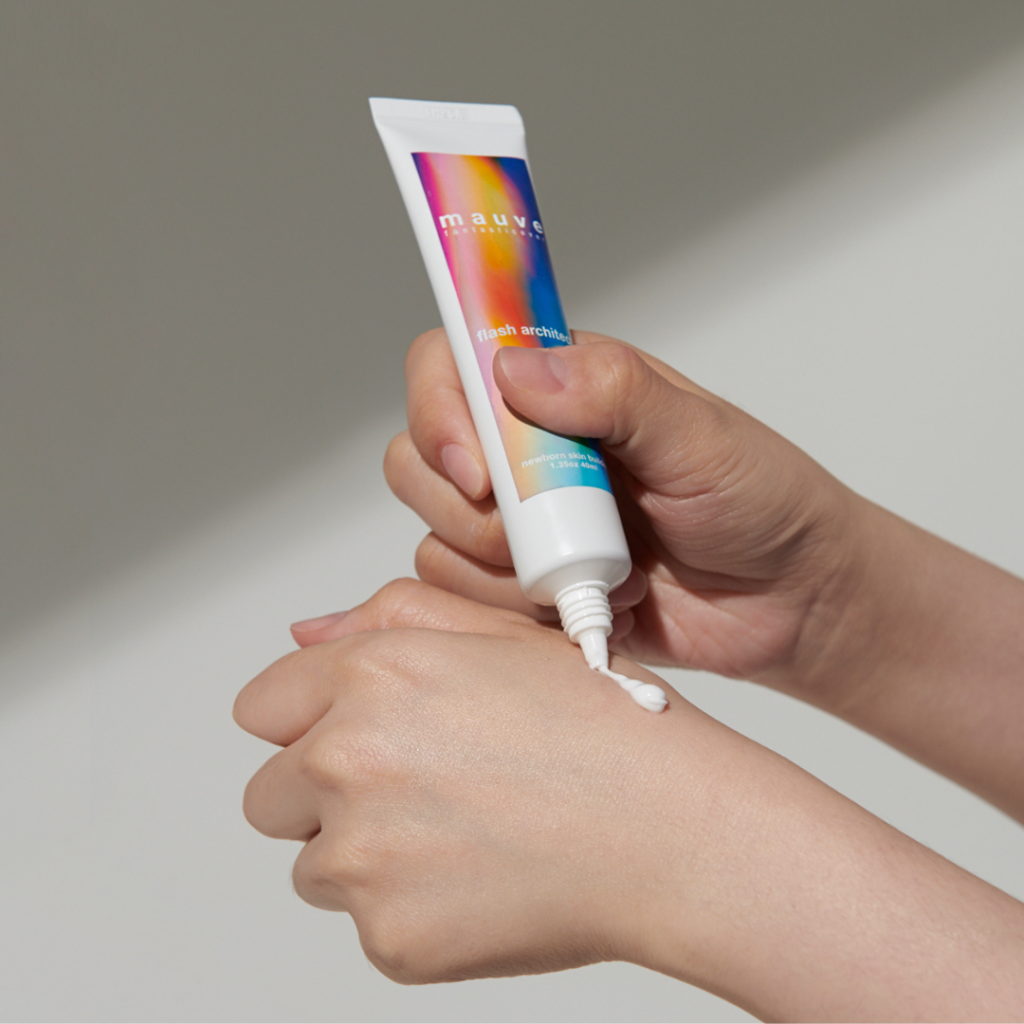 The Flash Architect is a light cream that turns into a water texture, making it perfect for oily and acne prone skin. But those with dry skin types shouldn't feel left out because this product also includes CNF which can help give 3 times more hydration to your skin than hyaluronic acid! Includes niacinamide, burdock root and perilla seed for discoloration and pore care. Normally this cream goes for $22 USD, but try it out for free!
Cool Kids Never Sleep Cream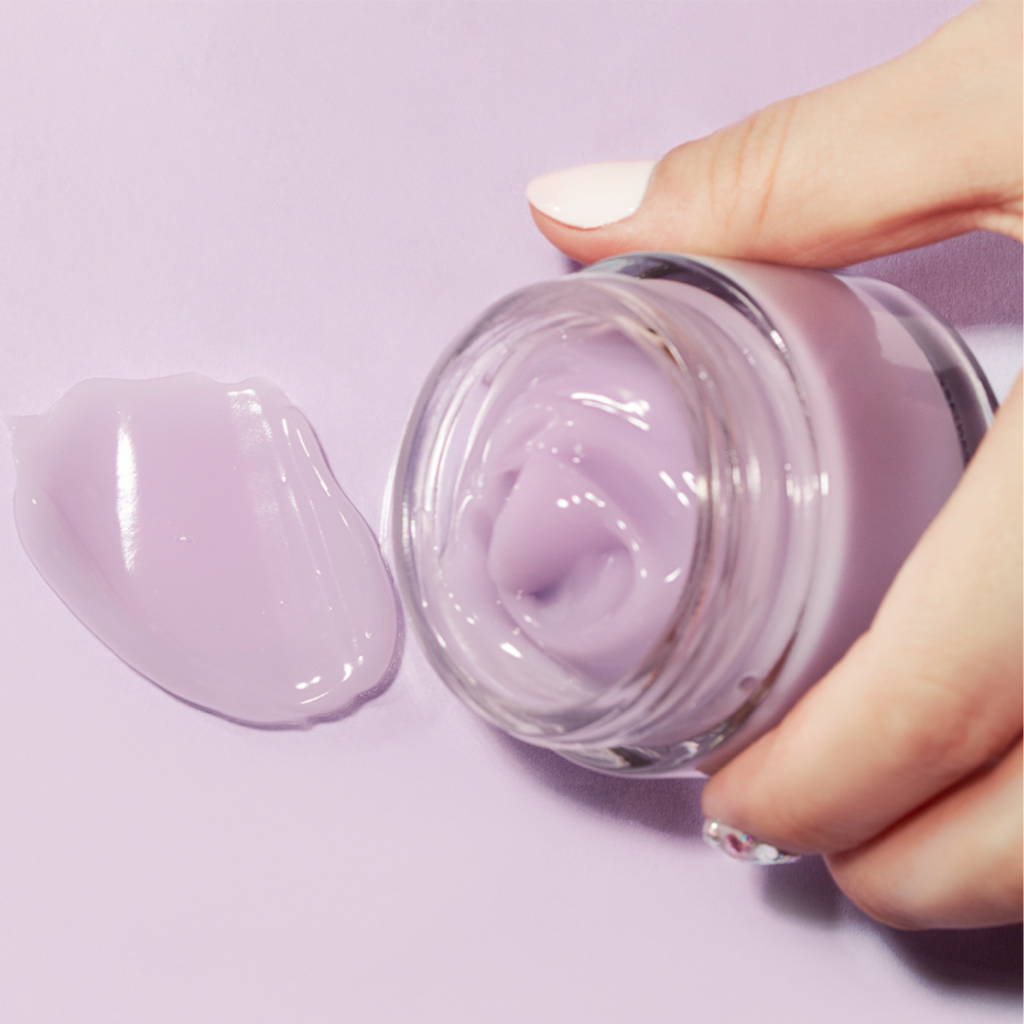 The Cool Kids Never Sleep Cream has a jelly texture, but melts into a light weight cream that hydrates and replenishes your skin. With soothing and refreshing ingredients like dragonfruit extract, aloe vera and squalane, this cream can help restore your complexion. We recommend doubling up on this cream for nighttime use to get that extra hydration. Try this normally $29 USD cream for just…well free!
Terms & Conditions for Picky Reviewer Event with Mauve Fantasticever
After the review deadline, we will send a follow up email to ensure all requirements have been fulfilled! So make sure the email address you give us is correct.
Reviews that lack quality or don't fit our guidelines will be shortlisted for the next review event.
Fail to meet requirements and you will be blacklisted for all upcoming events.
Head to the Picky App now and sign up for the Picky Reviewer with Mauve Fantasticever event!