Depending on where you live, winter could be just around the corner! But despite the cold weather, you should always lather up on that SPF. Harmful UV rays are present all year round, so don't let your guard down. There are many different types of sunscreens, and finding "the one" for you can be a journey. We're here to help ease that burden by shedding some skincare science insight on different sunscreen formulations!
1. Emulsion-based
Emulsion-based sunscreen formulations are the most commonly found products on the market. They can come in O/W (oil in water) or W/O (water in oil) based formulations. Generally, thinner and more watery emulsions are labeled as lotions, fluids or milks. Meanwhile, emulsions that are thicker are called creams and gel-creams (lighter weight cream). They can also easily incorporate any ingredient like a humectant, emollients, moisturizing agents, anti-oxidants or anti-aging active ingredients!
Advantages
An O/W emulsion can give your skin a smooth and silky feeling with minimal greasiness and quick absorption! But may be easily washed off in water. On the flip side, W/O emulsions are a bit greasier feeling and have less penetration of actives, but offer a better water-resistance and protection against humidity and cold.
Disadvantages
Emulsions are thermodynamically unstable, meaning in high temperatures emulsion sunscreens might destabilize and separate. So make sure to shake well before using! Re-applying can also be a bit of a messy process.
Picky's Picks
Lotion: All skin types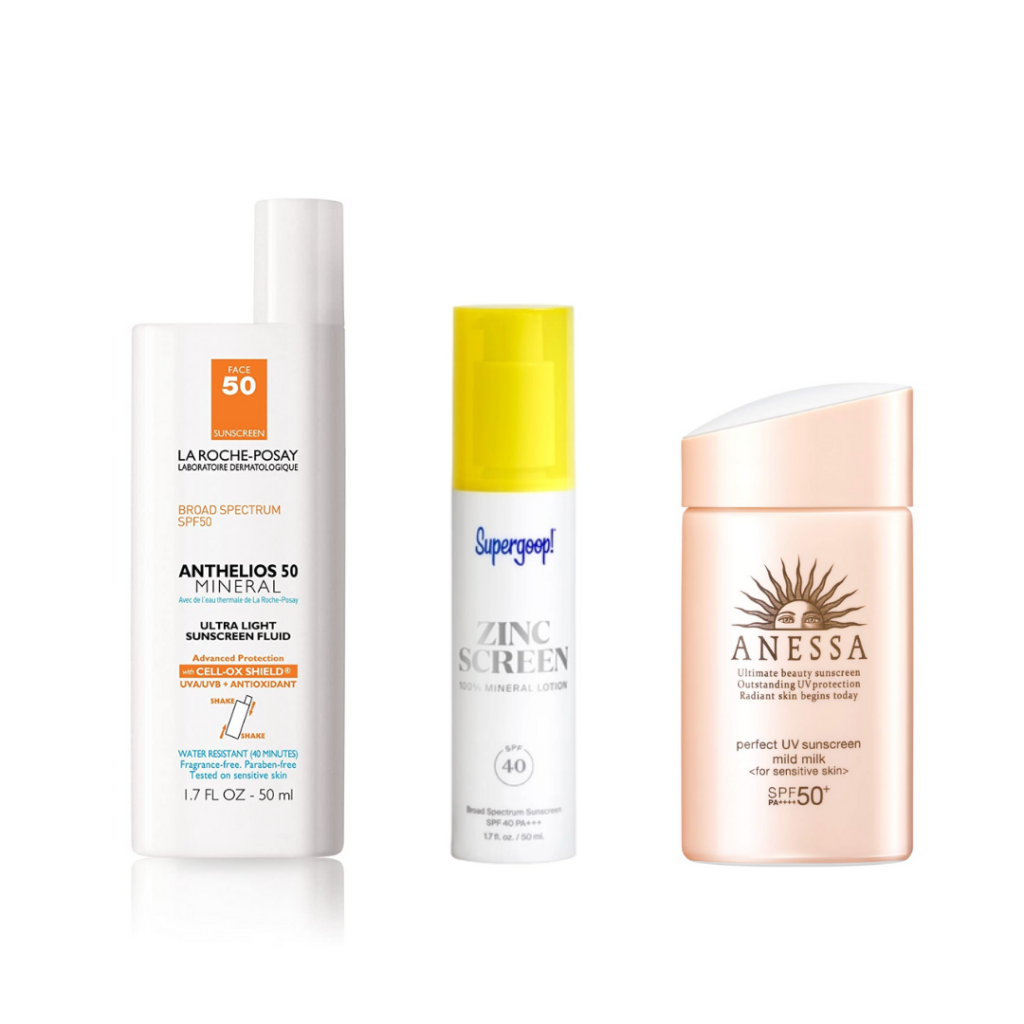 La Roche-Posay Anthelios Mineral Ultra-Light Fluid Broad Spectrum SPF 50 (mineral). Supergoop! Zincscreen 100% Mineral Lotion SPF40 PA+++ (mineral). Anessa Perfect UV Mild Milk (organic).
Cream: Normal to dry skin types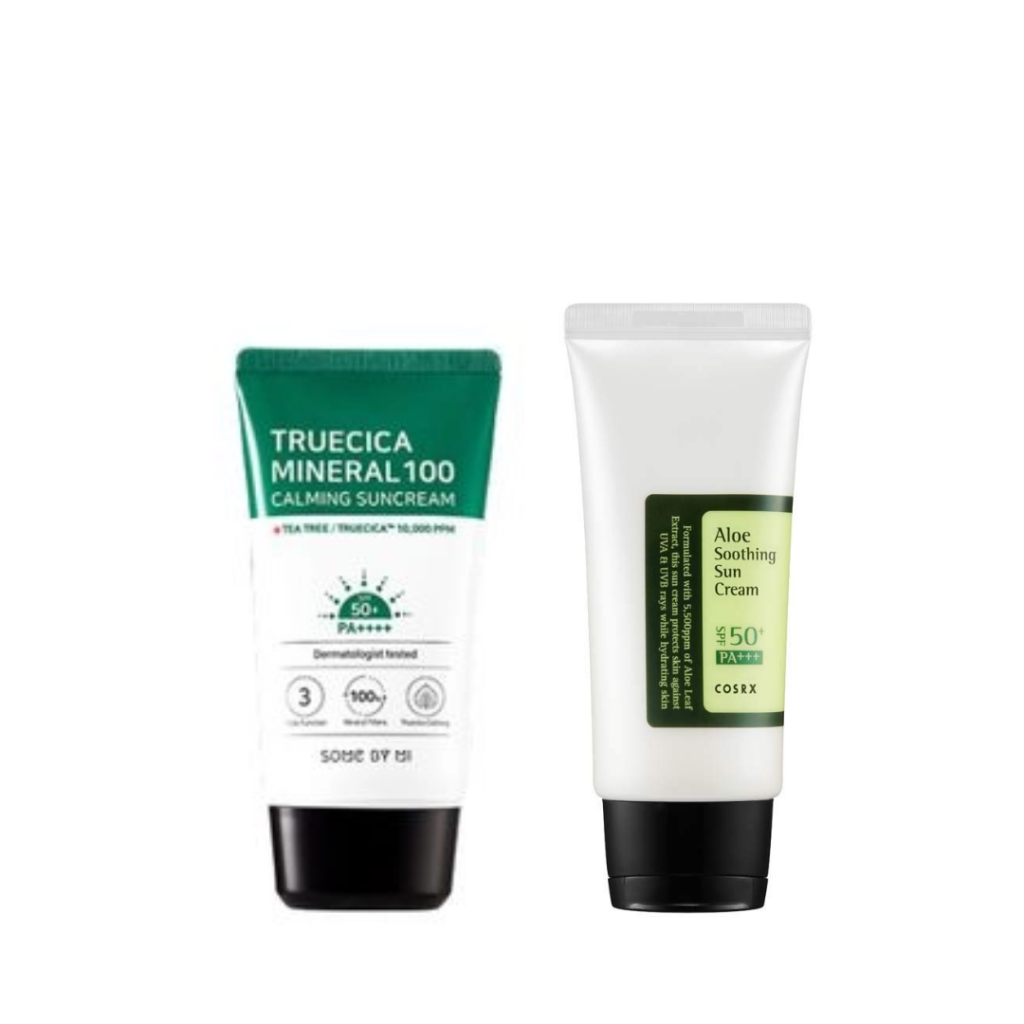 Some by Mi Truecica Mineral 100 Calming Sunscreen (mineral). Cosrx Aloe Soothing Sun Cream SPF50 PA+++ (organic).
Gel-Cream: All skin types (oily and acne prone especially)
2. Gel-based
Gel based sunscreen formulations mixes of liquid phase (usually water, alcohol or oil) with polymeric gelling agents.
Advantages
From an aesthetic perspective, sunscreen gel is ideal. It's clear, pure and elegant. They're lightweight and soft on the skin, no stickiness or greasiness left behind with these formulations.
Disadvantages
However, most of gel-based sunscreens come with a lower SPF rating, poor water-resistance, and have an alcohol base that can be drying for skin.
Picky's Picks
Gels: Oily and acne prone skin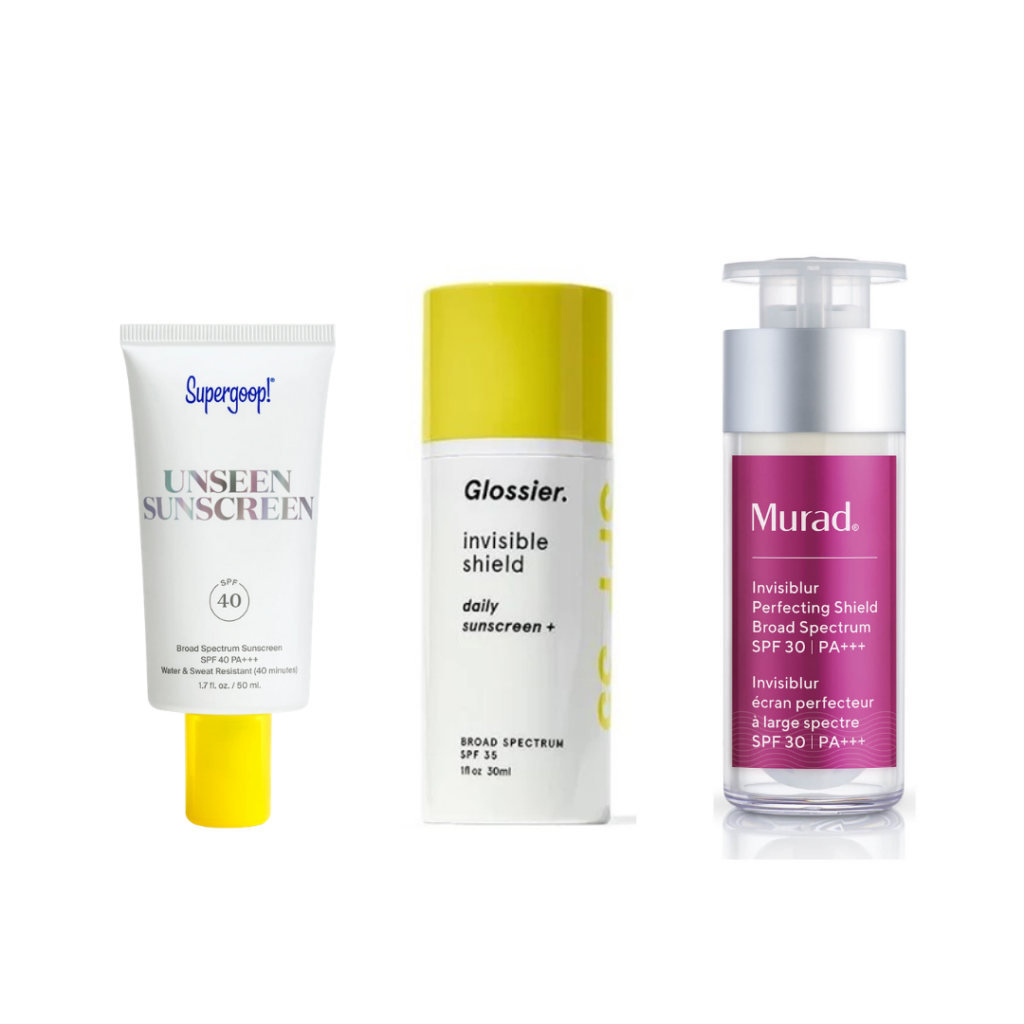 Supergoop Unseen Sunscreen (organic). Glossier Invisible Shield SPF 35 (organic). Murad Invisiblur Perfecting Shield SPF 30 (organic).
3. Sun stick/balm
Sunscreen sun sticks usually contain oils and oil soluble ingredients that are thickened with waxes or petrolatum.
Advantages
Great for applying to smaller areas like the lips. Super convenient when applying to toddlers and easy to retouch. Compared to other sunscreen formulations, this one has the most water-resistance. Great for water activity, toddlers and extremely dry skin.
Disadvantages
Sun sticks/balms tend to have a heavy, oily or greasy feeling on the skin. It's also difficult to apply to large areas.
Picky's Picks
Sun Stick/Balm: Dry skin types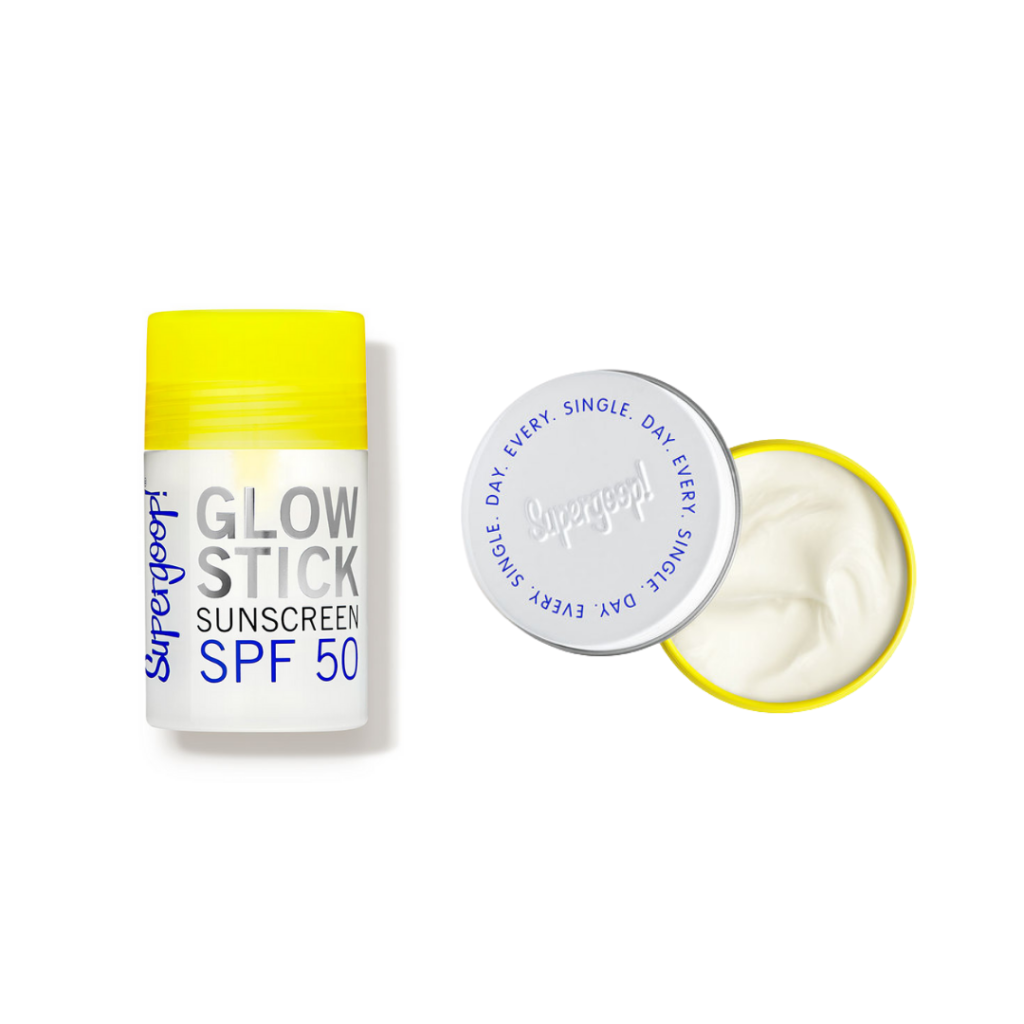 Supergoop! Cloud 9 100% Mineral Sun Balm SPF 40 (mineral). Glow Stick SPF 50 (organic).
4. Oil-based
Oil-based sunscreen formulations are the oldest type in the book, only containing one phase: Oils! Great to use as a body oil and can really give your skin that radiant glow.
Advantages
Easy to apply and excellent product stability!
Disadvantages
Heavy and greasy on the skin. Poorest SPF performance and therefore needs to be reapplied frequently. Since oil based sunscreen has a pretty poor performance, we don't recommend using this type as your main source of protection. Maybe just stick to using this as a lip or body oil instead.
Picky's Picks
Oil-based: Body and makeup highlight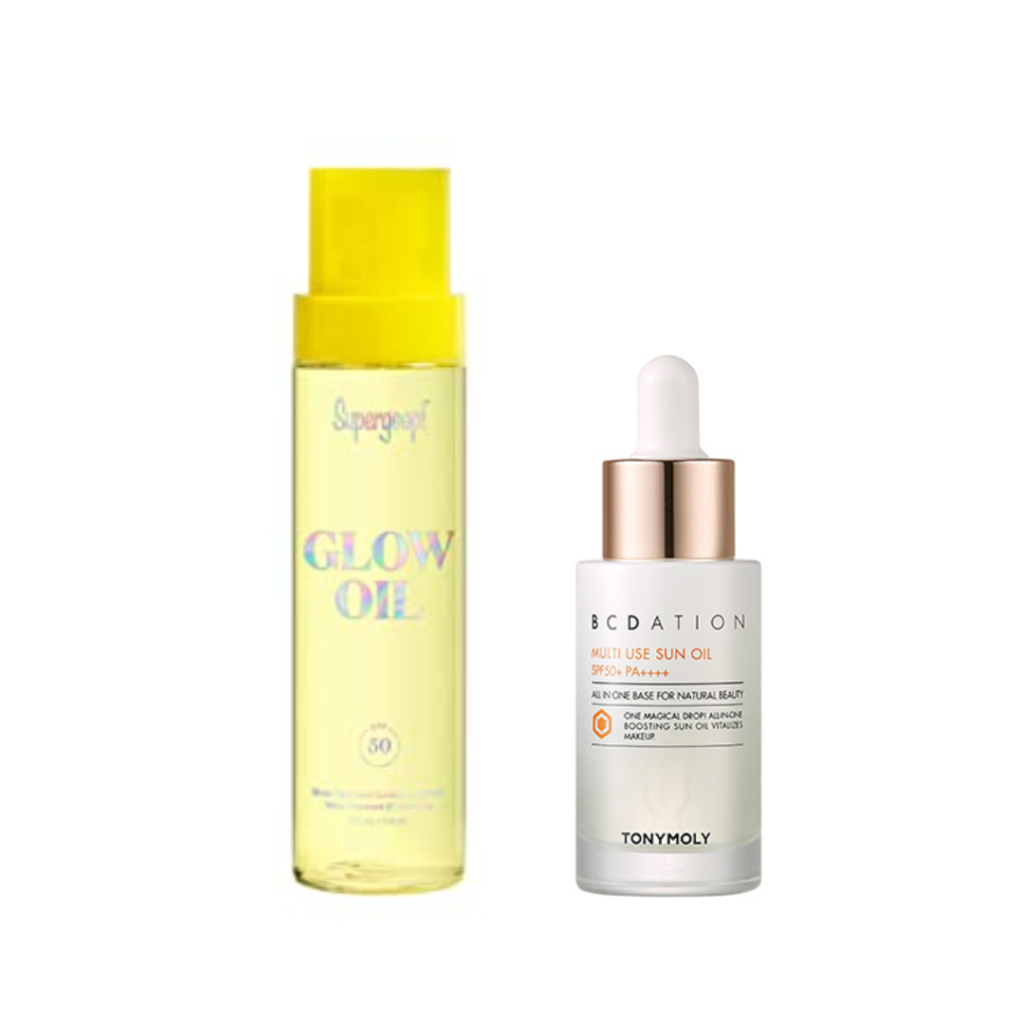 Tony Moly's Bcdation Sun Oil and Supergoop! Glow Oil SPF 50.
5. Aerosols
Aerosols are colloidal dispersions of liquid in the air. These products are easy to spread on the skin's surface and form a thin film on the skin.
Advantages
Easy to apply and re-apply. Convenient for applying to large areas.
Disadvantages
Since they're mostly oil-based, they can be a bit greasy. They can also form uneven film on the skin, reducing the effectiveness and protection. It can be harmful if accidentally sprayed into the eyes.
Picky's Picks
Aerosols: Reapplying to the body or on makeup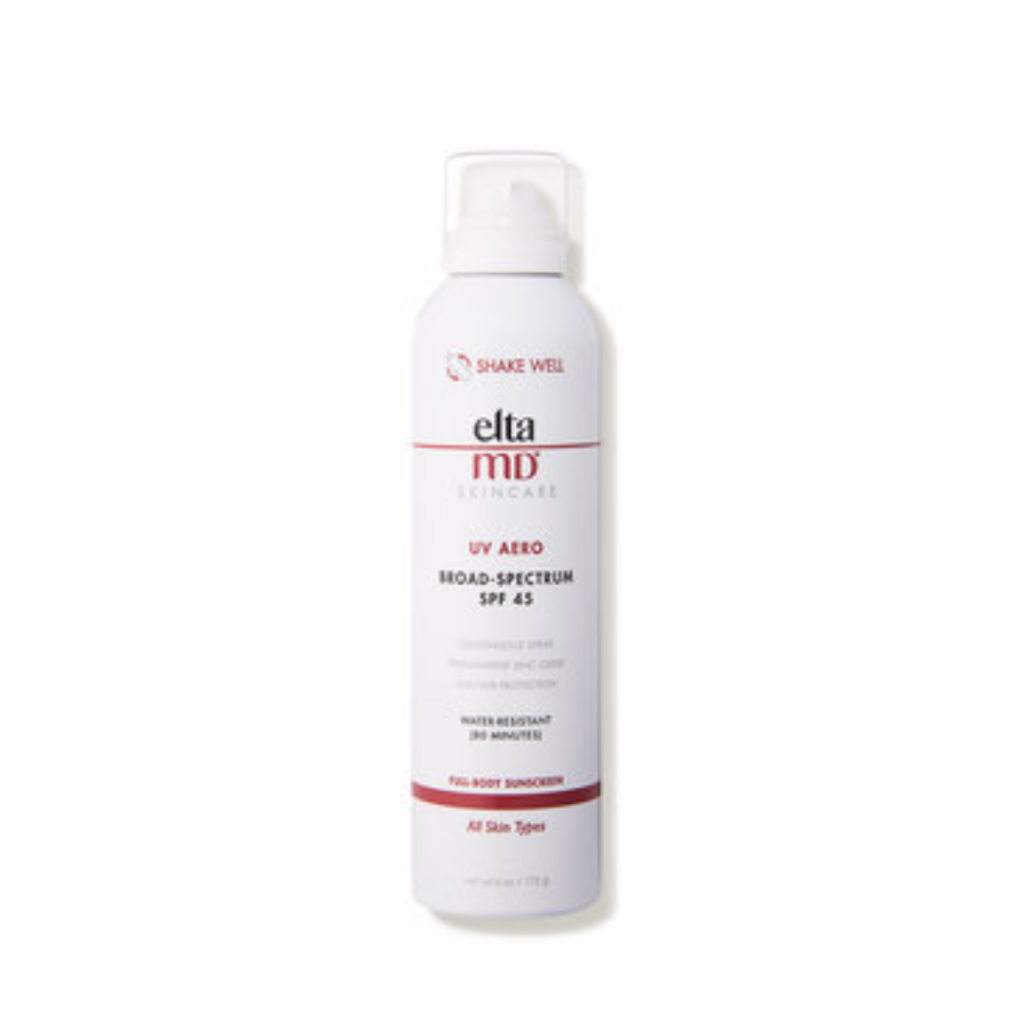 EltaMD UV Aero Broad-Spectrum SPF 45.
6. SPF Makeup
This type is made with the main focus of being a cosmetic product (moisturizer, powder, foundation, etc). Inorganic filters are added to face powders. Both organic and inorganic filters can be used in fluid foundation and compact powders.
Advantages
Convenient and multi-purpose!
Disadvantages
Low SPF and no UVA protection. Might not apply evenly!
Picky's Picks
Powder: Reapply for all skin types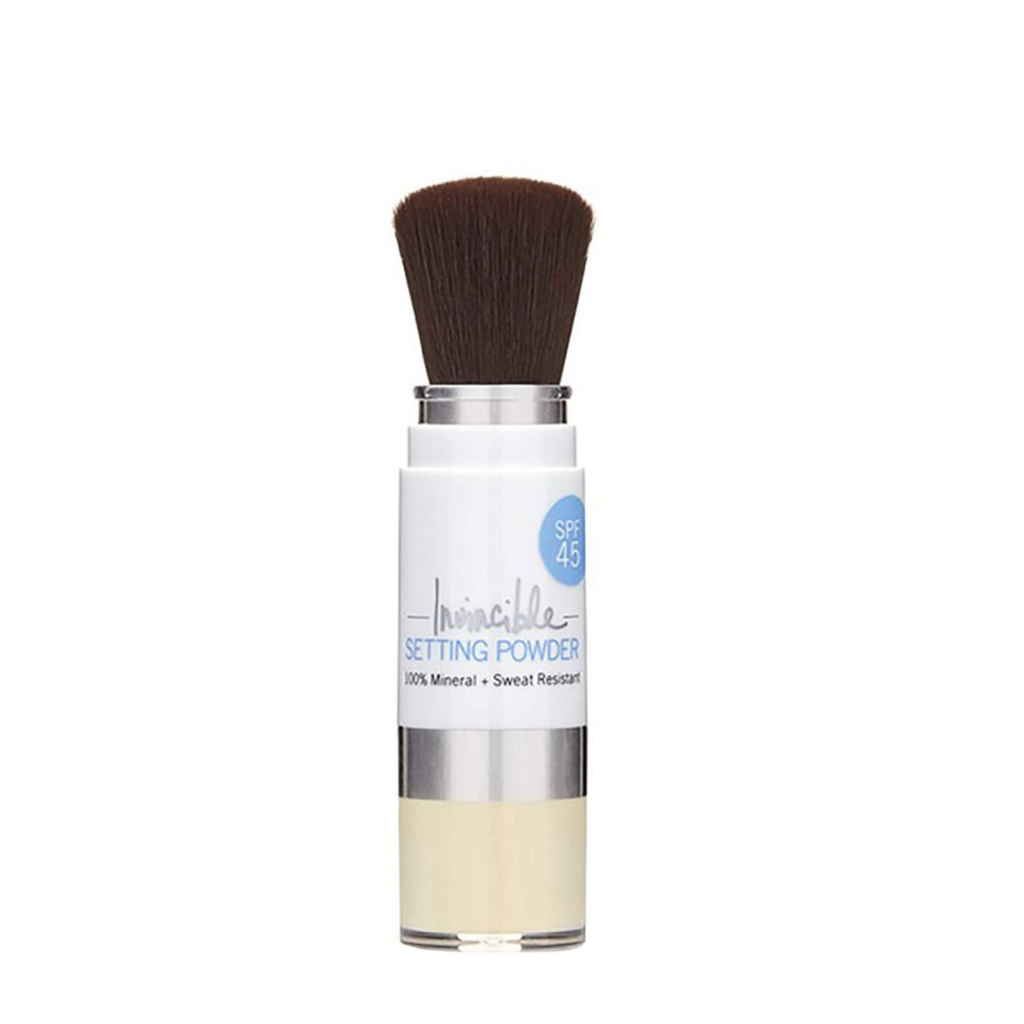 Supergoop! 100% Mineral Invincible Setting Powder SPF45.
Head to Picky
Check out Picky for more sunscreens! You can see what people recommend through the Q&A feature or just browse our "Sun Care" category with the filters that best fit your skin type and concerns! Head back to our blog for more skincare science content and check out our instagram!