Here at Picky we're always looking for interesting and engaging ways to bring you helpful skincare information, as well as the need-to-know on various products. But, as we all know from our time perusing the beauty aisles, there is a lot to choose from, and with new products dropping every month, it's easy to miss out on something that could be your next 'holy grail'. So, to help solve this problem, we've started a new series: Monthly Pick! For this month, we're highlighting Benton Honest Eyelash Serum! Find out more below and read to the end for information on our Monthly Pick challenge for the chance to win a prize!
What is Monthly Pick?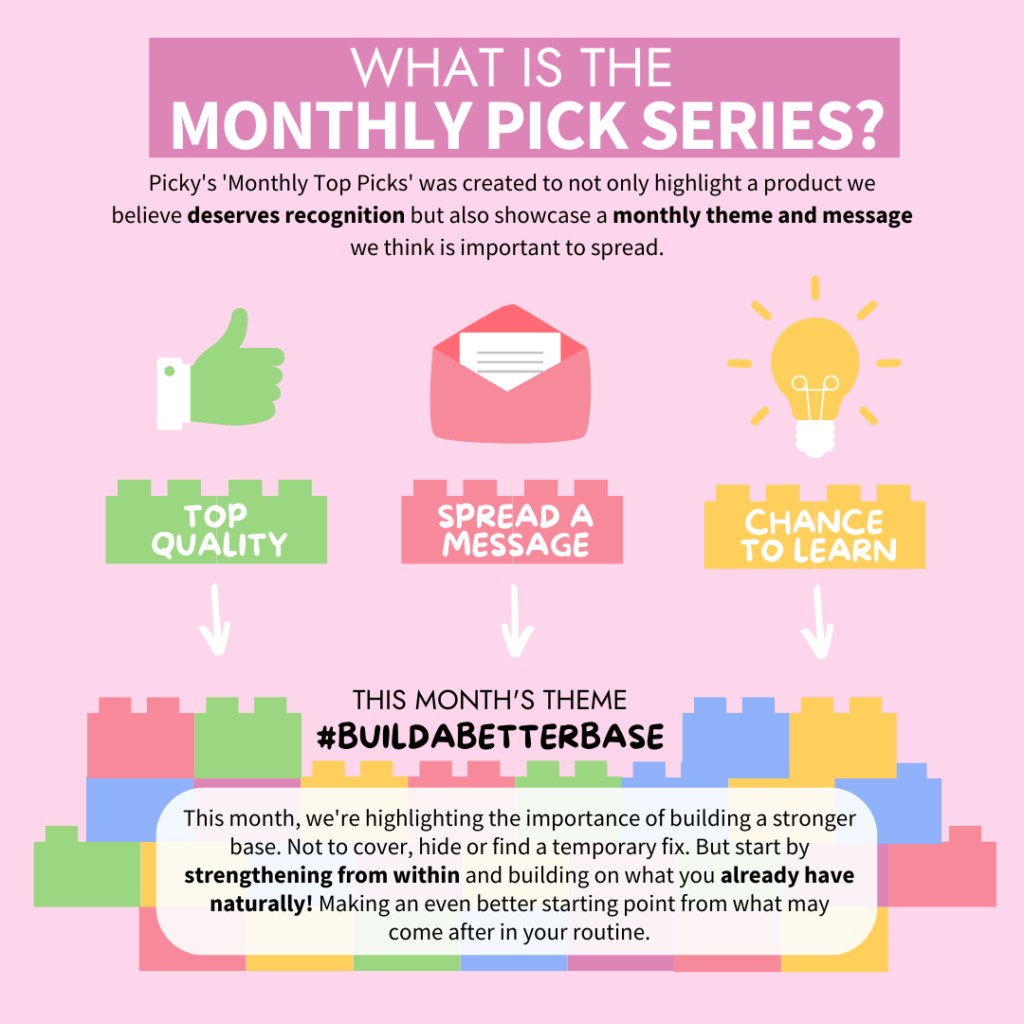 Each month, we'll be choosing a product that we love and think you'll love too, and shining a spotlight on it! This way, whether it's a hidden gem or a well-loved favorite, you'll get the chance to learn more about the product and it's benefits to decide if it's something you'd like to try for yourself.
But we can't forget to have a little fun, right? That's why we'll be taking all of the educational insight and skinformation on the monthly pick and wrapping it up in a fun theme with a positive message that also allows you to get involved through a giveaway and SNS challenge!
So, without further ado, let's meet Picky's first ever Monthly Pick for October!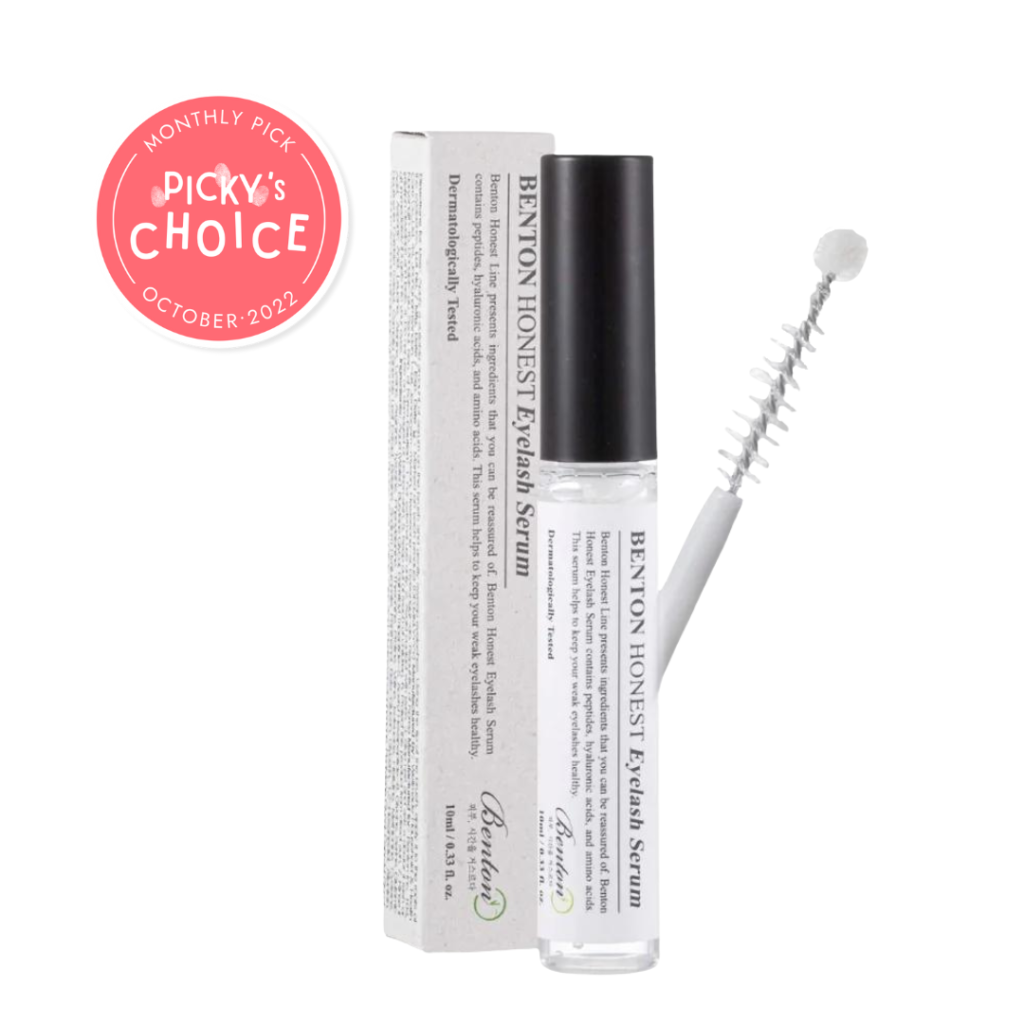 Benton's Honest Eyelash Serum is part of the brand's Honest Line, which means it's ingredients list is free and clear of 20 harmful ingredients like alcohol, PEGs, silicones and fragrances. This also means it's gentle and non-irritating, especially since it's also been formulated with a low pH close to the natural level of healthy human skin. While gentle, it isn't lacking in the power department either! Two types of peptides, 17 amino acids, and sodium hyaluronate (a derivative of hyaluronic acid) work to nourish and strengthen the hair follicle during it's anagen growth phase, helping it grow long and strong. You can use it morning and night not only on your eyelashes, but on your eyebrows and hairline as well.
Why We Love Benton Honest Eyelash Serum
There's a lot to love about this product, but it's safe and clean ingredients list is what really stood out. A big step towards achieving beauty goals begins with a healthy foundation, and this serum's building block ingredients, like peptides and amino acids, will help promote the healthy growth of your lashes so they grow long and strong naturally. Luscious lashes are a desire for many, and it's tempting to resort to temporary fixes like falsies or extensions, but these methods are often damaging. Why not get even more satisfying and lasting results by building a strong base from within first?
Another reason we picked Benton Honest Eyelash Serum this month is because of the buzz about it in the Picky community! With over 200 reviews and a 4.6 out of 5 rating on the Picky app, it's clear this product is not just popular, but also effective.
Check out some of the reviews here!
October Challenge: #buildabetterbase
Keeping with the message that building a better starting point from within naturally can benefit your beauty journey, this October's Monthly Pick theme is #buildabetterbase, and to promote this message we've prepared a fun social media challenge for you to join!
Here's the details:
Record yourself using your Benton Honest Eyelash Serum in the format shown in the example video below!
Post your video on either TikTok or Instagram!
Tag @bentoncosmetic and @go.picky!
Use these hashtags in your post:

#buildabetterbase
#pickyxbenton
#pickymonthlypick

Share your post with your friends to boost your chances to win! (Winning is not guaranteed)
What's the perk of joining this challenge? Benton and Picky will highlight you on both of our socials AND you could win a FREE PICKY BOX!
The challenge ends on October 30th at 9am (Korean Standard Time). Winners will be announced October 31st (Korean Standard Time).
Make sure to follow us on TikTok, Instagram and Youtube for updates!
Announcement Video!
Ready? Camera. Action!
The hashtag is in your hands now, let's get #buildabetterbase trending and show some love for our first ever Monthly Pick! We can't wait to see your videos!