She's an icon, she's a legend, and she is the moment. We're talking about K-pop 4th gen megastar and it-girl Wonyoung!
Who is Jang Wonyoung you might ask?
Wonyoung is a Korean K-pop idol previously a former member of project girl group Iz*One, and is now a member of popular girl group Ive. Born in 2004, Wonyoung is only 18 years old and is already the brand ambassador for household names like luxury brands Miu Miu and iconic K-beauty brand Innisfree.
Wonyoung is well known as a talented performer but has been receiving extra attention in Korea and around the world for her stunning visuals. Since changing makeup artists, Wonyoung seems to better understand her personal color as well as what techniques suit her best.
Read more below if you want to learn more about what beauty and skincare products she uses that help her achieve her glowy, glass skin and doll-like face.
Let's talk essentials…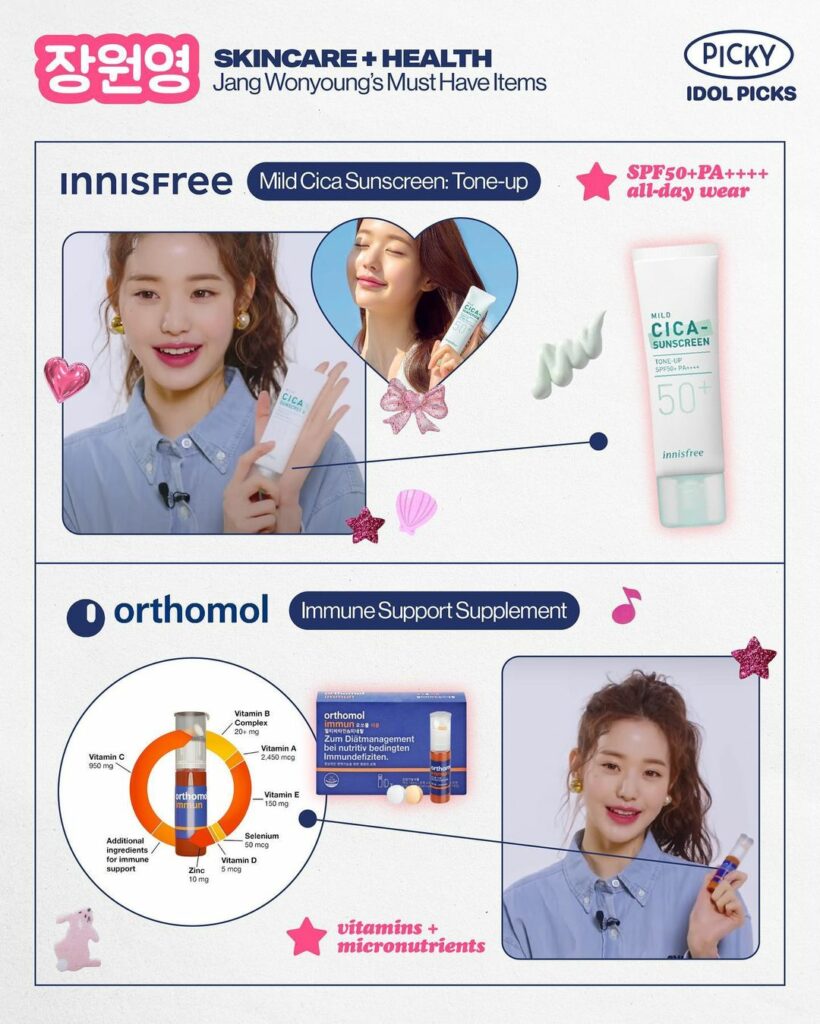 SPF! It's a must, whether it's sunny, rainy, or snowy out.
Wonyoung uses Innisfree Mild Cica Sunscreen: Tone-up, a product that helps brighten your complexion, while also calming it with its cica care properties.
Prefer one without a white cast? Or maybe the ingredients don't sit right with your skin? Don't worry, we got you covered! Read more about the different sunscreens matched to each skin type by clicking here.
Ever heard of inner beauty? Taking care of your gut health is mandatory for your skin to glow! Wonyoung takes Orthomol Immune Support Supplement, a popular supplement in Korea due to it including important micronutrients as well as plenty of vitamin C to keep you feeling and looking well-rested.
Bling, bling! What beauty products does Wonyoung use?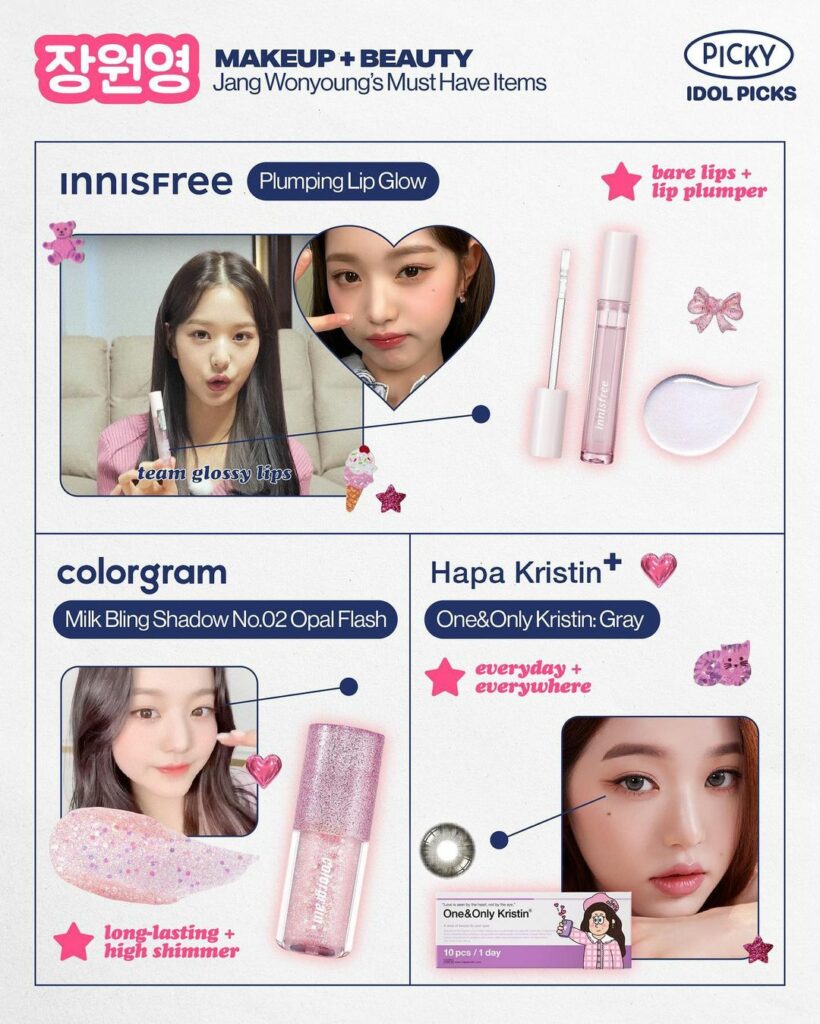 How does Wonyoung get those luscious, pouty lips? It might be the help of a lip plumper! Also from Wonyoung's favorite brand Innisfree, this lip glow instantly plumps your lips, for more volume and hydration. For more lip care tips click here!
All eyes on you. Everyone will be admiring the sparkle and shine on your eyes with Wonyoung's favorite liquid eyeshadow. It's a long-lasting, high-shimmer, and creamy type – perfect for a little brightening touch!
Wonyoung's big, glassy eyes help her achieve that dollish look. Your eyes will pop with the help of the Hapa Kristin contacts, modeled by Wonyoung herself.
Want more Korean celebrity makeup, skincare, and style insight? Make sure to stay updated with us on our socials!
Follow us on Instagram, TikTok, and Pinterest.